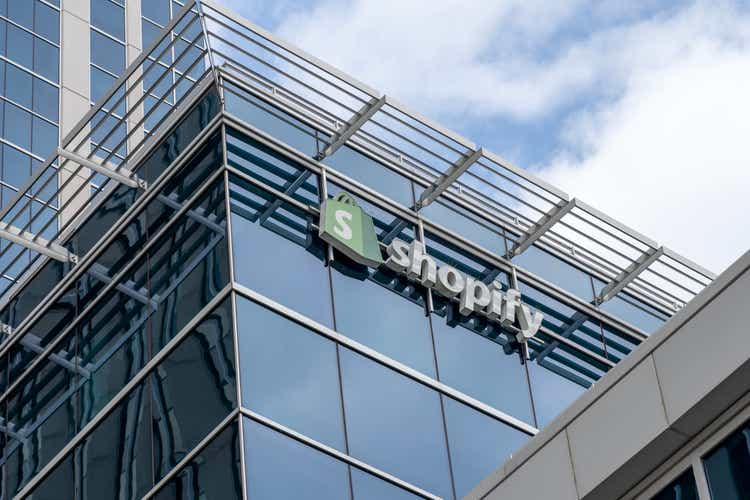 There's much mention of Amazon (NASDAQ:AMZN) and Alibaba (NYSE:BABA) but one e-commerce stock many don't speak of as often on Seeking Alpha is Shopify (NYSE:NYSE:SHOP). Shopify's turnkey solution to e-commerce has been a tremendous success. Shareholders have shared the company's success with a gain of more than 5600% since its IPO in 2015. We at Pearl Gray think that more index beating gains are in store, let me explain why.
Performance

Source
As mentioned the stock has performed well since listing. The stock was listed during a period where online entrepreneurs demanded more affordable options for website and store setups. Around 2015 the dropshipping craze was red hot, Shopify stock benefited from product demand as well as the expectation of further online entrepreneurship growth.
Shopify also hasn't issued an exorbitant amount of shares. With 113.20 million shares outstanding and a growing asset base and continuous retained earnings, Shopify has managed to build its fair value up in order to justify the market price.
Value Drivers
We actually did a "bottoms-up" analysis on Shopify in our research report but I thought the best way to convey the value drivers through an article would be from the top-down. Let's start off by looking at the economy.
Bloomberg reported yesterday that Wall Street has fears of the economy already have reached its peak. Unless it's a data survey this opinion is completely wrong and lacks theoretical understanding.
Shopify generates the bulk of its revenue from developed markets. The key metric that drives economic growth in developed markets is total factor productivity. Total factor productivity in most cases is the development of technology, which has rebounded and exceeded past levels over the past year. Let's have a look at the U.S. factor productivity trend.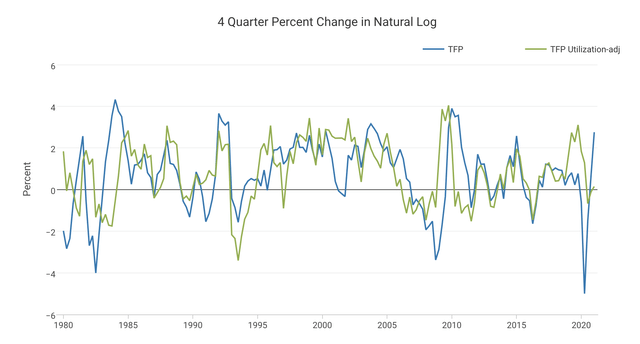 Source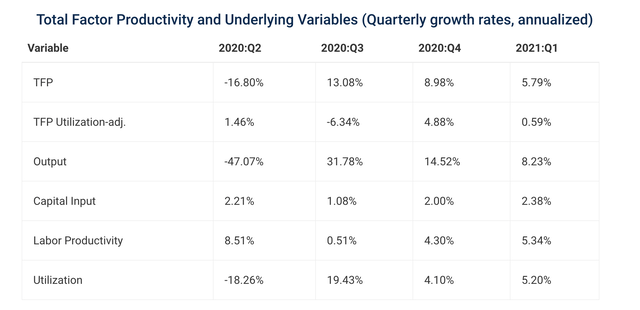 Source
Economic growth and capital deepening often get interpreted incorrectly. The mass amount of stimulus will decrease the amount of productivity as the labor force hasn't grown linearly, this is due to population growth not growing linearly and the jobs market has changed which could cause a perceived decline in economic growth.
In Shopify's case, we can interpret the excess capital as productive by looking at the endogenous economic growth model. The model finds empirical evidence that increased capital per capita could cause expansion on technology and thus improve factor productivity. Shopify is part of the peer group which could benefit from such a scenario.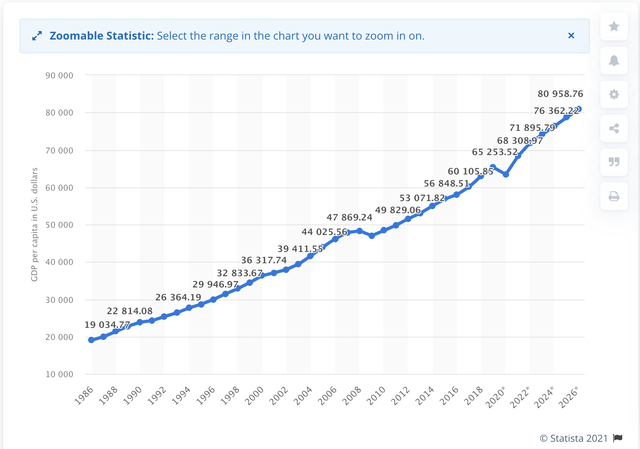 Source: Statista
On top of that, the U.S. central authorities are seemingly prioritizing the per capita GDP resurrection, Shopify could benefit significantly from an increase in spending and investment, as a consequence.
Let's move into market share.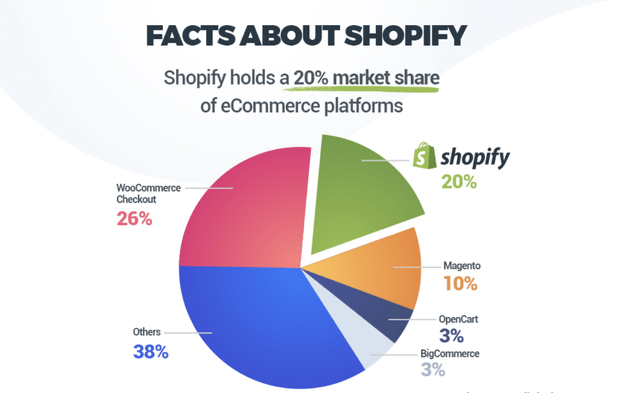 Source
Shopify has established itself as a market leader in e-commerce which has allowed significant pricing power. We think the way that they're forming synergies through 3rd party relationships will ensure its market share gets ascertained or grows further.
Shopify continues to build valuable partnerships with 3rd party payment systems, which continuously opens up new markets. Merchant partnerships with Amazon, Facebook (NASDAQ:FB), eBay (NASDAQ:EBAY), Instagram, Alipay, and Google Pay have increased its anticipation for topline growth through additional sales and merchant channels.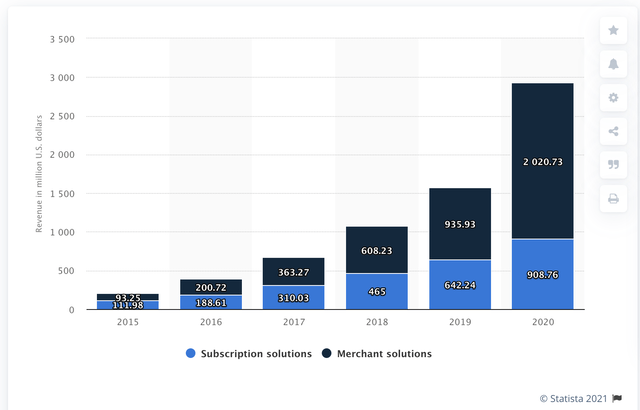 Source: Statista
In addition to increased business activity through merchant partnerships, the improved functionality of its platform has caused an uptick in subscribers. In 2021 the company has built on 2020's successes with a year over year recurring revenue increase of 62% reported in March.

Source
The launch of Shopify payments, shipping, and capital have improved payment processing and speed of delivery. Access to capital for working capital needs has also increased trade volume.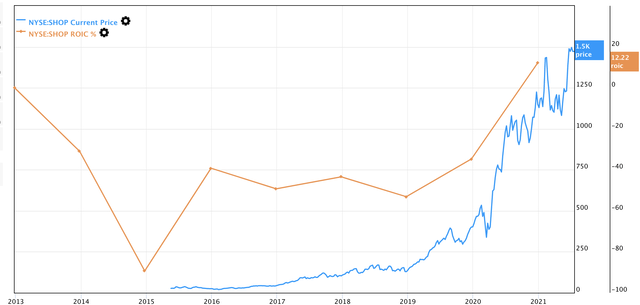 Source: Gurufocus
Shopify's competitive advantage correlates strongly with its ROIC. The return on invested capital is a strong indicator of competitive advantage. In addition, if the price correlates with the ROIC, investors can usually conclude a strong form of market efficiency. During a period of irrational market behavior, it's crucial to ensure you're not optimistic about an asset that has outperformed for no reason. To consolidate the bull case, let's examine critical financials and shareholder value metrics.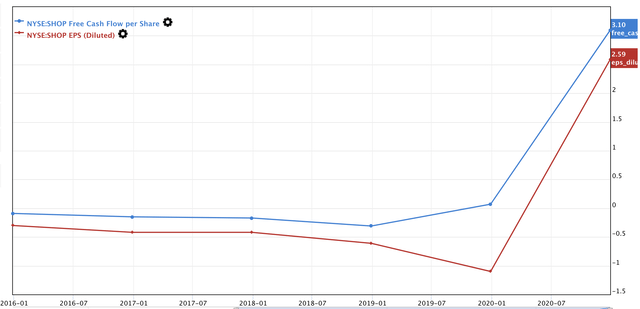 Source: Gurufocus
An uptick in diluted EPS and free cash flow yield indicates that shareholder value has increased significantly in recent times. It should be noted that Shopify is issuing 1180 000 class A shares, but because the raised capital will be used to strengthen the balance sheet and possibly utilized towards growth acquisitions, there is no need to be worried.

Source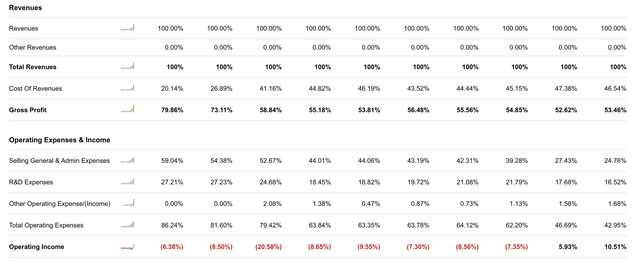 Source
Constant revenue growth and cost-cutting over the past 18-months have attributed to investor confidence. Growth in net income margin of 46.67%, free cash flow to equity of 14.23%, and ROE of 26.42% have further strengthened shareholder value.
Cash and equivalents of more than $2.7 billion ensure sound liquidity which can be confirmed with interest coverage of 136.20.

Source: Gurufocus
Shopify has a respectable m-score which means that earnings sustainability is high. Constant positive earnings surprises have possibly led to increased stock performance.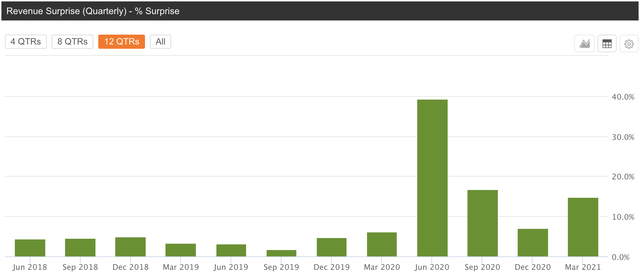 Source
Valuation Metrics
We used a range of absolute valuation metrics, but I think one needs to use a cash flow-based model because of the intangible nature of the company's assets. We derived a fair value from the model that indicates the stock is around 22% undervalued. See below.
Fair value = (FCF x EV/EBITDA)/Shares Outstanding = (413.70 x $490.6 million)/113.20 million =$1792.94
All the data I used can be found on Seeking Alpha.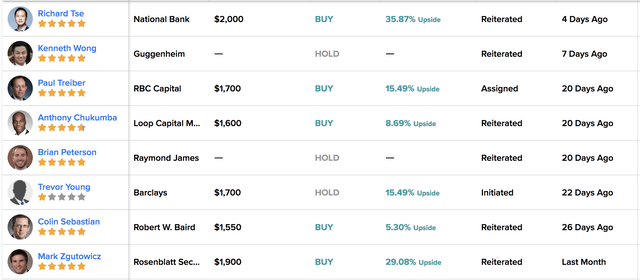 Source: TipRanks
When looking at Wall Street ratings, you always need to take it with a pinch of salt because the asymmetry between investor and intermediary objectives has been polarized in many instances. Nonetheless, many traders rely on the price targets, and reports deliver factual evidence in most cases. Comparing our value of the stock with analysts' valuations, we see similar targets.
Risks
There will come a stage when Shopify needs to acquire large companies as a means of growth. More prominent players such as Amazon, Google (GOOGL), and Facebook might win those bidding wars. Although the company has expanded internationally, it has a heavy concentration on the U.S. The company might have to alter certain parts of its model to improve cross-border expansion, which could be a costly trial and error process. Heavily investing in R&D may well dent profitability unexpectedly at some stage; unexpected downturns might discourage investors. Lastly, short-term consumer confidence is eroding due to Federal Reserve policies. In addition, contractionary government tax policies may cause a 'new' divergence in potential versus actual profitability.
Takeaway for Investors
Shopify has significant growth ahead, and investors should realize that tech expansion is here to stay. The stock has performed well due to its shareholder value drivers, such as a low number of shares outstanding, an impressive free cash flow yield, and an improved diluted EPS. Shopify is undervalued according to our analysis and is a good buy at this moment in time!