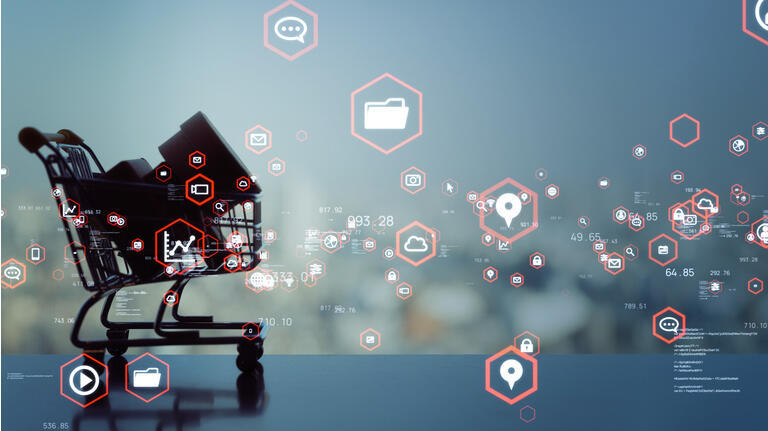 Commerce sales are expected to continue to boom in the next decade. As E-commerce sales rise, platform businesses like BigCommerce (NASDAQ:BIGC) will see their sales and gross profit dollars soar. Since BigCommerce is undervalued relative to Shopify (SHOP), the stock is a buy!
Why BigCommerce is a long-term buy
BigCommerce provides a software-as-a-service (SaaS) E-commerce platform that allows merchants to sell their products online. In very simple terms, BigCommerce is a mini-Shopify that offers its merchants the functionality of creating online stores to tap into the global E-commerce market.
The online shopping market is hot… and not only since the pandemic shut down physical retail stores last year. The size of the E-commerce market is expected to grow from $4.3T in 2020 to $6.4T in 2024 and the share of retail sales as percent of total sales is also expected to grow in the next four years.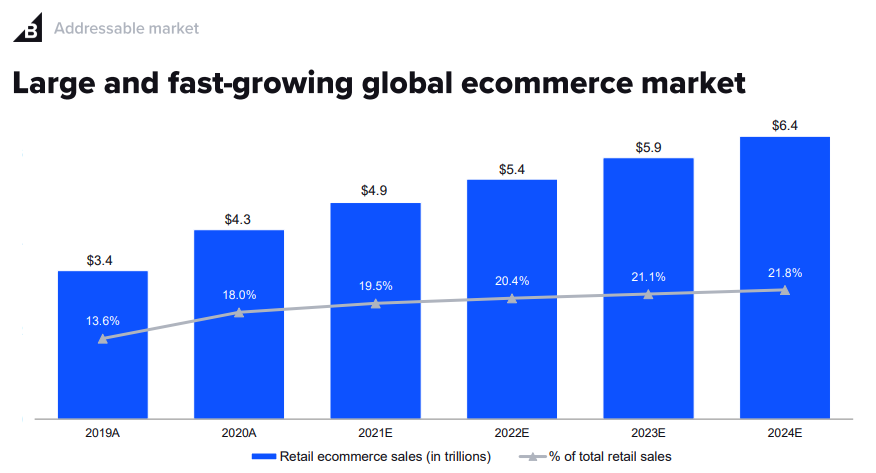 (Source: BigCommerce)
BigCommerce has seen explosive revenue growth. BigCommerce had revenues of $92M in 2018 and $112M in 2019. By 2020, total revenues have surged to $152M… and the firm is set to grow revenues rapidly in the future as more merchants sign on to BigCommerce's E-commerce platform. BigCommerce operates a SaaS-business… which means merchants pay on a monthly subscription basis. Subscription revenues in 2018 totaled $70M (76% of total revenues) and by 2020 subscription revenues had grown 49% to $104M (68% of revenues). BigCommerce's partner and services revenues (non-subscription revenues) include revenues related to the customization of online stores through (1) revenue-sharing arrangements, (2) technology integrations, and (3) partner marketing and promotion. Partner and services revenues have soared from $21M in 2018 to $49M in 2020 (133% growth) and reflect growing demand for customization and store differentiation.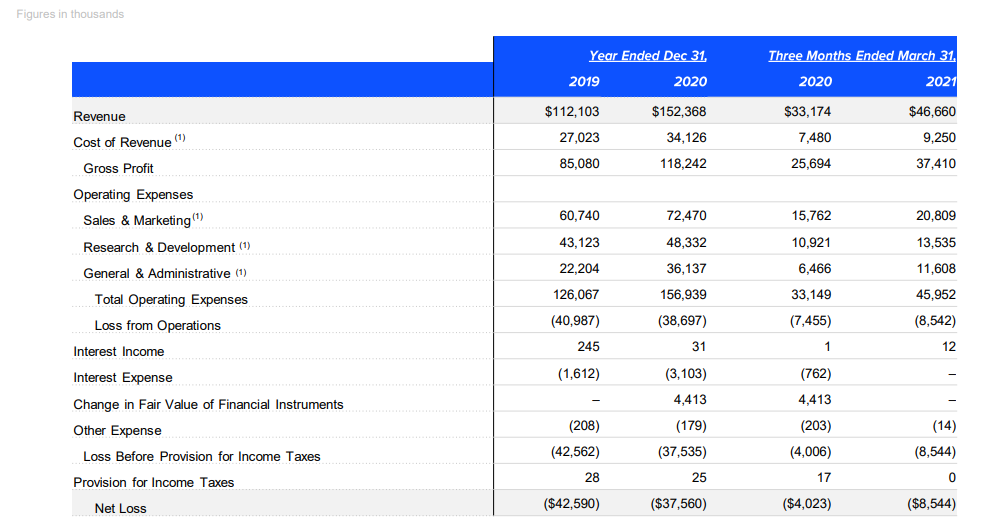 (Source: BigCommerce)
What I believe makes BigCommerce interesting besides an opportunity to expand its ecosystem with partnerships is that the SaaS company is looking at a substantial increase in gross profits generated by its platform in the next years. The driver of this growth will be the development of its ecosystem which management is taking very seriously. Earlier in July, BigCommerce made it possible for US merchants to use Amazon's fulfillment services through a new integration with Amazon Multi-Channel Fulfillment. This access promises US merchants faster shipping options and lower costs. This week, BigCommerce partnered up with MercadoLibre (MELI), a leading E-commerce platform in Latin America, promising BigCommerce's merchant base access to 133M shoppers in Latin America. Both announcements express management's ambition to continually expand BigCommerce's services and markets. Expanding merchant markets and offering access to fulfillment services make BigCommerce's platform more attractive to merchants and indicate growing customer life time values.
With the pandemic already benefiting online merchants, BigCommerce's investments in the platform will drive gross profit dollar growth. The E-commerce platform saw a 40% increase in gross profits in FY 2020 and it could see an additional increase of 40-50% in FY 2021 based on expanded service offerings that are meant to stimulate platform adoption and sales. BigCommerce's gross profits have increased at a steady rate every quarter since the beginning of 2019 and almost doubled in total dollar contributions from Q1'19 to Q1'21. In FY 2021, BigCommerce could have $160M in gross profits on $200M in sales (80% gross profit margin). Sales growth of 50% next year implies $240M in gross profits in 2022 for BigCommerce, more than what the firm is expected to make in sales this year!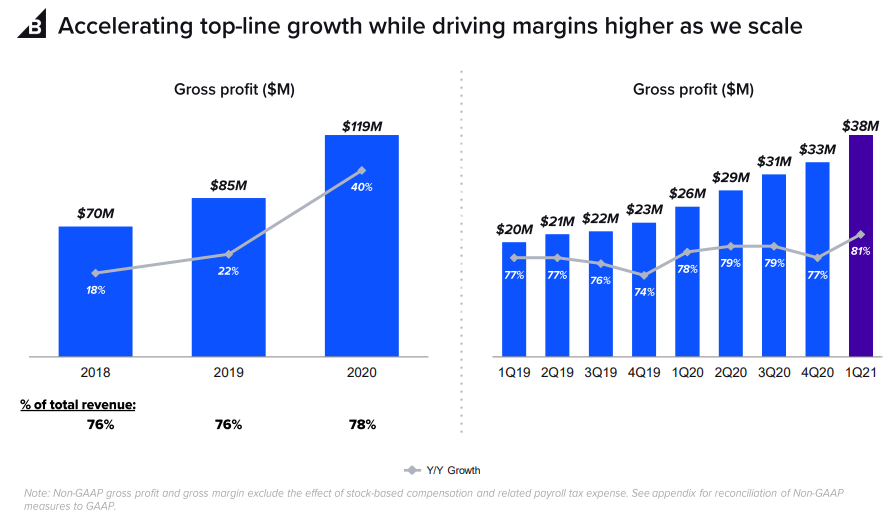 (Source: BigCommerce)
Offering access to Amazon's fulfillment services significantly enhances the appeal of BigCommerce's platform for online merchants. Growing integration with other E-Commerce platforms is all but guaranteed to result in improving net revenue retention. As BigCommerce added new services and integrations to its merchant platform in the past, customers ended up spending more money on services. In the graph below you can see that each new merchant group (sorted by year) increased their spending over time, meaning a customer that signed on to the platform in 2019 spent more money on services in 2020 than in 2019 and so on. Big Commerce measures the maximization of customer lifetime values with a ratio called "LTV-to-CAC" which divides the expected lifetime value by acquisition costs (sales and marketing). The resulting factor shows how much money BigCommerce makes from each customer for each dollar it spent on sales and marketing. For 2020, the LTV-to-CAC ratio was 4.9:1, meaning for every dollar spent on sales/marketing, the average merchant in return spent $4.9 on BigCommerce's services.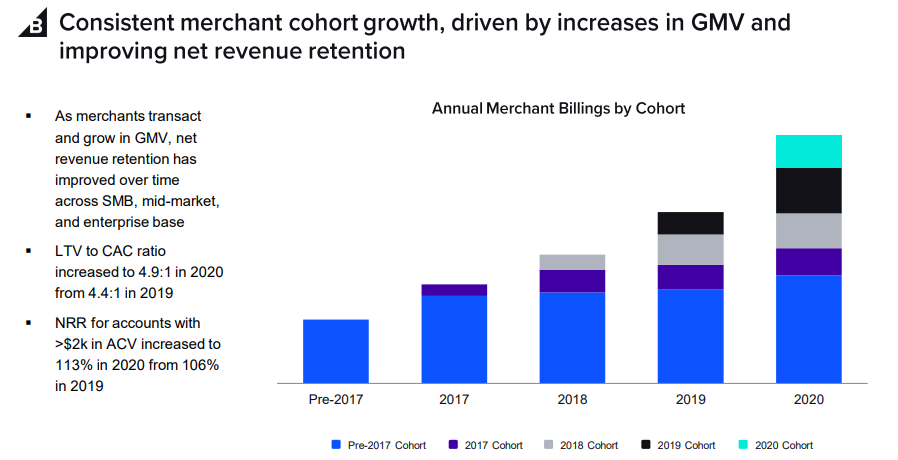 (Source: BigCommerce)
BigCommerce has no financial debt
As a software company, BigCommerce has no real financial obligations. The balance sheet shows no financial debt and $190M of cash.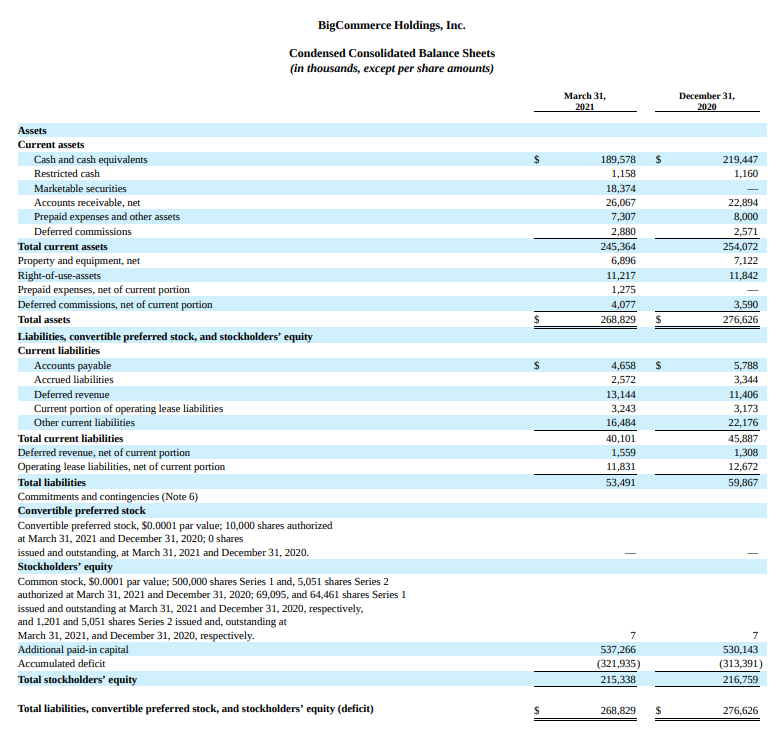 (Source: BigCommerce)
BigCommerce may have more upside than Shopify at this valuation
Although there is a big difference between Shopify and BigCommerce regarding size, both companies operate merchant platforms that generate subscription revenues. Shopify is much bigger than BigCommerce, but that also makes BigCommerce a growth stock with a lot of potential to catch up.
Shopify's market value is forty times bigger than BigCommerce and Shopify has revenues twenty times larger.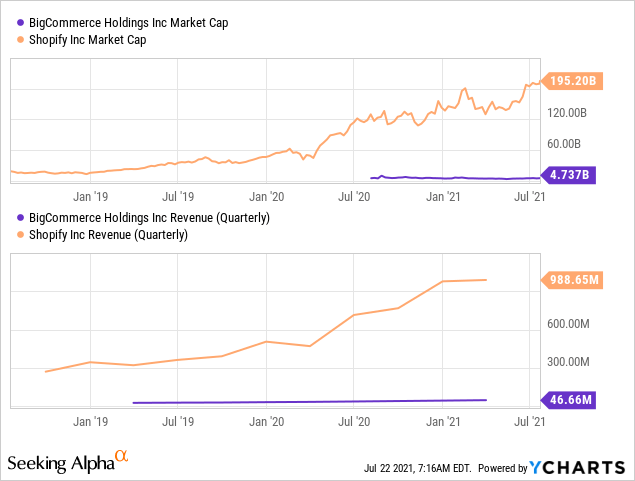 Shopify also has a much more developed ecosystem than BigCommerce and is building its own fulfillment network. Shopify dominates the retail merchant market as it was the first company to offer online stores for small business owners and it is already profitable. But BigCommerce's revenue and gross profit dollar growth may still be undervalued relative to Shopify as the ecosystem expands and new merchants are drawn to the platform. Shopify has a P-S ratio of 43 and BigCommerce a P-S ratio of 23. If BigCommerce's sales growth were to be valued the same as Shopify's, the E-Commerce platform could see its stock double in value.
| | | | | | |
| --- | --- | --- | --- | --- | --- |
| | Market Cap | FY 2021 Est. Revenues | P-S Ratio | FY 2021 Est. EPS | P-E Ratio |
| BigCommerce | $4.6 billion | $197.70 million | 23.25 | -0.43 | - |
| Shopify | $189.5 billion | $4.44 billion | 42.68 | 4.45 | 347.9 |
(Source: Author)
Risks
BigCommerce is growing fast and not profitable. It has a history of operating losses and there is a risk that BigCommerce will not be profitable… or at least not as fast as predicted (the first profit is expected for FY 2023). Slowing revenue growth is a risk for BigCommerce as is a decreasing percentage of gross profits relative to revenues. A declining gross margin would suggest that BigCommerce's gross profit potential has been overrated and the stock may start to trade at a lower multiplier factor.
Final thoughts
2021 should be a year of revenue acceleration and strong gross profit dollar growth for BigCommerce. The E-commerce market is expanding rapidly and BigCommerce's latest moves to increase the appeal of its ecosystem should boost platform sales. While BigCommerce's sales growth is not cheap, the stock has a lot more upside.