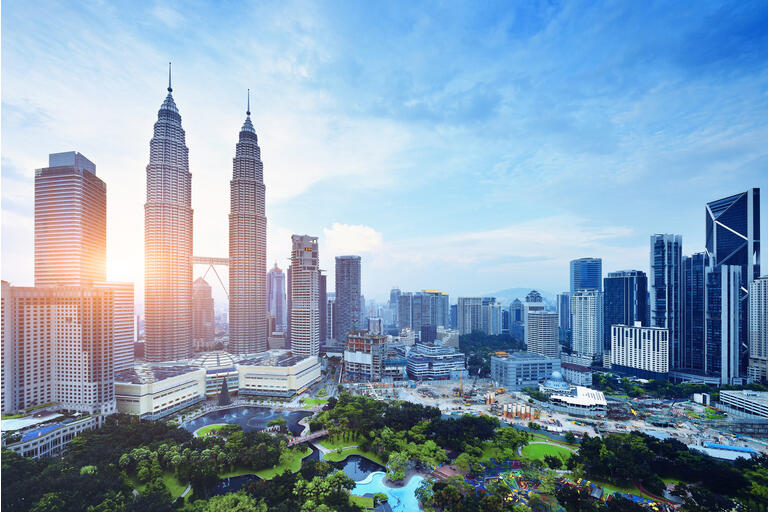 iShares MSCI Malaysia ETF (NYSEARCA:NYSEARCA:EWM) has been underperforming since I last covered this exchange-traded fund, which enables U.S. investors to allocate to mid- and large-sized Malaysian companies (equities). According to Seeking Alpha, since my last article EWM has fallen by about 8.6% (at the time of writing), albeit with a slightly better (but still negative) return of about -5.8%, while the popular S&P 500 index (often used as a benchmark equity index for U.S. investors) has appreciated by 5.7% (on a price basis, a comparable to EWM's fall of 8.6%).
In my last article, I was neutral with a pessimistic bias, owing to the apparent slowing of Chinese credit creation. China's economy has bounced back faster and quicker than most other economies across the world following the crisis engendered by COVID-19 in 2020. So, it makes sense that China would start putting the brakes on credit creation before most (or all) other major economies. Still, any slowing does make Chinese equities less attractive cyclically, and Malaysia (along with other APAC countries) is exposed to this slowing directly.
Malaysia is a relatively economically complex country (see OEC data, which places Malaysia at 26 out of 146 countries, near the top of the leaderboard for economic sophistication), and GDP per capita (adjusted for purchasing power) is higher in Malaysia than in China (50% higher). China ranks just behind at 29 (OEC leaderboard), but Malaysia still sells about 13.3% of its exports to China and buys in 23.9% of its imports from China. To be honest, it is probably better to have a net import position, as economic slowing in China is therefore likely to have less of an effect on Malaysian business. Still, top net export partners of Malaysia also include various other APAC region countries (Singapore, Hong Kong, Japan, etc.) that have significant Chinese exposures.
It is also true that some of its partners, including Singapore, Hong Kong, Japan, also have net import positions with China. Nevertheless, if Chinese credit creation slows, there is going to be a ripple effect. Most recently, as I noted in my article covering a Singaporean equity ETF, China's central bank ultimately decided to free up about a trillion of yuan liquidity by cutting the reserve ratio for local lending banks. Still, aside from regulation, there has to be demand and Chinese banks are going to have to want to commit more funds to borrowers. The sign of slowing credit creation is largely cyclical and difficult to fend off (unless it is forced by the CCP, and forced credit creation is only likely to increase risks and investment into unproductive investments).
So, while APAC region countries like Malaysia might be able to retain domestic stability, the slowing, in one way or another, is going to have a negative effect, and the recent rotation out of (or repricing of) Malaysian equities is perhaps evidence of this. It is also important to note that regional real rates are still low. Over the past 10 years, Chinese CPI has appreciated by something like 2% per annum, so with inflation at 2% and the current 10-year yield at 2.92% (at the time of writing), you have a real 10-year yield in China of just 0.92%, or a 1-year bond yield of 1.935% (basically negative in real terms).
A recent BIS paper estimated the natural rate of interest (that supports the economy at full employment/maximum output while keeping inflation constant) for China was about 2-3%. So, adjusted for inflation of say, 2%, that's 1-2% in real terms (call it 1.5%). With the 10-year at 0.92%, this suggests loose monetary conditions, however the short-term central bank rate (in inflation-adjusted terms) is circa 1.85%.
So, I could predict that as regional credit creation stabilizes, China is likely to ease rates again in the medium term (there seems to be room for further easing). This might provide a temporary boost to the region, and EWM could benefit from a boost in business. The Malaysian ringgit is also possibly still over 30% undervalued relative to the Chinese yuan (about the same for the U.S. dollar), making it a desirable economy to import from. A cheap country could help the country benefit from looser monetary conditions elsewhere, and even attract inward investment (FDI in Malaysia has already bounced back healthily since the start of COVID-19).
Based on research from the Asian Development Bank, it is probable that Malaysia's natural rate of interest in real terms is somewhere between -1% and 1%, you could call it 0% (which would roughly match U.S. financial conditions, and again this assumes roughly 2% inflation with the past as a guide). So, the current policy rate of 1.75% means that Malaysia has some room for easing (if we are more pessimistic with the natural rate of interest). But, with Malaysia's currency already cheap, and its credit impulse (as implied by credit extended to the private non-financial sector, scaled by GDP) recently rising at a faster rate than China, it might be unlikely that further easing will be forthcoming in the medium term.
Nevertheless, this doesn't really make EWM an attractive investment as such (a cheap currency, loose monetary conditions, and the potential for further easing in China amid a general slowdown). As I touched upon previously, EWM's top exposure is the Financial sector, so you have a lot of banking exposure, and with low interest rates across most of the world, most banks are fairly unexciting enterprises from a shareholder's perspective.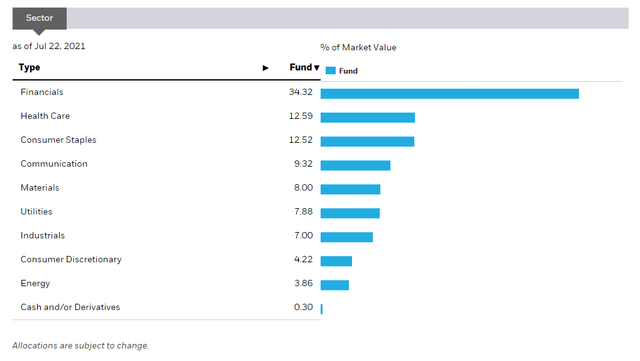 (Source: iShares)
On a tangentially related note, I covered a Nigerian equity ETF, and I remember a point that I raised was that while Nigeria might be an attractive country to invest in, the ETF probably wasn't. (That was NGE, and it has since underperformed too, falling by a similar amount to EWM.) The country can be attractive, but that doesn't make its (less-developed) equity market attractive.
A basic valuation model using data from MSCI (Malaysia Index, upon which EWM is based), Professor Damodaran (for equity risk premium estimates, and Malaysian country risk), and a Morningstar analyst consensus enables me to estimate that the fund is fairly priced (0.9% upside).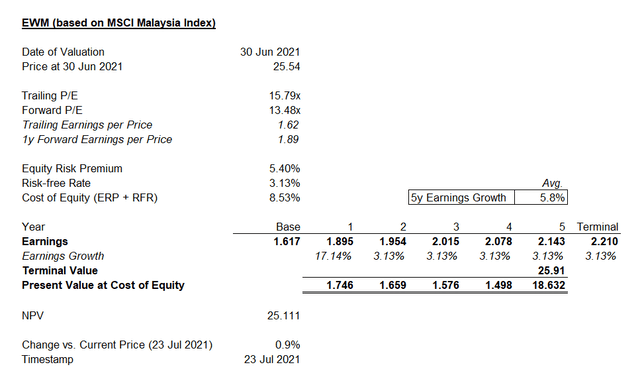 This minimal upside scenario is driven by moderate earnings growth estimates (probably fair given EWM's high banking exposure), and higher risk-free rates in the region (3.13% on the 10-year, which compares to just 1.30% in the United States at the time of writing), as well as an elevated equity risk premium calculated by Damodaran owing to single-country risk. (Damodaran calculates country risk premiums based on default spreads adjusted for local equity-to-bond market volatility.) I would add that perhaps the country risk premium could be lower than priced by Damodaran; removing it entirely would produce upside potential of 16%, but this is perhaps too aggressive.
I also used the risk-free rate of 3.13% as the earnings growth rate from year 2 to year 5, in order to meet consensus analyst estimates (post year-one bounce after COVID-19). So, perhaps analysts are pessimistic. It is possible U.S. investors might also benefit from the (unhedged) MYR FX exposure, if MYR appreciates. And a further boost to local monetary conditions may also help, as I outlined. However, I continue to hold that EWM still does not present U.S. investors with an attractive investment opportunity at present; there is no margin of safety, and no exciting bull case that I can perceive.
Additionally, if Malaysia's central bank decided to ease further (some time after China), it is possible that the bank stocks in EWM will get hit on the basis that lower rates tend to constrain commercial bank profit margins. If monetary conditions get too loose, you might make the business environment more attractive for "long duration" assets (like tech stocks, whose values are built largely on earnings often far out into the future), but bank stocks do not benefit in the same way. In fact, it tends to hurt them (just look at European bank stocks, which have generally under-performed European equity indices more broadly in light of secular declines in European rates).
I am not bearish on EWM, but I remain pessimistically neutral and expect either further downside or some combination of modest downside and range-bound trade.