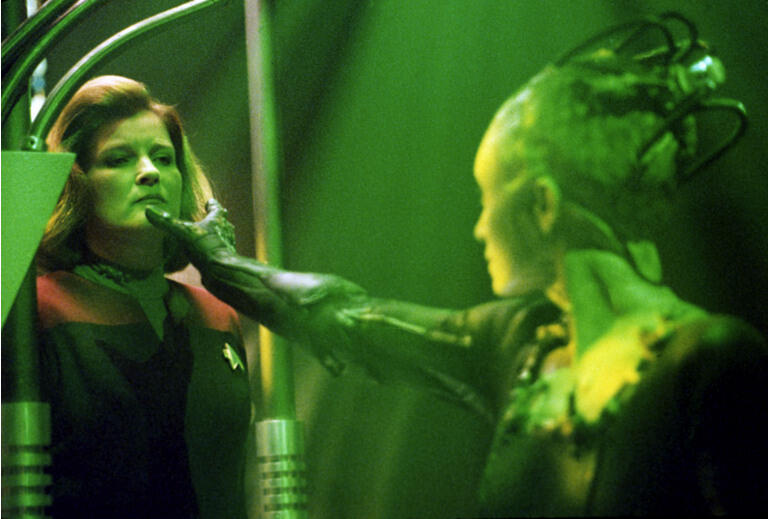 By ALT Perspective for Chinese Internet Weekly
A bombshell report from Bloomberg on Friday that Beijing was considering turning tutoring firms into non-profit organizations sent shockwaves not only to the industry but across the entire Chinese private sector. The plethora of U.S.-listed Chinese education stocks suffered hefty losses even as their valuations had already diminished in the past months. Other Chinese ADRs also declined in a broad-based selling frenzy.
TAL Education (TAL), Gaotu Techedu (GOTU), and New Oriental Education & Technology Group (EDU) led the loser board with their share prices plunging 69.7 percent, 61.4 percent, and 51.9 percent respectively on Friday. The trio would see the greatest impact from the potential ruling prohibiting weekend and holiday classes, a huge source of revenue traditionally.
For the listed ones, the banning of education companies from raising capital or initial public offerings [IPOs] doesn't apply. However, the potential barring of foreign capital and investing in or acquiring education firms teaching school subjects would impair their growth prospects. Furthermore, in the extreme adverse scenario of being turned into not-for-profit institutions, any remaining revenue sources would count for nothing to shareholders anywhere.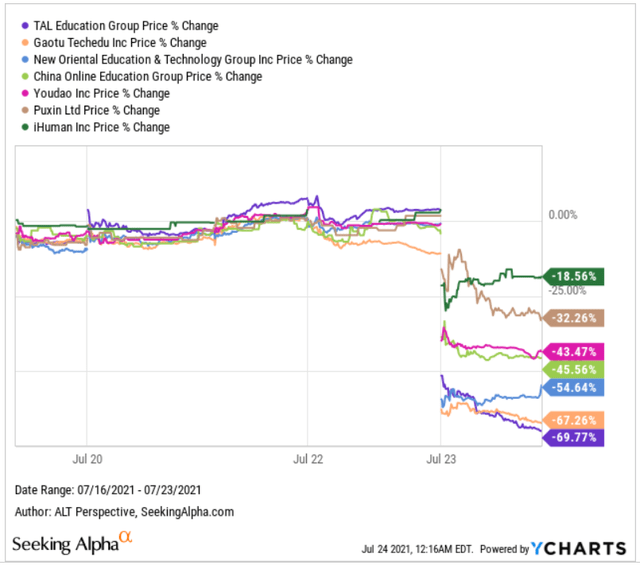 The series of regulations stated in the Bloomberg report can't be all true as they appear to be contradictory. For instance, enforcing a non-profit basis of operation would make the option of going public meaningless. Likewise, there would be no reason why listed firms would want to take a stake or buy out not-for-profit education companies.
Thus, the mentioned rules are probably only proposals of varying severity and the worst-case outcome may not materialize. That was moot for shareholders who had enough of the uncertainty. Investors didn't bother to differentiate the education names.
iHuman Inc. (IH) which makes childhood edutainment products and services, including the offering of interactive and self-directed learning apps as well as learning devices, also crashed 21.8 percent. The company doesn't have paid classes so it's unlikely to be ensnared by the tutoring revamp but the stock sank anyway.
Youdao, Inc (NYSE:DAO), an online education company carved out of social media and gaming giant NetEase (NTES), was massively sold off on Friday too, with its share price sinking to the lowest point since its initial public offering [IPO]. It closed Friday down 42.7 percent.
The indiscriminate selling was despite Youdao having a diversified business offering which includes the sale of hardware-based learning products such as dictionary pens and pocket translators, as well as interactive learning apps and online courses for adults. Sales of dictionary pens grew a blistering 198 percent year-on-year in the first quarter of 2021.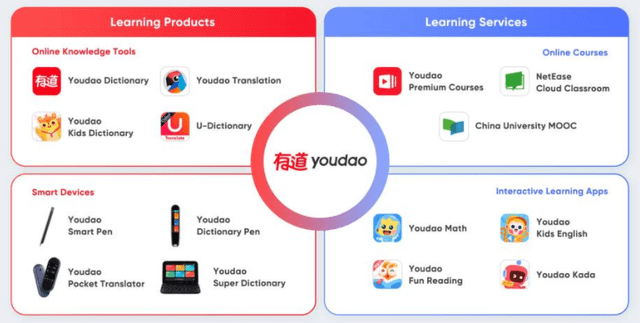 Source: Youdao
During the first-quarter 2021 earnings call in mid-May, Dr. Feng Zhou, the chief executive officer of Youdao, used the phrase "cautiously optimistic" no less than five times in his opening speech and his replies to analysts' questions on the potential regulatory changes. He might be wrong on Youdao benefitting from the regulatory change by being "compliant" but its non-K12 businesses should indeed help the company "better navigate the evolving online education industry."
"Let us quickly discuss the potential additional regulations on the AST market. The new regulation is not out yet. Obviously, we will not know the details until it is out. With that said, we continue to hold a cautiously optimistic attitude towards business operations under the new regulatory environment. We believe the purpose here is to curb unorderly competition and promote healthy developments of the industry. This will ultimately benefit highly compliant players of scale in the mid to long term.

We believe our product and strategy are very competitive with our high-quality content and increasingly advanced application of AI technology. And our diversified business lines, including learning devices and adult courses, could help us better navigate the evolving online education industry." - Dr. Feng Zhou, CEO of Youdao (emphasis mine)
Morgan Stanley analyst Sheng Zhong had in May agreed with the management's optimism, believing that Youdao faces less regulatory risk than peers in the near term. Even more puzzling, NetEase sank over 7 percent on Friday, despite Youdao contributing a mere 3.2 percent of the total revenue at NetEase.
Since the motivation for the tutoring industry crackdown was to lower the cost of child-rearing, it wasn't a coincidence that the property-related counters suffered a big drop on Friday as well. Homeownership has long been an impediment to household formation in many cities in China. Yet, Beijing is ostensibly very concerned about the falling fertility rate contributing to a shrinking population on the horizon.
Authorities had made various attempts to cool housing prices. A notice (content in Chinese) on July 13 with new regulations to curb speculative activities in the real estate industry is the latest effort in this regard. It definitely won't be the last, until the housing market substantially declines.
The share price of KE Holdings (BEKE) plunged as much as 31 percent on Friday, a phenomenon Steven Tsai, a Morgan Stanley analyst, attributed to "an emphasis on regulating incompliant behavior/practices in the property transaction industry" rather than "a sign of more aggressive property tightening across the board." He pointed to the regulatory announcement addressing fake listings, the illegal use of business/customer loans in property, bundle sales, tax dodging, and house hoarding.
In my opinion, Tsai is right that the authorities want to root out the undesirable activities in the industry. However, the sell-down of the Tencent-backed Beike platform operator was primarily due to investors viewing the regulatory tightening on the tutoring sector as a clear signal that there is no let-up on Beijing's resolve to encourage child-births through the improvement of affordability.
After all, the Chinese government has lately been demonstrating its resoluteness in achieving its aims even at the expense of appearing investor-unfriendly. Take for instance the besieged DiDi Global (DIDI) where shareholders have been pummeled by escalating regulatory actions.
DiDi stock shed 21.0 percent on Friday with no fresh news. It seemed that shareholders, whether recent dip buyers or those who were vested from its IPO, had capitulated with the notion that there is little chance of recovery from the manifestation of risks.
Following the removal of DiDi-related apps from app stores in China on charges that it misused users' personal information, an intimidating group of seven Chinese regulatory agencies "stationed" personnel at the DiDi's offices to conduct "cybersecurity reviews." The authorities are also concerned that DiDi could be pressured to disclose sensitive Chinese data to the U.S. government to maintain its listing status.
As if a conclusion of the investigations has already been made, a Bloomberg report suggested that a hefty fine, suspension of certain operations, and/or a forced delisting or withdrawal of DiDi's U.S. shares were on the table. The latter would constitute an unprecedented penalty.
Shareholders of Tencent-backed Full Truck Alliance (YMM), which similarly had its apps downloads suspended from app stores, had probably concurred with those at DiDi. YMM stock tanked 28.4 percent on Friday, bringing it to a fresh post-IPO low. It closed at $10.85, down more than half the peak price of $22.80 achieved last month.
With the broad-based shellacking of U.S.-listed Chinese companies, it is perhaps not surprising that the representative ETFs of Chinese companies (NYSEARCA:CQQQ)(NYSEARCA:FXI)(NYSEARCA:ASHR) underperformed their U.S. counterparts (QQQ)(DIA)(SPY) last week. The Invesco China Technology ETF and the iShares China Large-Cap ETF both fell around 3.6 percent, led by steep declines in their top holdings Tencent Holdings (OTCPK:TCEHY)(OTCPK:TCTZF) and Meituan (MEIT)(OTCPK:MPNGF)(OTCPK:MPNGY).
The Xtrackers Harvest CSI 300 China A-Shares ETF fared better as it was cushioned by its holdings in Financials which was its top sector (valued at around a quarter of the portfolio). The rest of the ETF's allocation was also more spread out as compared with the other Chinese ETFs referenced here. It closed the week down only slightly.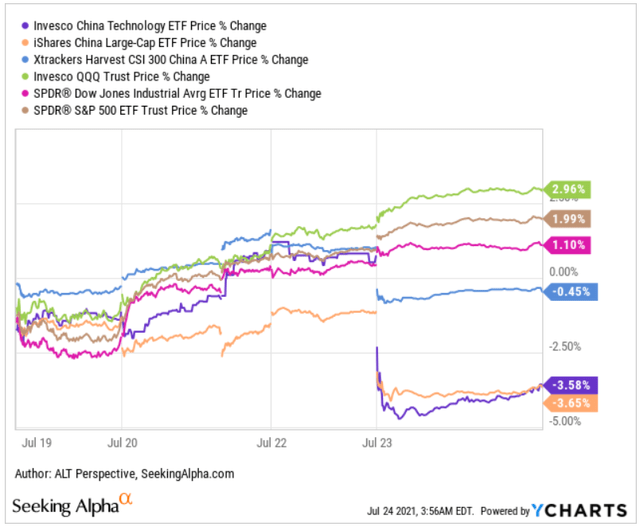 Unlike the past multiple swoons where Mainland Chinese lapped up Tencent and Meituan shares via the Southbound Stock Connect program in contrarian moves, they agreed with the market this time. What's more, the value of the sell trades of both stocks surpassed the value of the buy trades by a wide margin in the past six trading days.
On Tuesday, the value of the sell trades of Tencent exceeded the value of the buy trades by more than eight times. The sell-off continued through Friday, shaking the confidence of already jittery foreign investors.
Data from July 23, 2021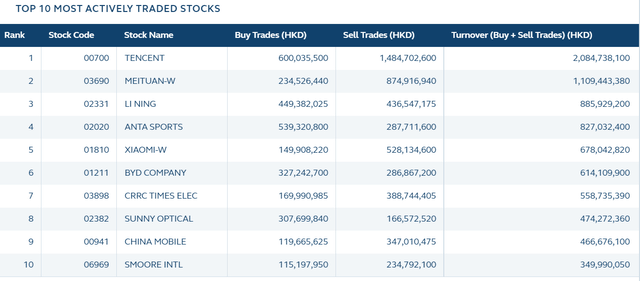 Source: Hong Kong Stock Exchange
Besides being embroiled in the sentiment drag on Chinese equities, the social media and gaming giant has its own woes. News emerged that an 18-year-old teen, Du Meizhu, accused Kris Wu, an A-list celebrity in China, of sexually assaulting her. Tencent Video, which was filming a high-expense drama featuring Wu, had to suspend production. It also announced the termination of its brand partnership with the star who has been labeled as China's Harvey Weinstein.
Shareholders of TCEHY stock might also be worried about the negative impact from the opening up of its ecosystem to Alibaba, an outcome discussed in the previous CIW titled Alibaba: Tailwinds Growing Stronger. I argued, however, that Tencent can also benefit from providing access to Alibaba's marketplaces and it will gain additional insights from the purchases of Alibaba's shoppers who choose to pay by WeChat Pay/TenPay.
Traders might have gotten wind of the conclusion of the antitrust investigation into Tencent's music streaming business. Tencent Music Entertainment Group (TME) slipped 6.9 percent on Friday. A statement (content in Chinese) posted by the State Administration for Market Regulation [SAMR] late Friday found Tencent guilty of anti-competitive behavior and imposed a fine of 500,000 yuan ($77,141) on the company.
The competition watchdog also ordered Tencent and its affiliates to take measures such as relinquishing its exclusive music copyrights, halting the imposition of "high advance fees" for the copyright use by others, and the waiver of the demand on copyright holders to accord them conditions that are superior to their competitors. Tencent must act within 30 days of the regulatory notice.
In my opinion, the market reaction appeared to be overblown. The fine is paltry and giving up the exclusivity rights could lower the licensing costs, offsetting the higher marketing expenses in response to a more competitive environment. Furthermore, it remains to be seen if the lowered barrier of entry for music streamers would diminish the inherent advantages of Tencent - the high number of users across its ecosystem and financial prowess.
Apart from monopolistic practices, Tencent Music doesn't appear to be in the crosshairs of the various Chinese regulators. I could stretch my imagination here but music preferences data seem to be far from as sensitive as the traveling patterns that DiDi possesses of its users. Even if the policymakers deem music as essential to society, it is unlikely they would demand TME to become non-profit, as the subscription cost is a tiny fraction of what families spend on after-school tutoring today.
The KraneShares CSI China Internet ETF (NYSEARCA:KWEB) bore the brunt of the stampede out of the Chinese internet sector being the representative ETF. It closed down 10.6 percent for the week. Among the key holdings of the KWEB ETF, the share price of the beleaguered Alibaba Group Holding (NYSE:BABA), the face of Chinese tech stocks, ironically dropped the least, losing just 2.6 percent.
As explained in a past issue of the Chinese Internet Weekly, I found the KWEB ETF holding the most representative stocks in the sector. As such, an overview of the week's share price movements of the top ten holdings of KWEB (as of Friday) as compared with the ETF itself is provided as follows for convenient reference especially for the stocks mentioned in this article.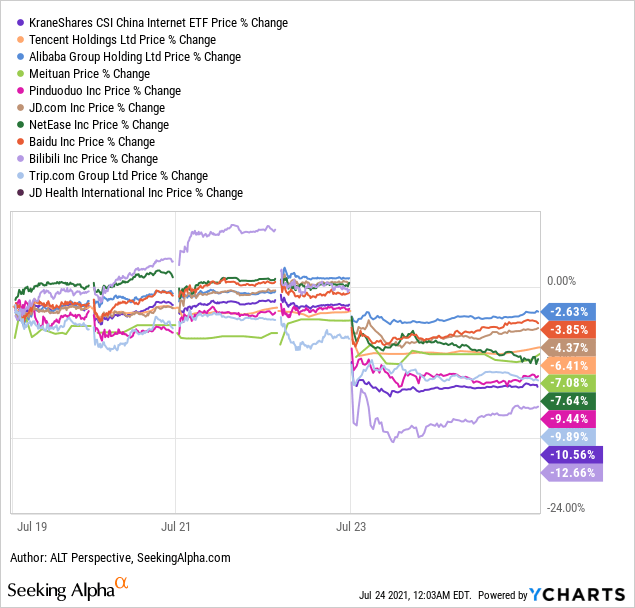 Alibaba: Getting away from the 'limelight' is a blessing in disguise; positive developments on Ant Group IPO and digital yuan
Perhaps with all the attention on the education stocks and new platform-based IPOs like DiDi and Full Truck Alliance, BABA stock was able to take a breather from the usual brickbats leveled on it by naysayers of Chinese equities. A more likely explanation, however, was a positive messaging from Nikkei's interview with Fred Hu, a member of the board of directors at Ant Group.
The IPO of the financial technology arm of Alibaba Group was thwarted at the eleventh hour by Chinese regulators in November. After months of corrective work, Hu believes that it will "not be too long" before Ant Group is able to resurrect its listing plans given that "the governance, transparency, financial accounting reporting are all in place... almost like a public company now," although there is "no rush" for the resumption.
"Ant is the fintech leader in China and globally the biggest, the most profitable and the most innovative. Sadly, the IPO didn't happen. But the fundamentals of the company still remain intact. So the technology is still there, the innovations are still there, the need for tech-driven financial services is still there." - Fred Hu, founder of Primavera Capital Group
A white paper that the People's Bank of China [PBOC] released recently could also have reassured investors that the oft-mentioned digital renminbi, now officially named as e-CNY, is not going to be a threat to mobile payment wallets such as Alipay or WeChat Pay as it "is mainly a substitute for cash in circulation (M0), and will coexist with physical RMB."
The document titled Progress of Research & Development of E-CNY in China states that e-CNY "will further diversify payment instruments", suggesting competition for Alipay/WeChat Pay. However, with the heightened antitrust climate, more e-wallets could surface anyway, with or without e-CNY.
At the same time, the e-CNY system will support offline transactions. This meant that more purchases could be transacted over the mobile wallets at places without internet connectivity. Besides increasing the usage of Alipay/WeChat Pay, greater convenience in payment could encourage spending. This bodes well for the e-commerce giants which are increasing their presence in brick-and-mortar stores and lower-tier cities.
Those without bank accounts will also be able to enjoy basic financial services provided via an e-CNY wallet. Foreign travelers in China can open an e-CNY wallet to meet daily payment needs without opening a domestic bank account.
For someone who traveled frequently to China pre-pandemic, I am sure the e-CNY will spur more travel spending. In China, thanks to the prevalence of e-wallets and the fear of receiving counterfeit money, retailers are apprehensive of accepting cash.
Yet, credit cards issued by non-Chinese banks are not commonly accepted even in big shopping malls. The lack of commercial agreements is one thing but an oft-mentioned gripe about foreign credit cards among the dining and retail outlets is that they have encountered numerous instances of canceled payments either because the payers subsequently reported the loss of their cards or disputed the transactions.
Thus, the e-CNY system will allow foreigners like me to spend more readily in China using the all-in-one Alipay app or WeChat. That alone would be good news for their operators while Alibaba would benefit doubly if the shopping was done at one of its physical retail outlets like Hema supermarkets.
Fatal flooding in China is both boon and bane to Chinese internet companies, depending on who you ask
Torrential rains in central Henan province bringing 'once in a millennium' rainfall caused serious flooding in the capital city of Zhengzhou. China's largest tech firms under heightened regulatory scrutiny, raced to announce donations and render assistance towards flood relief efforts in a demonstration of their societal value.
Besides donating 100 million yuan ($15.5 million), Alibaba Group Holding's community group buying business unit Maimaicai ('grocery shopping' in Chinese) committed to delivering supplies to over 7,000 communities. Pinduoduo (PDD) declared its 20,000 stores would provide free supplies.
Lifestyle services giant Meituan converted its more than 20,000 pickup points into rescue stations. Meituan also waived payments for the use of its power bank sharing stations. Users were able to pick up a power bank for free to charge their devices. The income loss from the fee suspension could be more than offset by the free publicity and new sign-ups.
Alibaba took the opportunity to tap on its digital mapping platform AutoNavi to allow users to request assistance and obtain the phone numbers of rescue units. The locations of those who need help are also made available in real-time. The timely feature upgrades should garner goodwill for the e-commerce and cloud giant. An increase in usage would spur users to explore the other functionalities and enhance engagement.
Critics may point to the prompt donations as a negative for the Chinese tech companies, calling them an additional hidden cost of doing business. However, it's important to note that Tim Cook, the chief executive officer of Apple Inc. (AAPL) promised on Chinese microblogging platform Weibo (WB) that the smartphone titan would also donate towards flood rescue and reconstruction works. It is, thus, not a liability limited to Chinese firms.
The fate of U.S.-listed Chinese stocks - Concluding thoughts
Naysayers have been harping on the U.S.-listed Chinese stocks being uninvestable because of the Variable Interest Entities [VIEs] risk. The possibility that they could be delisted as a result of failing to meet the conditions under the Holding Foreign Companies Accountable Act [HFCAA] is another common refrain.
I argued in the past articles why the VIE risk is misrepresented and why the motivation for the HFCAA could diminish with the sacking of William Duhnke III, the previous chairman of the U.S. Public Company Accounting Oversight Board (PCAOB). However, investors bullish about Chinese stocks like I have been caught flat-footed by Beijing's resolve to do what's right for the Chinese population with immediate effect. That is coming at the expense of hurting foreign capital raising of its domestic companies which would hurt their growth prospects and contribution to the economy, as well as competitiveness with their foreign rivals.
The VIE risk and delisting threat pale in comparison with President Xi Jinping's resoluteness in reining in the previously unrestrained Chinese businesses and audacious executives. Even if what Beijing decides to implement eventually is not as draconian as speculated in the media, it may not matter much for the share prices as we have experienced in BABA's case. Shareholders scarred by the steep losses in their investments could remain skeptical of a sustained closure in regulatory uncertainty and sentiment is easily swayed by the next unsubstantiated rumor.
The beleaguered U.S.-listed Chinese equities could one day prove to be multi-baggers as the scrutiny showed the businesses are far from fraudulent and are having substantial clout on the economy. For now, though, they are highly speculative and probably more suitable for buying on dips and selling on rebounds as well as options trading.