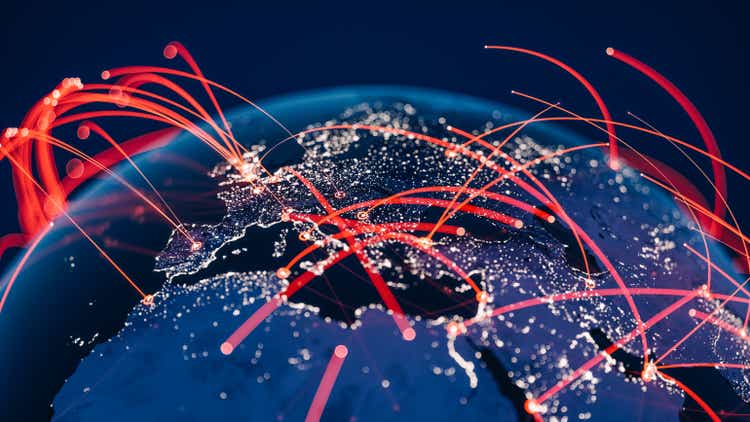 This article was first released to Systematic Income subscribers and free trials on 18-July.
Welcome to another installment of our CEF Market Weekly Review where we discuss CEF market activity from both the bottom-up - highlighting individual fund news and events as well as top-down - providing an overview of the broader market. We also try to provide some historical context as well as the relevant themes that look to be driving markets or that investors ought to be mindful of. This update covers the period through the third week of July.
Market Overview
After 8 months of strong returns in the CEF space with both rising NAVs and tightening discounts, it was inevitable for the market to take a breather. Judging by some of the price action in CEFs, one would think that both stocks and Treasuries fell over the month, however, that's not actually the case with both asset classes moving higher since the end of June. In fact, the average CEF sector NAV was pretty flat since the start of July; however the widening in discounts is what is responsible for lower fund prices.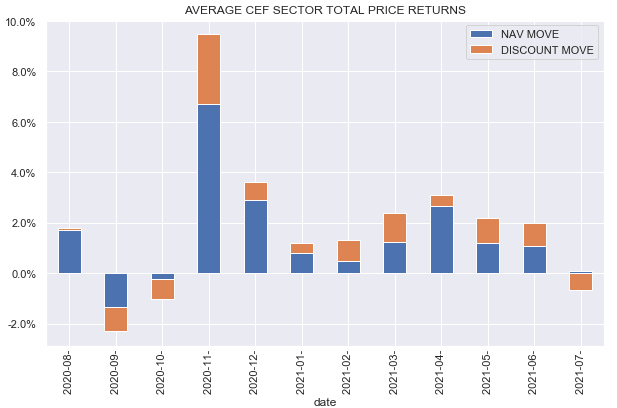 Source: Systematic Income
Digging into individual sector performance over July, we see that fixed-income sectors as well as equity sectors that are more interest rate sensitive such as utilities and REITs have done just fine in NAV terms and it is the higher-beta sectors like MLPs and converts that saw significant losses. Discounts, on the other hand, widened nearly across the board, sparing few sectors.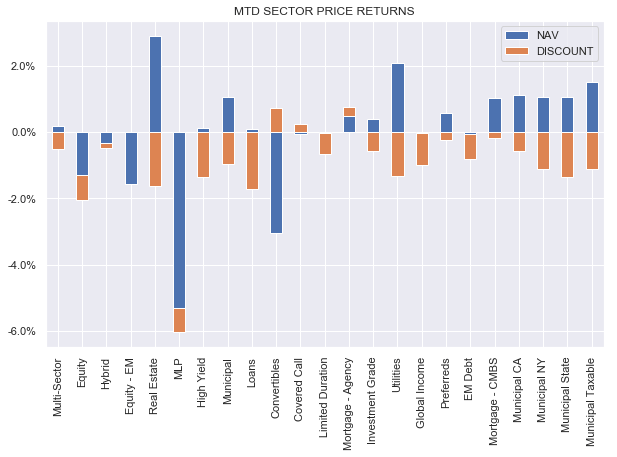 Source: Systematic Income
The recent discount weakness may look tempting; however, if we zoom out, it's clear that discounts are only slightly wider from their recent peaks. The median fixed-income sector discount fell back through zero, having risen above it just recently (into premium territory). Equity-sector discounts are not far off their recent heights and are trading close to their decade record.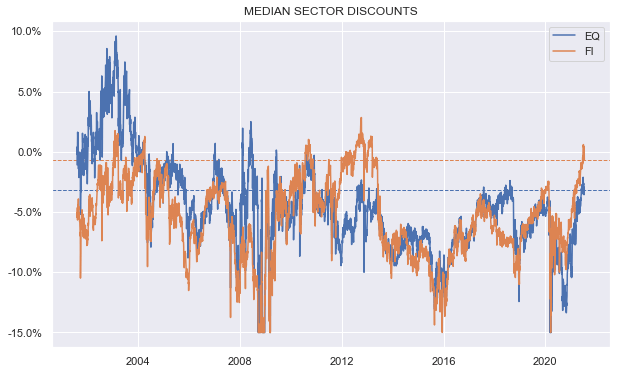 Source: Systematic Income
It was only on 12-May that the 10-year Treasury yield was as high as 1.69% - however since then it fell back to just 1.31% as of 16-July. This period was quite unusual in that both Treasuries and stocks rallied as these two asset classes, more often than not, tend to move in opposite directions. As the following sector return chart shows, this was very much a Goldilocks scenario for CEFs that are sensitive both to Treasuries (being "income" instruments and many CEFs having fixed-income allocations) as well as stocks (as CEFs are technically common shares of companies that happen to be investment companies and their discounts are highly sensitive to broader risk sentiment, which also drives stocks). As the chart below shows, all CEF sectors registered strongly positive NAV returns and nearly all saw tighter discounts as well. Even the higher-quality and normally staid sectors like taxable munis and investment-grade bonds put up very respectable results with the former posting the second highest NAV increase due to its very long duration profile.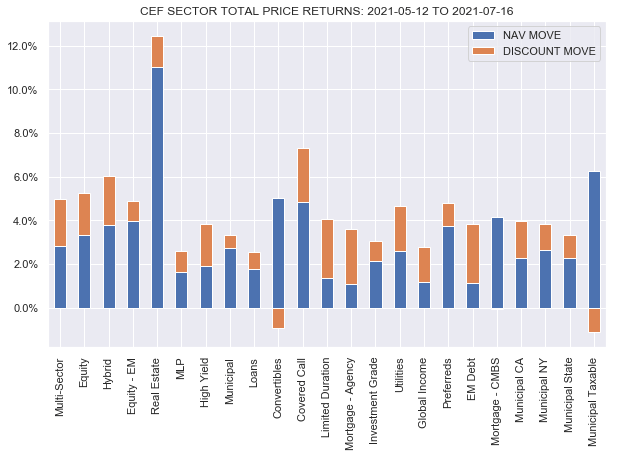 Source: Systematic Income
It's fair to say that the pace of falling yields is very unlikely to sustain itself over the coming months unless we are willing to entertain the possibility of negative longer-term Treasury yields. In fact, it appears that a confluence of technical and fundamental factors conspired to push yields lower over the last couple of months. First, the market saw an unwind of the reflation steepener trade. Secondly - we saw a larger than $1trn fall in the Treasury's General Account at the Fed, which reduced the need to issue additional Treasuries which, in turn, reduced supply pressure. Thirdly, we had falling inflation expectations on the back of a normalization in some macro indicators as well as a fall-off in some sub-sectors such as lumber.
What this means for CEF investors is that we are likely to see, at least a partial, unwind of the incredible performance we have seen since over the last 3-4 months or so. Funds and sectors most at risk are higher-quality sectors featuring longer durations such as taxable and investment-grade tax-exempt munis as well as sectors with expensive discount valuations such as agencies, utilities, preferreds and multi-sector funds.
Market Commentary
The hybrid cash/share distribution of the OFS Credit Company (OCCI) caught some attention on the service. The fund has an unusual distribution which is a mix of cash and stock (sort of a PIK feature for finance geeks). For its entire distribution (across all shareholders), it will pay out 20% cash and the rest in shares. The number of shares distributed will be calculated based on a 3-day VWAP (volume weighted average price) over 3 days after the end of the corporate action period. Investors who don't make an election will be given all stock (roughly 3.75 new shares for each 100 shares held = $0.54 distribution / ~ $14.41 current price x 100 shares). Last time around investors who specified a 100% cash allocation got 31% of the distribution in cash. The fund is doing this because this is an easy way to grow assets (and hence fees) as not all investors will DRIP. With the new distribution coming up, investors have to decide what to do. Investors who don't want to increase their share count should enter a 100% cash allocation. They should also consider selling an amount of shares now that they are likely to get given. If the last distribution dynamics hold, investors who request a 100% cash allocation will get around 2.6 new shares for each 100 shares held. This is because investors who got given shares and who didn't realize it or didn't want them will sell them in the market and put pressure on the stock, which is what appears to have happened last time. The chart below shows that there was about a 7% drop in the stock price following the payment date of the distribution. This is despite a rally in both of the other two CLO Equity CEFs over the same period.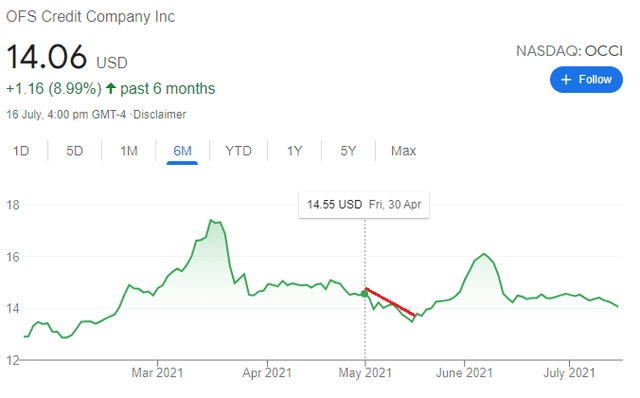 Source: Google
There is some risk here obviously as the price could instead rise for some other reason, say if market sentiment turns up abruptly. Tactical investors in non-taxable accounts who are happy to get new shares may also consider selling now and then buying back if the price moves lower. The two Apollo credit CEFs - Tactical Income Fund (AIF) and the Senior Floating Rate Fund (AFT) - raised distributions with AIF doing a chunky 8% raise. The yields of both funds are not particularly high at 6.4-6.6% which is right around the median yield of their Loan sector. The funds' allocation is on the lower quality side so it's fair to say that their distributions have tended to be pretty conservative. This is probably why the valuation of both funds is attractive at discounts of 8% versus 3.7% sector average. Historical NAV returns are above sector average, particularly for AIF and both funds feature strong risk-adjusted returns as well. The funds have been planning to merge but have not yet received shareholder approval it looks like. Both remain attractive in the credit CEF space.
The Eagle Point CLO funds - the CLO Equity focused Eagle Point Credit Co. (ECC) and the CLO Debt focused Eagle Point Income Co. (EIC) - released June NAVs. Both NAVs fell slightly from the previous month – a significant shift from the increasing NAV trend of the previous months. With credit spreads at very tight levels and loan prices trading right around par the two big drivers of CLO Equity returns (spread compression and reinvestment into lower-priced funds) are mostly spent.
The CLO Equity CEF sector typically offers the highest yields in the CEF space; however, it's important to keep in mind two important facts. First, the since-inception NAV performance of these funds has not matched their high yields. And secondly, the decent returns these funds have posted are not that dissimilar from their preferred stock which has offered a much smoother ride without the annoyances of deleveraging and distribution cuts.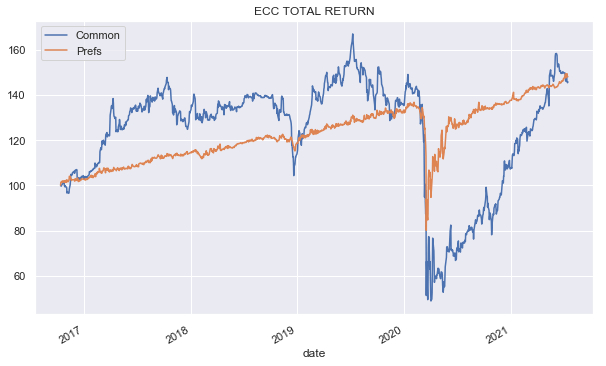 Source: Systematic Income
With yields across the broad set of fixed-income assets at historically low yields (due to both low Treasury yields and very tight credit spreads), it is very clear to us that forward returns in credit are going to look very different from history. In particular, the tailwind of lower yields that credit enjoyed over the last couple of decades is not going to materialize unless yields move well into negative territory. This means that investors have to look elsewhere to drive returns above a middling baseline that is staring all of us in the face.
One way to keep returns chugging along is to take advantage of CEF relative value switches. Our relative value framework (described in more detail here) relies on a number of metrics such as NAV return correlation, the differential in NAV returns and net investment income yield differential. The table below lists Municipal sector funds that look expensive (in the Fund 1 column) as well a potential alternative (next to it in the Fund 2 column) along with these three similarity metrics and a valuation comparison (the discount spread being the simple difference in discounts between the two funds and the discount spread percentile rank being a measure of how unusual the current discount differential between these two funds is e.g. 99% means the current discount differential is higher than 99% of past observations).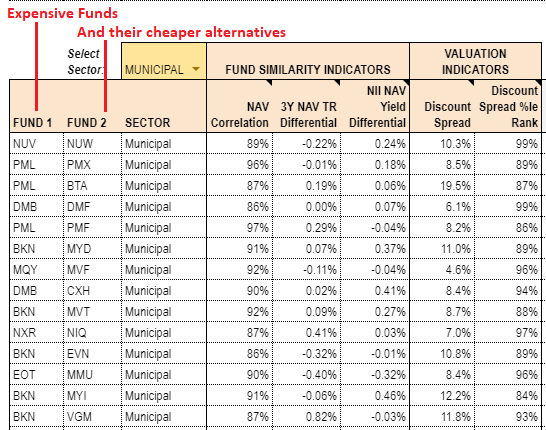 Source: Systematic Income CEF Tool
As the table suggests, the following are just some of the many switches in the Muni sector that are worth considering:
It's always interesting to check on new municipal issuance from the Nuveen fixed-income weekly updates. For example, the Collier County Water Sewer District in Florida issued $129m revenue bonds rated AAA. The coupon was 4% and the yield was 1.26%. This is the kind of dynamic that a lot of investors miss when they look at the high-quality municipal CEFs and see fully-covered distribution rates of 4-5%. If you stick this bond into a CEF, it will generate something like a fully-covered 3.6% distribution rate after leverage and expenses. Now if you look at it on a yield rather than a coupon basis which is how we should look at it – the CEF will actually deliver something like a 0.62% yield - lower than the yield of the actual bond since fund fees are higher than the additional yield pickup you get from leverage. This means that an expensive wrapper like a CEF doesn't mix well with high-quality assets trading at tiny yields. To be fair, this is a AAA bond so the math is a little different for a typical high-grade muni CEF where the yields of its holdings are a little higher (typical portfolio quality sweet spot being around A+) and bond maturities are typically longer than this bond but the idea is very much the same with the upshot being that what investor capital actually earns in these funds is closer to half of what the distribution rates suggest. This doesn't make it "wrong" to hold muni CEFs since they also provide attractive features such as quality, cheap leverage, duration, potential alpha, etc. but it's important to not be misled by the sticker fund "yields" so to speak. Whenever we have a drawdown, however mild, it's always tempting to see if we can pick up some bargains. The chart below shows funds with the largest price drawdown off their recent peaks of the previous month.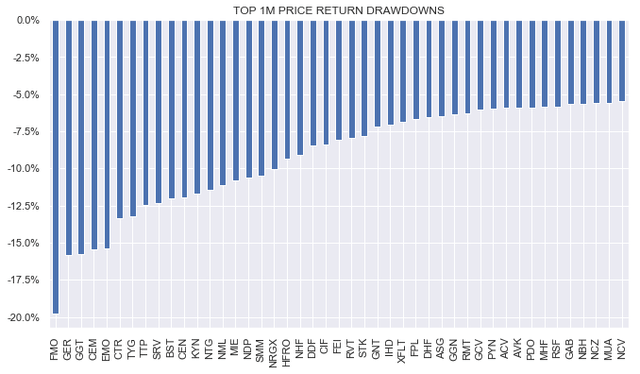 Source: Systematic Income
The two key takeaways from this chart are that first, unsurprisingly, higher-beta funds tend to fall more. The top drawdown funds are mostly from the MLP sector. The fact that these higher-beta funds had the biggest drawdowns, in and of itself, does not make them immediately attractive.
The second takeaway is that it is funds with more expensive valuations that tend to fall the most. These funds include the MFS Intermediate High Income Fund (CIF), the XAI Octagon Floating Rate & Alternative Income Term Trust (XFLT), the PIMCO New York Municipal Income Fund III (PYN) and others trading at high single-digit or double-digit premiums. All of this suggests that investors have to keep both sector and valuation discipline in targeting funds with large drawdowns.
Stance and Takeaways
From a sector valuation perspective, we would tilt away from sectors with either a high-beta or high-duration profile. This is because if we do see another significant trend in yields, it is much more likely to be higher than lower, which could hit both of these types of sectors especially hard.
In the current environment, we continue to like funds with either a higher-yielding or floating-rate profile which should allow them to be less impacted by a reversal in risk free rates. This includes funds like AIF and EIC mentioned above as well as the Nuveen Municipal Credit Opportunities Fund (NMCO) and the DoubleLine Income Solutions Fund (DSL).