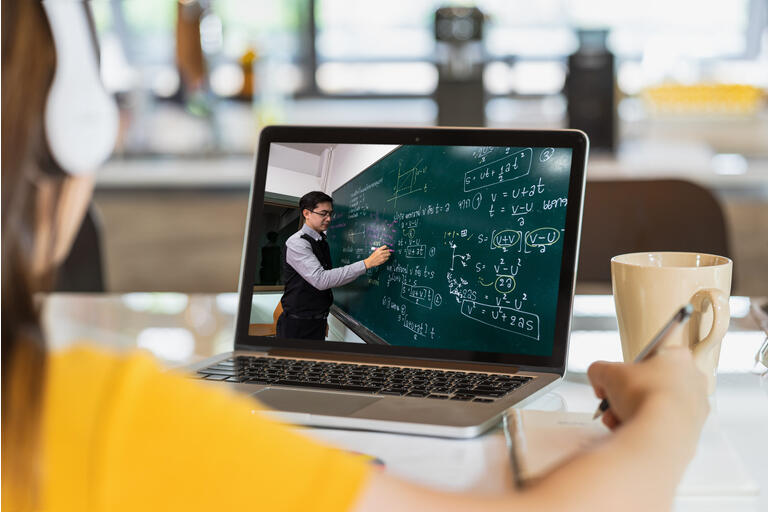 The Chinese education giant TAL Education Group (NYSE:TAL) has plunged 60% on July 23th, 2021, amid media reports (now official) that the Chinese government is proposing new regulatory restrictions on after-school tutoring services. The new tutoring restriction will ban the weekend and all summer and winter holidays for K12. There are also requirements to turn K12 services to non-profits.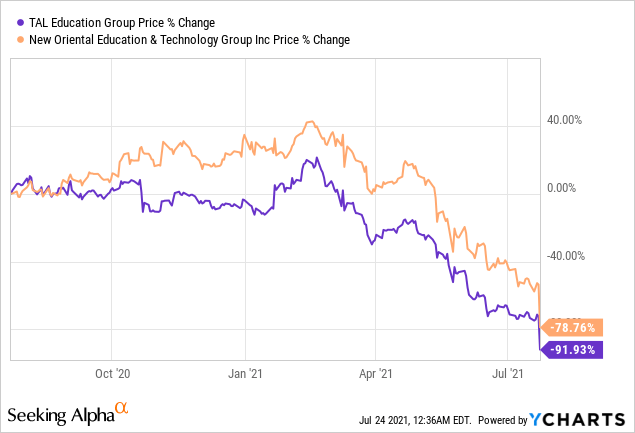 Definitely not good news. All the analysts are projecting the worst-case scenario here. However, the price drop was mixed with lots of imaginary worries, since the officials still provide spaces for TAL to exploit. TAL has released a statement early July 25th saying that they will thoroughly study the new policies and collaborate with the government to improve the K12 educational environments in China.
The new tutoring restriction is supposed to be good for Chinese People.
When the CCP wants to show its muscles, nobody can do anything about it. Recently, we see how powerful they are against mega-firms that might have threatened their control of the country, such as Alibaba (BABA) and Tencent (OTCPK:TCEHY).
This new policy is not out of the fear of losing CCP autocracy, but wants to transform the current k12 education situation for good reasons. CCP is worried about the extremely low birth rates and shortage of labor support for the economy. They stated that the reason for this regulation is to reduce the huge amounts of money and time spent on after-school tutorial centers such as TAL and EDU and relieve the burden for young families. In other words, the goal is not to have TAL and EDU bankrupt, but make them beneficial to society.
Policies like this have a history of under-delivering.
This is not the first time the CCP has sought to implement restrictions on after-school tutoring. In Aug 2018, there were similar orders, including banning tutoring activities after 8:30 pm and limit the maximum time to 3 months. Although the order was officially announced, it didn't stop businesses from growing on the ground. The TAL and EDU continued to enroll huge amounts of new students, and revenues continued to rise in 2019 and early 2020. More and more after-school tutoring start-ups have also come to the market.
CCP's actions on basic livelihoods such as housing, medicare, and education are always over-promise, but under-deliver. Reforms on housing bubbles have been around for years, but people still haven't seen affordable house prices. Healthcare reform has been announced every year, but good medical services are still luxury for lots of people. Even the claims about Poverty Eradication that they are proud of are untrue as you could still find millions of people live in critical conditions in remote villages.
Beijing could announce anything they want, but each city will have its own version of the truth. The current public education in China is really not good, and kids learn less from the school than with TAL. Public teachers earn little government salaries with no incentives for quality teaching. The after-school tutoring business involves lots of people, including students, parents, and teachers. In fact, a large number of parents who work for the communist party rely on services from TAL to make their kids stay ahead of the competition. The 996 working hour system (9 am to 9 pm for 6 days a week), which keeps Chinese firms' productivity ahead around the world, also leaves no time for young couples to take care of their kids at home. After-school tutoring centers provide a safe place for kids to learn, socialize, and grow. Therefore, TAL Services actually relieve lots of stress for urban parents. Millions of CCP members actually want TAL to survive.
Officials' languages are harsh but not the end of the world
Unless CCP is looking for political suicide, I think this new regulatory restriction will definitely leave loopholes for TAL to exploit. For example, in the document, officials stated:
"现有学科类培训机构统一登记为非营利性机构....对非学科类培训机构,各地要区分体育、文化艺术、科技等类别,明确相应主管部门,分类制定标准、严格审批."

Existing academic subject tutorial institutions need to change to non-profit. Non-academic subject tutorial institutions need to work on categories in sports, humanist and art, and science, etc. Make sure government departments are clear about the standards and strictly execute the policies.
This means that TAL cannot profit from subjects in standard tests such as language, math, English, chemistry, physics, etc. But it is ok to arrange profit business on sports, humanist and art, and science, etc. OK. What if TAL pushes for a curriculum change to their tutoring class offerings? Can TAL reorganize its existing math, chemistry, and physics content and merge it into a science curriculum that aims for scientific inquiry instead of winning standard tests? I think there are many opportunities here.
In fact, just last month, TAL was already aggressively hiring directors in music, art, and science educations. New classes related to English poems and literature, painting, chess, and many new categories. To be honest, with the brand and platform TAL has, changing the curriculum is not so hard.
Regarding the language on 'non-profits,' Chinese officials didn't offer exact definitions since China doesn't really have many significant private-run non-profit organizations yet. However, insider reporters did say that there will be an upper limit on profitability. I think this will be similar to the regulations on utility company pricing in the US that you could only charge a certain amount of fees. So companies with scale and efficiency, such as TAL and EDU, can actually capture more market shares and possibly get more student traffic. In fact, TAL and EDU don't seem as surprised as the market and are already preparing these policies. Early this year, they already have their 10 new schools in Beijing registered as non-profits. Overall, the profitability of the K12 business will definitely go down, but there are still spaces for innovations and new opportunities.
EDU (New Oriental Education & Technology Group Inc.) is better
Both TAL and EDU are great businesses. Tutoring center businesses are all about trust, and parents are willing to enroll kids in those schools only because of their great reputation from mouth-to-mouth. Larger companies like TAL and EDU also have more successful alumni who can further reinforce their brands. It is very difficult for an entrant to compete with these two names.
However, EDU is less damaged by this news and has a better quality to me. Compared to TAL, EDU is less reliant on the K12 sector. EDU can also leverage its large physical school site with its OMO (online merger offline) model to be more flexible on future policy uncertainties. Again, China has lots of big cities. And all the young parents there need their kids a place to stay while they are at work.
Risks
Price drop and underperformance are part of investing. Investment Guru Howard Marks once said, "I'm firmly convinced that investment risk resides most where it is least perceived and vice versa." The current TAL is just the opposite, and all investment risks were perceived and represented on the current stock prices. Will there be any worse news than turning the company to non-profits? A WWIII? Warren Buffett once said, "The true investor welcomes volatility." I think this is the time to ponder and dive deep into the stock.
Historically, TAL's stock prices are following the revenue trends, as shown in the chart below.
Reduced tutoring time will have a huge impact on the previous 43% CAGR. There will be market share capture opportunities after smaller players go bankrupt. However, the overall total addressable market (TAM) will be immediately cut to half if K12 summer classes are canceled. I think TAL's 2022 revenue will be cut in half to $2B or more with no future growth prospects.
The company has $5.9B total cash & short-term investments with $2.3B long-term debt. The cash flow also looks good as it only has had negative net changes in cash for two years since its IPO. So the short-term risks of going bankrupt are small.
It is also possible that turning to 'non-profit' will deteriorate TAL's education quality and lose its brand recognition and competition. This may drive TAL to enter other fields with new business models. Or TAL may seek to sell its businesses to big names like Alibaba and Tencent since TAL's customer relationships and data with parents and students are valuable intangibles.
TAL has a net current asset value of $1.2B, and the market cap is $3.8B. So this is not a net-net stock yet. I won't bet big on it until the management provides a clear plan to get them out of this regulatory crisis.