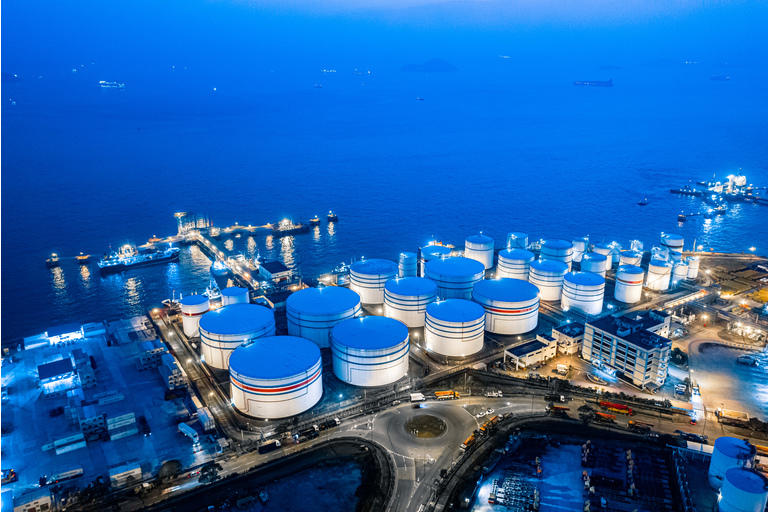 InfraCap MLP ETF (NYSEARCA:AMZA) has had an interesting history. When it started out, its assets ballooned rapidly and peaked in 2018.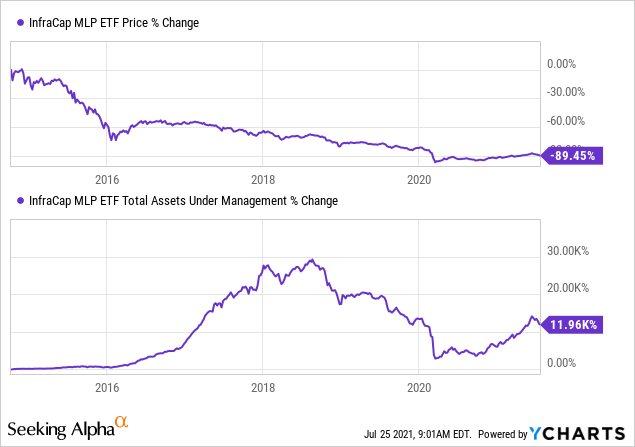 Early in its history, its rapidly expanding assets were often incorrectly blamed for uncovered distributions. But fortunately AMZA did acknowledge what everyone with basic accounting skills and a calculator knew, the distribution was not remotely covered. The first cut happened in 2018 and adjusted for the 1:10 reverse split in 2020, the distribution is down about 95% from the original distribution.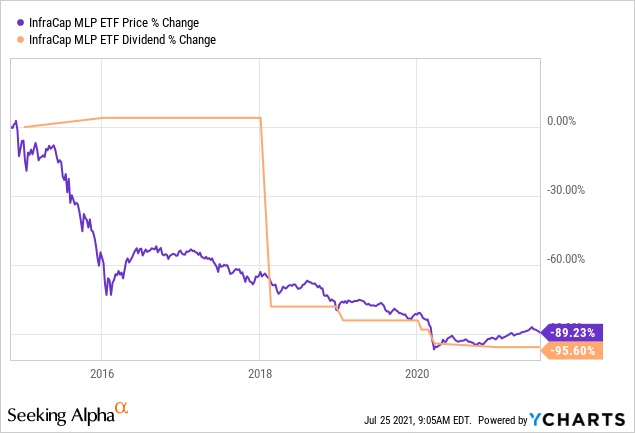 The history of cuts can also be visualized here.

Source: Dividend Channel
Overpayment has consequences but the biggest blow back came from the sector which has unfortunately been one of the worst performers over the last 6 years. You can see below that even passive non-leveraged ETFs like Alerian MLP ETF (AMLP) have really fared badly. AMZA of course used leverage, and that compounded its woes.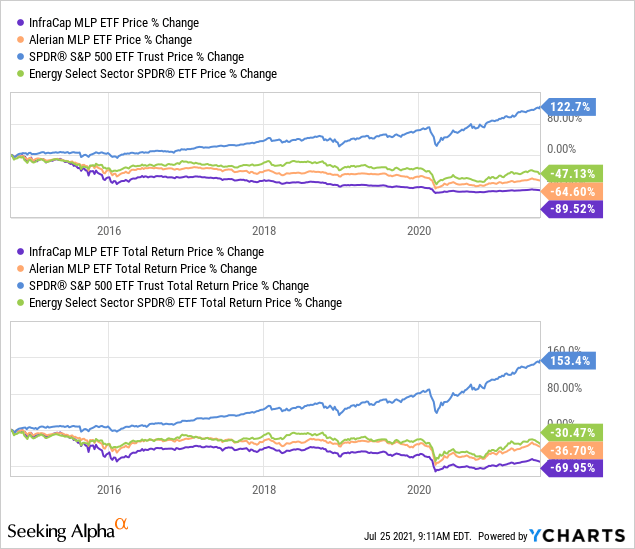 While the original investors might have a lot to complain about, AMZA has got its bearings on the policy and it appears to be focused on distributing the correct amounts rather than dipping into NAV. But we still think AMZA, alongside all MLP funds should be avoided. We go over our thinking below.
Overabundance Of Assets
Just prior to the pandemic, EIA forecasted that US crude oil production would reach 14.0 million barrels per day and remain high for the next 2 decades.
In the AEO2020 Reference case, U.S. crude oil production reaches 14.0 million barrels per day (b/d) by 2022 and remains near this level through 2045 as tight oil development moves into less productive areas and well productivity declines.
Source: EIA
Graphically you can see their forecast back then in this chart.
Reality has gone in a different direction.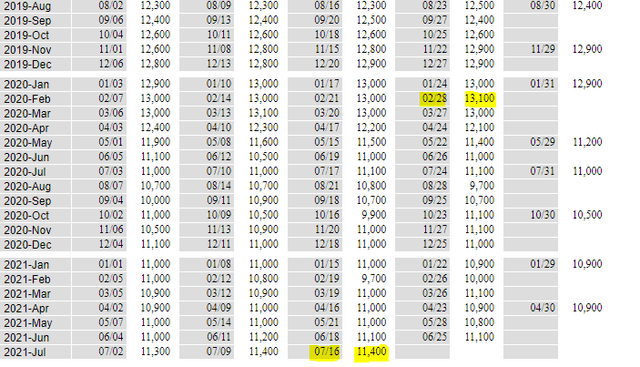 Source: EIA
Alongside this decreased production, midstream area has not completed building of assets on schedule. Today we estimate that total crude oil transportation capacity is well north of 14 million barrels of day. This leads to a very different pricing environment than what you would get if the US was producing over 13.5 million barrels per day. As contracts come up at the end of their lives, expect a massive decrease in new pricing. Even prior to the end of the contract, firms have renegotiated contracts in bankruptcy. NGL Energy Partners (NGL) got the short end of the stick with Extraction Oil and Gas Inc. (XOG) as the latter emerged from bankruptcy. While that was rather bad result for NGL, the key story here is that production in the Denver-Julesburg Basin is just 51% of takeaway capacity. For an excellent breakdown of that specific situation we recommend a read of Michael Boyd's article.
At a broader level, we think MLPs will have very poor pricing power and while there will be some captive markets, on the whole we think this area will go through many years of subpar performance as contracts reset only in one direction.
No Capex To the Rescue
While investors may be hoping that energy companies flush with the recent high oil prices, may be making a renewed commitment to blow up their balance sheets, nothing could be further from the truth. Horizontal rig count has actually gone horizontal, despite the big price jump.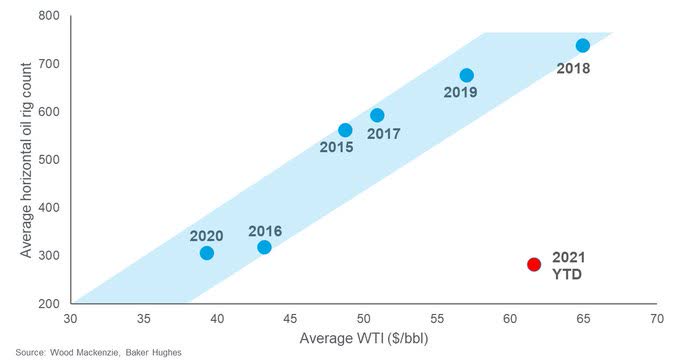 Source: Wood Mackenzie Via Twitter
Reinvestment rate is in the sub 50% range according to Credit Suisse (CS).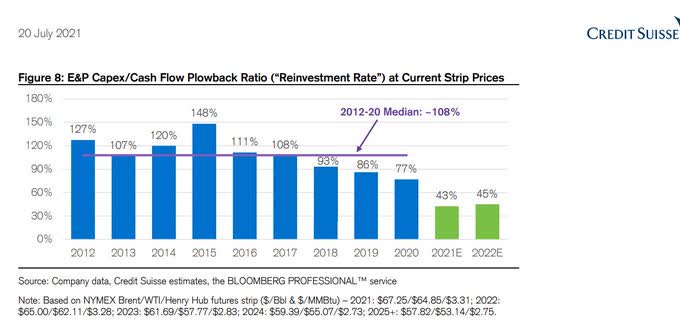 None of this bodes well for volumes in the US, and it is those volumes that setup negotiating leverage.
Won't Low Capex Solve The Problem Eventually?
We can see the bullish argument that low capex eventually creates a high enough price for the commodities, which eventually restores capex and volumes. While that is certainly a longer term possibility, we don't see geology cooperating enough to make this happen in the next 2-4 years. We also don't buy the idea of holding US midstream assets even in that case. If that scenario played out, as described, upstream assets would massively outperform, and midstream assets would still struggle to replicate their peak cash flows.
There are also additional problems associated with midstream assets if a high oil price materializes. Higher oil prices are likely to be marked by Backwardation across the curve and low inventories. Both these conditions are absolutely detrimental to storage assets. So what midstream would gain on transportation volume, it would likely lose on the storage side.
Conclusion
AMZA runs a concentrated portfolio with zero upstream assets in the top 10 holdings.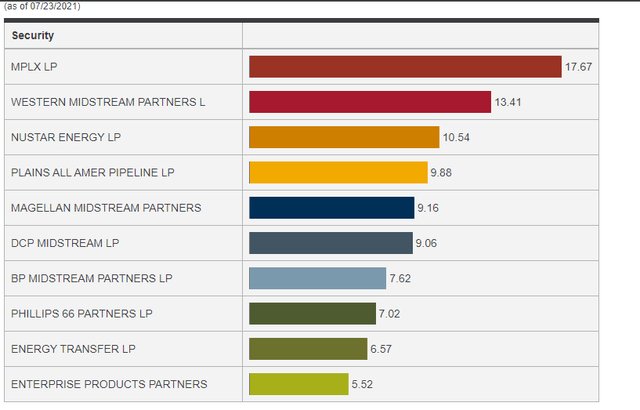 Source: Virtus
The firms shown above own a collection of midstream assets including pipelines and storage facilities. While no one doubts the importance of these assets, we don't see these as money makers for investors. Now, there are individual cases where one can get the story correct, but collectively we bet that these have no chance of outperforming upstream energy companies.
During the last 6 years you can see that Energy Select Sector SPDR ETF (XLE) had a total return of negative 30.47% compared to AMZA's negative 69.95%. The pure exploration and production companies (XOP) have tracked AMZA's total return performance. This is despite AMZA doling out big dividends.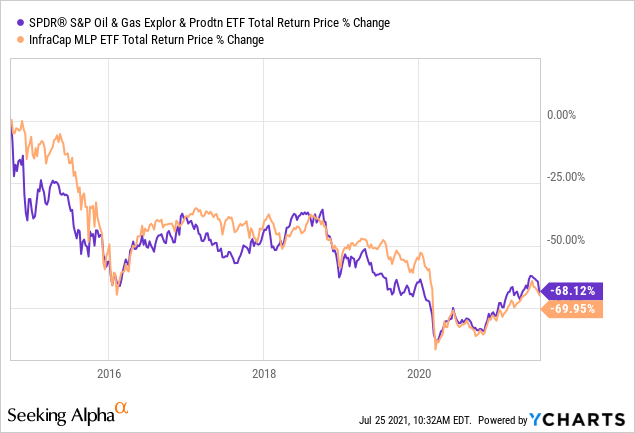 For reasons cited above though, we expect, XLE and XOP to deliver strong outperformance. Our relative outlook is provided below. We have based it on crude oil but you can extrapolate the same for Natural Gas prices.

Source: Author's estimates
Note this is the outlook for the sector and we expect some upstream companies to outperform in all pricing environments. We remain very bullish on energy for the long term, but US midstream assets in general and AMZA in particular would be the last way for us to play that.
Please note that this is not financial advice. It may seem like it, sound like it, but surprisingly, it is not. Investors are expected to do their own due diligence and consult with a professional who knows their objectives and constraints.