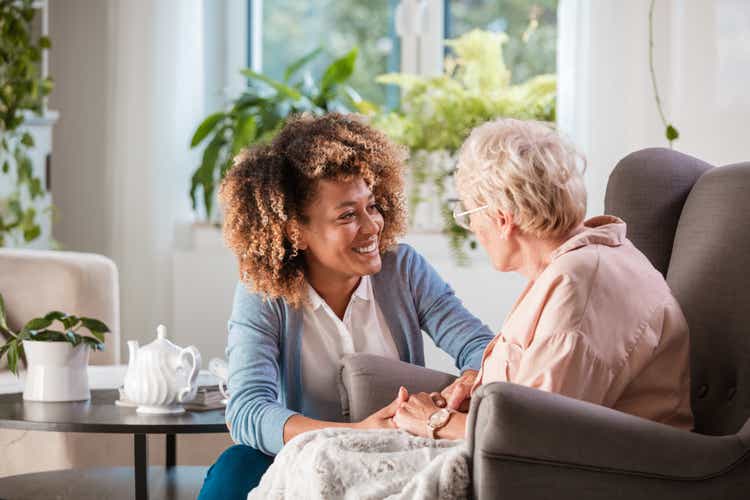 We came across Five Star Senior Living (Provider of Senior Living Services) (FVE) from a screen we ran where the objective was to find undervalued companies with strong balance sheets. Shares at present are trading at approximately the $5.60 mark which means there has been plenty of stagflation over the past two and a half years. Suffice it to say, the pandemic has not helped the company's fortunes. Trailing twelve-month sales of $1.135 billion are well down from the $1.41 billion top-line figure reported back in fiscal 2019. The question now is whether momentum will resume once more due to the sustained roll-out of vaccinations for the company's residents.
Value investors know all too well that we can get too caught up in the company's most recent financials and ignore the more longer-term trends. For example, with respect to Five Star at the end of fiscal 2019, the company was averaging just under 2% top-line growth on average per year for the preceding decade. This was the sustained trend in this time-period. Moreover, sometimes a mini-crisis (sales dropped 9.5% in the recent first quarter) can really spur management into pivoting operations or accelerating the transition on hand in order to return to some type of sustained sales growth.
This took place recently with management announcing its next step in its transition plan concerning its intent to reposition, evolve and diversify its offerings in order to improve the company's profitability. As chartists, we believe these changes and the ramifications of same have already been reflected on the technical chart. Despite the fact that, as mentioned, shares are currently trading at levels which we were accustomed to in 2019, the bullish volume trend leads us to believe that the decisions to exit skilled nursing and focus more on the senior living management segment seems to be working. Let me explain.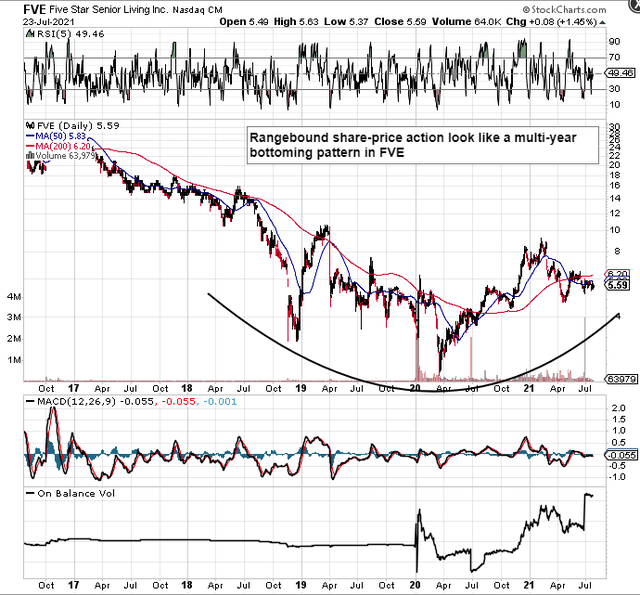 At present, Five Star shares trade with a trailing book multiple of 0.83. The average is this sector comes in at 3.75. To really get a hold on how low Five-Star's book multiple really is, let's turn to a house analogy. Just say, a person wants to sell his home for the maximum price possible. He therefore does an expensive comprehensive reform of the house by putting in new more expensive windows, new floors, new furniture, new toilets, etc. topped off by a fresh repainting of the building. Since the market is hot, he believes he will make a 100% return on his invested capital (double his money) which he put towards the renovation.
While this may have been possible in a hot market, all of a sudden, the market changes and buyers quickly dry up. Now our house owner has zero interest in his house from the market. In fact, his estate agent tells him that he will now fail to see any benefit from the extensive renovations he carried out over many months. Unfortunately, for him, it is all about price now for buyers. Value & book value came in a distant second.
Circling back to Five Star and its value, do you see the similarity? This industry through the pandemic has not been a favored space for obvious reasons. This does not mean however that the value is not there. Just like the renovated house described above, Five Star shares (after a 11+ month pandemic rally off its 2020 lows last year), have been out of favor for almost seven months now. I reiterate though that this does not mean the value is not there. In fact, the most value is always evident when it is a seller's market (when investors are too fearful to buy).
Sentiment is one thing. The numbers tell us a different story. At the end of Five Star's first quarter, the company had almost $110 million of unrestricted cash & cash equivalents, just over $7 million of long-term debt and shareholder equity of approximately $214 million. Net profit of $3.3 million in the quarter resulted in operating cash-flow of approximately $27 million, of which only $2 million went towards capital investment. Suffice it to say, with these types of financial trends, we see very limited risk to the company's assets which means the firm's "locked-up" value will not go away any time soon.
Therefore, to sum up, there is a lot to like in Five Star Senior Living at present. The company continues to pivot its operations to improve profitability, which is why we believe we have a bottoming pattern forming on the technical chart. The strong calling card, though, is the company's book multiple, which remains light-years behind what the industry is trading at presently. Care facilities may be out of favor, but they are not going away any time soon. Buy your winter coats in Summer. We look forward to continued coverage.