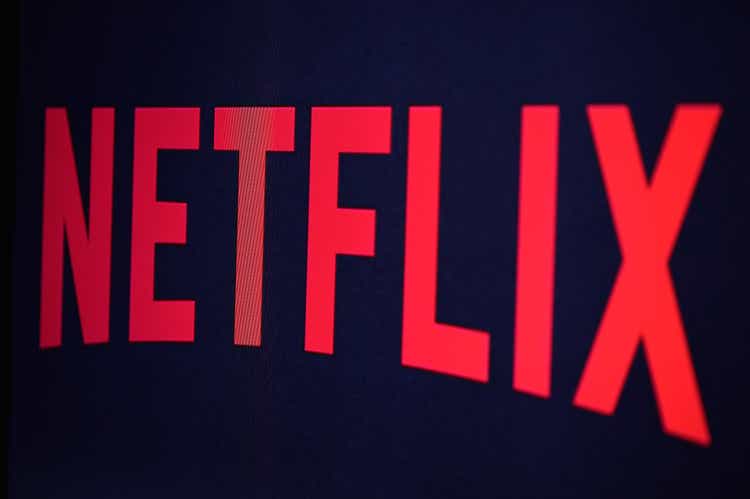 Netflix Inc (NASDAQ:NFLX) has the potential to perform well. However, we highlight what you need to consider before jumping into the stock. We base our forecast purely on the company's fundamentals. By doing so, we are able to point to the specific growth drivers rooted in numbers as opposed to perceived potential. In addition, we believe that Netflix's margins will expand going forward. Using the fundamentals allows us to more reasonably estimate the company's margin expansion.
Valuation
Forecasting is not easy and it's difficult to be precise. However, the point of forecasting is not to be right but to be reasonable. Our projections are based on the company's fundamentals. We try to determine what growth rates the company can fundamentally sustain up until 2025.
We will begin with the growth rate we expect for fiscal year 2021. The first thing we need is to determine what will constitute as reinvestment. For Netflix, it will be research and development, marketing, capital expenditures, net investment in content, and change in net working capital.
Please note that we measure net investment in content as the cash spent on developing content subtracted by the amortization of previously developed content. Our assumption is that the amortized amount is the "maintenance content" needed to maintain the interest of current users and doesn't contribute to growth. The net investment in content is what we consider the "growth content" that contributes to attracting new users or justifying price increases.
In addition, that depreciation and amortization expense is subtracted from the reinvestment rate as it is used as a proxy for maintenance capex that does not contribute to growth.
The next step is to find the revenue-to-capital ratio. This measures how much revenue a company generates for each dollar in capital. Once we have both numbers, we multiply them to calculate the fundamental growth rate.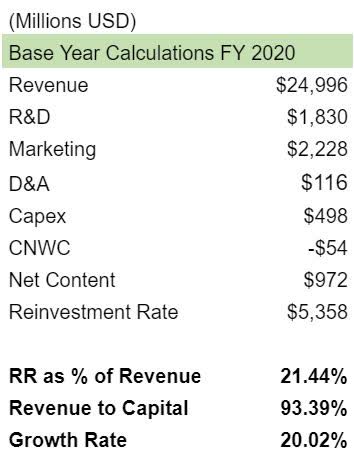 Source: Author
In the picture above, we see that the reinvestment rate was 21.44% of revenue and revenue to capital was 93.39%. Therefore, the fundamental growth rate for fiscal year 2021 equals 20.02%. This is slightly above analysts' expectations but by very little.
The next step is to determine the degree of operating leverage, which is a multiple that measures how much the operating income of a company will change in response to a change in sales. Netflix has had a ratio of over 2 over the past several years. To be conservative, we will use 2 and reduce it each year. In addition, we did the same thing with gross margins using a starting point of 1.08.
As the EBIT margin increases, the reinvestment rate decreases because R&D and marketing expenses become a smaller percentage of revenue, resulting in a slowdown of growth. We measure this slowdown by setting R&D and marketing to 70% of total operating expenses (percentage in fiscal year 2020). We then calculate the future fundamental growth rates with the projected numbers as follows: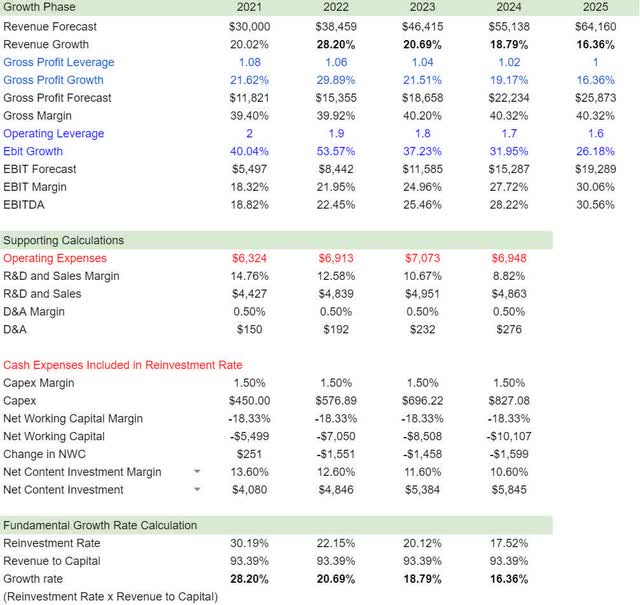 Source: Author
We used the average capital expenditure and D&A margins of the last three years. Now we will input these numbers into a DCF using the company's weighted average cost of capital of 5% based on current market conditions. Please note that we grouped net content investment with capital expenditures.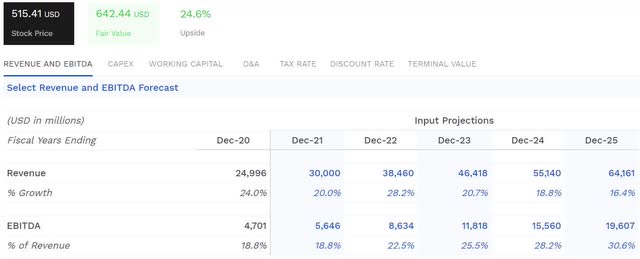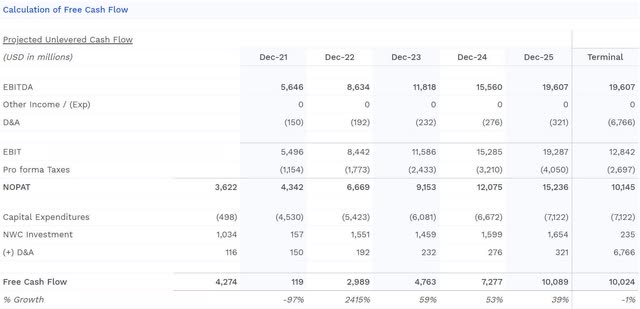 Source: Author using Finbox tools
As you can see, with a 5% discount rate, 21% tax rate, 2% terminal growth rate, and a forecast based on fundamentals, the company has the potential for 24.6% upside. Of course, discount rates are always changing and not everyone likes to use current discount rates. Therefore, we made the chart below to demonstrate the fair value at each discount rate and terminal growth rate: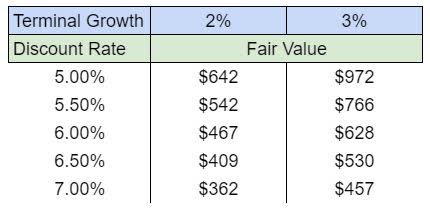 Source: Author
As you can see, if interest rates stay low for an extended period of time, Netflix can potentially see solid upside. However, there isn't much room for changes in the discount rates, and therefore should be careful if you believe discount rates are going up.
Checking for Consistencies in the Forecast
Let's make sure everything makes sense in the forecast. We'll begin with revenue growth. You can see that we expect revenue growth to accelerate in 2022 before gradually decreasing in the following years. This is because we expect Netflix to increase its net content investment in 2021. The company has stated that it will increase overall investment in content to $17 billion, up from $11.8 billion in 2020. This consequently leads to a higher reinvestment rate and the potential to accelerate revenue growth. This seems reasonable to us because it has happened to Netflix in the past where revenue growth has accelerated.

Source: Author
In addition, the net content investment in our forecast is similar to the absolute amounts Netflix spent pre-pandemic.
Furthermore, management expects free cash flow for this year to be break even or slightly higher. It's hard to say what slightly above means for the management team. Although $119 million is exactly slightly above breakeven, it is still significantly less than what it was in 2020. However, management hasn't specified whether it is unlevered or levered free cash flow and it is possible that unlevered free cash flow (which is what we used) might be higher. It is also possible that Netflix might have a stronger than expected second half. Regardless, the $119 million is immaterial to the valuation overall.
Growth Catalysts
An obvious growth catalyst that impacts our forecast is the company's increase in content spend. Content is the most important factor when it comes to entertainment-based businesses. Netflix can have the most technologically advanced platform in the world but, if the content is boring, then nobody would use it.
In addition, although streaming has become increasingly popular, cable still accounts for the largest share of total tv time in the US: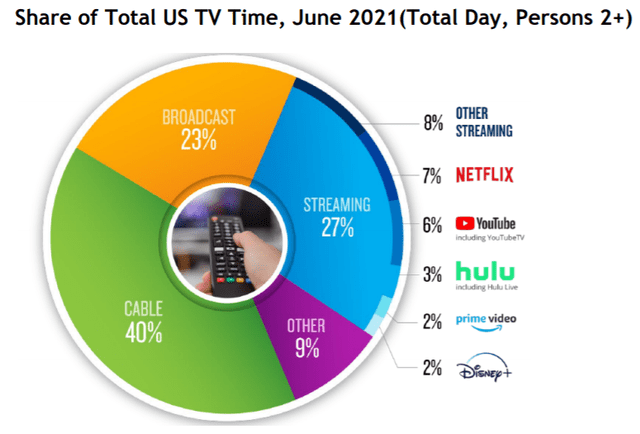 As you can see, the streaming market as a whole is only 27% of the total share. Despite all the talk about increasing competition, there is still plenty of room for the streaming segment to grow as a whole. Therefore, even if Netflix loses market share to other streamers, it will still be able to grow in absolute terms.
Finally, Netflix's venture into video games could be beneficial if executed correctly. However, we don't have too much conviction in this idea just yet, which we talk more about in the "risks" section below.
Risks
We will begin with video games. The video game industry is very tough. With all the money that Amazon.com Inc (AMZN) generates, it has struggled to release a successful game since starting the division in 2014. Likewise, Alphabet Inc (GOOG) has suffered a similar problem. This implies that developing successful video games is not as easy as throwing money at developers and requires a certain level of specialization.
Speaking of throwing money, Netflix's increased spend on content may not yield positive results if it is rushed. This article demonstrates that people can notice when projects are rushed. Although the article is from 2019, it is an important reminder that the quality of the content is likely to be more important than the quantity. If Netflix fails to deliver on quality, it could see subscriber counts drop.
Final Thoughts
Netflix is undervalued under current market conditions; however, it doesn't provide enough of a margin of safety if the interest/discount rates increase. Thus, although Netflix may continue to do well, we will stay on the sidelines for now.