Biogen's Case For Aduhelm For Alzheimer's
Summary
Aduhelm was approved by the FDA for Alzheimer's disease.
Controversy about that decision has knocked down Biogen's stock price.
Biogen and the FDA have presented strong arguments to prescribe Aduhelm.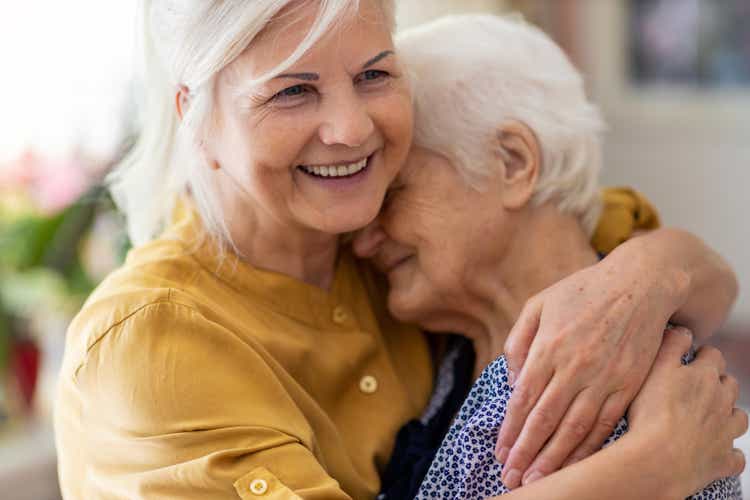 Biogen (NASDAQ:BIIB) has become well known to both investors and the public of late due to the controversy over the FDA approval of Biogen's Alzheimer's therapy Aduhelm. The publicity has been mostly negative, with FDA Advisory Committee members angry because their advice was not followed plus the usual anti-pharmaceutical industry chorus displaying their lack of understanding of statistics. And, of course, most socialists feel that all pricing of therapies by pharmaceutical companies is highway robbery.
Most of Biogen's Q2 (second quarter) 2021 analyst conference held on Thursday, July 22 was devoted to a defense of Aduhelm (Aducanumab). The drug, the mechanism of action, the FDA approval decision, and the pricing of the drug were all defended. It was a strong defense. Part of it showed that many doctors who treat Alzheimer's have looked at the trial result and the FDA approval and intend to prescribe Aduhelm. I think the public should be aware of the potential benefits of Aduhelm, and that investors should be aware of the potential sales and its effect on Biogen stock. While I will repeat, in this article, some of the basic financial data for Q2, the focus on this article will be the case for Aduhelm. I will start by getting the Q2 financials out of the way.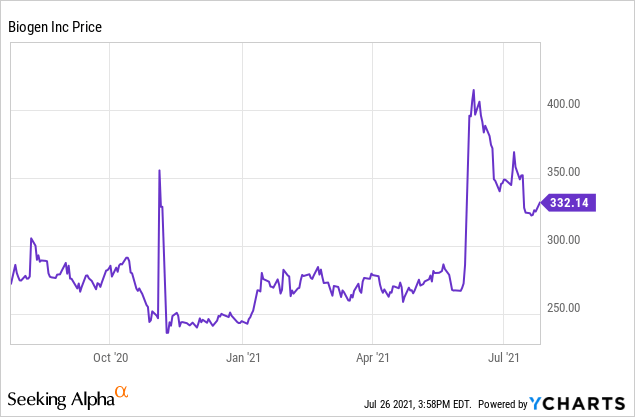 Q2 2021 Biogen Results and 2021 Full-Year Guidance
Biogen second quarter 2021 results were released on July 22, followed by the analyst conference. By conventional standards the results were just plain bad: revenue of $2.78 billion was down 25% from $3.68 billion in Q2 2020, and it should have been an easy comparison. GAAP EPS, diluted, was $2.99, down 69% from $9.59 year-earlier. So why the disaster, and why did the stock price not drop more? The revenue and profit decline were due to patent expirations and competition from biosimilars. Tecfidera sales were down 59% y/y, and Avonex sales were down 17%. Investors and analysts were well-aware of the downward sales trend and the dangers to Biogen's lucrative established drugs from generic competition. That must be balanced against the potential future revenues from Aduhelm and potential therapies in the clinical pipeline. Also, Biogen itself sells biosimilars, and revenues from that were up y/y.
Full year financial guidance for revenue was boosted a bit to $10.65 to $10.85 billion. The estimate for non-GAAP diluted EPS was kept the same, in a wide range from $17.50 to $19.00 per share. If it hits $19.00 per share and the stock price sticks at $333, that will imply, when full 2021 results are reported, a P/E ratio of 17.5. That is a high PE if revenues continue to drop, and a low PE if Aduhelm sales take off, lifting revenue and profits. Biogen's ambitious pipeline plans are shown on this slide: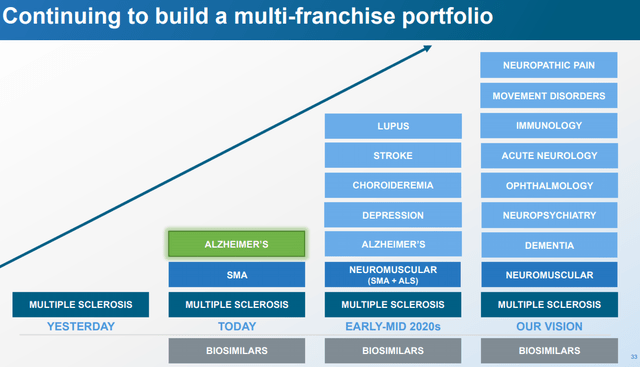 Source: Aduhelm presentation, slide 33
Why Aduhelm Was Approved
In addition to earlier, promising trials, Biogen conducted two large Phase 3 trials of Aducanumab for treating an early stage of Alzheimer's. It is important to note that Alzheimer's is a complex disease in the sense that individual patients vary greatly in their symptom development and in (what is so far understood about) the underlying causes of memory loss and other forms of decline.
In March 2019 these Phase 3 Aducanumab trials were stopped. It is worth re-reading the aducanumab discontinuation press release to get a good understanding of why Aduhelm critics' interpretation of this discontinuation are wrong. The independent data monitoring committee, not Biogen staff, concluded the drug was unlikely to meet it primary endpoints. It was Biogen's decision to end the trial, which was quite expensive, and reasonable given that all other Alzheimer's therapy trials to treat the underlaying disease had also failed. Not because of any safety concerns. The primary endpoint was slowing cognitive and functional impairment as measured by changes in the CDR-SB (Clinical Dementia Rating-Sum of Boxes) score. The committee believed the data, at the time of their decision, could not lead to the statistical significance goal. It is important to note that statistical significance is a number on a number line. That number can be more or less significant than another number. The human body and its diseases are complex. No two groups of trial subjects are identical. We often see, in biological sciences and in clinical trials, trends show effectiveness that do not reach preset goals. That does not mean a therapy has no beneficial effect, only that the effects, as measured by numbers of patients with sufficiently positive effects, are not what were considered (by agreement with the FDA) to be sufficient.
After official discontinuation of the trial the patients continued to be followed. This was not some underhanded strategy by Biogen; it is standard procedure in the industry. Then on October 22, 2019, Biogen announced that, surprise, the Phase 3 data was positive and it would file for approval with the FDA. To sum up the data, it showed that Aducanumab reduced clinical decline in patients as measured by pre-specified primary and secondary endpoints. The reversal of the independent data monitoring committee judgment was driven by "greater exposure to high dose Aducanumab in the larger dataset as compared to data available at the time of the futility analysis." Biogen did note that while one study, EMERGE, met the pre-specified endpoint for statistical significance, with p=0.01, ENGAGE did not. It did note that those patients who received the higher doses in the ENGAGE study did have results that supported the EMERGE positive results.
That is the crux of the matter. Should society, represented by the FDA, make a decision based on the totality of the data, or should some partial data, the data from patients receiving low doses of the drug, prevent approval? If the opponents of the approval, the critics of Biogen and the pharmaceutical industry, simply said they do not feel comfortable risking their professional reputations when every i was not dotted, despite a clear trend to patient benefit, I could respect that. Instead they (as quoted in the general press) use words like "failed" and "unsafe" to imply the FDA made the wrong decision.
Biogen released a statement on July 22 that I think objectively states the case for the approval and for doctors and patients trying the drug. The open letter on Aduhelm for Alzheimer's, by Biogen's head of R&D, Alfred Sandrock, M.D., Ph.D., made the key points of the argument. The approval was under the Accelerated Approval program, which has been granted to over 250 drugs in the past. The program had not been used for Alzheimer's, but then no prior Alzheimer's therapy had trial results as good as Aduhelm's. The approval was not based on slowing of cognitive decline due to Alzheimer's, but on the reduction of amyloid beta plaques. That does not imply that there was no slowing in decline of cognition; rather, it avoids the statistical arguments around the ENGAGE study. It notes that safety data is well documented. I would note that during the trial doctors learned to recognize and treat side effects, so those who simply point to side effects as a reason for disapproval are making a fallacious argument.
Dr. Sandrock repeats that the decision was based on a thorough analysis of all the data. Including that the trial showed that when there is reduction in amyloid plaques that "is reasonably likely to predict important benefits for patients." That is "despite some residual uncertainty regarding that benefit." As with all drugs used on humans, the results are statistical. Aduhelm will not help all patients, nor will those who get positive results benefit equally.
Investors, patients, relatives and doctors might also want to look at the Aduhelm launch presentation. It addresses issues like the readiness of medical sites to treat patients with Aduhelm, pricing, support for equitable access, and manufacturing of the therapy.
It is notable that the label for Aduhelm prescriptions was updated by the FDA on July 8. This change was apparently made at Biogen's request to reflect the type of patient studied in the trials. However, it does not appear to expressly forbid trying treatment on people with earlier or later stages of the disease.
Preparations for Getting Aduhelm to Patients
In the Q2 2021 analyst conference [listen] the preparations for getting Aduhelm to patients were discussed in some detail. Presenters did not shy away from there being resistance to prescribing Aduhelm by some doctors and organizations. There are still questions about whether all insurers, government and private, will cover the cost of the drug and the preliminary procedures needed for diagnosis and then monitoring. Still, much progress has been made. Strong patient interest was reported. Before the FDA approval Biogen expected about 900 sites to get ready for administration relatively quickly. Already about 325 have completed reviews or made decisions with positive outcomes. The ramp will likely begin slowly as most specialists will require confirmation of amyloid beta pathology before beginning treatment.
Valuing Biogen
For shareholders, the question is how to value Biogen now. That is not entirely dependent on how fast Aduhelm sales ramp, or where that ramp may peak. Biogen revenue, and share prices, have been declining mainly due to generic competition with existing Biogen discoveries. Every creative pharmaceutical company is constantly under the gun because most novel potential therapies fail during clinical trials, while older therapies are subject to competition when their patents expire. As older patents have expired Biogen has built up a broad pipeline of potential therapies. In prior articles I have addressed that pipeline and concluded that, for long term investors, Biogen is undervalued. Even though the stock price has risen since the Aduhelm approval, I still think that starting in perhaps 2023 we are going to see a string of new therapies approved, generating substantial new revenues. Those will more than make up for revenues lost as older drugs are undercut by lower-priced biosimilars.
Conclusion
Buying Biogen stock at this point in time, at this price, is not without its risks. Doctors are not typically well-trained in statistics, patients even less so, and journalists usually not at all. That means the revenue from Aduhelm will depend on how many doctors and patients decide to trust the FDA and Biogen's interpretation of the trial results, and how many go with the naysayers. This is complicated by the documented side effects of Aduhelm. We have just seen how many people have refused to get vaccinated for Covid because of fears, despite the obvious benefits.
On the whole, however, I see the risk/benefit analysis as favoring Biogen stock. There is a real but slight risk that the Aduhelm decision might be reversed in some way, or that Medicare will refuse to pay for it, resulting in relatively low sales revenue. More likely as patients and physicians gain experience with Aduhelm, it will be seen as the go-to therapy for Alzheimer's until something comes out with better clinical data. Ballpark, seat of the pants, I see Biogen moving to $500 a share as confusion gets sorted out and revenue gets real data points in 2022.
This article was written by
I provided stock and bond research and analysis to a small cap specialist investor, Lloyd Miller, from 2002 until his death in January 2018. For my own account I invest mainly in technology and biotechnology stocks. My technology and investment web site is openicon.com, where readers can view the notes I take to make decisions and to write articles for Seeking Alpha.
Analyst's Disclosure: I/we have a beneficial long position in the shares of BIIB either through stock ownership, options, or other derivatives. I wrote this article myself, and it expresses my own opinions. I am not receiving compensation for it (other than from Seeking Alpha). I have no business relationship with any company whose stock is mentioned in this article.
Seeking Alpha's Disclosure: Past performance is no guarantee of future results. No recommendation or advice is being given as to whether any investment is suitable for a particular investor. Any views or opinions expressed above may not reflect those of Seeking Alpha as a whole. Seeking Alpha is not a licensed securities dealer, broker or US investment adviser or investment bank. Our analysts are third party authors that include both professional investors and individual investors who may not be licensed or certified by any institute or regulatory body.