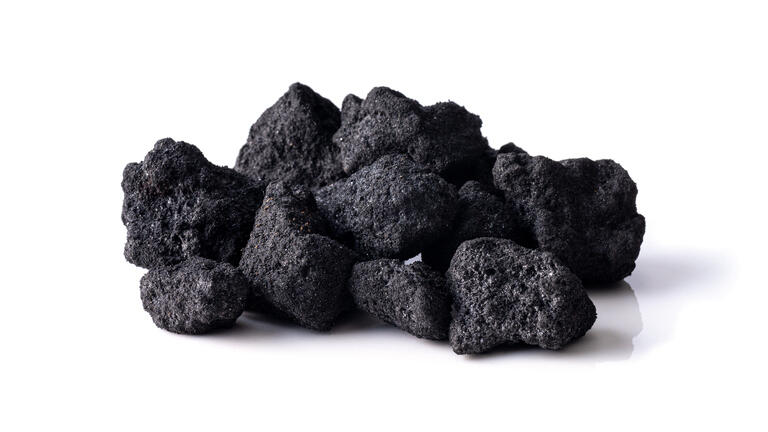 Introduction
Take a minute (when we are playing golf, my youngest son says take your time and hit the ball), look at the picture above, and describe what it resembles to you.
For those not nuanced in the subject, it is coking coal, a particular type of coal, that is both rare, and a necessary ingredient in steel production. Throughout my years covering the markets, coal has alternatively been a literal eyesore (a euphemism for my worst mistake ever), and a verifiable diamond, depending on the time frame, and pricing environment. Right now, today, we are definitely mining for diamonds in the coal companies, especially among the coking coal producers.
Front and center on the list is Peabody Energy (BTU), which has been my top pick for total returns in 2021, and it is delivering in spades in that regard, as sentiment swings from the pendulum of extreme fear to extreme greed. On that note, as I write this post, Peabody Energy shares are up 399.2% year-to-date through Monday, July 26th, an exemplary performer to say the least.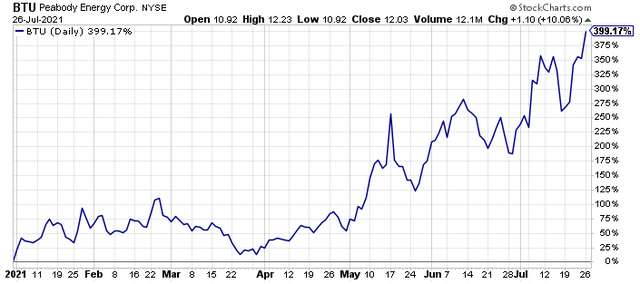 (Source: Author, StockCharts)
Partial peer Warrior Met Coal (NYSE:HCC), which owns some of the best coking coal in the United States, and who will actually produce more premium coking coal to the current version of Peabody, has actually declined 15.6% YTD through Monday, and hence, the underperforming shares are a relative and absolute opportunity from my vantage point.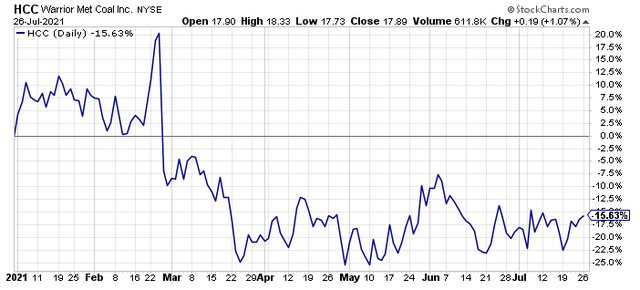 (Source: Author, StockCharts)
This is especially true given the moonshot ramp up in metallurgical coal prices starting in May of this year, which echoes what happened in 2016, which I wrote about with an article on BHP Billiton (BHP) at that time, titled, "The Historic Fall And Rise Of Met Coal And The Bullish Case For BHP". If you live long enough, history often repeats itself, or at least rhymes, and that is certainly true in shorter order in the financial markets, as we see right now a scant five years later. The key difference is this time the price ramp is occurring amidst a commodity sector wide supply driven super cycle.
The scale of the current opportunity is enhanced for Warrior Met Coal, despite the ongoing strike by union workers, which started when coking coal prices were much lower, when one considers that Warrior Met Coal has historically paid a high level of dividends when met coal prices are in the zip code that they are in today. Thus, if you believe in the durability of higher for longer met coal prices, Warrior Met Coal has the chance to become a significant dividend payer, again, in the not-too-distant future.
Looking Back To Look Forward
Here is a long-term price chart of Warrior Met Coal, which is not that long, because the company, formerly known as Walter Energy, restructured in 2015, and emerged to trade again in April of 2017.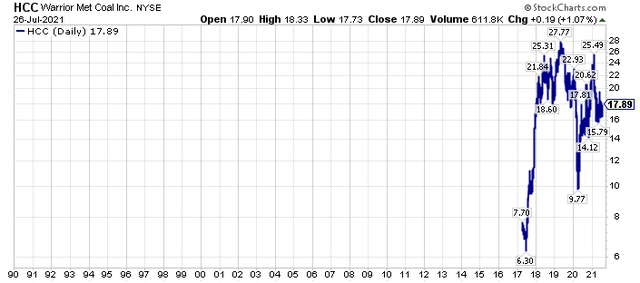 (Source: Author, StockCharts)
Before its demise, and then resurrection, Warrior Met Coal, grew from a miner that produced less than one million tons of coal, to one of the largest pure-play high quality coking coal producers in the world, driven off the strength of two extremely productive, extremely deep mines in Alabama's Blue Creek coal seam.
The current run rate of production at these two aforementioned mines is roughly 8 million tons, as shown by the slide from the company's First Quarter Of 2021 Results Presentation, which was produced on May 5th, 2021 (keep that date in mind).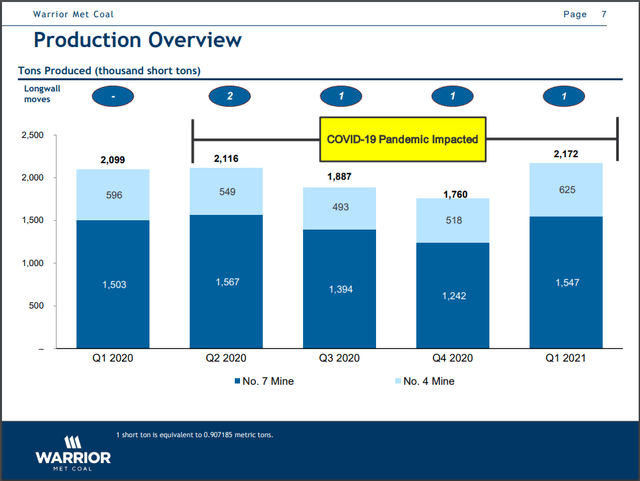 (Source: First Quarter 2021 Results Presentation)
Why was the date important?
Well, on May 5th, 2021, benchmark premium coking coal prices were trading at roughly $100 per ton. Fast forward roughly 3 months later, and premium coking coal prices closed yesterday trading at roughly $214 per ton, with even higher pricing seen internally in China, as China struggles with supplies amidst a trade dispute with Australia.
A Solid Balance Sheet Is Poised For A Free Cash Flow Bonanza
With cash on the books of roughly $222 million at the end of their most recent quarter (March 31st, 2021), long-term debt of roughly $380 million (maturing on November 1st of 2024), and free cash flow generation of approximately $23 million in the first quarter of 2021 at realized pricing of $106 per ton, which was 95% of the benchmark price, Warrior Met Coal is already in good shape from a balance sheet, and profitability perspective.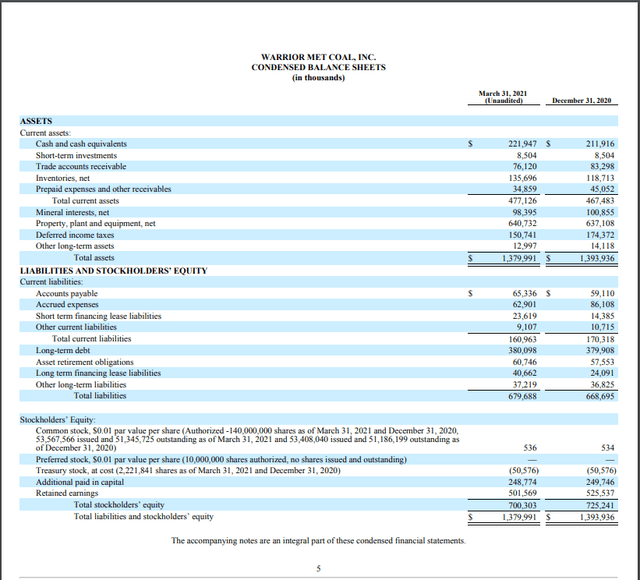 (Source: Warrior Met Coal 10-Q March 31st, 2021)
Now consider that the benchmark premium coal prices are over $100 per ton higher today than for the realized pricing in the first quarter of 2021, and the potential free cash flow cadence quarter-by-quarter is enormous once we get to the third quarter of 2021. On this note, at $200 per ton, Warrior Met Coal is positioned to deliver free cash flow that approaches $200 million per quarter. Keep in mind that its market capitalization is roughly $900 million as of this writing, and its enterprise value is roughly $1.1 billion.
Now, of course, the elephant in the room is the ongoing strike with an unknown ending point, however, given the levels of current profitability today, and accompanying free cash flow generation, restoring the $6 per hour pay cut that striking miners took during the 2016 restructuring should not be an issue. In fact, since the current labor agreement has a component of bonuses based on coal pricing, this may already have happened, unbeknownst to many participating on both sides of the dispute.
A History Of Dividends When Coking Coal Prices Are Strong
Looking back to the special dividends paid in 2017, 2018, and 2019, Warrior Met Coal paid a special dividend of $11.21 on November 24th, 2017, $6.529 on April 12th, 2018, and $4.416 on May 3rd, 2019, all in addition to a regular dividend.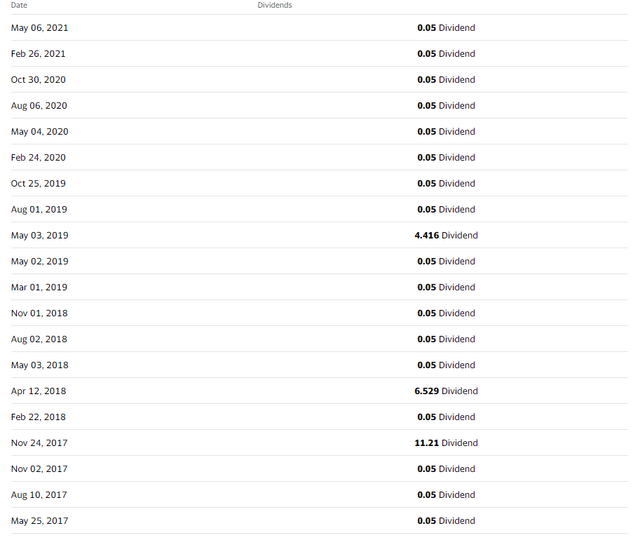 (Source: Yahoo Finance)
Keep in mind that realized coking coal prices during these "boom" years were lower than they will be at current coking coal prices, and your mind can start to wander with possibilities of future dividend payouts.
Closing Thoughts: A Compelling Valuation With A Compelling Case For Free Cash Flow Generation
Given today's prevailing met coal prices, and the scale that Warrior Met Coal produces coking coal, it is only a matter of time until Warrior Met Coal is more widely recognized for its free cash flow generation capabilities. With the current pricing, EBITDA on an annualized basis starting in the third quarter of 2021 could approach its current market capitalization, and free cash flow generated could easily be over 50% of its enterprise value on an annualized basis, even with a pullback in met coal prices from the presently elevated levels.
Think about that for a minute, and then think what its current market price and enterprise value are pricing in at the moment. Obviously, the ongoing strike, which passed the 100-day mark in early July is complicating the valuation story, however, even a full restoration of pre-restructuring wages and benefits would leave ample free cash flow for shareholders.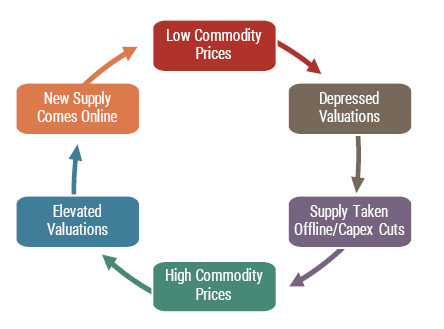 (Source: GMO)
Looking at the graphic above, we are not at the elevated valuation stage yet, and for coal companies, the ESG headwinds are so formidable that they will prevent a lack of new supply coming online for the foreseeable future, no matter how profitable the current operations are in a snapshot of time.
In closing, for much of the past two years, even though the market bottomed in March of 2020, I have been pounding the table on the extremely out-of-favor commodity equities, and I still think we're in the early innings of what will be a longer-term price appreciation. Investors skittish of the commodity sector should research cast aside financials as they also will benefit from rising inflationary expectations and rising long-term interest rates. Understanding the bigger picture, then having an understanding of the bottoms-up fundamentals has been the key to outperformance, and this is a path that has not been easy with those participating confirming this reality. However, the road less taken is sometimes the better one, and I firmly believe that today, as traditional stocks, bonds, and real estate offer very poor starting valuations and very poor projected future real returns from today's price levels. More specifically, the out-of-favor assets and asset classes, including commodities and commodity equities and out-of-favor specific securities are where the historic opportunity has been, and that's where it still stands, from my perspective.