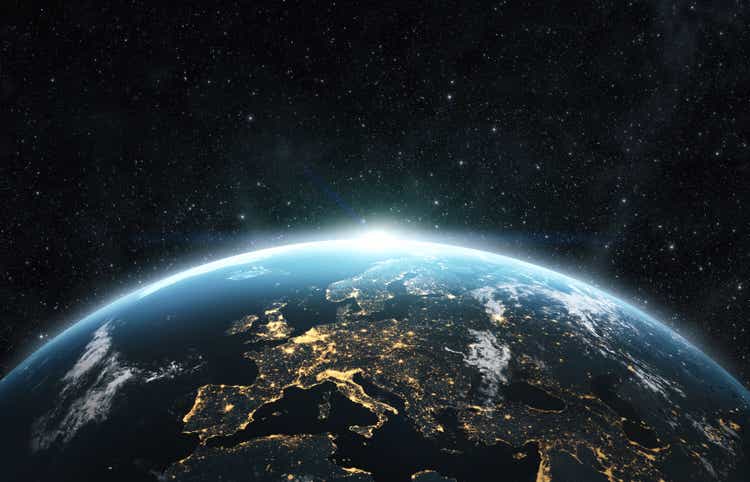 As far as cautionary tales for SPACs (special purpose acquisition companies) go, there are few better than Stable Road Acquisition (SRAC) stock. Stable Road is merging with space cargo startup Momentus, and over the last few months, pretty much everything has gone sideways.
In a situation like this, there's sometimes a case that the worst is over, and that the lower price — in SRAC's case, a 65% haircut from February highs — incorporates the bad news. In the case of Stable Road and Momentus, that case seems perhaps stronger given that the valuation assigned Momentus in the merger actually has been halved.
In this particular situation, however, the "buy the dip" case seems rather thin. The missteps and delays here have a significant, ongoing impact on the business going forward. In fact, at the moment, there actually isn't much of a business, but rather a company with unproven technology (to put it mildly) and grandiose plans.
To some extent, that's true of most SPACs. But even by those standards, SRAC looks enormously risky — and too risky to justify what look like awfully thin odds of any real reward.
How We Got Here
For a time, SRAC stock actually was a big winner. At first, investors mostly snoozed at the deal: SRAC closed at $10.07 a month after the merger was announced. But the huge rally in small-caps that began in early Q4, plus exploding optimism toward "space stocks," led the stock to a high over $29 in February.
The problems for the company began before the highs were hit, however. At the time of the merger, Momentus promised its first launch with customers in December of last year. That timeline slipped into January, and then later in 2021.
The cause of the delay, per a Momentus executive at the start of the year, was that the Federal Aviation Administration needed more time to finish an interagency review. But the reason the FAA needed more time, as later detailed by the Securities and Exchange Commission, was that the Defense Department had raised national security concerns about Momentus chief executive officer Mikhail Kokorich, a Russian citizen who had applied for political asylum in the U.S. Kokorich would step down at the end of January, and in June agreed to divest all of his holdings in the company.
That hasn't solved the company's problems, however. According to its most recent proxy statement, Momentus now plans its first commercial launch "as early as June 2022." One key issue here is the bigger revelation from the SEC charges against Momentus, Kokorich, Stable Road, and Stable Road CEO Brian Kabot: as the agency put it, Kokorich issued "false" claims about the success of a 2019 mission.
Kokorich said publicly on multiple occasions that the mission, known as El Camino Real, would demonstrate the performance of the company's MET (microwave electothermal thruster) technology. But in fact, the mission was a failure, and the thruster "did not meet any of its success criteria," as the SEC put it. The thruster was supposed to fire 100 times for at least a minute each; only 12 of 23 firings worked at all before Momentus lost contact with the vehicle (which remains in orbit).
All told, the company promised to investors in October is not anywhere close to the company being pitched today. Kokorich is gone, and not only was he the CEO, but the founder, and per the proxy "had invented the majority of Momentus' inventions." A promised December 2020 launch has now slipped toward mid-2022 — hopefully.
The technology has not been proven successfully in space, as Kokorich had claimed. Stable Road, which went public as a SPAC looking for cannabis targets, looks like a poor choice of sponsor that did questionable due diligence; indeed, Kabot gave up 250,000 founder shares in his settlement with the SEC (the findings of which neither he, Momentus, Kokorich, or Stable Road admitted to or denied).
Simply put, this is a mess.
The Case for Momentus and SRAC Stock
To be fair, all hope is not lost. There is one obvious positive: as noted above, SRAC shareholders are getting a better deal in buying into Momentus.
The original merger agreement saw public shareholders receiving 12% of Momentus. The revised terms provide 20% ownership. The cash going to the Momentus balance sheet is slightly lower ($248 million, assuming no redemptions, instead of $283 million), but that difference is more than offset by the greater ownership provided by SRAC stock under the new deal. This is a company that, at the February highs, was valued at close to $3 billion; enterprise value now is under $600 million.
Meanwhile, Stable Road and Momentus still see success ahead:

source: EBITDA forecast from Stable Road/Momentus press release, June 30
The shift in launch to 2022 instead of late 2020 obviously pushes revenue and profitability out. But Momentus still sees a reasonably large opportunity. And, in fact, relative to those projections, valuation is roughly the same, with SRAC stock trading at 1.25x 2025 EBITDA against 1.1x under the prior agreement.
There's a qualitative case as well. Kokorich is gone, but new management is on the way. Incoming CEO John Rood arrives on Aug. 1 after a career that includes stints at Raytheon (RTX) and Lockheed Martin (LMT), along with government service. The SEC settlement requires a new board of fully independent directors which should both add expertise and ameliorate any lingering concerns about how Stable Road and Momentus have handled the SPAC process so far.
The technology still has promise. In the proxy, Momentus admitted that the El Camino Real mission hadn't met its targets for success. But the company also wrote (see p. 222 of the proxy) that it believes the three successful firings did produce the plasma needed to create thrust. The data collected at that time matched ground testing, and continued design improvements aim to tackle the problems faced in 2019 (including a faulty pump). In fact, the vehicles that launch in 2022 should be fourth-generation versions of the initial model. the Vigoride.
And the long-term opportunity still exists. Momentus' plan from the jump was to start with smaller vehicles and move to progressively larger models with bigger payloads. It can thus expand from what it calls "charter" services — moving a satellite into a specific orbit — into "shuttle" services — taking several satellites at a time. From there, Momentus aims to develop "satellite as a service," in which vehicles will stay connected to satellites to provide power generation, refueling, and even repair through robotic arms.
If Momentus can develop working vehicles, the demand will be there: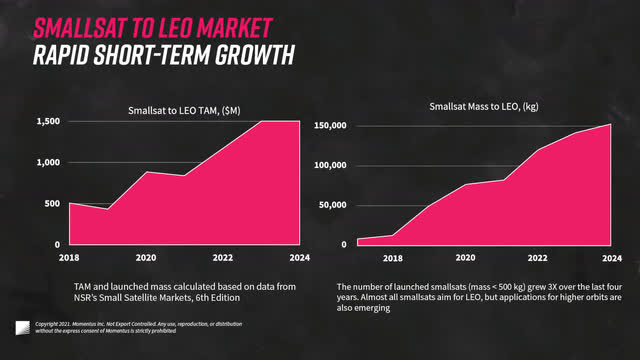 source: Stable Road/Momentus proxy statement
As the proxy notes, SpaceX (SPACE) alone plans to launch some 40,000 satellites, and Amazon.com (AMZN) another 3,000 for its Project Kuiper. Smaller, more capable satellites from myriad other companies will drive further demand. The majority of those satellites will be placed in non-geostationary orbits, and thus potentially require Momentus services.
It's possible to both admit to real, and material, missteps over the past few months, and still see SRAC stock as attractive — particularly at the cheaper valuation and cheaper price. It's not as if this was a low-risk play to begin with. Perhaps the risks are higher, but the price is cheaper and the rewards still appear to be potentially enormous.
The Problems With The Bull Case
Personally, I'm not entirely unsympathetic to the bull case here. But, broadly speaking, there's one key problem: we have exceedingly little evidence that even the current, lower, ~$575 million enterprise value is justified.
Again, there's simply not much here. The technology has shown some promise in ground testing, at least per Momentus management. It's possible the few hot firings seen during the El Camino Real mission, as the company claims, show further potential. But even the most charitable interpretation of what Momentus has delivered so far still suggests an awfully long way to technical success. And one important thing to remember in an industry such as that is that technical success and commercial success don't always go together.
On that note, the backlog doesn't look particularly impressive, at $66 million. Per the proxy, that figure comes from deals with 25 companies across 13 countries — which seems like good news. But the contracts all are "cancellable for convenience," the backlog includes options, and the average of ~$2.6 million/company hardly suggests that anyone has yet been willing to seriously commit to Momentus going forward.
As for the cheaper price, the valuation simply had to come down because the events of the last few months have had a hugely deleterious impact on the company's prospects. This unequivocally is not a case where revenue and profits are simply pushed out 18 months along with the launch schedule. Across the board, Momentus' chances of success have taken a huge hit.
The agreement with SpaceX, which Kabot in October called a "marquee rideshare partnership", has been canceled. Momentus in fact owes SpaceX $8.7 million in fees. There are other launch companies with which to work in the future, but the SpaceX imprimatur was supposed to be a selling point with not only investors, but customers. That's gone.
Momentus isn't keeping up. It won't be in the market for real until next year at the earliest. So far this year, its backlog actually has shrunk modestly from a previous $90 million. More importantly, the SPAC delays have led the company to conserve cash. According to the proxy, in June the company cut headcount "primarily with respect to research and development." That's obviously a huge problem in such a competitive and well-funded industry (Rocket Lab, for instance, is raising $745 million through its own merger with Vector Acquisition (VACQ)). And the decision to cut R&D can't be immediately reversed when and if the merger goes through; it will take time to bring on new employees and ramp that spending.
This looks like a company that already has fallen behind and is at significant risk of losing even more ground. It's asking a lot for a new CEO to fix that, and fix that soon. And Momentus doesn't have as much time as it might appear. The updated EBITDA projections suggest consolidated losses of over $300 million between 2021 and 2023; pro forma cash at Mar. 31 was $235 million with no redemptions, dropping to $204 million in a maximum redemption scenario. Momentus is going to need to go back to the market to raise new capital, which in turn will require diluting post-merger shareholders. All the while, competitors are not only achieving technical success but no doubt picking up prospective customers to whom Momentus simply can't market at the moment.
In that context, it doesn't seem surprising that SRAC stock has plunged, but rather that it's still holding $10. But we've seen a number of seemingly shaky de-SPAC mergers fall rather quickly since the SPAC boom reversed, and it seems like Stable Road and Momentus are strong candidates to be the next one. Yes, it's cheaper to own Momentus than it was a few months ago, but it very likely will get cheaper still.