Article Thesis
Amazon.com, Inc. (NASDAQ:AMZN) has been a great investment in the past, and thanks to strong growth rates and a long growth runway, it could be a solid investment in the future, too - despite a rather high valuation. Since some income investors do wonder whether Amazon will ever pay dividends, we will try to evaluate that question in this report, and show a way for AMZN shareholders to generate income from their investment right now.
Does Amazon Currently Pay Dividends?
The answer to this question, which is surprisingly brought up often, is a clear no. Amazon does not pay any dividends, has never paid any dividends, and there is no statement by executives that indicates that Amazon is about to pay dividends any time soon. AMZN, in its current state, is a pure capital appreciation play.
Should Amazon Pay Dividends?
The answer to this question is not as easy, as this depends on your viewpoint. Some shareholders that own AMZN stock but that generally prefer to invest in income-producing equities would surely like to see dividend declarations by Amazon. On the other hand, growth investors will point to the fact that the dividend yield would be rather low anyway, and that Amazon could put its cash flows to use in other ways, e.g. by spending on growth capital expenditures, or by acquiring other companies. One can certainly make a case for growth companies such as Amazon to invest in their business in order to drive future growth, instead of paying dividends.
I personally like to invest in income-producing stocks, but not solely, so I own a couple of capital appreciation plays as well, including Amazon. I do not think that dividend payments from Amazon would be a huge plus, as I think that Amazon is not the type of company that benefits a lot from paying out dividends. I also believe that dividends should only be paid out when a company has significant surplus cash flows, as paying dividends that are financed via debt is not creating value for shareholders. Looking at AMZN's cash flows, we see the following: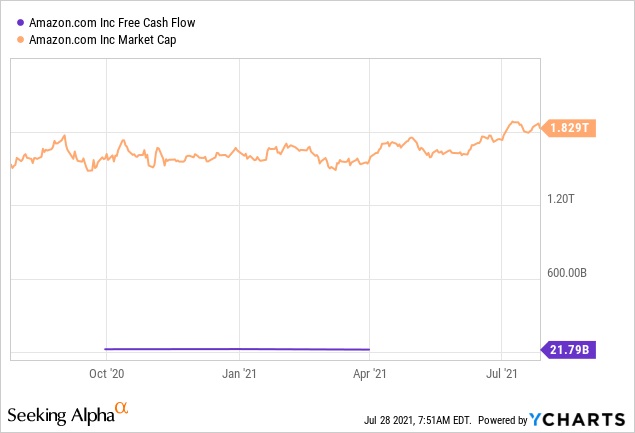 The company currently trades at an 83x free cash flow multiple, which pencils out to a 1.2% free cash flow yield. Paying out all cash flows in the form of dividends would not be advisable anyway, so if AMZN were to pay out 50% of its free cash flow, its dividend yield would be just 0.6%. This is, by far, not high enough to attract a large number of income investors to the stock, and it does not meaningfully impact total returns, either.
The yield would be significantly below what income investors get from the broad market (SPY), at 1.3%, or income-investor-friendly sectors such as real estate (VNQ) or utilities (XLU), at 3%, respectively. There would thus, I think, not be a clear benefit if Amazon started to make dividend payments. On the other hand, even a dividend that results in a paltry yield of just 0.6% would eat up more than $10 billion a year in cash, which would then not be available for investments.
Amazon's core business is not of a high-margin nature, but the company has managed to expand its size by investing in additional high-value businesses, such as cloud computing. These investments would not be possible, or only at a smaller scale if Amazon would pay out billions a year in dividends. As long as Amazon's management team can identify ways to invest its cash profitably, that is likely the better choice for shareholder value creation.
This does not mean that things can't change over time, as Amazon will mature at some point, as so many other companies did. Apple (AAPL), for example, eventually started to make dividend payments when its cash flows grew so large that there was no way to reinvest them all profitably. The same could easily happen to AMZN at some point as well, but for now, this does not seem to be the case.
Amazon has been investing money into a wide range of acquisitions over the years, such as Metro-Goldwyn-Mayer (OTC:MGMB), which will be bought out for $8.5 billion in a deal that was announced two months ago. This move will boost AMZN's original content offerings and content creation abilities for its Prime Video segment, which should, in turn, help attract more users and which will make AMZN more competitive versus Disney (DIS) and Netflix (NFLX).
Making these types of strategic acquisitions that have the goal of positioning the company for market share gains and future growth is likely more useful in the long run, compared to taking these billions and returning them to shareholders for a paltry yield of well below 1%. Last year's acquisition of autonomous vehicle tech company Zoox is another example of a takeover that fits well into Amazon's overall strategy.
Amazon naturally would benefit a lot if it were able to roll out autonomous delivery vehicles at some point, as this could improve its cost profile and allow for even faster delivery times. Spending money to bolster AMZN's capabilities in this area makes sense, and it allows AMZN to possibly enter the robo-taxi market on top of that. Taking the $1.2 billion that AMZN paid for Zoox and paying them out to shareholders would have equated to an abysmally small yield of 0.07% -- in other words, shareholders would basically not have gotten anything out of that.
It should be noted that there is one possible benefit from introducing dividend payments. If AMZN started to make dividend payments today, even at a very low rate, it could start to build up a dividend growth track record, which could, at some point in the future, when growth has slowed down and payouts are growing, come in handy. Some investors are attracted to stocks that have raised their dividend by 10, 20, 25, or more years in a row, thus starting to build that track record today could have potential future benefits, although not in the near term.
Overall, I think Amazon.com, Inc. shouldn't make dividend payments today, as growth should remain the priority for a company like AMZN. If Amazon planned to eventually become a regular dividend payer, it might make sense to introduce a very small dividend in order to build up a dividend growth track record.
Create Your Own Income Using Options
Amazon's stock can be volatile, and that allows users to create income using option strategies such as selling covered calls.
If, for example, an investor owns 100 shares of Amazon and was to sell one call option contract with a strike price of $4,500 and an expiry date in January 2022, the investor would receive $46 per share, or $4,600 in total. Relative to a current investment value of $363,000 that equates to a cash on cash return of 1.3%. The same process could be done again half a year from now, which would then allow for an annual yield of around 2.6%.
Using this strategy, investors could thus create an income yield that is substantially higher than what one can get from the broad market today. The strategy has the downside of shares potentially getting called away, which limits the potential upside. If shares were to run above $4,500 by January, where they would then get called away, the upside would still be 24%, however.
The strategy also only works well if you own at least 100 shares of AMZN, which requires a huge portfolio size due to AMZN's high price per share. Nevertheless, this strategy could be of use for some investors that like to own Amazon, but that do want or need some income from their investments.
Is Amazon A Buy Or Sell Now?
Amazon.com, Inc. is, I believe, a quality company with a huge moat and a great growth outlook. It is well-positioned to capitalize on megatrends such as cloud computing, online shopping, and online advertisement. On the other hand, shares are pretty expensive, changing hands for valuations that are significantly higher than those of most other stocks: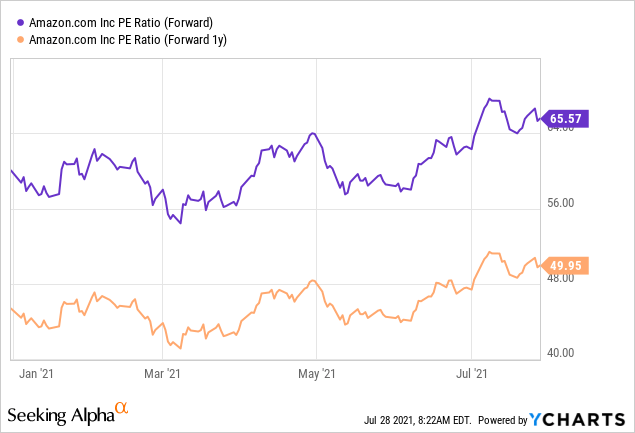 At 66x this year's expected net profits, and at 50x next year's profits, AMZN is far from a bargain. It also is noteworthy that valuations have expanded over the last couple of months, shares were trading at 20% lower multiples in March. A couple of weeks ago, I estimated that AMZN could deliver high single-digit returns in the long run, which is not unattractive. But shares will, I believe, not generate the returns we have seen over the last couple of years in the future. AMZN is a quality pick, and returns in the 7%-8% a year range from a quality company are nothing to sneeze at, but AMZN is currently a little too expensive to warrant a strong buy rating.
Amazon is closer to being a buy than a sell, however, I think, and in case valuations come back by a bit, it could be quite attractive - e.g. at the $3,000 it traded at in March. Whether Amazon is a good choice for your portfolio depends on your investment goals, time horizon, and risk tolerance, of course, but I believe that AMZN's shares are a solid hold, and a potential buy, for those that want to participate in one of the best growth stories one can invest in today.
It is, due to AMZN's high valuation, very much possible that shares will decline in the near or medium term, however. We have seen this from time to time in the past, thus it may be prudent to wait for an eventual pullback before entering or expanding a position if you want to maximize the chance for a more favorable entry price.