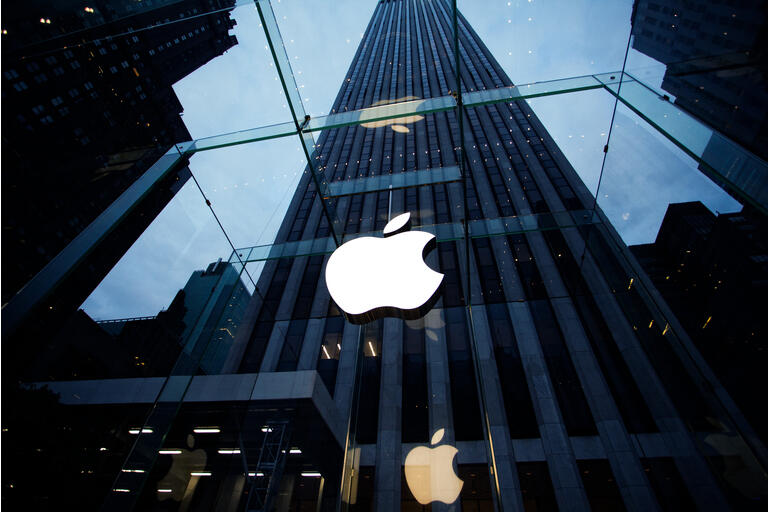 Last time I covered Apple (NASDAQ:AAPL) after earnings, I recommended dip-buying the earnings pullback. The stock has since risen 17%. With 2021's Q3 earnings out, AAPL has dipped yet again.
Today, I want to look at Apple, with emphasis on earnings, determining whether this is another dip-buying opportunity.
Earnings Sentiment
When seeking alpha from earnings results, it's best to have an edge – something that most investors are not looking at. Hence, besides analyzing the earnings results themselves, I look at the management sentiment from the earnings call. I use financial lexical analysis, which is the study of the impact of the tone of forward-looking statements on the future performance of the stock. In this analysis, I calculate a sentiment score, essentially the number of optimistic statements divided by pessimistic statements, from the earnings call, comparing the scores across quarters. Here are the most recent results for Apple:
| | |
| --- | --- |
| | Change in Sentiment |
| 2020q4 | Down 11% |
| 2021q1 | Down 11% |
| 2021q2 | Up 45% |
| 2021q3 | Up 16% |
Overall, this quarter was quite positive. Sentiment is up 33% year-over-year and up 27% over average. Last quarter's 45% raise in sentiment was enough to push sentiment over average, triggering a buy signal on this indicator. That is, both last quarter and this quarter we would expect excess returns – better performance than average in the stock.
Here are the recent sentiment changes marked on AAPL's chart. You can see the lower-than-average (down 11% for both Q4 and Q1, in the chart) resulted in somewhat choppy trading, while last quarter's sentiment increase led to a strong uptrend after the down gap, much like what I expect to see in the coming months based on this quarter's sentiment score: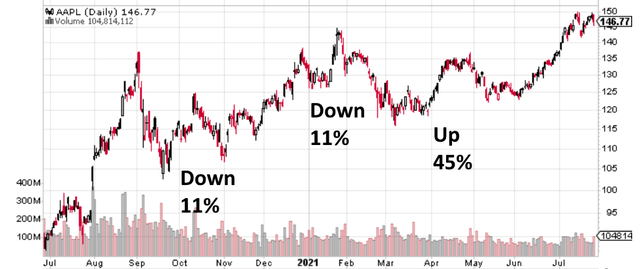 (Source: Stockcharts)
Let's take a deeper look at earnings via the forward-looking statements flagged during my analysis. My comments follow.
Earnings Call Analysis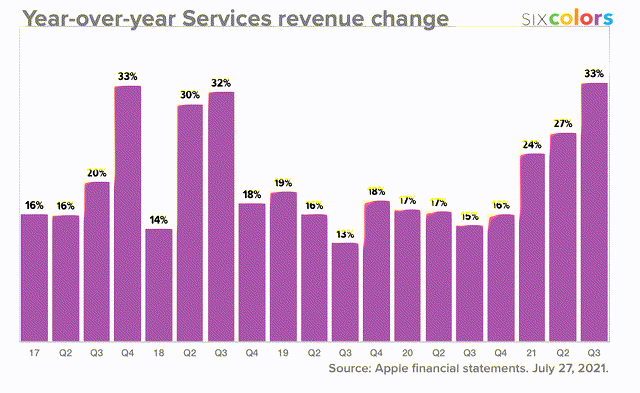 "Third, paid subscriptions continue to show strong growth. We now have more than 700 million paid subscriptions across the services on our platform, which is up more than 150 million from last year, and nearly four times the number of paid subscriptions we had only four years ago."
-I have recently described how subscription models accelerate company revenue. More than any other company, Apple is set to benefit from this model. Seven-hundred million subscribers is more than double the population of the United States – this is the number of people willing to pay Apple on a monthly basis. This equates to stable revenue source to the tune of billions per month. Subscription numbers continue to grow, and until they stop, there is simply no logical long-term bearish thesis worth supporting from a financial standpoint.
"Turning to services, as I mentioned, we reach an all-time revenue record of $17.5 billion with all-time records for cloud services, music, video, advertising and payment services, and June quarter records for the App Store and Apple Care. Our newest service offerings Apple TV+, Apple Arcade, Apple News+, Apple card, Apple Fitness+ as well as the Apple One bundle, continue to scale across users, content and features and are contributing to overall services growth."
-The $17.5B number here really stood out to me. It seems low. We know Apple has 700M subscribers but do not know the exact distribution of subscriptions. For example, if all 700M were subscribed to Apple One, we would be seeing 700M $30 monthly subscriptions, equating to $63B in quarterly revenue. The lowest priced subscription I could find was for the 50GB iCloud plan: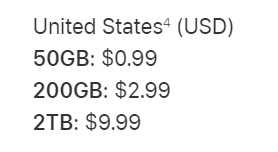 (Source: Apple)
Let's assume the average Apple subscription falls at the median price between the beginner iCloud plan, $1, and the Apple One bundle plan, $30. That's $15 per user per month or 32.5B per quarter, still double the revenue reported. My conclusion from this is that a sizeable chunk of Apple's subscriptions are free trial subscriptions.
This means that we likely have a lag in revenue hidden in the free trial users, a good percentage of which will become paying subscriptions in the coming quarters. We should thus expect subscription revenue to increase even if subscriptions themselves do not grow – clearly a bullish tailwind for the company. What's more, investors can create alpha via buying dips from news of subscription growth, as the market will likely react on the assumption that subscription revenue, too, is slowing when in fact revenue should continue increasing just on the merit of converting those free trials. This is not even taking into account the revenue increases that will come from upgraded subscriptions, such as those switching from sub-$30 individual subscriptions to the $30-per-month Apple One bundle.
"Our revenue reached a June quarter record of $81.4 billion, an increase of nearly $22 billion or 36% from a year ago. We grew double digits in each of our product categories, with an all-time record for services, and June quarter records for iPhone, Mac, and Wearables, Home and Accessories. We also set new June quarter records in every geographic segment with very strong double digit growth in each one of them."
-In light of my previous comments, hitting record quarterly revenue is likely to occur again in the coming quarters. This means that Apple is not close to peak growth. Gross margin is still increasing as well. With this sort of revenue, nothing is out of the reach of Apple; the company can literally afford to make any acquisition it wants. Personally, I'd like to see Apple acquire Micron (MU) or Texas Instruments (TXN) and relinquish its fabless status – it might seem absurd, but it is literally a possibility when you consider the mountain of cash on which Apple sits.
"As our business continued to perform at a very high level, we were also able to return $29 billion to shareholders during the June quarter. This included $3.8 billion in dividends and equivalence, and $17.5 billion through open market repurchases of 136 million Apple shares. We also began a $5 billion accelerated share repurchase program in May, resulting in the initial delivery and retirement of 32 million shares."
-Apple has managed to return large amounts of capital to shareholders despite being in a growth phase. Recall the $17.5B number from above – the revenue from just services – the entirety of this revenue is flowing back to investors via buybacks. This is roughly the same amount of capital that goes into R&D. And then you have another $10B of planned buybacks and dividends. Buybacks and dividend increases represent upward pressure on stock prices, and these two aspects are increasing for AAPL.
Conclusion and Trade Idea
This quarter has shown us that Apple is still in a growth phase. In fact, the company is growing at a pace more akin to that of a newly listed IPO than an established S&P participant. No company has ever higher profits than Apple, and with every quarter, Apple sets that bar even higher. If you are looking for growth, AAPL is a great place to set your money.
That said, AAPL is down after earnings. In other words, despite unprecedented growth in the company, the stock is not risk-free. AAPL tends to fall after strong earnings due to analyst expectations often being higher than the actual results.
This is not to say Apple is underperforming in regard to growth but instead points to the fact that analysts are making predictions on unfamiliar ground: As we have never seen a company produce this sort of profit and revenue, we understandably cannot accurately predict what the next record quarter will look like – we can only surmise that we will see another record quarter. This is the only reliable trend in Apple's earnings predictions. Hence record quarters are likely priced into the stock before earnings, and the determining factor for the post-earnings move is the degree to which analysts over- or underestimated the increasingly difficult-to-predict financial numbers.
In spite of Apple's constant growth, the stock tends to pull back frequently, even dropping nearly 50% multiple times in the past decade. The reliable growth in the company's financials does not make AAPL a reliable stock in terms of volatility. However, many of the pullbacks are predictably area gaps, and that includes today's down gap after earnings.
Sentiment and the hard numbers support a long position on this pullback. I suggest buying this pullback. Call options (or married puts, if you are holding the stock) are particularly useful here to hedge the downside risk inherent due to AAPL's volatility. Overall, I see AAPL hitting a new all-time high this quarter.