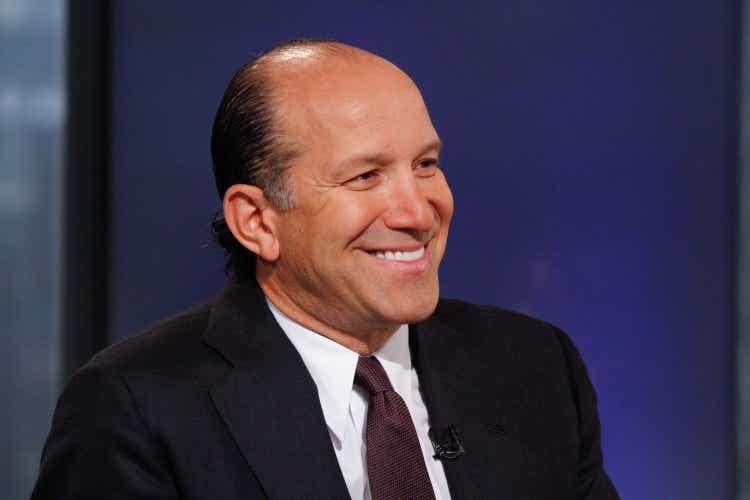 CF Acquisition Corp. VIII (NASDAQ:CFFE) is a 4-month-old SPAC that raised about $250 million. The SPAC is spearheaded by Howard Lutnick, a finance and investment banking veteran. From what I've seen of him through his leadership as CEO and chairman at publicly traded BGC Partners (BGCP), I'm favorably inclined towards his SPACs. He also leads the private investment bank Cantor Fitzgerald (founded in '45 and almost succumbed to the 9/11 terror attack).
I'm a shareholder of both GCM Grosvenor, Inc. (GCMG) as well as the aforementioned BGCP. I've been betting on Russell inclusion to no avail as another index, which made a mistake on float, kicked the company out. GCM is an alternative asset manager that's been taken public through SPAC: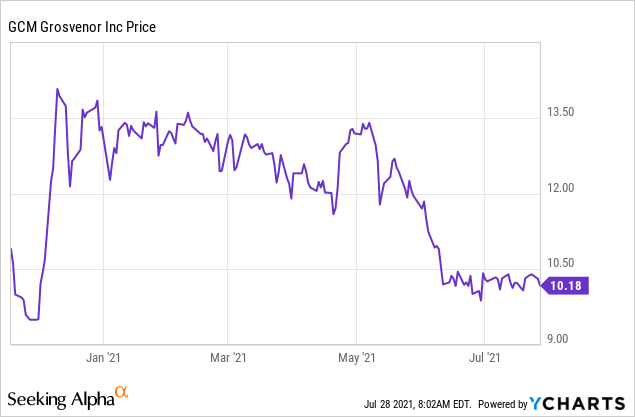 It hasn't impressed so far but you can't expect alternative asset managers to race up on SPAC deals. That is not what the market yearns for even though I believe the company is underestimated.
Another previous SPAC target is View (VIEW) that designs smart windows. Since its despaccing event, it's a bloodbath: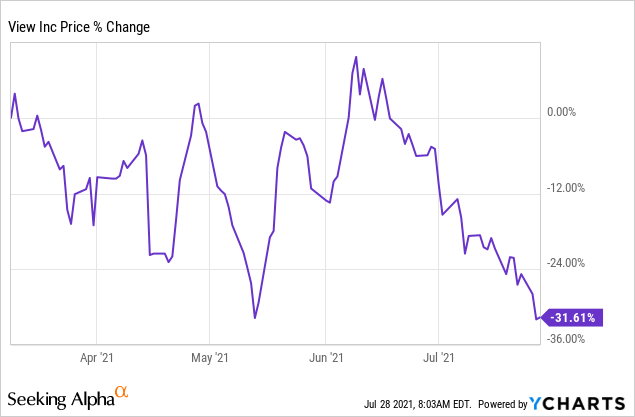 There's another SPAC, CF Acquisition Corp. IV (CFIV) but it will only consummate its business combination, with LiDAR company AEye Holdings, in the near future.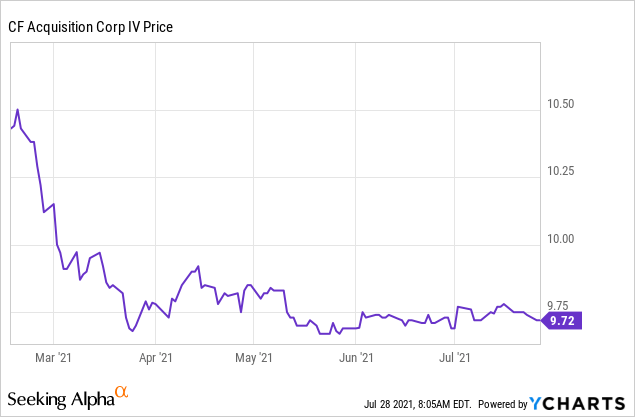 The SPAC is looking a target with an enterprise value of between $500 million and $1.25 billion with sustainable competitive advantages, predictable free cash flows, the potential to benefit from CFFE team's expertise, experience and network, solid management, growth potential and an attractive valuation profile. These criteria are hardly unique but I have above-average faith in the capabilities and savvy nature of the team and the Cantor organization.
An important focus for the team will be the following segments:
Brokerages (ties into Cantor and BGCP business)
Healthcare (strong franchise for Cantor)
Fintech (think on the electronic brokerage side or similar backend tech)
This means we can probably slightly discount the warrant value as these aren't necessarily the most volatility-realizing criteria. I'd say the criteria are more conducive to value creation over the long term.
Valuation
In terms of valuation, I'd say the warrant is where it's at here. Warrants are actually often quite attractive in the current SPAC market. CFFE has shares trading at $9.81 and that's actually slightly above the average for this category of SPACs. Its units trade at $10.06 which is right at the current average for its category. You could argue this is a much better than average quality unit and I would agree. Buying a unit at $10.06 (including 1/4th warrant) has the added benefit of having only $0.06 downside due to the SPAC redemption feature.
However, the warrant trades at $1.08 and that's well below its category average. In addition, this is actually one of the better warrants that can only be redeemed by the company above $18. A feature that's currently pretty rare among good-to-great SPACs.
SPACs that include 1/4th warrant with a unit on average trade at $1.29 but that includes SPACs at all stages in their life-cycle. Looking for deals the average goes down to $1.25.
Warrants can go to zero if no deal is struck before expiry. However, here that seems a remote possibility. The team has a track record of getting deals done. Has a terrific network and investment banking background and the size of the SPAC is limited.