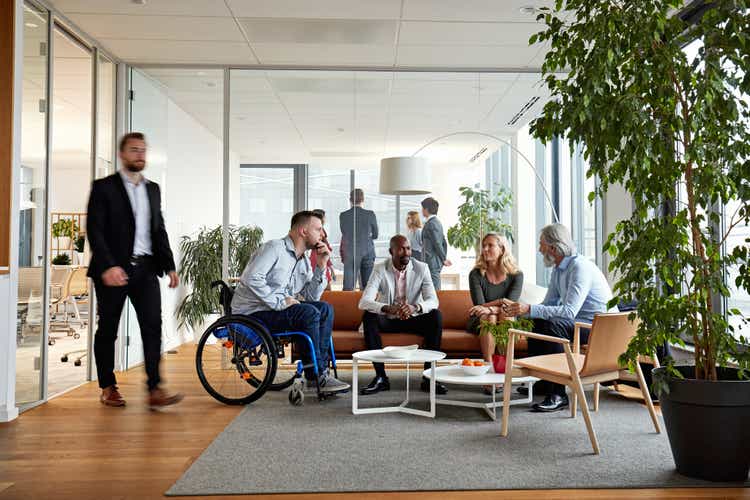 Belong Acquisition Corp. (NASDAQ:BLNG) is a $150 million SPAC that IPO'ed recently and is looking for a target company to take public. This SPAC is led by Jennifer Deason. Deason spent nine years at Bain Capital focused on portfolio operations, primarily in media, tech and consumer investments. At Bain she worked with Mr. Saldarriaga, CFO here, on the Weather Company. The team believes bringing more diversity to public markets isn't just fair but will also propel innovation:
We believe increasing diversity in the technology sector is an under-recognized lever to accelerate innovation and growth.
The team also thinks its diversity gives it a competitive advantage over other SPACs:
We believe our focus on diversity creates advantages in sourcing and pursuit of a business combination. As a diverse SPAC targeting the technology industry, we can provide a differentiated means of public market access to a diverse set of founders and creators within the space. The gender and cultural diversity in our team enables us to stand out among the field of SPACs and create inbound interest from founders and boards who value diversity or need assistance to improve the diversity of their team or board. In addition, many founders and management teams are themselves from diverse backgrounds and may prefer a partner who values and reflects that diversity. We also believe that our own diversity provides access to deep networks of professionals with an emphasis on mentoring and assisting others with similar diverse backgrounds which may be tapped to build a pipeline of potential acquisition targets.
I'm not sure if it is a major competitive advantage but I'm buying the idea that there's at least a minor advantage to be had.
Board member George Arison has experience with the SPAC and IPO process. Board member Manish Patel adds some Silicon Valley and venture capital experience to the board. To be frank the team bios are certainly impressive. By SPAC standards this team isn't the most loaded with investment banking and/or venture capital experience. However, there's a lot of tech consulting and business experience. A paragraph in the S-1 that gets me nervous is the following:
In addition, we are developing a "scout network" consisting of prominent founders, investors and executives to help augment deal flow, and we are partnering with experienced SPAC investors who can support us in capital markets transactions.
I do think it is a huge positive the team has self-identified their weakness and is addressing it pro-actively. At the same time, I wouldn't be surprised if this weakness turns out a major hindrance.
The SPAC identifies itself as a diverse team and believes that makes it uniquely qualified to impact later-stage technology and tech-enabled growth companies. They are specifically thinking about venture or growth capital-backed companies that struggle to get attention from private growth investors because they are not perceived as "sole market winners" or "unicorns." Like many other SPACs, they are looking for targets that could substantially accelerate growth if they had easier access to capital.
Reading SPAC S-1s, I sometimes start thinking Masayoshi Son and his SoftBank (OTCPK:SFTBY) Vision fund wasn't all that crazy. Just early.
They call their ideal targets "Diamonds in the rough" and criteria are:
High-growth companies.
Large market + stable growth drivers.
"Companies that bring unique value to customers in a sustainably differentiated manner".
Looking for capital.
That want to upgrade management (one of the few SPACs stating something to this effect).
Self-funded.
Under the radar and not a part of the flow of Silicon Valley.
Companies whose growth is enabled by technology but are perceived and valued as non-tech businesses.
$750 million and $1.5 billion in enterprise value.
Subsectors: e-commerce, digital media, software-as-a-service, and consumer technology.
Partnering with this SPAC team adds value to the target.
Diversity of backgrounds among execs or founders.
Their strategic criteria are a bit more original than that of other SPACs. I have a few small gripes. Targets can't be looking for capital and be self-funded at the same time. Or at least that seems somewhat contradictory.
Few teams openly state they're looking for companies that need a management upgrade. Possibly quite a few are. I suspect this isn't openly stated upfront because that actually lowers the odds a company can be brought public where that's an interesting way to create value. In other words your ideal targets are going to self-select out of your way.
I love how this team is looking for companies outside of the Silicon Valley flow. This is a thoughtful expression of a way to outperform the average SPAC.
I also love how the team is looking for companies that aren't considered tech currently but can be re-invented as technology companies.
Valuation
I like to compare pre-deal SPACs. Units of SPACs seeking targets trade at a median of $10.03. The average for SPACs that include 1/2 a warrant with a unit is $10.13 and the median is $10.10 even. With units going for $9.90 here they are trading at a significant discount. $0.20 doesn't sound like a lot, but because of the redemption feature, at $10, it is the difference between having $0.10 at risk or a worst-case positive return of $0.10.
Among SPAC units including 1/2 a warrant, this is the cheapest one. Among all SPACs looking for targets, there are only 8 SPAC units that trade at a lower price. Unfortunately, the warrants that are included can be redeemed above $10. This is definitely an attractive SPAC because it is trading at the bottom of a relative valuation range. At $9.90 even if the warrant zeroes out, there's profit to be had here. I can see myself buying this SPAC at some point. However, there's currently a SPAC I recently wrote a note about that's only marginally more expensive but with a much better warrant.