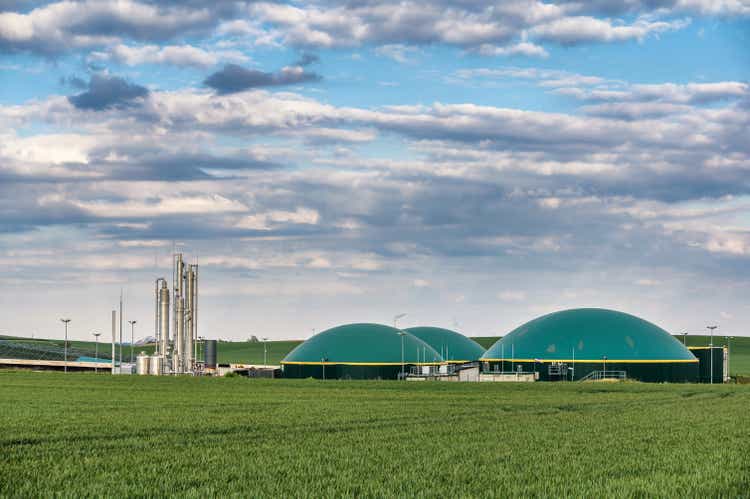 Investment Thesis
Rice Acquisition Corp. (RICE), a SPAC, is expected to complete the acquisition of Aria Energy and Archaea Energy in Q3 this year forming a significant Renewable Natural Gas Company. This new company has, in my opinion, a high probability of delivering outsized returns for early investors. The combined company will have excellent finances and long term sales contracts for up to 70% of the gas they produce. They will have a promising pipeline of new production sites and an impressive team of people, including a senior management team (the Rice brothers) with a proven track record of building billion dollar energy companies.
In this article, I will:
Analyze the RNG market.
Look at the three merging companies separately.
Consider the finances and value of the new, more significant venture.
1. Renewable Natural Gas
Renewable Natural Gas (RNG) is a Biogas formed when organic matter is decomposed by anaerobic digestion; it is almost pure methane and is indistinguishable from Natural Gas. Methane is a potent greenhouse gas perhaps 30x more dangerous than carbon dioxide; 30% of all human-caused methane emissions come from Landfill sites, farms, and water treatment facilities. RNG enables these emissions to be captured at source and then used to replace fossil fuels rather than being released into the atmosphere.
Methane emissions are a global cause for concern, many governments are trying to limit how much is released and a new UN Report Highlights the 'Absolutely Critical' Need to dramatically slash global methane emissions.
Reducing human-caused methane emissions is one of the most cost-effective strategies to rapidly reduce the rate of warming and contribute significantly to global efforts to limit temperature rise to 1.5°C. Together with additional measures that contribute to priority development goals, available targeted methane measures can simultaneously reduce human-caused methane emissions by as much as 45 percent, or 180 million tonnes a year (Mt/yr) by 2030. This will avoid nearly 0.3°C of global warming by the 2040s and complement all long-term climate change mitigation efforts. It would also, each year, prevent 255 000 premature deaths, 775 000 asthma-related hospital visits, 73 billion hours of lost labor from extreme heat, and 26 million tonnes of crop losses globally.
Dominion Energy (NYSE:D), one of the leading players in this market, produced the following graphic comparing the 4 main sources of Methane and showing how much carbon dioxide can be avoided by capturing this methane and using it as fuel.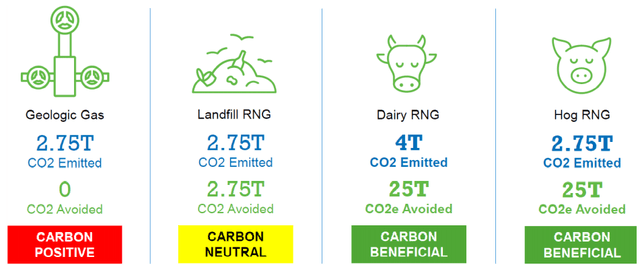 Source: Dominion Energy
The flow diagram below, from the US EPA, shows the process to capture RNG from organic waste. A large number of outputs makes this process economic for farms with 1,000 or more heads of cattle or pigs. The anaerobic digester is the key piece of equipment required and its technology makes the whole process possible.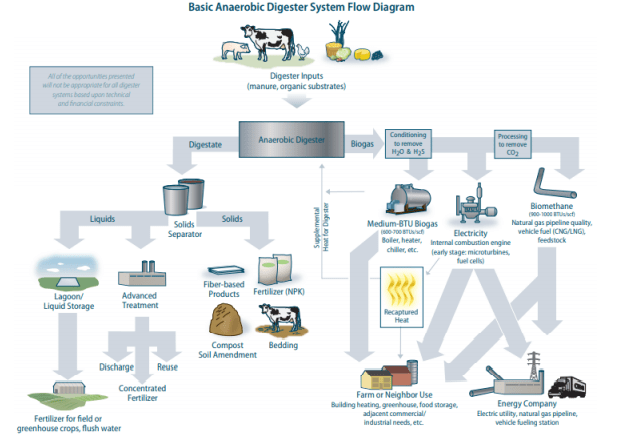 Source: California air resources board
Demand Profile for RNG
The demand for RNG has been growing at a CAGR of 17%.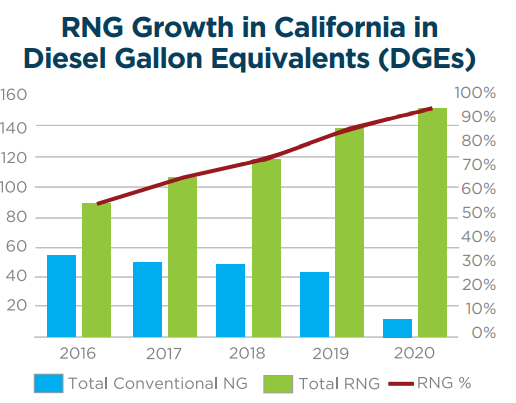 Source: The coalition for renewable natural gas
California has been a trailblazing state for the use of RNG as fuel for transport, a recent article on the Cummins website shared by @cylinder25 in a comment on my recent article on Westport Fuel Systems (WPRT) discusses how California trucks and busses are now net carbon-negative following a 170% increase in the use of RNG.

Source: The coalition for renewable natural gas
The US EPA is finalizing changes to the Renewable Fuel Standard program, as required by the Energy Independence and Security Act of 2007, to ensure that transportation fuel sold in the United State contains a minimum volume of renewable fuel. The new renewable fuel standards increase the volume of renewable fuel required to be blended into transportation fuel to 36 billion gallons by 2022. That increase alone will require a CAGR of 22%.
Currently, there are 157 RNG production sites operational in the US, 76 under construction and 79 in development.
The US environment protection agency produced this graphic to show the spread of future development of landfill sites.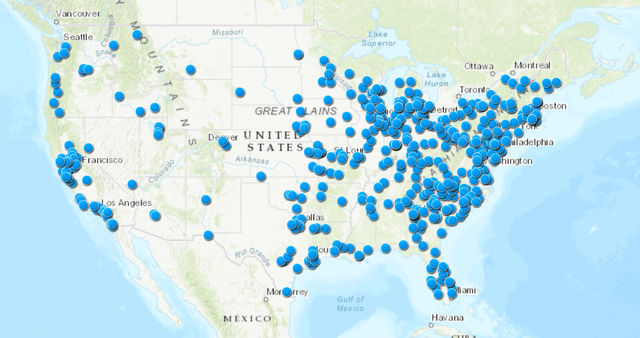 source: US environment protection agency
In addition to this, the US has 22,000 large scale farms around 4,000 - 7,000 of these would be commercially viable for the production of RNG (author generated approximation on the head of cattle/pigs and proximity to a gas pipe without detailed analysis).
Carbon Intensity (CI)
This is the real meat of this market (pardon the pun).
When we talk about the carbon intensity of energy, we are referring to the number of grams of carbon dioxide (CO2) that it takes to make one unit of electricity a kilowatt per hour (kW/hour).
When electricity is generated using coal power stations, the carbon intensity value is high as carbon dioxide (CO2) is produced as part of the power generation process. Source: National Grid
The carbon intensity values of RNG are lower than all other ways of powering vehicles, in fact for RNG produced at farms it is negative.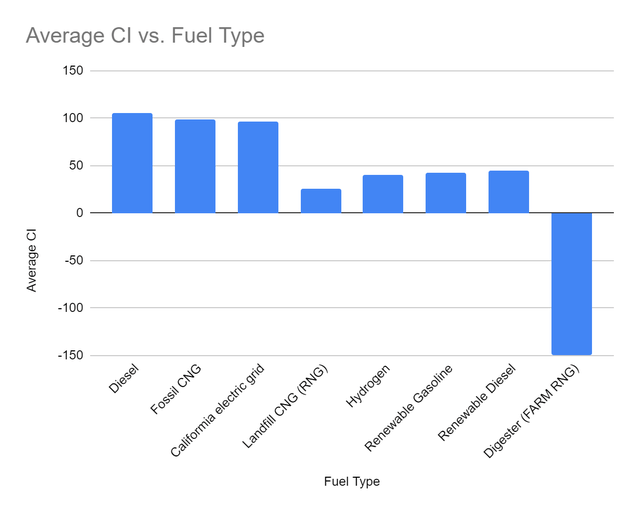 Source: Author generated with data from California air resources board
The CI values suggest that both forms of RNG are cleaner than all other ways of powering vehicles. This will likely lead to significant growth in this sector in the coming years and companies supplying hardware and expertise could experience explosive growth.
RNG prices and price drivers
It is worth noting that RNG is marginally more expensive to produce than Natural Gas; without government incentives, its profitability would be compromised. As a result, RNG producers are monetizing the environmental benefits of RNG rather than simply selling it. In the US, there are both federal and state incentives to produce RNG. At the national level, we have the Renewable Fuel Standards that generate Renewable Identification Numbers (RIN) producers can sell RIN to refiners and importers required to buy them to meet quotas. California and Oregon are leading the way on emission reduction legislation using Low Carbon Fuel Standards (LCFS) generating credits when RNG is used in transport. Companies can use these credits to offset Carbon Intensity CI mandated targets.
In conclusion: RNG is good for the environment; it takes a potent greenhouse gas out of the environment and uses it to replace fossil fuels. This activity is considered beneficial by most governments, and as a result, they offer incentives to develop the market. These incentives make the product lucrative.
Part 2: The Companies merging
Rice Energy Management team
The three Rice brothers - Daniel, Toby, and Derek - started Rice Energy in 2007 with a blank sheet and $30 million of family money. Before opening the business, Daniel had a short career in investment banking while Toby and Derek studied petroleum engineering and geology at university. They floated the company in 2014, having been through one round of private fundraising. The early investors would see their investment multiplied by thirty by the time EQT Corp acquired Rice Energy in 2017 for $6.7 billion. In 2019 EQT shareholders voted overwhelmingly to put the brothers in charge of EQT, with Toby becoming CEO.
Early in 2021, the brothers formed a new vehicle, a SPAC called Rice Acquisition Corp, intending to build the US's leading Renewable Natural Gas company. Daniel rice will be CEO, and Kyle Derham, a long-time member of the team having worked at the original Rice Energy and EQT, will be CFO. The SPAC counts Rice Investment Group as an affiliate, a $200 million investment fund and the majority owner of Archea Energy one of the companies merging under the SPAC umbrella.
Aria Energy
Aria is a Landfill Gas Company (LFG) that owns and operates 25 LFG sites across 13 states. 9 of these sites produce pipeline-quality RNG, the others produce electricity only. LFG electricity production runs 24hours a day as a reliable and continuous source. Aria has developed expertise in capturing Methane from farm waste (farm waste accounts for 10% of US greenhouse gas emissions) they both manage and construct digestors for on-farm use. Aria has several joint ventures to install and manage digesters with BP as well as manage LFG sites belonging to others.
Archea Energy LLC
Archea Energy is majority-owned by Rice Investment Group, it has nine operating RNG sites, 13 operating electricity sites, and 16 RNG sites under development (including Assai; see below).
Project Assai in Pennsylvania is the largest RNG project globally, and it will produce 12,000MMBtu/day of RNG that's equivalent to 88,000 gallons of diesel. 80% of Assai RNG production volumes have been contracted through long-term fixed-price agreements lasting between 10 and 20 years. Its CI score of 38.5 is lower than Hydrogen, and the project received an Investment Grade rating for its debt offering.
Part 3: Following the Money
Rice provides the following opening enterprise value in the offer document.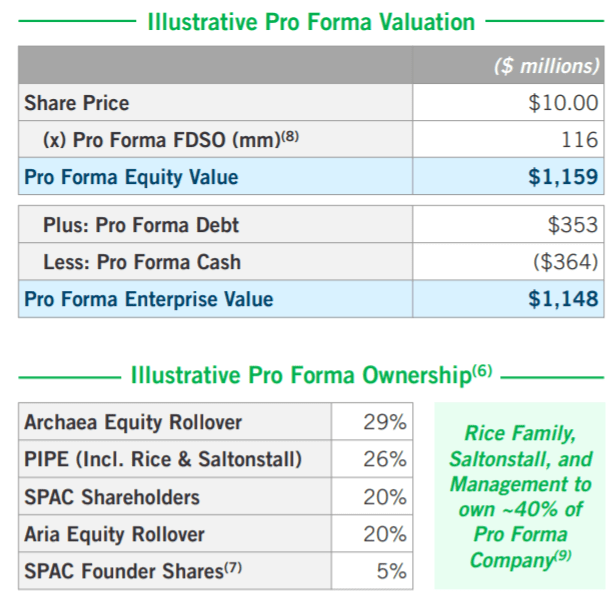 source: RICE Presentation
Financial forecasts provided for the next five years highlights are:
Revenue Growth 38% CAGR.
Margins are forecast to improve from 32% to 53% over the five years.
Net Positive cash flow is forecast to reach $329million by 2025.
90% of revenue will come from RNG.
We can apply a much higher degree of certainty to these forecasts than most other SPACS. The production capacity is already in place or is under construction. More than 70% of the output has been pre-sold on long-term contracts to investable companies for many production facilities. The assai site mentioned earlier (the largest in the world) has pre-sold 80% of its production to the following companies.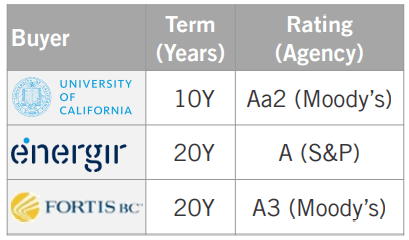 source: RICE Presentation
So, what's it worth?
Valuation is always complex; I will use the two methods. Firstly, I generated a DCF using cash flow figures from the Rice Prospectus, an 8% discount value, and a low 2% future growth to get a terminal value.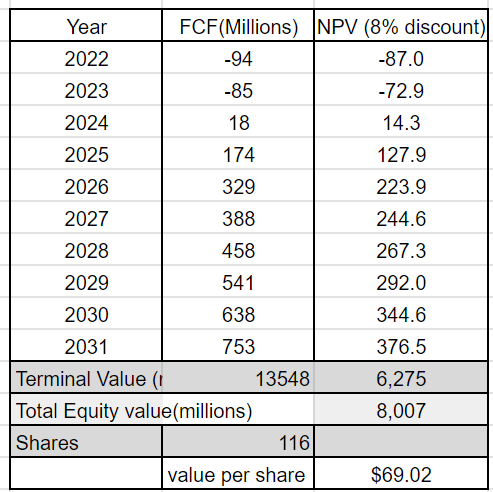 Source: Author generated with Data from Rice presentation.
The second method is to apply industry multiples of EBITDA; Rice use this method in the offer Document. Choosing the right multiple is difficult. Looking at other RNG companies: Ameresco (NYSE:AMRC), Clean Energy (NASDAQ:CLNE) and Montauk Renewables (NYSE:MNTK) (average value 31X 2022 EBITDA) gives a $10.4 billion value.
Alternative fuel companies Neste and Darling (NYSE:DAR) (average 14X 2022 EBITDA) gives a value of $4.5 Billion.
Finally, the Hydrogen disrupters Plug Power (NASDAQ:PLUG), Ballard (NASDAQ:BLDP), and Nel (trade at 81X 2024 forecasts). This would give a value of $26.3 Billion.
The range of values is quite large, as might be expected. It would appear a value of $9billion (average of DCF and RNG company multiples) would be a reasonable, conservative forecast. That gives a potential upside of 1,000%.
Conclusion
The Rice team have a proven track record of success in this industry; they are combining high-quality, profitable, and experienced companies that own valuable RNG production sites already operational and several more under construction. They have numerous long-term sales contracts in place, and the RNG they are going to produce would appear to be the best available fuel to reduce emissions from the heavy-duty Bus and Truck industries. The opening value of the SPAC seems to be significantly below the value of the enterprise derived from both methodologies applied.
This SPAC appears to be of great value, I will be buying it as part of my long term retirement fund.