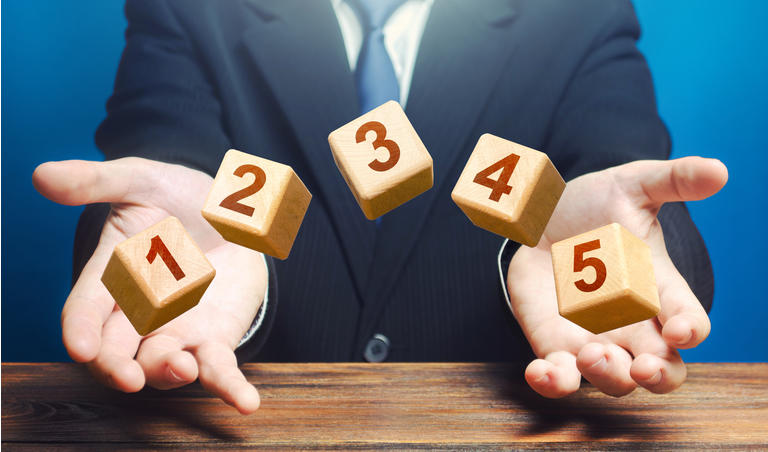 We have covered Ashford Hospitality Trust Inc. (NYSE:AHT) extensively before. Our core thesis was that dilution will supersede any recovery and that has proven accurate with diluted share counts up 24 fold (adjusted for 2 reverse splits) since the pandemic.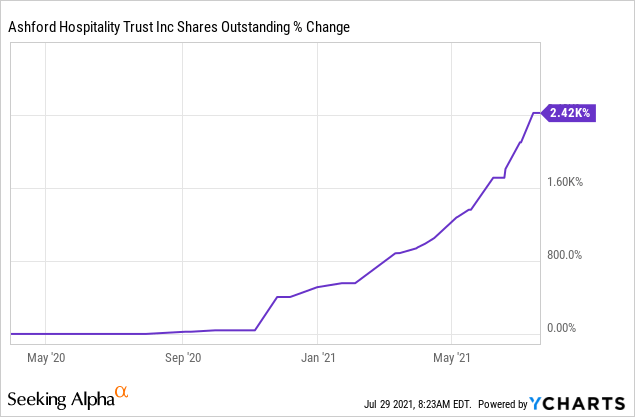 We now look at the Q2-2021 results and tell you what are the five key things that matter.
1) EBITDA Still 76% Below 2019 Levels
AHT's revenue and EBITDA showed a big improvement over 2020 levels.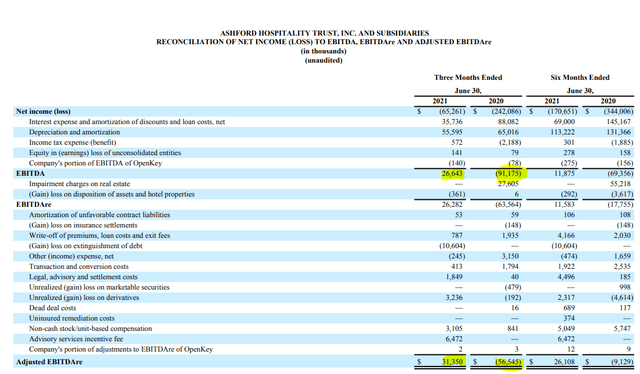 Source: AHT Press Release
This was expected as the economy fully reopened. Keep in mind though as to how far below 2019 levels we still are.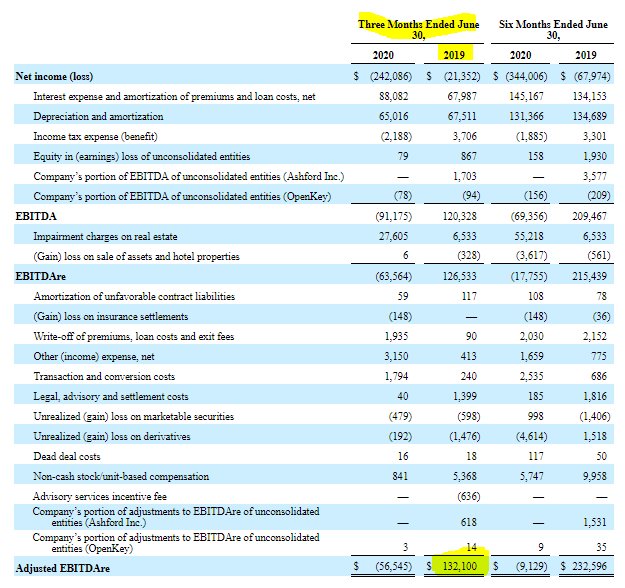 Source: AHT Q2-2020 Results
The $31.35 million of adjusted EBITDA is 76% below 2019 levels. AHT has a big mountain still to climb.
2) One-Third Of Preferred Stock Still Stands Ahead Of Common Shares
AHT has furiously redeemed the preferred shares by issuing common shares. That has bolstered the dilution done by issuing shares for cash. But a lot of preferred shares still remain outstanding.
The Company has been actively exchanging its preferred stock for common stock. To date, the Company has exchanged 15.2 million shares of its preferred stock, approximately 67% of its preferred shares prior to initiating the exchanges and representing approximately $379 million of liquidation value, into 10.2 million shares of common stock.
These continue to trade over par.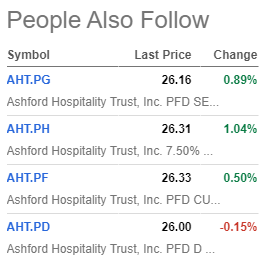 Source: Seeking Alpha
To redeem these shares for common shares, would result in further severe dilution. With 7.5 million preferred shares remaining, a further 12.5 to 13.0 million common shares, would need to be issued. Now, some people are equating this with debt reduction and a "good thing" for the company. The key fact here though is that AHT common shares are down 95% from pre-pandemic levels while preferred shares are up 30%. So the company is using very expensive "currency" to redeem these.
3) Cash Balance Exceeds Market Cap, But Don't Get Excited
All those share issuances have indeed increased the cash reserves for AHT substantially.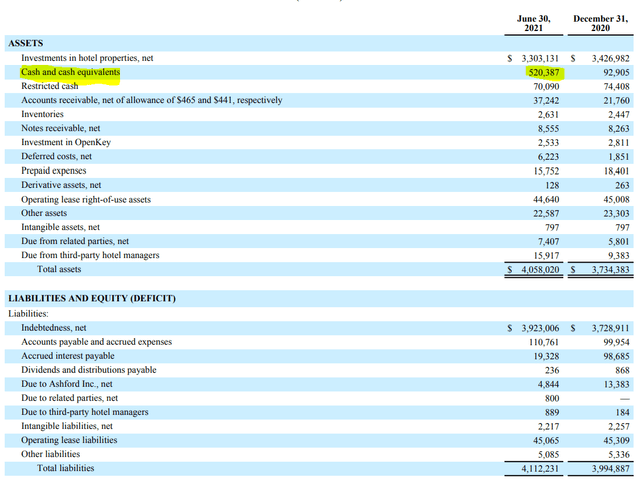 Source: AHT Press Release
AHT's market cap was under $500 million on July 28, 2021. So this cash reserve might make investors excited. But let's not forget that total liabilities still are in excess of $4.1 billion. Keep in mind that AHT carried $400 million of "cash-like" securities in 2019.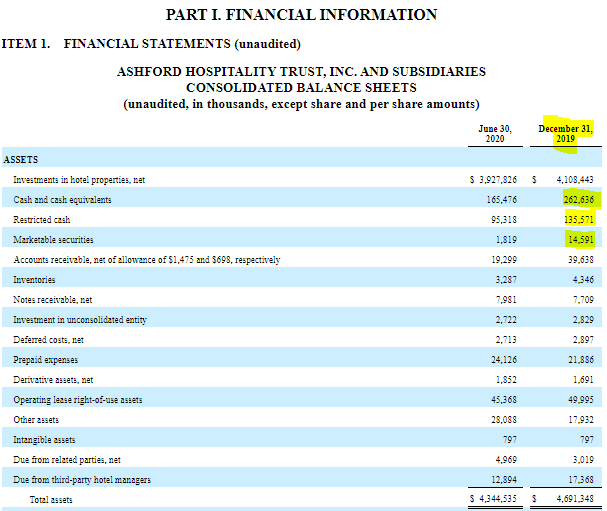 Source: AHT Q2-2020 Results
Even then their market capitalization was $285 million on December 31, 2019.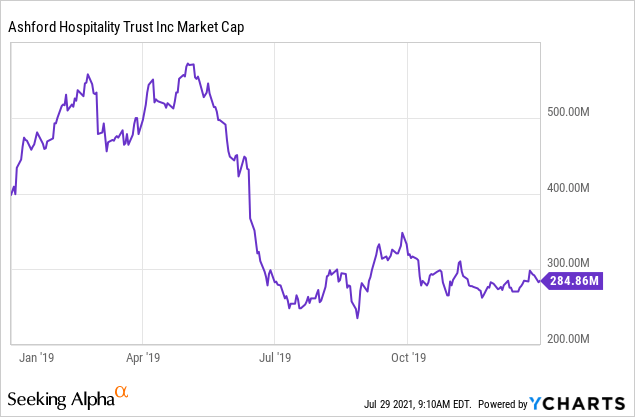 The market correctly recognized the big debt issues ahead for the company. So let's not equate the cash as being something that will act as a floor on the company's market capitalization.
4) The Next Doubling Of EBITDA Will Not Help Cash Flow
AHT has this right up and center in their press release.
At June 30, 2021, the Company had total loans of $3.9 billion with a blended average interest rate of 4.1%. At the end of the quarter, approximately 98% of the Company's hotels were in cash traps under their respective loans. This means any excess cash flow generated by those hotels will be held by the lender and will not be available for corporate purposes. The Company expects many of these hotels to remain in cash traps for the foreseeable future.
Source: AHT Press Release (emphasis ours)
At a simple level, investors need to understand that the current interest expense on the income statement does not reflect what the company will have to pay in the long run. As cash flow increases, so will interest expense. In 2020 the interest expense run rate was $270 million annually.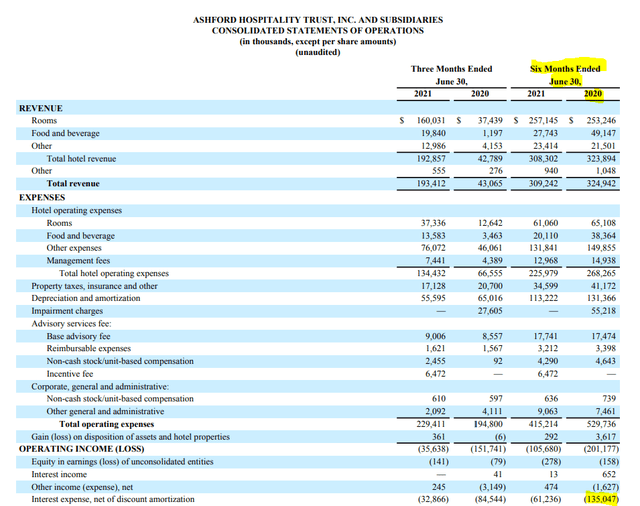 Source: AHT Q2-2020 Results
In this quarter it was just under $33 million, thanks to forbearance agreements. As cash flow improves, AHT will start booking more and more interest expense. If EBITDA doubles to a $60 million quarterly rate, expect interest expense to match that.
5) Capex Will Drain Cash When Things Normalize
AHT spent $4.5 million on capex this quarter. Historically, AHT has had to spend $200 million plus on capex annually.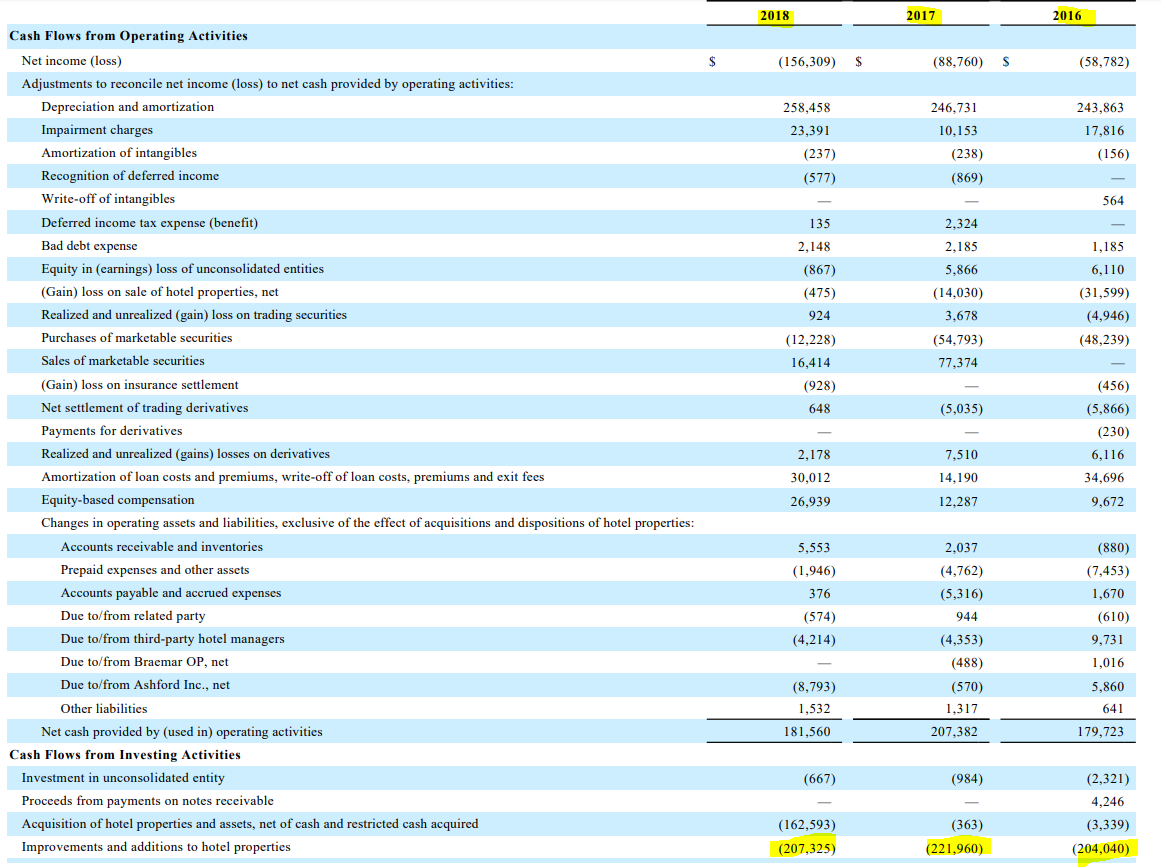 Source: AHT 2018 10-K
Catch up amounts are likely to be even larger as AHT has not spent much in the last five quarters. We expect a minimum cash flow break even when EBITDA hits over $400 million a year. The current $125 million annualized rate is not in the same postal code.
Conclusion
AHT's results were good in relation to low base effects. The hoard of cash eases the company's prospects going forward. But a normal EV to EBITDA valuation has historically been closer to 8. The current number is far higher and has discounted great things going forward.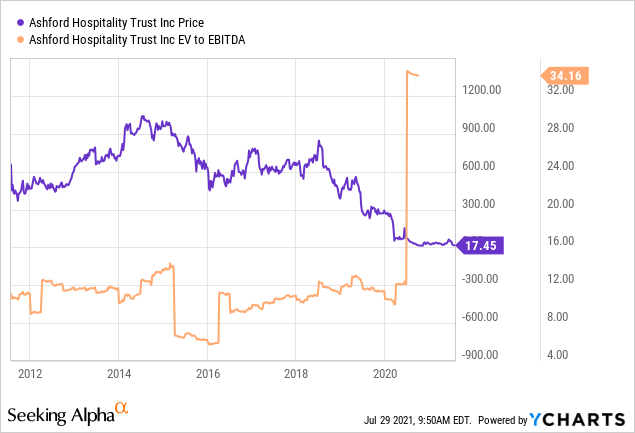 These results may get a bounce, but we would use it to sell.
Please note that this is not financial advice. It may seem like it, sound like it, but surprisingly, it is not. Investors are expected to do their own due diligence and consult with a professional who knows their objectives and constraints.