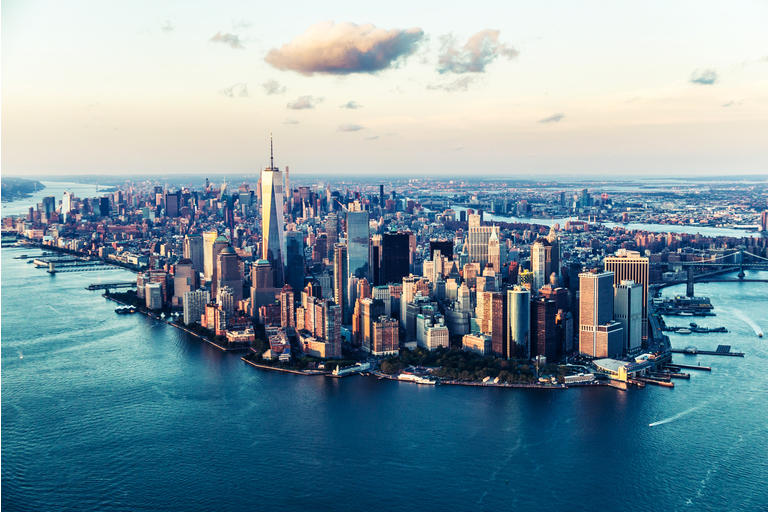 Real Estate Earnings Halftime Report
In this Halftime Report, we provide our "quick take" commentary on the earnings results thus far across the real estate sector which we've been tracking in real time in our Real Estate Daily Recaps.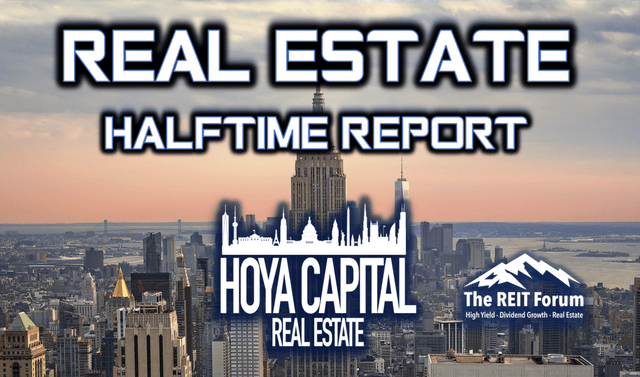 (Hoya Capital Real Estate, Co-Produced with Colorado WMF)
We're now at the halfway point of another newsworthy real estate earnings season. Results have so far been as impressive as any earnings season in recent memory with the vast majority of REITs raising their full-year guidance. Roughly 95% of REITs have topped consensus earnings estimates, and of the 44 REITs that provide full-year funds from operations ("FFO") guidance, more than 80% have raised their full-year estimates. Residential REIT results have been the most impressive with substantial upward revisions across the major housing-related sectors as rents continue to soar across the nation.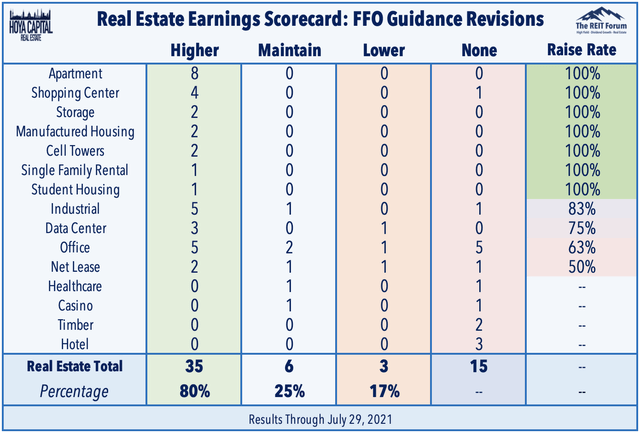 The M&A "animal spirits" remain alive in the REIT world, and we've seen five additional major M&A deals since the start of June. In REIT consolidation deals, Kite Realty (KRG) and Retail Properties of America (RPAI) agreed last week to merge to become the fifth-largest shopping center REIT while Ventas (VTR) agreed to acquire small-cap healthcare REIT New Senior (SNR). The courting of industrial REIT Monmouth (MNR) continues as well after Starwood Capital jumped into the fray with a competition bid following the planned acquisition by Equity Commonwealth (EQC). Meanwhile, Blackstone (BX) picked off another public REIT to put into its non-traded REIT, acquiring data center REIT QTS Realty (QTS).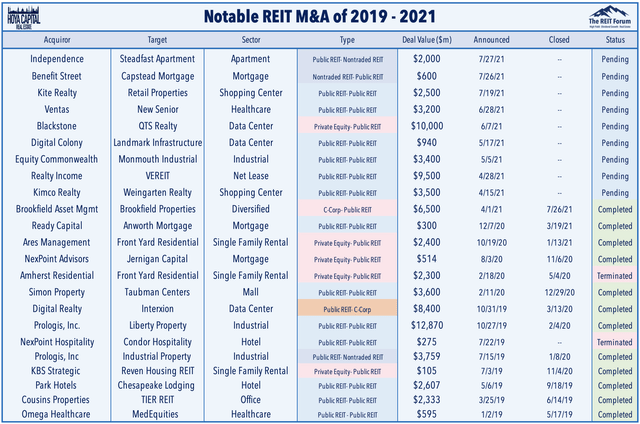 Residential Real Estate Halftime Report
Apartment: (Midterm Grade: A+) We've heard results from eight of fourteen apartment REITs, and results have been stellar across the board. Rents are soaring across essentially all major multifamily markets across the country, particularly in the Sunbelt region as Camden (CPT), Mid-America (MAA), and NexPoint Residential Trust (NXRT) are seeing mind-blowing rental rate growth of roughly 20% on new leases in July. Coastal markets have caught fire as well with AvalonBay (AVB), Essex (ESS), and Equity Residential (EQR) seeing mid-to-high single-digit rent growth this month with rental rates now approaching pre-pandemic levels for even the hardest-hit urban markets.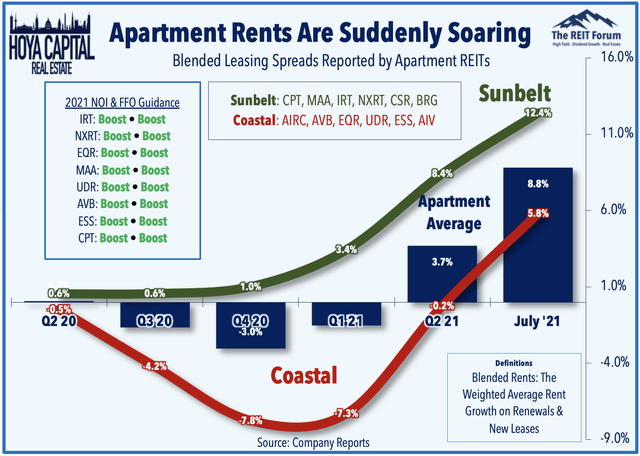 Storage: (Midterm Grade: A+) Results this week from Extra Space (EXR) and CubeSmart (CUBE) confirmed that the incredible turnaround continued for the previously middling storage sector. EXR boosted its FFO guidance by 830 bps and now sees 23.7% growth this year and raised its full-year same-store NOI outlook by 750 bps to 14.5%. CUBE reported even stronger results, raising its FFO growth outlook - which was already substantially raised during Q1- by a staggering 1050 bps to 16.9%. Closely linked to the rebound in multifamily rents, self-storage REITs' turnaround has been catalyzed by the ongoing housing boom and the acceleration in housing market turnover.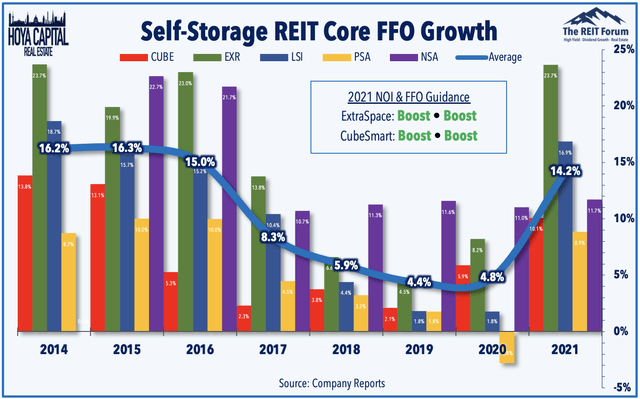 Manufactured Housing: (Midterm Grade: A) Both major MH REITs reported another stellar quarter of results as the best-performing REIT sector of the past half decade has somehow strengthened even further this year. Equity LifeStyle (ELS) significantly raised its full-year FFO guidance from its prior outlook of 9.7% growth to a revised outlook calling for FFO growth of 13.8% this year. ELS also boosted its 2021 same-store NOI growth outlook from 5.3% last quarter to 7.9% at the midpoint. Sun Communities (SUI) somehow managed to top those impressive results by raising its full-year growth outlook to 24.0%, up from its prior upward-revised rate of 17.9%.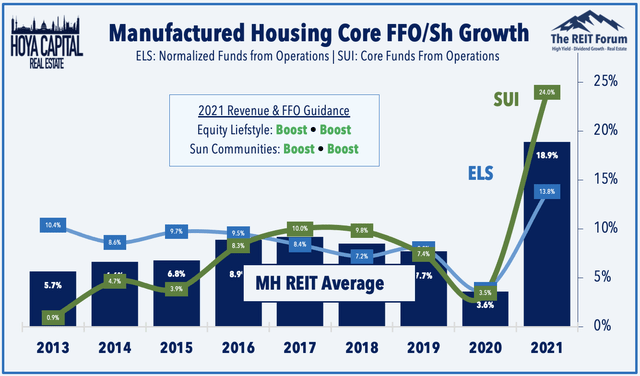 Single Family Rental: (Midterm Grade: A) Invitation Homes (INVH) reported another very strong quarter and raised its full-year guidance across the board - just a few weeks after raising guidance during its REITweek presentation. INVH noted that occupancy rates climbed to record-highs at 98.3% and achieved 13.8% rent growth on new leases and renewal rent growth of 8.0%, the strongest quarter on record for each of these metrics. INVH boosted its full-year FFO growth outlook by 180 bps and now sees AFFO growth of 14.8% this year, while also boosting its NOI outlook by 200 bps to 7.0%. American Homes (AMH) reports results next week.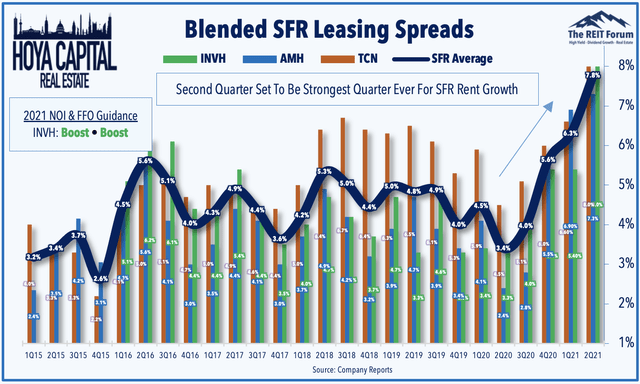 Homebuilders: (Midterm Grade: A-) Don't count out the homebuilders, either. Results this earnings season reversed a two-month slump as reports confirmed that because builders were already operating at or above maximum build capacity - and many were actively turning away or throttling new orders - that the modest cooldown in home buying demand during the spring had little-to-no impact on results. Among the better performers, Meritage Homes (MTH) reported record-high margins and significantly raised its full-year revenue and EPS guidance, commenting that "housing demand remains strong and we are still able to sell our homes soon after they are released."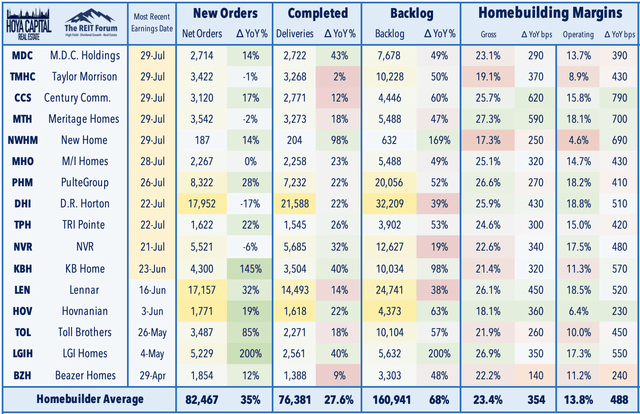 Technology & Logistics REIT Halftime Report
Industrial: (Midterm Grade: A-) We've now heard results from 7 of the 13 industrial REITs. All six of the REITs that provide full-year NOI and FFO guidance raised their outlooks as demand for industrial real estate space remains insatiable as businesses scramble to invest in logistics resiliency. Upside standouts included Rexford (REXR), which boosted its full-year FFO growth outlook by 530 bps to 13.3%, and STAG Industrial (STAG), which boosted its full-year FFO growth by 370 bps to 7.4%. Sector stalwart Prologis (PLD) raised its Core FFO growth outlook by 180bps to 6.8% and its same-store NOI growth outlook by 75bps to 5.5% at the midpoint.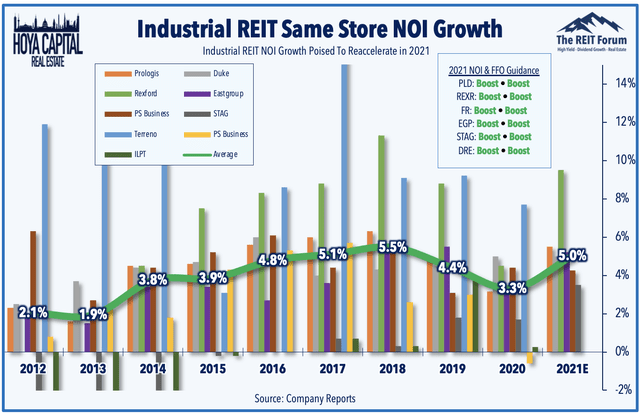 Cell Tower: (Midterm Grade: B+) American Tower (AMT) - the largest REIT by market capitalization significantly boosted its full-year revenue growth guidance by 640 bps to 13.9% and its AFFO guidance by 260 bps to 11.6%. AMT's international business - which had been a drag over the past half-decade - appears poised to become a contributor to growth in the quarters ahead. AMT raised its organic tenant billings "as a result of higher growth expectations internationally." These results were an interesting contrast with results the prior week from domestic-focused Crown Castle (CCI), which noted similarly solid overall trends but was pressured at the margins by a slow pace of small-cell deployment in the U.S.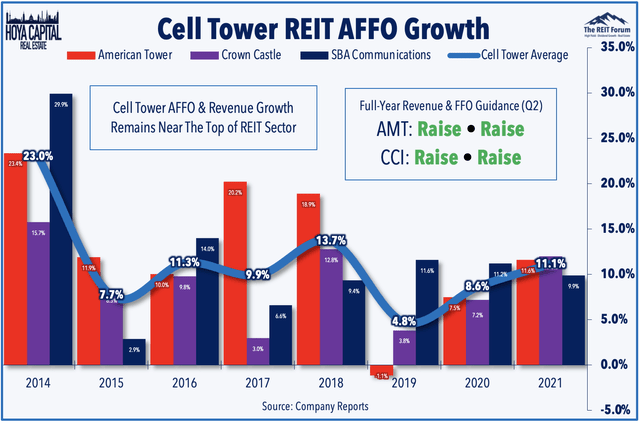 Data Center: (Midterm Grade: C+) We've heard results from four of the five data center REITs. Leasing results - the most closely watched earnings metric - have been roughly in line with estimates and almost exactly consistent with last quarter. While CoreSite (COR), CyrusOne (CONE), and Equinix (EQIX) each boosted their full-year revenue and FFO guidance, Digital Realty (DLR) reported an uncharacteristic downward FFO revision, citing the impact of a higher corporate tax rate in the U.K. QTS Realty (QTS) rounds out results next week in perhaps its final report as a public company.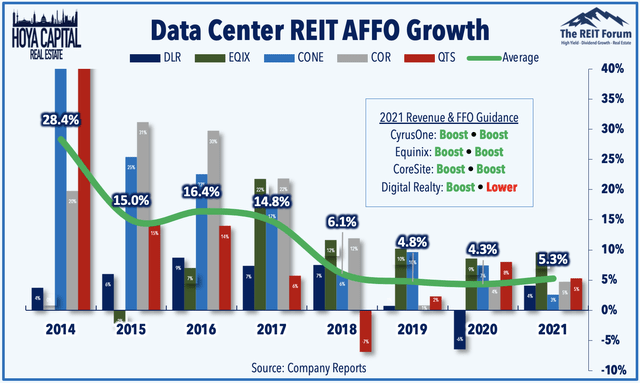 Retail REIT Halftime Report
Shopping Center: (Midterm Grade: A-) Shopping centers results have been impressive thus far as well with the six REITs to report thus far, seeing an 18% increase in same-store NOI growth, a complete normalization in rent collection, and an impressive increase in their full-year FFO outlook. Kimco (KIM) has been an upside standout after raising its full-year FFO growth outlook to 12%, noting that its "operating fundamentals are returning to pre-pandemic levels at a faster pace than originally projected." SITE Centers (SITC), Acadia Realty Trust (AKR), and Retail Opportunity (ROIC) each reported similarly strong NOI growth in Q2 and raised their full-year outlook.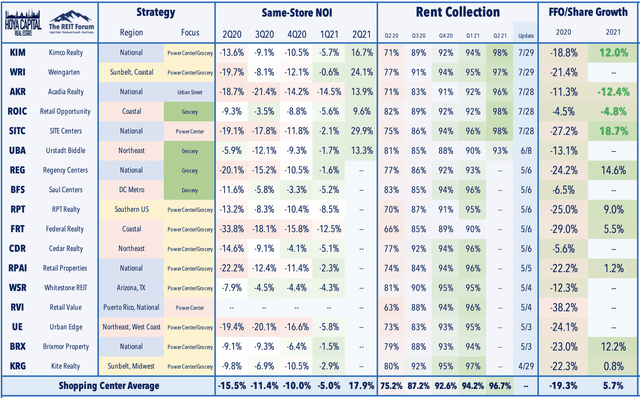 Net Lease: (Midterm Grade: B-) Most of the net lease sector is slated to report results later this week, but among the five net lease REITs that have reported thus far, results have been largely in line with expectations as rent collection fully normalizes and as the pace of acquisitions picks up. EPR Properties (EPR) - which was among the hardest-hit REITs by the pandemic - introduced FFO guidance which called for a nearly 50% jump from last year but still nearly 50% below its pre-pandemic FFO. Getty (GTY) and Essential Properties (EPRT) reported solid beat-and-raise results, while Alpine Income (PINE) slightly lowered its full-year guidance. We're interested to hear results from Realty Income (O) and National Retail (NNN) next week.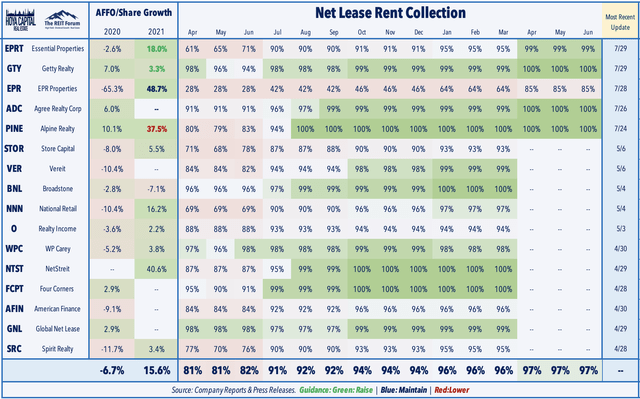 Malls: (Midterm Grade: Incomplete) All of the major mall REITs are set to report results over the next two weeks. Outside of Simon Property (SPG), the mall sector remains in a fight for survival with an uncertain future. We're watching for signs of bottoming in occupancy rates and rental spreads. Given the strong rebound displayed by their shopping center peers, another dismal quarter like Q1 might not be as readily overlooked. Occupancy rates declined to fresh record-lows with another 90 basis point decline in Q1, which was 370 basis points from last year to below 90%.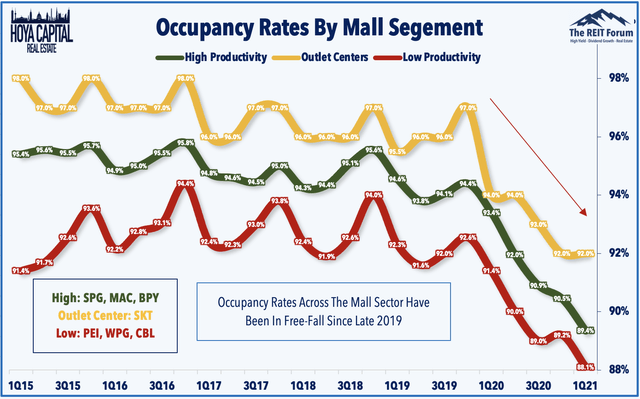 Office, Hotel & Healthcare REIT Earnings Preview
Office: (Midterm Grade: C-) We've now heard results from fifteen of the twenty-five office REITs. Nearly eighteen months into the pandemic, office utilization rates in major U.S. cities remain a fraction of pre-pandemic levels with coastal cities facing a particularly slow recovery. Particularly in light of the recent COVID reacceleration and controversial new mandates, REITs focused on Sunbelt and suburban markets have a brighter near-term outlook than their peers focused on East Coast markets. Results thus far have been consistent with this theme as Sunbelt-focused REITs have reported a notable acceleration in same-store NOI while most Urban-focused REITs - with the exception of Boston Properties (BXP) - continue to report soft same-store results.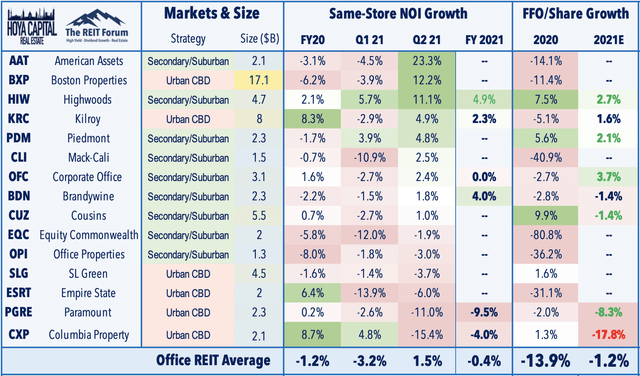 Hotels: (Midterm Grade: Incomplete) Hotel REIT earnings season is just beginning with only 3 of the 19 hotel REITs reporting results thus far. TSA Checkpoint data has showed that travel recovered to 80% of pre-pandemic levels in late July after bottoming at less than 5%, but activity at the business-focused and luxury resort segments of the hotel market remains severely depressed. Underscoring the still-fluid state of the hotel REIT recovery, Pebblebrook (PEB) reported a 38.6% same-property occupancy rate in Q2, up from 3.5% in 2020 but down sharply from the 87% rate in 2019.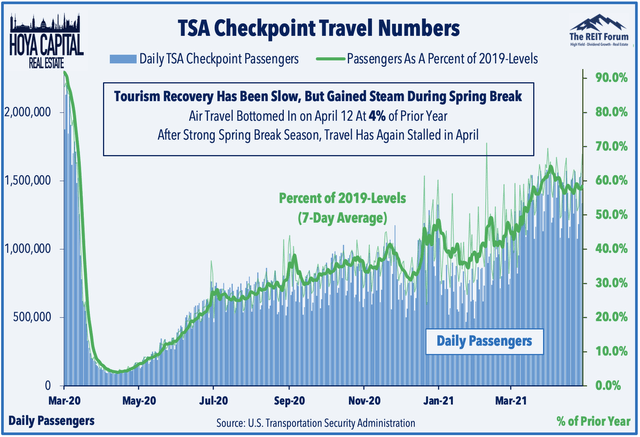 Casino: (Midterm Grade: B-) VICI Properties (VICI) and Gaming and Leisure Properties (GLPI) each reported results that were roughly in line with expectations without any major surprises. VICI noted that its AFFO/share surged nearly 30% year over year but still maintained its full-year outlook calling for 12.5% growth this year. One of the best-performing REIT sectors since the start of the pandemic, Casino REITs have proven to be surprisingly resilient despite the intense struggles faced by the broader leisure industry. MGM Growth Properties (MGP) rounds out earnings results next week.

Healthcare & Specialty REIT Halftime Report
Healthcare: (Midterm Grade: B) We've heard results from just four of the eighteen healthcare REITs. Welltower (WELL) noted continued signs of improvement in senior housing trends as occupancy rates increased 190 bps in Q2, exceeding its initial guidance of an approximate gain of 130bps. Importantly, move-in rates are now above pre-pandemic levels, while move-out rates remain historically low. Elsewhere, lab space operator Alexandria (ARE) and hospital operator Medical Properties (MPW) each maintained their full-year FFO guidance, while LTC Properties (LTC) reported a mixed quarter.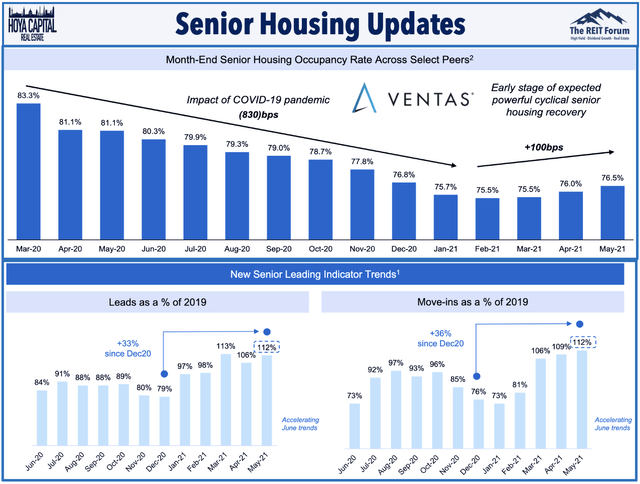 Timber: (Midterm Grade: B) Just one timber REIT has reported Q2 results thus far, which remain in focus given the high levels of volatility in lumber prices. PotlatchDeltic (PCH) reported that its adjusted EBTIDA – the most closely watched metric – beat consensus by about 12%, rising to $275 million, which topped Q1's prior record, driven by their Wood Products segment. We expect discretionary repair and remodeling activity to pick up in the back half of this year as delayed projects - many of which were delayed in part because of soaring lumber prices - are resumed as prices return to more "normal" levels. We'll hear results from sector stalwart Weyerhaeuser (WY) on Friday.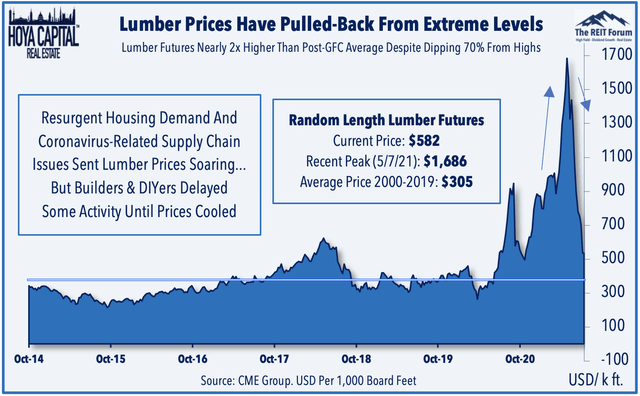 Student Housing: (Final Grade: B+) American Campus Communities (ACC) reported better-than-expected results and provided an upbeat outlook. The recent reacceleration in worldwide COVID cases - and resulting "public health" mandates - threatens to delay the complete return of in-person learning. ACC's focus on highly selective flagship universities across Sunbelt markets - most of which offered in-person classes throughout the pandemic - has proven to be especially critical. ACC reported encouraging Q2 results this week as pre-leasing accelerated significantly to 91.7% for the upcoming year.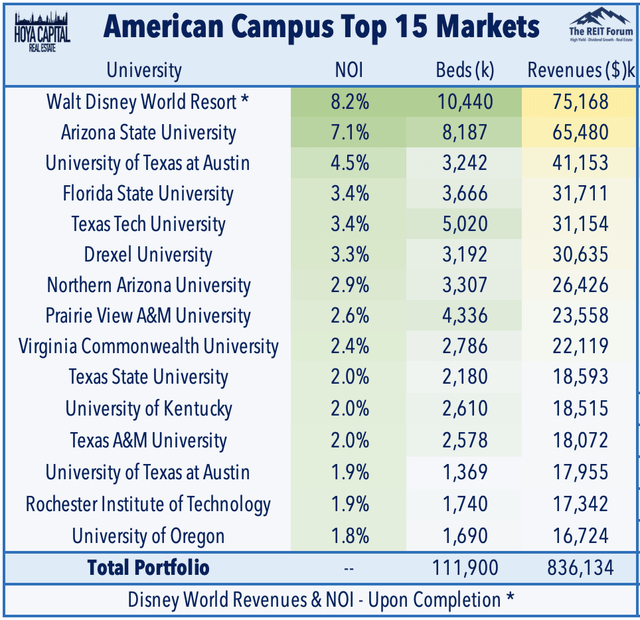 Previewing The Second-Half of Earnings
We're now at the halfway point of another newsworthy real estate earnings season. Results have so far been as impressive as any REIT earnings season in recent memory. Roughly 95% of REITs have topped consensus earnings estimates, and of the 44 REITs that provide full-year funds from operations guidance, more than 80% have raised their full-year estimates. Consistent with recent data from Zillow (Z) and others, residential REIT results have been the most impressive with all housing-related REITs reporting significant upward guidance revisions as rental rates continue to soar across the nation.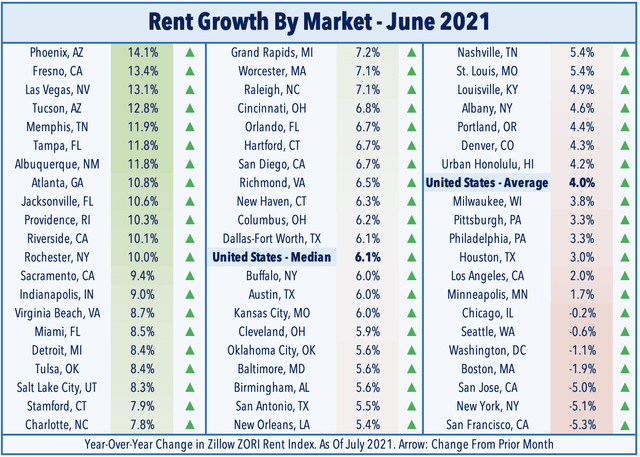 Industrial and shopping center REIT results have also been impressive, while technology REITs have reported solid but unspectacular results thus far. Office REITs, however, continue to be an area of concern and the recent COVID reacceleration certainly won't help. The back-half of earnings season is generally more volatile as we'll see the full-slate of mall and hotel REIT reports and results from most of the remaining small-cap REITs. We'll have real-time coverage throughout earnings season in our Real Estate Daily Recaps.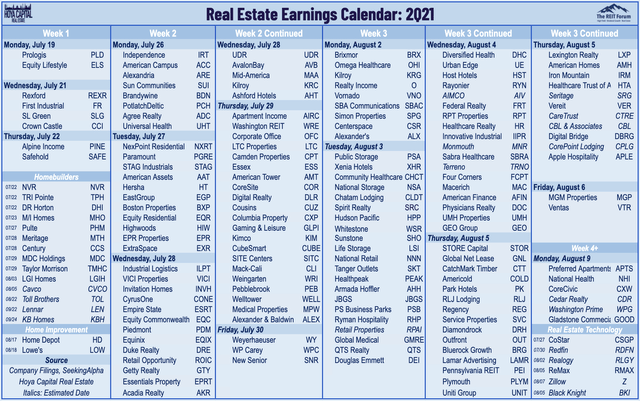 For an in-depth analysis of all real estate sectors, be sure to check out all of our quarterly reports: Apartments, Homebuilders, Manufactured Housing, Student Housing, Single-Family Rentals, Cell Towers, Casinos, Industrial, Data Center, Malls, Healthcare, Net Lease, Shopping Centers, Hotels, Billboards, Office, Storage, Timber, Prisons, Cannabis, High-Yield ETFs & CEFs, REIT Preferreds.
Disclosure: Hoya Capital Real Estate advises an Exchange-Traded Fund listed on the NYSE. In addition to any long positions listed below, Hoya Capital is long all components in the Hoya Capital Housing 100 Index. Index definitions and a complete list of holdings are available on our website.