Facebook: Down -4% After An Earnings Blowout Creates An Opportunity To Buy
Summary
Facebook continues to be undervalued and after the recent -4% after its blowout quarter, Facebook is an absolute buy.
Facebook continues to impress on the financial metrics as it has increased its net income conversation ratio to 36% throughout the 1st half of 2021.
Facebook is set to smash through the $100 billion revenue level for the first time in its history in 2021.
Facebook is positioning itself to be a dominant force in the evolution of business, content, AR, and VR which should generate significant growth for years to come.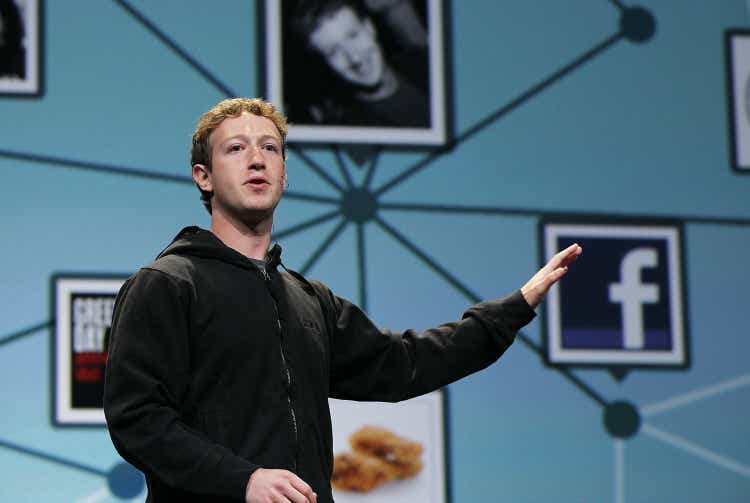 Selling the news is becoming tiresome, and it's almost as if people don't read the earnings reports or understand the numbers. I am shocked that anyone would want to sell shares of Facebook (FB) after listening to the conference call. Mark Zuckerberg is a visionary with relentless ambition. FB today isn't just a story about its current platforms and the financial metrics it generates; it's about the future of computing and what FB will deliver. Daily Active Users (DAUs) are up, Monthly Active Users (MAUs) are up, Family Daily Active Users (DAPs) are up, and FB just delivered a new record in revenue generated.
Out of the big tech names, FB is undervalued, and they have a long runway of growth ahead of them. I wrote my first article on FB at the end of November 2018, when the share price was $135.75. Since then, I have written 13 articles on FB, and in each one, I was either bullish or very bullish on the company. Today at $358.42 per share, my sediment toward FB hasn't changed, and I am more bullish than ever. When you cut through the noise that FB has dealt with over the years and look at the actual business, it's booming. Over the years, the FB ecosystem has become an integral part of many lives while generating astonishing amounts of revenue and net income. I am most excited about FB's next computing platform and is one of the few companies that will unlock the true potential of AR & VR. FB may sell off more and consolidate, but FB is a company you should have on your radar if you're taking a long-term approach.

(Source: Seeking Alpha)
Facebook delivered strong metrics again and lived up to all the expectations
How can you not love these results? FB beat EPS estimates by $0.61, revenue by $1.18 billion as it increased 55.5% YoY, and their operating margin improved to 43% from 37.6%. FB is generating more revenue and improving its margins which is a recipe for additional net income. Below I created a chart indicating FB's quarterly revenue going back to Q1 of 2016. Does FB's revenue chart look more like a growth company or one of the largest companies in the world? Since 2016 each quarter has seen QoQ revenue growth, with Q4 being the largest quarter for FB. In Q2 2021, FB generated $29.08 billion in revenue, an all-time quarterly record for them. In 2020 FB delivered record amounts of revenue as it printed $85.97 billion on this line item. 2021 is now projecting to be FB's first $100 billion revenue year as in the first six months of 2021, FB has grown its revenue by $18.83 billion (51.68%) compared to the first six months of 2020. At this point, if FB just stays flat in Q3 and Q4, they will generate over $110 billion in revenue.
FB isn't just killing it on revenue, but it's transcending to its bottom line. In Q2 2021, FB produced $10.39 billion in net income and, for the first six months of 2021, has generated $19.89 billion in net income. FB isn't just generating additional profits because of its increased revenue; its margins are drastically improving. When reviewing FB's Q2 2021 net income, it increased by $5.22 billion (50.18%) YoY. The more impressive metric is that FB's net income conversion ratio improved from 27.71% to 35.75% as well. Looking at the first six months of 2021, FB has increased its net income YoY by $9.81 billion (49.32%) YoY and its net income conversion ratio from 27.68% to 36% YoY. When I look at these metrics, it's crazy that FB isn't rewarded by Mr. Market and instead sells off by 4% as I write this article. In what world are these metrics negative and warrant a sell-off? FB has tremendous potential ahead of itself, and the market is creating an opportunity to buy shares as they should be trending higher, not lower.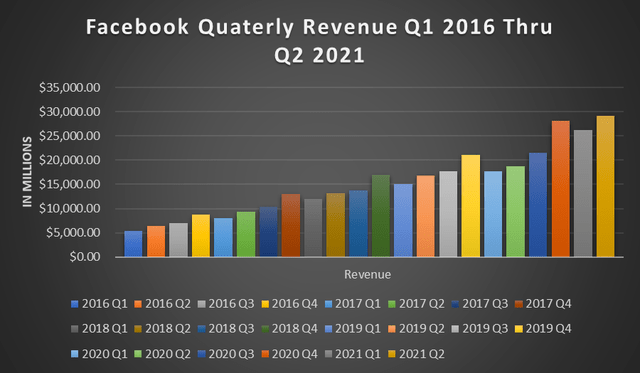 (Source: Steven Fiorillo) (Data Source: Facebook)
Almost 2.9 billion people are using FB's platforms on a monthly basis. FB always warns that growth will slow down, flatline, and possibly decline at some point. Growth has slowed but does it even matter? More than 1/3rd of the global population is using FB's ecosystem, and on a daily basis, 1.91 billion people use one of FB's products. What other company has this type of reach? FB has built an ecosystem that has become embedded into modern-day society. On the recent earnings call, Mr. Zuckerberg stated that more than 3.5 billion people actively use one or more of FB's services, and he's excited about FB's future product roadmap.
The pandemic has forced people to adapt and embrace the technological revolution that was occurring. In 2021 it's more critical than ever for businesses to be active on FB's platforms. Many businesses that weren't up with the times are now on FB and Instagram promoting their businesses and reaching their customers. This is unlikely to change as the world gets back to normal as FB provides an ecosystem to reach countless potential customers compared to only operating out of a traditional brick-and-mortar location with a company website.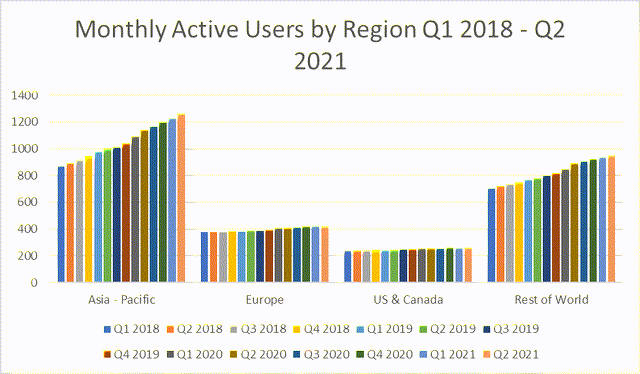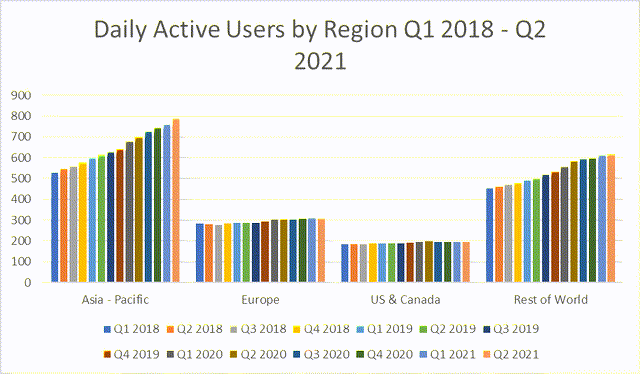 (Source: Steven Fiorillo) (Data Source: Facebook)
Why Facebook has a long runway for growth ahead of it
More than 1/3rd of the global population is using FB's ecosystem, and FB has evolved from a simplistic social interactive platform to an integral part of everyday life for individuals and businesses. FB has become a staple for businesses and now for content creators. FB is making a huge push into video and supporting content creators, which I believe will pay off in spades. FB is throwing down the gauntlet and wants its platforms to be the best place for millions of creators to earn a living. This is incredibly bullish for FB because if they succeed, their platforms will carry the best content across many different media types, from text and photos to audio, gaming, and video. If you haven't looked into how much money is made on YouTube, it's astonishing. FB is looking to build out a multiplatform content system and invest $1 billion in creators across Facebook and Instagram. FB is also going to keep its creator tools free to use through 2023. This is huge for two reasons; it's going to help build out the platform, then when the platform gets big enough, FB can charge a small fee and generate an additional revenue line.
FB is also dedicated to enhancing commerce. FB will continue to create better experiences for people interacting with businesses while helping businesses gain additional exposure and grow across its ecosystem. FB is rebuilding its entire approach. Their ads tools help businesses reach potential customers while empowering individuals to discover new products and services. Once that ad is clicked, FB would lose the interaction as the user was taken out of the FB ecosystem, and the rest of their journey was conducted on another company's website. FB is looking to create a better user experience and will focus on building out shops, marketplace, business messaging. WhatsApp and Messenger to create more native commerce experiences across their apps. If FB can pull this off, their platforms will become more critical to business than today, which means more revenue.
I either listen or read the transcript for each FB earnings call, and finally, the news I have been waiting for was delivered. Mr. Zuckerberg has been quiet about his vision for the next computing platform as he teased this in a previous year. He indicated that FB invests heavily in building technology and products to deliver a full sense of presence. Keep in mind FB bought Oculus years ago, and I have been saying it's going to be much more than just a cool gaming system. The most popular apps on the Oculus systems are social interaction apps, and FB continues to drive this sector. Mr. Zuckerberg just gave us a glance into the future as the next product release will be a joint venture with Ray-Ran. FB's first smart glasses will have their form factor, and FB is looking to make a serious push toward full augmented reality glasses in the future. There is so much potential for AR & VR, and FB continues to invest heavily to be a pioneer of this space. Obviously, their bottom line isn't skipping a beat, and FB could unlock several new business segments over the next decade. Going back to the '80s, if you told someone what we would have today, they would think you were on LSD. Technology never stops evolving, and it's just a matter of time before AR & VR are embedded throughout our lives, and FB capitalizes on profiting from it.
How Facebook is undervalued compared to other large tech companies
Out of the big tech conglomerates, and I also added PayPal (PYPL) in the mix, FB has the lowest equity multiple and P/E ratio from the group I have selected. I waited until the market closed to use Amazon's (AMZN) new TTM for the EPS. Each of these companies has reported, and the EPS TTM is current as of their last reports.
The market is placing the lowest multiple on FB's equity which is crazy. FB's equity represents 13.29% of its market cap while Apple's (AAPL) is 2.65%, Microsoft's (MSFT) is 6.6%, and AMZN's is 6.27%. Between FB's growth rates on the top and bottom lines and the low equity multiple, it really could be the best valued big tech name in the group. Looking at the P/E ratio, investors are only willing to pay $26.17 per dollar of earnings for FB, while AMZN has a P/E ratio of $61.81 and PYPL has a $63.81 ratio.
I think the market has discounted FB considerably based on possible regulatory and antitrust concerns. FB has faced these issues for years, and so far, nothing has materialized. Sure, FB has had to pay some fines but has anything impacted its business? Absolutely not. I have been saying FB has been undervalued for years and not just because of its financial metrics but because of how the market values them compared to their tech counterparts.

Source: Author
Conclusion
FB is one of my highest conviction stocks for the decade. I firmly believe that FB is undervalued compared to the rest of big tech. FB is firing on all cylinders as its total revenue has increased by $18.83 billion (51.68%) YoY for the first six months. In the first six months of 2021, FB has improved its net income conversion ratio from 27.68% to 36% YoY and generated an additional $9.81 billion (49.32%) in net income. FB is positioning itself to introduce new products and grow throughout the decade consistently, and by today's multiples, FB looks cheap. I believe FB is one of the best values in tech today, and this pullback is an opportunity.
This article was written by
I am focused on growth and dividend income. My personal strategy revolves around setting myself up for an easy retirement by creating a portfolio which focuses on compounding dividend income and growth. Dividends are an intricate part of my strategy as I have structured my portfolio to have monthly dividend income which grows through dividend reinvestment and yearly increases. Feel free to reach out to me on Seeking Alpha or https://dividendincomestreams.substack.com/
Analyst's Disclosure: I/we have a beneficial long position in the shares of FB, AAPL, AMZN, GOOGL either through stock ownership, options, or other derivatives. I wrote this article myself, and it expresses my own opinions. I am not receiving compensation for it (other than from Seeking Alpha). I have no business relationship with any company whose stock is mentioned in this article.

Disclaimer: I am not an investment advisor or professional. This article is my own personal opinion and is not meant to be a recommendation of the purchase or sale of stock. Investors should conduct their own research before investing to see if the companies discussed in this article fit into their portfolio parameters.
Seeking Alpha's Disclosure: Past performance is no guarantee of future results. No recommendation or advice is being given as to whether any investment is suitable for a particular investor. Any views or opinions expressed above may not reflect those of Seeking Alpha as a whole. Seeking Alpha is not a licensed securities dealer, broker or US investment adviser or investment bank. Our analysts are third party authors that include both professional investors and individual investors who may not be licensed or certified by any institute or regulatory body.