Exchange Traded Debt Securities (ETDS) are extremely similar to preferreds stocks - so much so that your broker may actually label them as such. Most ETDS pay quarterly, have a $25 par value, are callable five years after introduction and offer about the same return as preferred stocks. And just as the dividends paid by high quality preferred stocks[1] are classified as interest income, so is that paid by ETDS.
But ETDS are recorded on the company's books as debt rather than equity because they are actually bonds; bonds that trade on the stock exchange under a unique trading symbol just like preferred stocks, rather than the bond market.
Similar Return
There are currently 120 ETDS trading on U.S. stock exchanges, 90 of these on the New York Stock Exchange. While NYSE-traded preferred stocks are currently offering an annual dividend yield of 7.1%, the 90 NYSE-traded ETDS issues are currently offering a 6.8% yield.
Limiting the universe to just the highest quality issues that most risk-averse preferred stock investors seek, the average annual dividend yield from high quality preferreds is 6.9% compared to a very similar 6.7% for high quality ETDS issues[2].
Lower Risk
As a group, ETDS have stronger ratings than preferred stocks due to their senior standing. Just as preferred stock shareholders have payment priority over the same company's common stock shareholders, bondholders rank higher than preferred shareholders. So, as bonds, ETDS offer a very similar return but with lower investment risk than the same company's preferred stocks[3].
More Choices
With ETDS, risk-averse preferred stock buyers seeking diversification can substantially increase the industries and companies from which to consider purchases. Here are a few examples[4].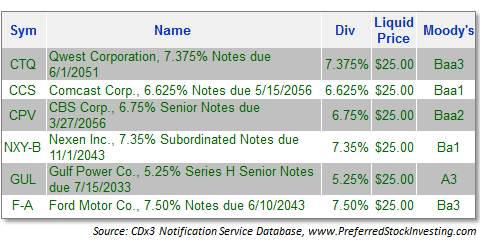 While most preferred stocks are offered by banks, insurers, utilities and real estate companies, the ETDS universe extends your choices to communication companies such as Comcast (NASDAQ:CMCSA) and CenturyLink's (NYSE:CTL) Qwest, entertainment companies such as CBS Corporation (NYSE:CBS) or manufacturers like Ford Motor Company (NYSE:F).
There are also a variety of interesting companies that issue both preferred stocks and ETDS. Several banks, REITs, energy companies and utilities fall into this category such as Nexen and Southern Company's (NYSE:SO) Gulf Power.
Another mechanism that allows ETDS to provide more choices to preferred stock investors is that, as bonds, the same company's ETDS ratings tend to be higher than their preferred stock ratings. There are several cases where companies with preferred stocks rated below investment grade offer ETDS's with investment grade ratings. Bank of America (NYSE:BAC) is an interesting example. BAC's preferred stocks were downgraded below investment grade on September 21, 2011 to Moody's Ba1. But BAC's ETDS's are currently rated Baa2 by Moody's and A- by S&P.
Other Characteristics of Exchange Traded Debt Securities
ETDS are individual bonds that trade on the stock exchange just like common and preferred stock shares. Do not confuse ETDS with Exchange Traded Notes (ETNs) or Exchange Traded Funds (ETFs). ETNs and ETFs are pegged to an index; ETDS, as individual securities, are not.
In addition to providing similar returns at lower risk and increased choice, here are some additional characteristics of ETDS that preferred stock investors may find of interest:
ETDS have a par value of $25.00 just like most preferred stocks (the most common exception is $20.00).
Some have a "survivor's option" that may allow your beneficiaries to cash the shares in at par in the event of your death (example: IKJ from Bank of America).
ETDS are unsecured bonds (meaning that they are generally not backed by collateral) and therefore rank junior to secured bonds.
As a fixed-income security, ETDS market price behavior is very similar to preferreds with respect to interest rate changes (rates up, prices down and vice versa).
Exchange Traded Debt Securities can offer risk-averse preferred stock investors a familiar way to replace called shares over the coming quarters. And do so with similar returns, lower investment risk, choices from additional industries and greater portfolio diversification.
Footnotes:
[1] High quality preferred stocks are those that meet the ten risk-lowering selection criteria from chapter 7 of my book, Preferred Stock Investing. For example, high quality preferred stocks offer "cumulative" dividends (if the issuing company skips a dividend payment to you they still owe you the money; their obligation to you accumulates) and are rated as investment grade. For more about the tax treatment of preferred stock dividends read my February 20, 2012 Seeking Alpha article titled "Tax-Advantaged Preferred Stocks: Does It Really Matter?"
[2] Data as of March 19, 2012. Data source for Exchange Traded Debt Securities: CDx3 Notification Service database, see PreferredStockInvesting.com. Disclaimer: The CDx3 Notification Service is my preferred stock email alert and research newsletter service including data for all preferred stocks and Exchange Traded Debt Securities traded on U.S. stock exchanges.
[3] Generally, ETDS shareholders rank senior to the same company's preferred stock shareholders. But in a very odd arrangement, CWHN, an ETDS from Commonwealth REIT, is an exception where the preferred stock shares of the company's subsidiaries rank senior to the parent company's ETDS shares. Here is the relevant provision from page 1 of the prospectus for CWHN: "The notes are unsecured, rank equally with all of our existing and future unsecured and unsubordinated debt, are senior to any future subordinated debt and are effectively junior to any secured debt and to all existing and future debt and other liabilities and any preferred equity of our subsidiaries." While this is the only such exception that I have seen, there could be others. As always, read the prospectus before investing.
[4] Do-it-yourselfers can find a list of Exchange Traded Debt Securities at QuantumOnline.com. Quantum requests a fee and uses the honor system to collect your contribution. Please contribute if you use their system. For sortable lists of high quality Exchange Traded Debt Securities that include current market data (last trade price, share volume, current dividend yield, ex-dividend date) see the CDx3 Notification Service homepage. These examples are not to be taken as recommendations. The examples seen here were selected from the CDx3 Notification Service database to illustrate ETDS issues from companies that preferred stock investors typically do not have access to since these companies rarely, if ever, issue preferred securities. Note that CPV from CBS Corp. has been called for March 28, 2012.
Disclosure: I have no positions in any stocks mentioned, and no plans to initiate any positions within the next 72 hours.