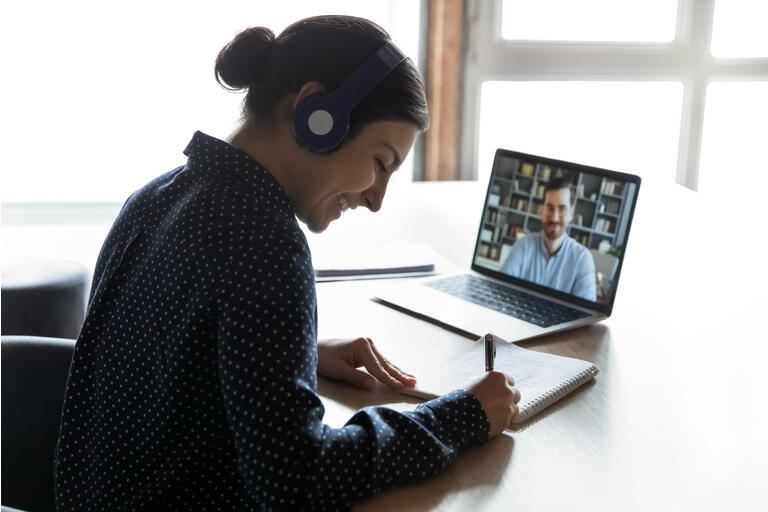 One thing investors have to be very careful of at market highs is to avoid low-substance stocks that are trading at rich valuations simply because they have a good "story." 2U (NASDAQ:TWOU) is a company I've been bearish on for years that represents just that: a quasi-tech stock with questionable fundamentals that has risen over the past several years, only because every other tech stock has. Investors are looking for digital disruptors in every category - and while we can't argue that 2U's imprint on online education is large, we do question if it's viable as a business.
Shares of 2U are up roughly 10% this year. After a correction in March and April, the stock has been steadily rising since the middle of May. In my view, this leaves 2U vulnerable to another possible correction.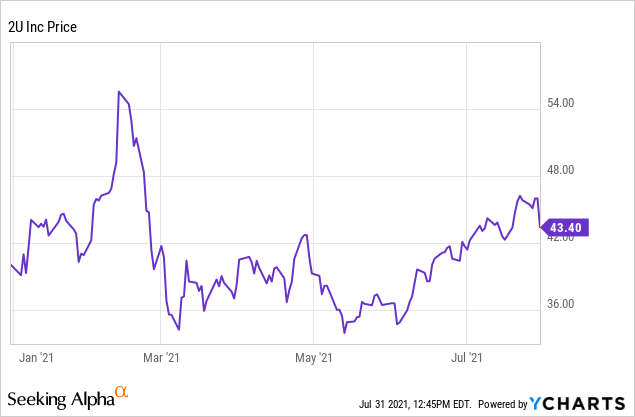 Coming out of 2U's second-quarter earnings release, there are two major concerns that are top-of-mind:
Grandiose edX acquisition is a head scratcher. There's no doubt that edX is one of the most recognizable names in ed-tech, but is it a viable business?
Decelerating growth, with the promise of more to come. 2U's revenue and enrollee growth slowed in Q2. As schools and universities reopen this fall, I fear deceleration may get even worse as 2U's "competition" goes back into business.
The bottom line here: there are few reasons to remain long on 2U. Sit on the sidelines for safety and watch this story crumble.
edX and 2U make for strange bedfellows
One of the biggest criticisms that I've had for 2U over the years is that while the company presents itself as an educational technology company, it's actually leaning more like a for-profit university in disguise. For investors who are unfamiliar with 2U, the company enters into contracts with universities (and in 2U's defense, its university partners are actually quite high-profile ones, with schools ranging from Ivy League like Yale to other famous private schools like USC to massive public school systems like the University of California). It pays the costs of digitizing that university's course curriculum into an online course format, and then also pays to advertise for students into that course, and then takes a cut of the eventual tuition fees.
Why I think of 2U as a quasi-tech company is that each engagement is customized. Each university course has to be rebuilt from scratch - unlike a true internet or software company, which builds one product that can be consumed by multiple customers. In addition, 2U's revenue is not recurring - each student "purchases" courses that typically last 1-2 years, despite the heavy upfront marketing investments that 2U makes to pull them in.
This business model, in my view, got even more murky when 2U announced in late June that the company was spending $800 million in cash to acquire edX.
The good news about this transaction is that edX is a very reputable brand in online education (perhaps one of the bets 2U is making here is that as the owner of edX, it can help clean up its "for profit education" label). Here's a slide from 2U's most recent investor presentation showing off the merits of the transaction:
Figure 1. 2U and edX merger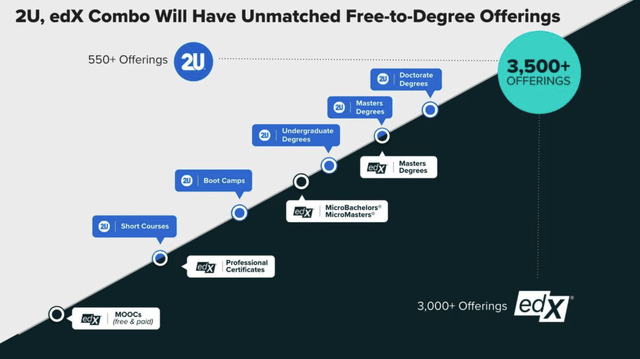 Source: 2U Q2 investor presentation
The bad news is that it's unclear what benefits edX will bring to 2U's fundamentals. While edX does generate some revenue (some of its courses are designated as a "verified track," which students pay for but receive a certificate of verification upon completion), edX was founded as a nonprofit and even after passing into 2U's hands, the company still intends to operate as a public benefit entity.
In the press release announcing the acquisition, 2U wrote:
"Fulfilling a commitment to preserve and advance the edX mission, 2U plans to operate edX as a public benefit entity, a class of purpose-driven organizations that balances the interests of shareholders with other stakeholders. 2U has also committed to continuing to fulfill the edX mission by, among other things, guaranteeing affordability through the continuation of a free track to audit courses; protecting the intellectual property rights of faculty and universities that contribute massive open online courses; ensuring that participating colleges and universities may continue under their standing agreements with edX; protecting the privacy of individual data for all learners who use the edX platform; and contributing to the ongoing development of the fully open source and independent platform Open edX, owned by the nonprofit led by MIT and Harvard."
$800 million is not a small amount for 2U. As of the end of the second quarter, 2U had only $953 million of cash on its books, not to mention $742 million in cash. The company has only barely started breaking even on an unlevered free cash flow basis (and I view unlevered FCF as a rather gimmicky metric for 2U: the fact is that 2U is heavily levered, with $16.1 million in interest payments in the first half of 2021), and edX may prove to be a dilutive acquisition from a bottom-line perspective.
The issue here: 2U seems to be going for scale and grandiosity of its public profile, but the company may be making its already-shaky business model even less reliable by now operating an online education platform that was founded with a nonprofit intention. And, 2U is paying top dollar ($800 million!) for this privilege.
Decelerating growth
edX aside, I think 2U has plenty of fundamental risks on its own. One I've called out since the start of the year is the risk of growth deceleration: at the moment, 2U is trading so richly because investors have come to expect rapid growth from this stock; and 2U's stock is at risk if growth materially trends south.
Already through Q2 (the June quarter), 2U has seen its growth rates moderate:
Figure 2. 2U revenue growth trends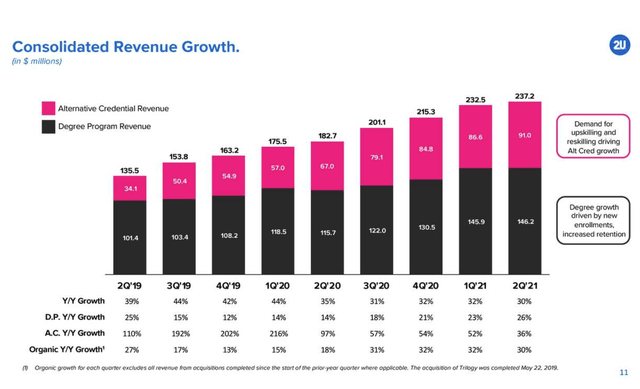 Source: 2U Q2 investor presentation
As shown in the chart above, 2U notched $237.2 million in revenue in Q2. While this beat Wall Street's expectations of $233.3 million (+28% y/y), this quarter's 30% y/y growth pace did decelerate two points relative to 32% y/y growth in Q2. In fact, 30% y/y growth is the weakest performance over the past two years.
2U's course enrollments also started to slip. Total FCEs (full course equivalents) grew only 26% y/y in Q2 as shown in the chart below, and decelerated sharply versus 33% y/y growth in Q1 and 43% y/y growth in Q4.
Figure 3. 2U FCE trends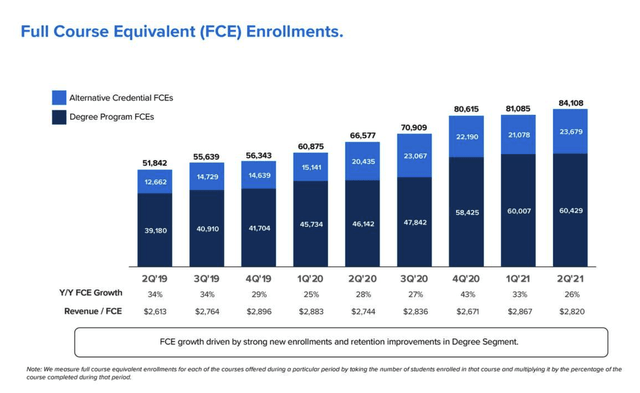 Source: 2U Q2 investor presentation
Since 2U generates revenue from its enrollees for an extended period of time (1-2 years), I think FCE slowdowns are a leading indicator of eventual revenue growth slowdown to the mid-20s as well.
And the major open question here is how 2U will fare once we move past this fall. The company got a temporary burst of enrollees in 2020 due to the pandemic: not only were many universities closed for in-person tuition, but many young professionals (whether out of choice or because they were let go of their jobs) also took the opportunity to return to education. This favorable dynamic won't play forward for 2U as we start to resume our normal routines in the reopening.
Key takeaways
I see very little opportunity for 2U to continue rallying. Investors seem rather sanguine about the edX tie-up (2U's stock has been relatively flat to modestly up since the transaction was announced on June 29), yet I find it very concerning that 2U just blew through nearly the entirety of its balance sheet to purchase a nonprofit, and one that won't necessarily help 2U reverse its risk of decelerating growth. Steer clear here.