ONEOK: A Reasonable Buy If The Biden Administration Supports It
Summary
There has been some debate regarding whether the Biden administration will support LNG and NGL products.
EPS trends suggest that there will be sustained growth as long as secular energy trends continue to support renewables.
Crude price forecasts suggest that this may be the best chance for the widespread adoption of renewable energy sources.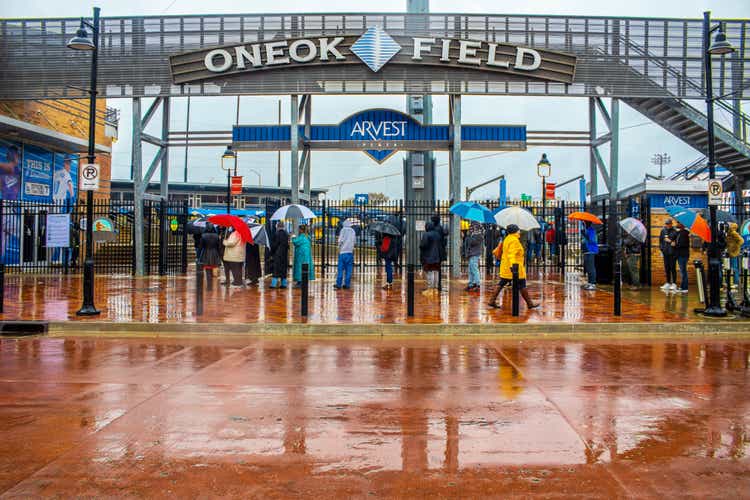 ONEOK, Inc. (NYSE: NYSE:OKE) is a liquid national gas company that operates out of Oklahoma and was founded in 1906. The company operates a vast network of liquid natural gas pipelines that stretch throughout the Midwest, sprawling from Texas to North Dakota. Specifically, liquid natural gas is extracted from shale basins, and ONEOK has a particularly high amount of volume from both the Permian and Williston basins. The company recently hiked its dividend, and the stock is currently paying a yield north of 7%. Today we will take a look at ONEOK's current situation and try to see what investors can expect over the medium term.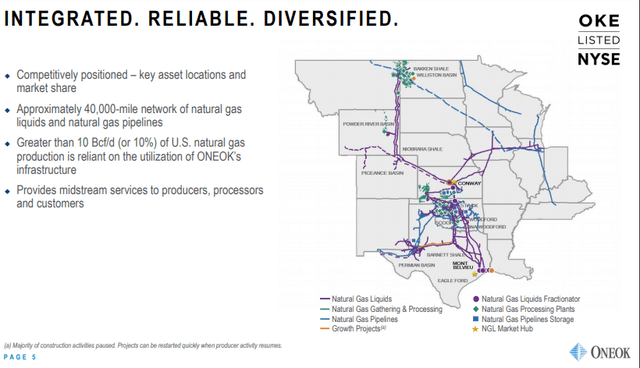 Source: ONEOK Investor Presentation
The LNG Debate
Many are on the fence about whether or not liquid natural gas can be considered a clean energy source. While it does not have the same 'cleanliness' as a renewable energy source like solar, wind, or hydro, it also emits a much lower level of carbon dioxide into the air when it is burned. This is an important issue as we are in the midst of a global secular trend of switching from fossil fuels to renewable and clean energy sources, particularly moving away from those that emit carbon into the air.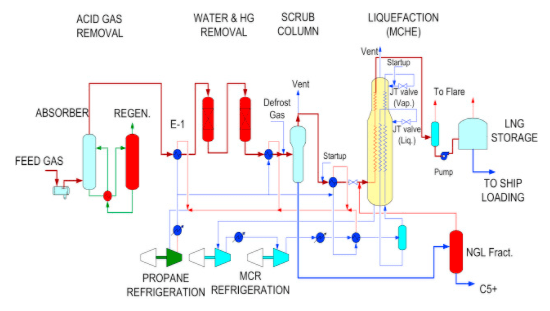 Source: ScienceDirect.com
Its status as a clean energy source could be the difference between federal support and having to compete with another source that receives said support. The U.S., in particular, has seen a green wave, so to speak, as the Biden administration is spending trillions of dollars to improve U.S. energy infrastructure to renewable sources. It isn't clear which side of the line the Biden administration believes that liquid natural gas falls or if the matter is entirely up to them. The White House needs to walk a fine line here as, under the Paris Agreement, liquid natural gas would not qualify as a source of clean energy. There are numerous liquid natural gas projects currently being built around the country, and one way that has been discussed in skirting the designation of being clean or not is called carbon capture. This is a process in which carbon emissions are captured and released back underground, removing carbon dioxide from the air. This could qualify liquid natural gas projects for some funding from Biden's infrastructure bill.
Category Outlook
The Threat of Crude
The biggest threat to renewables has been oil prices. Historically stints of low oil prices have slowed renewable adoption due to relative cost. The covid-19 pandemic started affecting the crude markets at a time when low-cost producers were undercutting high-cost producers and battling for market share. The pandemic brought a swift end to this, and OPEC+ was able to get concurrence on a framework for production cuts which saved the market. The quicker than expected demand rebound due in no small part to vaccine efforts has forced prices higher, which has greatly aided the case for renewables.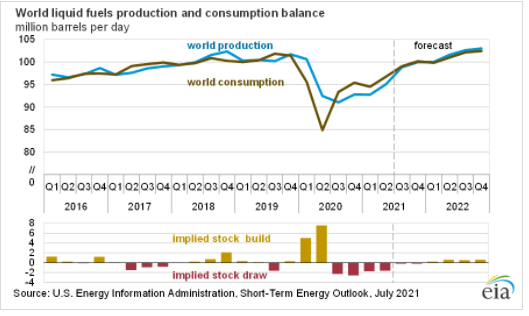 Source: EIA
We expect to see a resumption in oil production to pre-pandemic levels in the next six months, and the effect it will have on prices remains to be seen.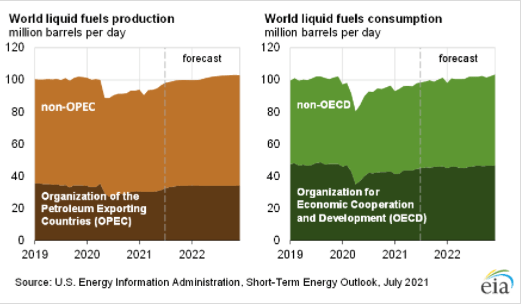 Source: EIA
I expect that barring a delta variant inspired lockdown, OPEC+ will begin to increase production at a rate higher than demand growth, forcing prices downward modestly.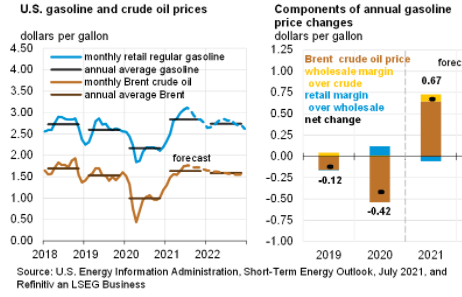 Source: EIA
Using 2019 to early 2020 as a guide, it shouldn't be too dramatic, but we may see prices pull back slightly which means that crude prices may not be the threat it was in the past to natural gas.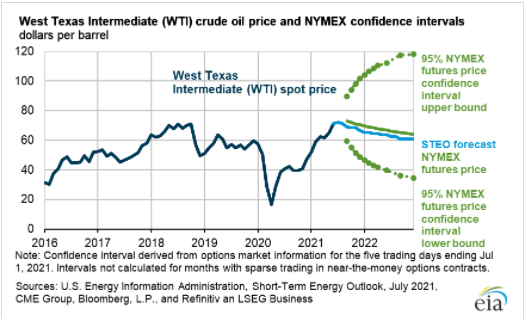 Source: EIA
Natural Gas Production Increases
Natural gas has been catching on as a (debatable) clean energy source. The market has not yet fully developed for natural gas, but producers have definitely identified the opportunity and are ramping up production as a result. The EIA is forecasting the production ramp-up to persist, which will hurt natural gas prices in the future.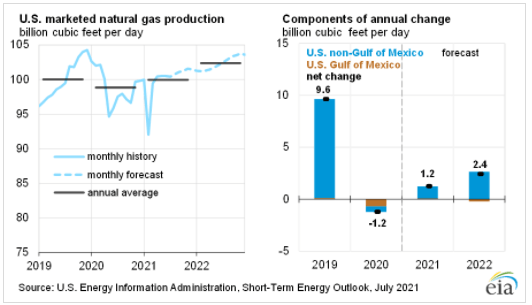 Source: EIA
Company Outlook
ONEOK has also seen significant success with natural gas liquids. If the two products sound similar, they are. But natural gas liquids are extracted from natural gas and synthetically distilled into different products like ethane, propane, and isobutane, which can be used in the production of thousands of everyday products. These substances create products like recyclable food packaging, lightweight vehicle components, rechargeable batteries, clothing, building materials, and healthcare products.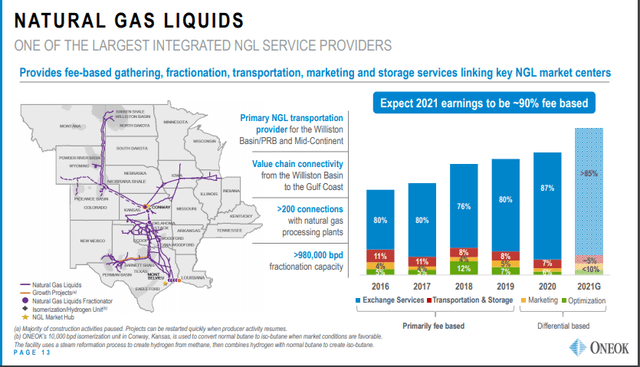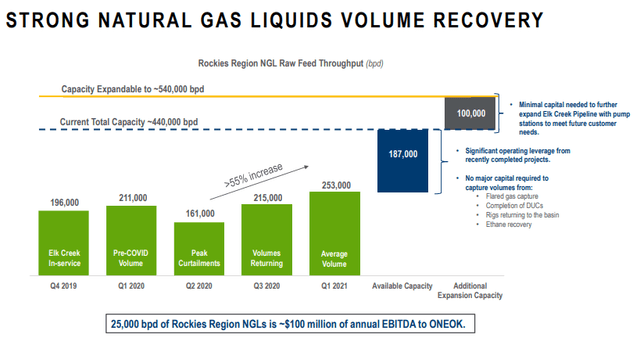 Source: ONEOK Investor Presentation
ONEOK remains one of the largest integrated natural gas liquids service providers in the country, and its fee-based system brings in high margins and a nice source of recurring revenues. The company also heads one of the largest gas gathering, processing, and storage systems, including 22 natural gas processing plants, with particular growth in the Rocky Mountain region.

Source: ONEOK Investor Presentation
We can see that overall, ONEOK has been modestly increasing NGL production, which is a prudent approach for the time being.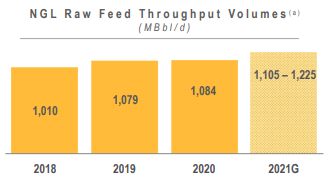 Source: ONEOK Investor Presentation
ONEOK has already set up 38 liquid natural gas wells, with plans to set up over 300 more by the end of 2021.
Dividends and Repurchases
As an investment, ONEOK has provided a stable dividend for over 25 years and just recently announced it was continuing the elevated yields with a $0.94 per share for the August payout. But there are some headwinds the company is facing, including President Biden's insistence on increasing the usage of renewable energies, as well as the impending retirement of its long-serving CEO, Terry Spencer. With the new direction of the American energy sector and a shuffling of executive leadership, ONEOK may prove to be a riskier investment than one would expect initially, especially for a long-serving utility company.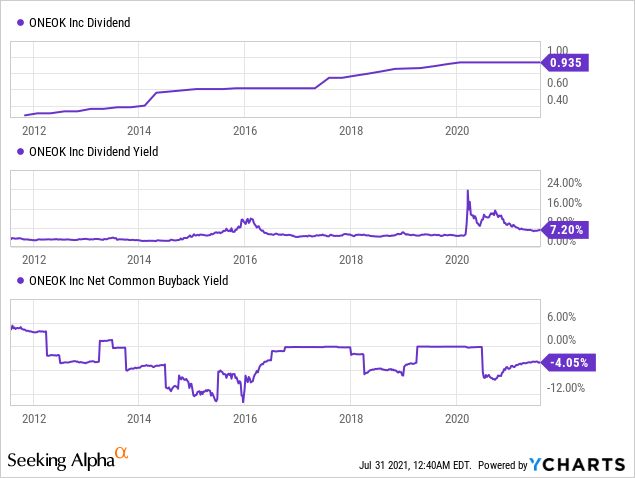 Looking At Valuation
ONEOK's stock is currently trading at $51.97, with a 52 week high of $57.55 and a 52 week low of $23.28. It has a long-term range between the high $70s and low $20s, and its most recent move has been a bounce off the low end of that range.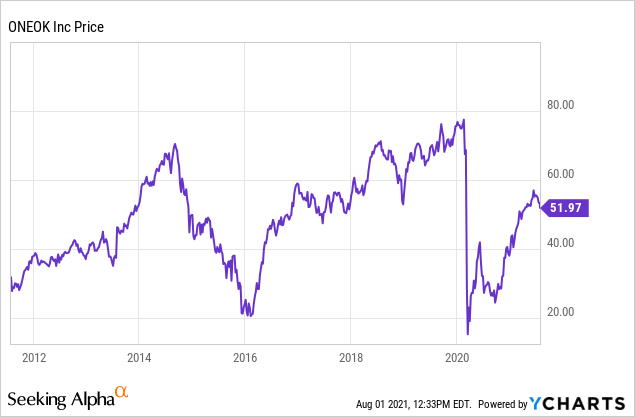 It has a neutral PE ratio with respect to its historical range, but in terms of revenue, it seems as though investors are paying on the high end of the historical range for a dollar of the company's sales.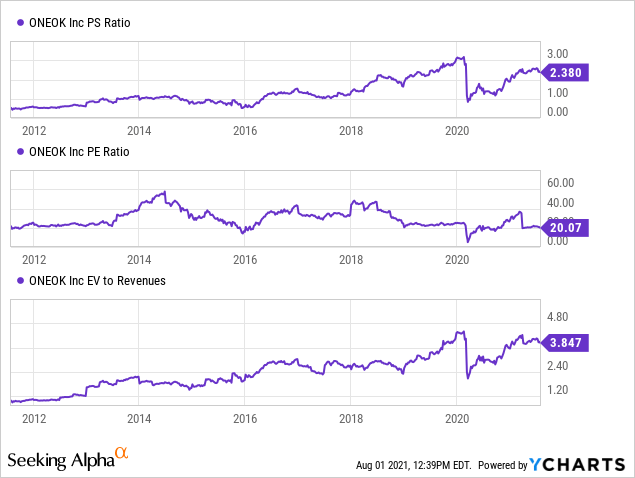 This implies that investors are expecting revenue growth to persist, which is in line with analyst estimates. We can see that quarterly EPS is expected to trend upward.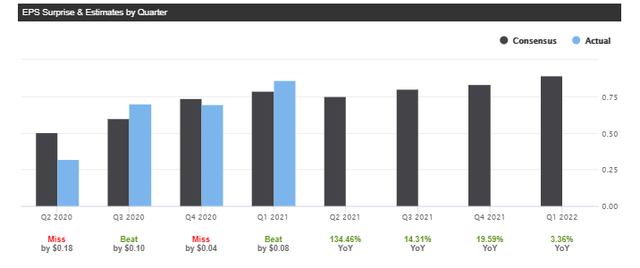 Source: Seeking Alpha
We can also see that analysts expect the EPS trends to be persistent, which bodes well for dividend safety going forward, barring a pandemic like depression.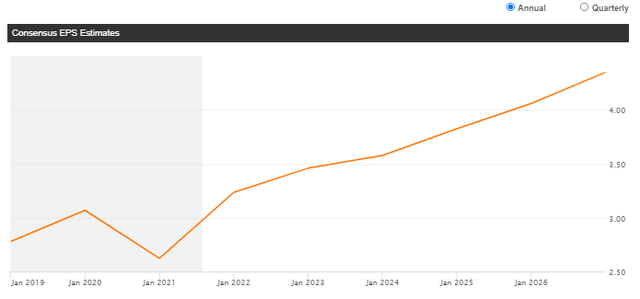 Source: Seeking Alpha
Conclusion:
The company is in a good place right now. It is unlikely that oil prices will pose a serious problem for NGL and LNG in the short term, and secular trends are definitely supporting an investment in renewables. The stock is no longer cheap, but EPS trends look favorable over the long term. I rate the stock a Buy, but any lockdowns in response to the delta variant would cause a significant drawdown.
This article was written by
I provide easy-to-digest insights on stocks and bonds. I am obsessed with growth stocks and cyclical plays, but I also provide analysis on Value opportunities where appropriate. I employ industry and fundamental analysis to give a clear picture of the opportunity over a reasonable timeframe. - MBA and over a decade as an investor and investment author. - My content is not geared to anyone's specific investment goals, time horizons, or risk tolerance. Content is for illustrative purposes only and is not intended to displace advice from a fee-based financial adviser. It is not to be taken as investment advice, or influence investor decision making. Accuracy of data is not guaranteed.
Analyst's Disclosure: I/we have no stock, option or similar derivative position in any of the companies mentioned, and no plans to initiate any such positions within the next 72 hours. I wrote this article myself, and it expresses my own opinions. I am not receiving compensation for it (other than from Seeking Alpha). I have no business relationship with any company whose stock is mentioned in this article.
Seeking Alpha's Disclosure: Past performance is no guarantee of future results. No recommendation or advice is being given as to whether any investment is suitable for a particular investor. Any views or opinions expressed above may not reflect those of Seeking Alpha as a whole. Seeking Alpha is not a licensed securities dealer, broker or US investment adviser or investment bank. Our analysts are third party authors that include both professional investors and individual investors who may not be licensed or certified by any institute or regulatory body.