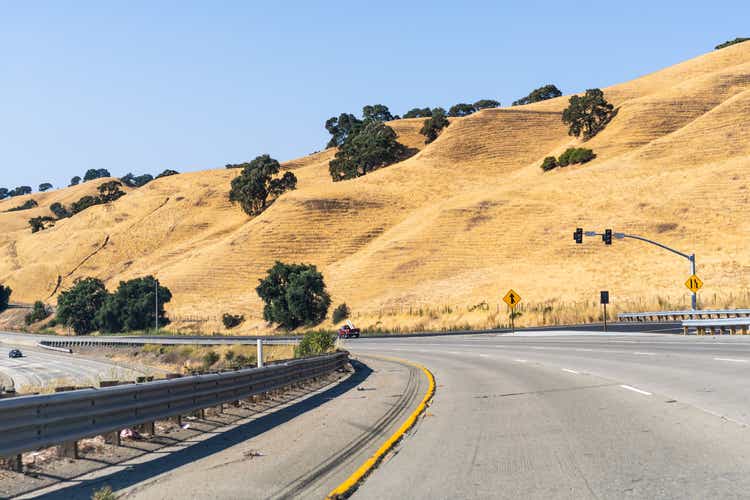 California earns a well deserved reputation for driving business and residents out of the golden state. After reading a 2019 recap of state mines, I offer some insights that should peak interest from gold mining investors who might otherwise ignore a state in decline. The more rocks you overturn, the greater your chance to uncover a stock that might be overlooked. I found two gold miners in California that deserve investor attention.
The first one is Equinox Gold (EQX) owned Castle Mountain mine in San Bernardino county California. Castle Mountain resumed commercial gold production on November 21, 2020 after 15 years of inactivity and holds 4.2 million ounces proven and probable. The company estimates a 16 year life of mine with a huge production jump from 40,000 to 200,000 ounces expected in two years.
Castle Mountain gold mine-Equinox Gold
| | |
| --- | --- |
| Production Year | Gold production |
| 2020 | 5,338 ounces |
| 2021 (Estimated) | 35,000-40,000 |
| 2022 (Estimated) | 35,000-40,000 |
| 2023 (Estimated) | 35,000-45,000 |
| 2024-2039 Phase 2 (Estimated) | 200,000 annual |
(Equinox Gold site)
Investors should note that Equinox stock has declined on anticipated production loss at their Los Filos mine in Mexico due to a labor blockade. The company has restarted operations at the mine late in July but the stock has declined significantly in 2021. I am not doing a deep dive on this one, but would note that stock decline percentages tend to exceed the actual damage to results. Here is a chart of the recent stock performance.
Equinox has also purchased Premier Mines where shareholders experienced significant dilution. This SA article provides some further optimism for investors who wish to dig deeper on company prospects.
Rise Gold-Idaho-Maryland Gold mine restart
The Idaho-Maryland Gold mine in Grass Valley, California is a historic gold mine that was once the second largest U.S. lode gold mine. It was on the verge of doubling production when war (and a fixed $34 gold price) shut down operations in 1942. The mine is owned by Rise Gold Corporation (OTCQX:RYES) who anticipates production at 100,000 ounces annual from an underground mine that hosts an existing reusable shaft. The key catalyst will be Nevada County approval of a permit on land that by definition allows mining use. Rise has produced eye catching gold drill hits as high as 149 grams per ton.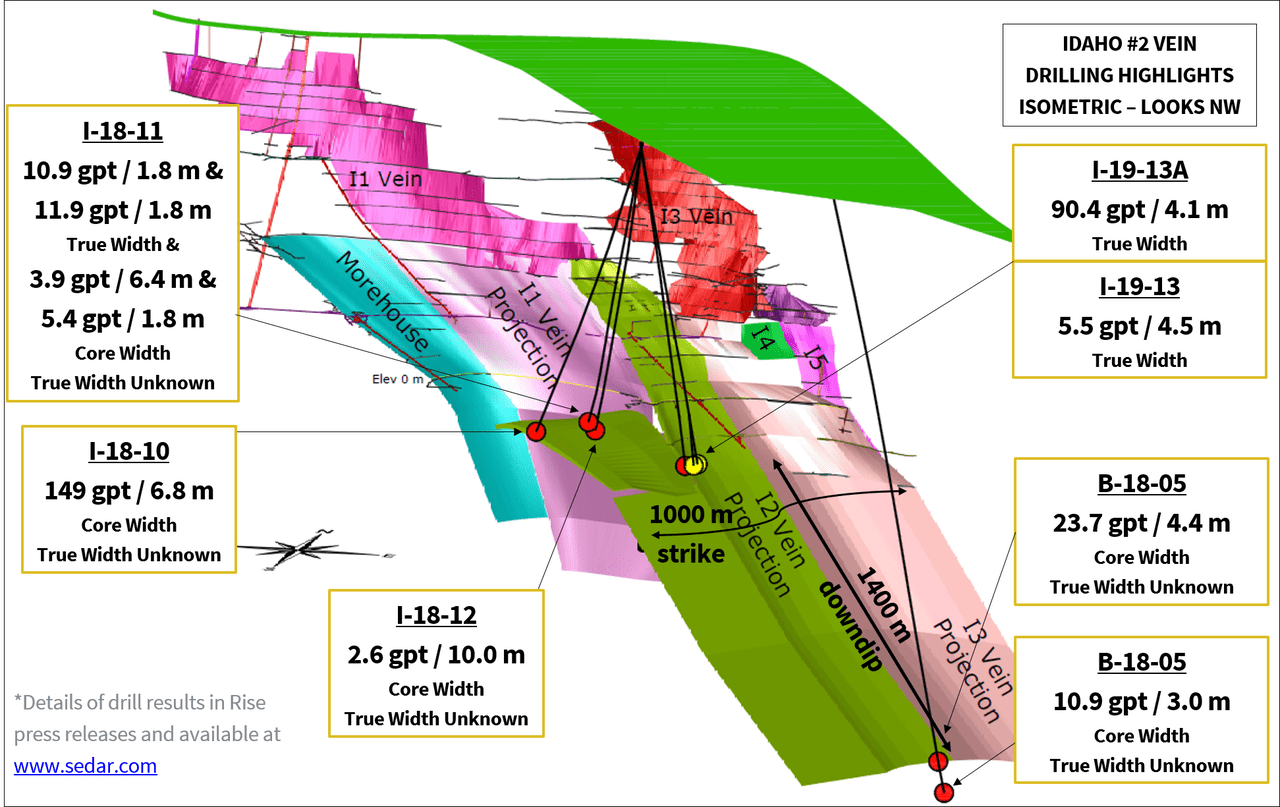 (Rise Gold Corp.)
A June 24th survey revealed overwhelming support from Nevada county residents.
A recent survey of Nevada County conducted by J. Wallin Opinion Research demonstrates strong local support for the IMM Project and provides insight into community issues and priorities. A majority (59%) of respondents supporting the re-opening of the Idaho-Maryland Mine with only 34% of respondents opposed. Majority support for the project is consistent across all of the County's five districts which are each represented by an elected supervisor. According to the survey results, respondents indicated jobs and economy, wildfires, homelessness, and affordable housing were among the top issues facing the community.

The County will vote to approve the use permit after receipt of an independent consultant Draft Environmental Report that is expected to confirm this historic gold mine can be restarted safely. The state of California defers to Nevada County on this mine permit. Rise Gold currently trades at only $.52 per share reflecting a market cap of $14 million. A positive environmental report release should begin to create positive momentum on the stock price but investors need to accept risk that California will find a reason to stop a miner from reopening a mine on privately owned land for which mining is an "allowed use".

The IM Mine Property is 100% owned by the Company and located on private land in Nevada County, California. As a result, the Project is subject to the Nevada County Land Use and Development Code. Subsurface mining and aboveground processing is an allowed use subject to County approval of a Use Permit.
This investment is only for those who are extremely patient and willing to accept a high degree of risk. Benjamin Graham would rightfully urge you to categorize this investment as "speculative". The upside is huge as drill results, history, and a 2017 technical report show significant recoverable gold.