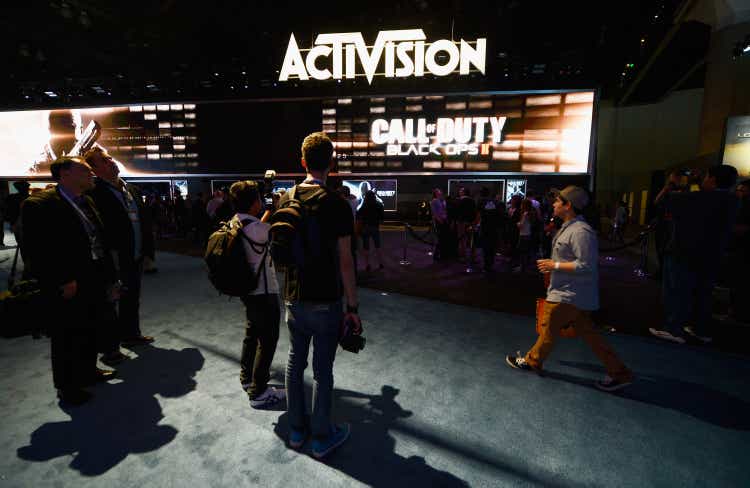 One of the stubborn red marks in my portfolio lately has been Activision Blizzard (NASDAQ:ATVI). A winner of the pandemic era that saw interest in its games skyrocket last year, Activision Blizzard has followed up on that strength with all-time records in Call of Duty engagement following the launch of Call of Duty: Black Ops late last year.
Yet the stock has entered into an uneasy patch over the last month, and jitters have especially heightened heading into Activision Blizzard's second-quarter earnings release (scheduled for after market close on August 3). Relative to recent highs near $100, Activision Blizzard has dropped ~15%.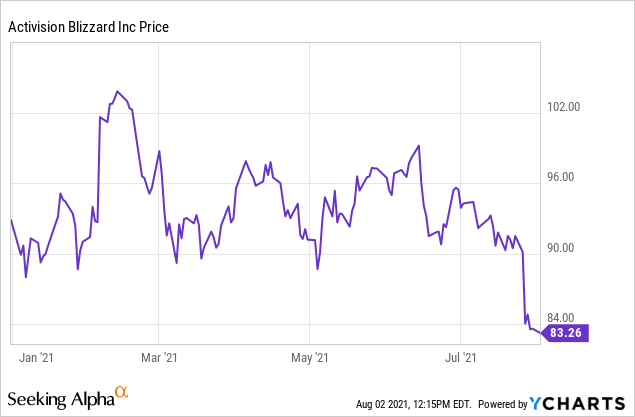 The stock is down for two main reasons:
Labor dispute. Activision Blizzard has been accused of a toxic, sexist workplace culture, and the State of California has also sued it for gender inequity. While

I view the situation as unfortunate press for the company, in the long haul I view the situation to resolve and leave little negative footprint on the company.

Entry into gaming by Netflix (NFLX). Netflix has announced its intention to make a gaming service available to all of its subscribers at no extra charge. I view this as an opportunity, not a risk for game publishers like Activision Blizzard.
We'll discuss each of these issues in turn, but broadly speaking I view no risks to Activision Blizzard and think the dip is an excellent opportunity to buy. Q2 earnings should also have the effect of returning investor focus to Activision Blizzard's tremendous fundamentals.
While Activision Blizzard's workforce issue is serious, labor walkouts are nothing new in tech. Until customer impacts arise, fundamental risks are low
Here's a quick summary of what has happened on the employee side at Activision Blizzard over the past few months. On July 20, the California Department of Fair Employment and Housing lodged a lawsuit against Activision Blizzard, citing a years-long investigation into systemic harassment and abuse against women at the company.
Critics pointed to a male-dominated culture that involved heavy drinking at company-sponsored events and that women were targeted and denied advancement. In solidarity with these allegations, many Activision Blizzard employees staged a walkout over what they perceived to be the company's "tone deaf" response to the lawsuit. Last week, meanwhile, CEO Bobby Kotick published a letter to all employees apologizing for the initial response, and promising several specific action steps, including a review of all managers within the company plus existing hiring practices, instituting "listening sessions" for employees to air their grievances, and removing some in-game content that had been deemed inappropriate.
Obviously, this is a very recent and ongoing situation that doesn't have a resolution yet. And while Activision Blizzard's employee conundrum certainly weighs toward the heavier side of what we've seen historically, we note that labor issues are certainly nothing new in technology.
Alphabet (GOOG), for example, has been a recent lightning rod of controversy. In February of this year, the company settled out-of-court to resolve a claim that its hiring practices in California and Washington discriminated against women and Asians. Looking back to 2017, software engineer James Damore made big news when he published an anti-diversity memo and accused Google of reverse racism. This, too, was eventually settled by arbitration.
In my view, Activision Blizzard is currently suffering from headline shock. Historically, however, we've seen large-cap tech companies navigate through these crises with little fundamental impact to the pace of its business. The real risk here is if Activision Blizzard's users start boycotting the company. Here, however, Activision Blizzard is somewhat shielded as each of its major franchises operate on their own brands (Call of Duty, World of Warcraft/Hearthstone, Candy Crush, etc.) - and both the Activision/Blizzard entities stand more in the background. Until we start to see gaming numbers decline, I am not concerned about the recent headlines from an investor standpoint just yet.
Netflix entry into gaming
The second major news item that is unsettling Activision Blizzard investors is Netflix. On July 14, the streaming giant announced its intention to make games available at no extra charge to its existing subscribers. The company hired a new VP of game development, a senior-level position reporting to Netflix's COO. Though no firm timeline has yet been revealed, the company has noted its intention to build out its gaming team over the next several months with a target of launching in 2022. (Shares of Netflix initially popped on the news, but then were kicked back down in late July after the company's latest earnings release showed slowing subscriber numbers).
While many pundits have described Netflix's gaming foray as a risk to Activision Blizzard and other gaming publishers, I don't view it that way at all. Netflix has entered into the ring as a major competitor in distribution of games, but not necessarily in game creation.
While it's still unclear whether Netflix intends to build out its own gaming IP or license games from others, we have its history in the streaming video space to guide us. Even Netflix Originals are often subcontracted out to production studios to produce, and eventually Netflix buys the title and its rights. An article from Quartz explores the revelation that most of the "Netflix Originals that made Netflix famous", like House of Cards and Orange is the New Black, were licensed from other studios.
Gaming distributors and retailers like GameStop (GME) should be worried. Activision Blizzard, less so. In time, Netflix may even be a major customer of Activision Blizzard games, opening up a new monetization opportunity to earn recurring revenue from games licensed to the Netflix platform. Netflix is not going to be able to build up franchises rivaling Call of Duty or World of Warcraft overnight - more likely than not, it will tap existing game studios with know-how in the space to help it kickstart its efforts, to the mutual benefit of both parties.
Key takeaways
In my view, Activision Blizzard has been the recent victim of a number of distracting headlines. To me, the workforce scandal and recent walkout are unfortunate, but history shows us that personnel matters tend to have rather speedy near-term resolution, and until we see customer/sales impacts, we shouldn't be overly concerned as investors. On the Netflix gaming front, I view the chances of Netflix actually evolving into a formidable game publisher as highly unlikely, and over time Netflix may actually end up being a profitable distribution channel for new Activision Blizzard games, perhaps as a channel to "test drive" new concepts and franchises.
Stay long here and buy the dip.
For a live pulse of how tech stock valuations are moving, as well as exclusive in-depth ideas and direct access to Gary Alexander, subscribe to the Daily Tech Download. Highly curated focus list has consistently netted winning trades of 40%+.