Chinese EV And The Recent Tech Sell-Off: Follow The Wind
Summary
The recent Chinese tech and education stocks sell-off once again reinforced the unique aspect of Chinese stocks: policy, policy, policy.
Chinese EV stocks like Li Auto, XPeng and NIO were sold off initially, but have mostly bounced back.
The Chinese government is very bullish on Chinese EV companies, evident by its generous policies regarding EV development.
The Chinese EV stocks do not face the same political risks as those of Alibaba, Tencent Holdings, or New Oriental Education and Technology. In fact, it is quite the opposite.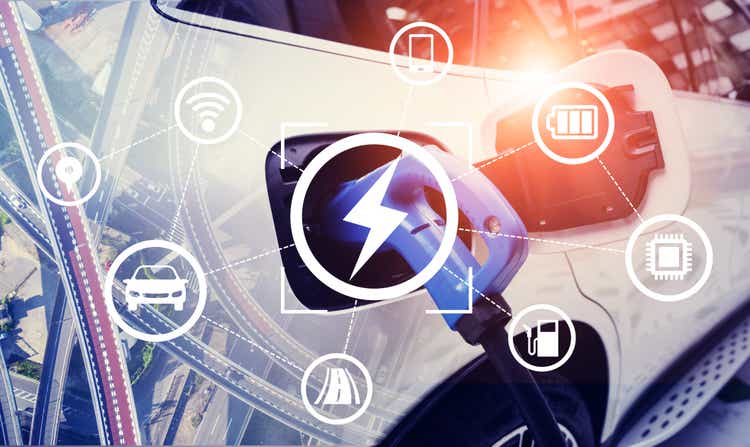 Main thesis: Chinese government's ongoing tech crackdown does not affect its EV sector
Therefore, any price weakness due to overblown regulatory fear is a buying opportunity for NIO Inc. (NIO), Li Auto (LI) and XPeng (XPEV).
The recent Chinese stock market meltdown was felt by the global market, as Chinese tech giants like Alibaba (BABA), Tencent Holdings (OTCPK:TCEHY) were sold off violently, and Chinese education companies such as New Oriental Education and Technology (EDU) and TAL Education (TAL) dove straight into the ground with stock price losing all of 7-8 years of gains. The Chinese government once again shows the world just how firm a grip it has on all Chinese firms, big or small alike. Not surprisingly, other Chinese companies including EV companies like NIO, Li Auto and XPeng were also sold off, as the political risk was viewed by the market as a systemic risk. While that is not necessarily wrong, the Chinese government has no policy in place to hold back the Chinese EV companies. In fact, it is exactly the opposite. In this article we will revisit the "New Energy Automobile Industry Development Plan" issued by the Chinese State council in 2020 and see just how much tailwind the Chinese government is providing for the Chinese EV industry.
Chinese government's iron grip on Chinese tech: not loosening anytime soon
As someone who has lived in Beijing for 18 years, I certainly have my views on the Chinese government. As an investor in Chinese companies, I have learned that it is just as, if not more, important to read and understand Chinese government policies than listening to Chinese companies' earning call or looking at their form 10-Ks. In China, the secular sentiment can change 180 degrees just by a document issued by the government.
Recently, two major sets of policies were put forth to regulate the Chinese tech sector. The first was the Chinese tech crackdown targeting the likes of BABA, Tencent, HUYA Inc. (HUYA) and DouYu (DOYU), each has dominating market shares in their respective sectors. BABA was in e-commerce, Tencent in music and gaming, HUYA and DOYU on streaming, etc. It is not so different from the antitrust probe the US government is waging on Big Tech such as Amazon, Facebook, Apple and Google in the US, except the measures were swift and harsh. This move by the Chinese government should not come as a surprise though as the BABA drama has been going on for a while now. I don't think anyone can predict when or how this crackdown will end, which is why I rate neutral on these now seemingly cheap Chinese tech companies.
The other action was the banning of for-profit tutoring which obliterated the educational sectors including companies like Tal and EDU. While it is certainly unfortunate news for investors of these companies, this reform is long overdue. I remember back in 2016 or 2017 I went back to Beijing and spoke with a taxi driver, and he told me his granddaughter who was only 6-years old, had to take full weekends of tutoring classes ranging from sports to painting to literature to dancing. When I asked why, he said because every other kid was doing it, and these extracurricular activities were basically unofficial requirement for getting into a decent elementary school. This was also why he dared not to retire because he needed to help pay some of his granddaughter's tuitions. It was reported that more than 75% K-12 students in China attended after-school programs in 2016, and I can guarantee you that number has increased significantly since then, leading to a slew of problems, and it is not just unhappy childhood. Now is banning it entirely the best way to go about it? I don't know. What I do know is that now it is not a good time sticking it out with Tal or EDU as their profit is about to plummet.
Switching gear: Chinese EVs
The recent Chinese political prowess was viewed as a systemic risk by many US investors, rightfully so, leading to a steep sell-off across the US-listed Chinese companies. But, it is quite obvious to me that this should have no effect on at least one sector: the Chinese EV sector.
I am quite bullish on Chinese home grown EV companies such as NIO, Li and XPeng, because the Chinese policy is bullish on them. For these EV startups, traditional valuation methods are almost pointless. Deep value investors like Buffet would frown at these stocks. The only thing that matters here is the growth, and the Chinese government is doing pretty much everything they can to give these Chinese EV companies the fuels they need to grow into their valuation.
New Energy Automobile Industry Development Plan or The "Plan"
We will abbreviate this as the "Plan". The "Plan" (the Chinese version) was published by the Chinese State Council back in Nov 2020, with a total of 8 chapters. The google translate can be a hit or miss so I will briefly summarize what is being said in this document.
In Chapter 1, the Chinese government believes that the EV industry represents the next-frontier of technological revolution as it integrates renewable energy, new materials science, new internet of things, Big data, 5G and AI and so forth. It sees that EV not only as the direction where the global auto industry is heading towards, but also as an important engine for the growth of world economy because EV will transform and improve the energy consumption structure, transportation efficiency and urban operation in general. One sentence to summarize: EV is the future.
In Chapter 2, the Chinese government will be implementing the national strategy for the development of new energy vehicles, focusing on integration and innovation, inventing core technologies, enhancing the basic capabilities of the industry, building a new industrial ecology, improving the infrastructure system, optimizing the industrial development environment, and promoting the high-quality and sustainable development of China's new energy automotive industry, in order to accelerate the making of a strong Chinese auto industry.
This chapter is also where the goals were set. Namely, by 2025, 20% of all cars sold in China would be new energy cars (including EV and EREV). By 2035, pure EV will have power consumption lower than 12kwt/100 km, public transportation will become fully electrified, and autonomous driving will be adopted on a large scale. To achieve the 2025 20% EV market share target, the Chinese government has been subsidizing EVs, and keep in mind this is still a thin-margin industry, EV or not, so the subsidiaries is quite important for the continuous growth of the EV industry in China. There are other incentives such as if you buy an EV in Beijing you would not need to essentially win a lottery to get a valid license plate, which was required if you are getting an ICE (internal combustion engine) vehicle. This lottery mechanism has prevented my father-in-law from getting an ICE vehicle in Beijing for more than 6 years now, just because he was not lucky enough to win the lottery.
In Chapter 3 there are lots of technical terms. It is basically saying that the Chinese government has a blueprint for developing world-class EV batteries, communication technologies, materials and so forth. In short, it will fully support the R&D of EVs.
Chapter 4 touches on things like quality control, manufacturing, sale management and after-sale services, mostly the peripherals.
Chapter 5 talks about the integration of EV in to the transportation and communication network.
Chapter 6 talks about the building the infrastructure needed for broad EV adaptation, i.e. charging stations. This is certainly a work-in-progress, as even in first-tier cities like Beijing and Shanghai it can still be challenging at times to find a place to charge. There are simply too many cars and not enough parking lots. This is part of the reason I am particularly bullish on Li auto's EREV Li one, as in time of need it can charge the battery with its gas engine.
Chapter 7 talks about that the government welcome international collaborations is in full support of home grown EV to enter the international auto market. Nio's recent move to the European market is likely a manifestation of this.
Chapter 8 is interesting, as it says that the government supports the M&A activities of high-quality Chinese EV firms to improve the EV market concentration, the exact opposite sentiment compared to those towards BABA and Tencent. It also talks about the entrepreneurship and IP protection.
Final thoughts and outlook
The "Plan" has outlined how the Chinese government aims to take the lead in the EV development and future integration into the transportation infrastructure. It serves as an umbrella policy over the Chinese-born EV startups like NIO, Li and XPeng, and it is especially important to revisit now that Beijing keeps turning the screws on its Tech sector. It is my opinion that there is very little political or regulatory risk posed by the Chinese government for its well-groomed EV companies, and I see any indiscriminating fear- led pullbacks as buying opportunities for these Chinese EV companies that are growing at incredible speeds.
This article was written by
I am a Chemistry PhD who works in Biotech field as a scientist. I leverage my expertise in understanding and dissecting scientific/clinical data to develop my investment thesis in biotech stocks.
Analyst's Disclosure: I/we have a beneficial long position in the shares of NIO, LI, XPEV either through stock ownership, options, or other derivatives. I wrote this article myself, and it expresses my own opinions. I am not receiving compensation for it (other than from Seeking Alpha). I have no business relationship with any company whose stock is mentioned in this article.
Seeking Alpha's Disclosure: Past performance is no guarantee of future results. No recommendation or advice is being given as to whether any investment is suitable for a particular investor. Any views or opinions expressed above may not reflect those of Seeking Alpha as a whole. Seeking Alpha is not a licensed securities dealer, broker or US investment adviser or investment bank. Our analysts are third party authors that include both professional investors and individual investors who may not be licensed or certified by any institute or regulatory body.