Newmont: An Industry Leader To Buy On Dips
Summary
Newmont released its Q2 results last month, reporting revenue of ~$3.07 billion, and free cash flow of ~$580 million, translating to significant growth year-over-year.
Unfortunately, the company did have some setbacks in the quarter, with lower than anticipated production at several of its operations, with most of this due to COVID-19 related headwinds.
However, despite the challenges, Newmont had a solid quarter with 30% revenue growth, and a 50% increase in free cash flow, driven by higher metals prices.
Given Newmont's position as the industry leader with an attractive dividend relative to both its peers and other S&P 500 companies, I continue to see the stock as a top buy-the-dip candidate in the sector.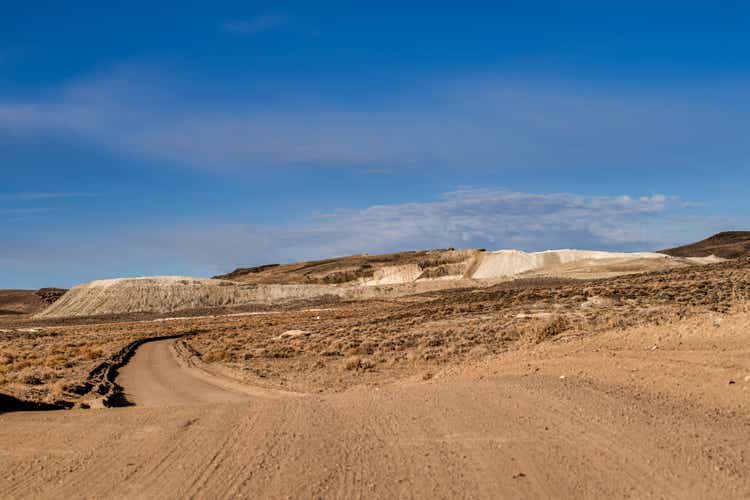 The Q2 Earnings Season for the Gold Miners Index (GDX) has finally begun, and one of the first companies to report its results was Newmont Corporation (NYSE:NEM). Unfortunately, the company had another tough quarter in Q2 operationally, with setbacks at a few of its mines related to COVID-19. This should improve as vaccination rates increase in countries that have been slower to roll out vaccines, but it has led to a tough H1. The good news is it was another exceptional quarter from a financial standpoint, and higher metals prices continue to drive down costs helped by by-product credits. Given Newmont's position as the industry leader with an attractive dividend relative to both its peers and other S&P-500 companies, I continue to see the stock as a top buy-the-dip candidate in the sector.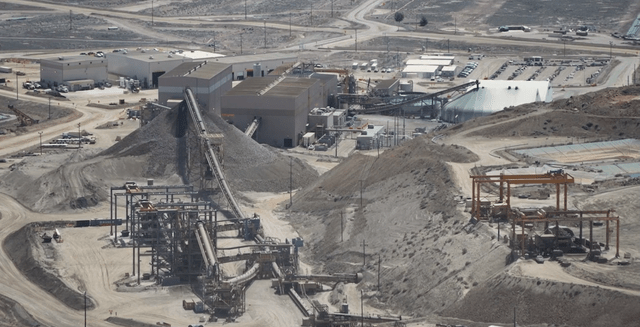 (Source: Nevada Gold Mines Joint Venture)
Newmont Corporation ("Newmont") released its Q2 results in late July and reported quarterly production of ~1.43 million ounces of gold at all-in sustaining costs of $1,035/oz. In addition to the ~1.43 million ounces of gold production, Newmont produced ~303,000 gold-equivalent ounces [GEOs], translating to total production of ~1.73 million ounces, with costs significantly lower on its GEO production ($886/oz). Notably, while costs look quite high on a gold production basis, they were down year-over-year and down from Q2 2019 levels pre-COVID-19 despite the disruptions to the portfolio. This is due to much higher by-product credits, which contributed to all-in sustaining costs on a by-product basis of $918/oz, an industry-leading figure. Let's take a closer look at the quarter below: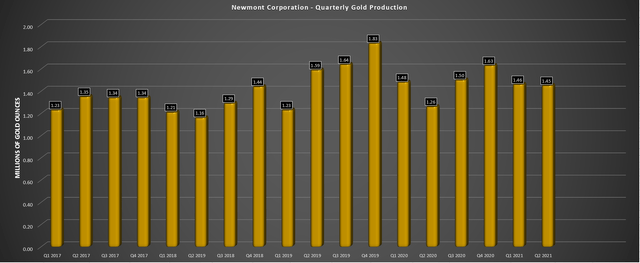 (Source: Company Filings, Author's Chart)
As shown in the chart above, gold production has stagnated over the past few years for Newmont due to recent COVID-19 related headwinds and the divestment of two larger mines (Red Lake & Kalgoorlie). While this is a little disappointing, the lower production in the most recent two quarters has been out of Newmont's control and is a testament to Newmont's care for its workforce, if anything. This is because Newmont has voluntarily shut down its mines to protect its workforce, including a temporary shutdown at its Australian Tanami Mine, which affected operations at the end of the quarter, and into the beginning of Q3.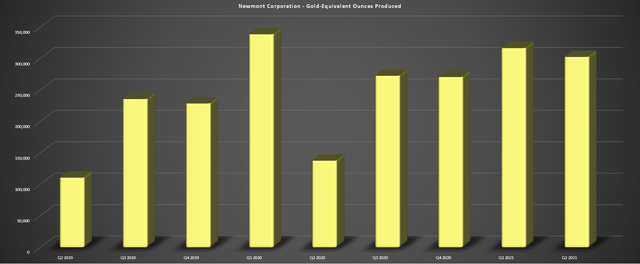 (Source: Company Filings, Author's Chart)
However, while gold production has decreased on a two-year basis, gold-equivalent production has grown meaningfully, up from ~111,000 GEOs to ~303,000 GEOs in Q2 2021. This is mostly attributed to Penasquito, which continues to perform well. Investors should be able to count on this asset for another two decades. Newmont noted last year that just 20% of the 650 square-kilometer land package had been drilled to date, and Newmont is confident it can extend the mine life into the 2040s. Penasquito's proven & probable reserves currently stand at ~7.1 million ounces of gold, with another ~4.3 million ounces of gold in resources, as well as ~425 million ounces of silver reserves and ~460 million ounces of silver resources. To put this reserve in perspective, Newmont's silver reserve base at Penasquito alone is larger than the reserves of Hecla (HL), First Majestic (AG), Endeavour Silver (EXK), Aurcana (OTCPK:AUNFF), SilverCrest Metals (SILV), and Fortuna Silver (FSM) combined.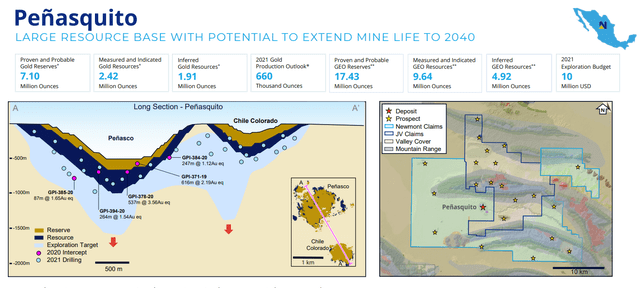 (Source: Company Presentation)
Moving over to operations from a mine-by-mine standpoint, many operations saw increases year-over-year relative to Q2 2020 levels, but this wasn't anything to write home about given the impacts to operations in Q2 2020, making for easy year-over-year comps. One stand-out performer, though, was Cerro Negro, with its best quarter since Q4 2019 with ~76,000 ounces produced, and Boddington, which produced 188,000 ounces of gold in the period, its second-best quarter in the past 18 months. Unfortunately, this was offset by lower production at the Nevada Gold Mines Joint Venture due to a mechanical failure at Goldstrike, flat production at Yanacocha due to COVID-19 related headwinds, and slightly lower production at Tanami (111,000 ounces vs. 126,000 ounces) due to the mine temporarily being placed on care & maintenance related to COVID-19.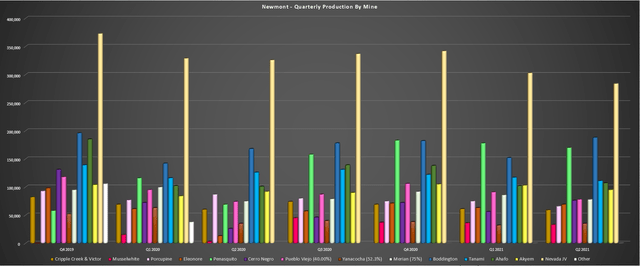 (Source: Company Filings, Author's Chart)
As noted earlier, while output was a little disappointing in H1 due to headwinds, metals prices were up significantly, with Newmont's average realized gold, copper, and silver prices coming in at $1,823/oz, $23.00/oz, and $4.37/pound, respectively. This translated to higher by-product credits, helping Newmont to report all-in sustaining costs of $918/oz on a by-product basis relative to $1,047/oz in Q2 2019 and $1,104/oz in Q2 2020. This is quite encouraging given that Newmont had to deal with COVID-19 related costs and headwinds in Q2 2021 vs. Q2 2019, which was pre-COVID. Relative to Q2 2019, all-in sustaining cost margins on a by-product basis soared to $905/oz vs. $270/oz, with Newmont enjoying significant margin expansion even during a much more difficult operating period. This is obviously due to higher metals prices but is a silver lining.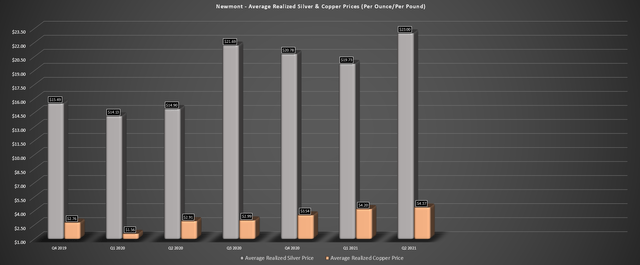 (Source: Company Filings, Author's Chart)
As shown in the chart below, all-in sustaining cost [AISC] margins were up by more than 13% sequentially ($905/oz vs. $798/oz), driven by lower all-in sustaining costs on a by-product basis ($918/oz vs. $953/oz), and a slightly higher average realized gold price. On a year-over-year basis, AISC margins were up 46% ($905/oz vs. $620/oz), helping to contribute to the robust financial results. This includes a 30% increase in revenue year-over-year thanks to higher metals prices, with Q2 revenue of ~$3.07 billion. Most importantly, it translated to a ~160% increase in quarterly earnings per share, which jumped to $0.83 in Q2 2021.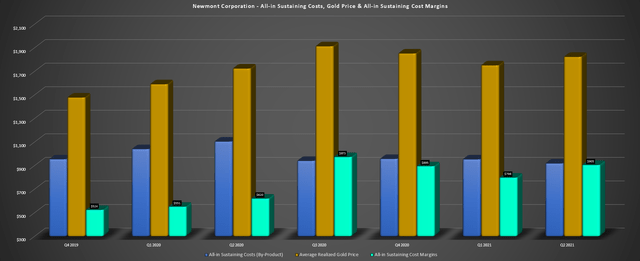 (Source: Company Filings, Author's Chart)
One risk cited in the call was inflation, with the potential for 3-5% cost escalations going forward related to energy, materials, and labor costs. Importantly, this is not company-specific and affects the whole industry, especially those building massive projects. Fortunately, Newmont is in the best position to mitigate these costs. The company is ahead of most of its peers from a technology standpoint, rolling out autonomous haulage trucks at its massive Boddington Mine this year and already using robotic drill rigs at some sites. So, while Newmont can't control energy costs outside of a shift to renewable energy sources and hedging, Newmont can improve labor costs by displacing jobs using its autonomous haul fleets while also driving productivity. The long-term goal is for these to be rolled out as other assets, which should help to mitigate consolidated costs.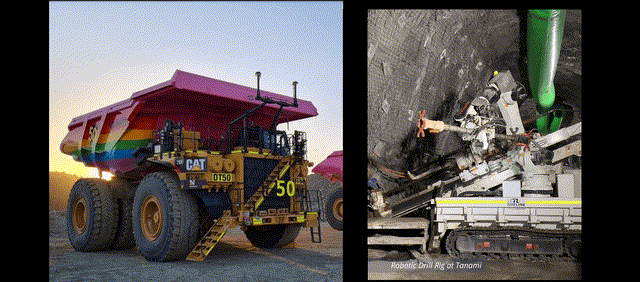 (Source: Company Presentation)
The other way that Newmont can mitigate energy costs is through renewable energy projects, which Newmont can afford to invest in, unlike many of its smaller peers. Last year, the company announced it would be investing $500 million in climate change initiatives over the next five years (2021 through 2025), intending to reduce greenhouse gas emissions by 30% by 2030. Initiatives being explored are solar and wind projects at Penasquito, Ahafo, Boddington, and Cerro Negro, microgrid improvements at Merian, Porcupine, and Tanami, and vehicle and equipment electrification across the portfolio. Given that Newmont has its bases covered given its industry-leading reserve base and the company benefits from significant free cash flow generating, investing in these initiatives will not affect the balance sheet, with over $4.6 billion in cash at quarter-end. Let's look at the valuation:

(Source: Company Filings, Author's Chart)
As shown above, Newmont reported a more than 100% increase in annual earnings per share last year ($2.66 vs. $1.32) and is on track for another 34% increase in annual EPS in FY2021 based on current estimates of $3.57. This is incredible growth lapping a triple-digit increase last year and represents a very impressive 18% compound annual EPS growth rate since FY2014 if estimates are met or beat ($3.57 vs. $1.09). Based on what I believe to be a fair earnings multiple of 20 for Newmont and using FY2022 estimates of $3.81 since we're already more than halfway through 2021, this translates to a fair value of $76.20 per share.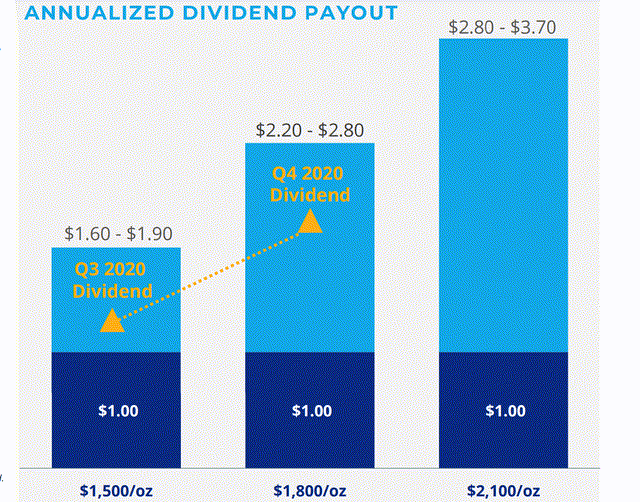 (Source: Company Presentation)
In addition to solid earnings growth, Newmont is also committed to returning capital to shareholders, with $149 million in share repurchases last quarter and an industry-leading dividend. Newmont reaffirmed its quarterly dividend recently of $0.55 per share ($2.20 annually), which translates to a ~3.55% yield at current levels. However, it's important to note that Newmont aims to pay out 40% to 60% of incremental free cash flow, and the $2.20 per share dividend at a $1,800/oz average gold price represents the low end of this range.
With significant investments planned at Tanami and Ahafo North, I would not be surprised to see Newmont stay in the lower end of this range, especially with COVID-19 headwinds still present. However, by mid-2023, we could see Newmont target the higher end of this range, translating to a dividend of $2.70 - $2.80. At a share price of $62.00, this would translate to a yield of ~4.36%, so there is an upside to the dividend. Importantly, this assumes no future appreciation in the gold price and that the gold price stays in a range of $1,650/oz to $1,950/oz, which doesn't seem unreasonable. So, for investors looking for yield, Newmont is one of the better options, especially in a market where it's hard to find companies trading below fair value. As the chart below shows, Newmont's ~3.55% yield dwarfs the million-ounce producer average yield (yellow) and the S&P 500's dividend yield (SPY) in blue.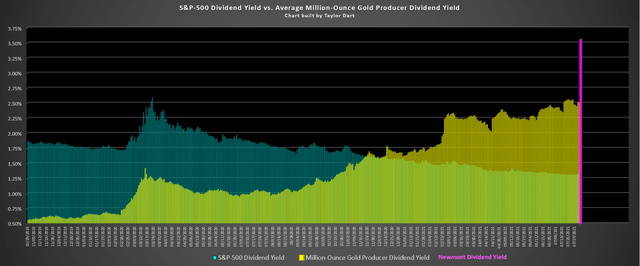 (Source: Company Filings, Author's Chart)
So, is the stock a Buy?
Generally, I prefer at least a 25% discount to fair value to start new positions, which translates to a share price of $57.15 for Newmont. Currently, I am long the stock from just below $57.00 from the March sell-off but would consider adding to my position if the stock fell back below $57.50. Obviously, there's no guarantee that the stock heads to my buy-point, but I prefer to be rigid in my buying rules, and this is where I see the lowest-risk entry point. Having said that, with Newmont's production being second-half weighted and investors hungry for yield in a market where it isn't easy to find high yield combined with relative undervaluation, it's possible Newmont heads higher from here and has already found its bottom, with Newmont already more than 20% undervalued.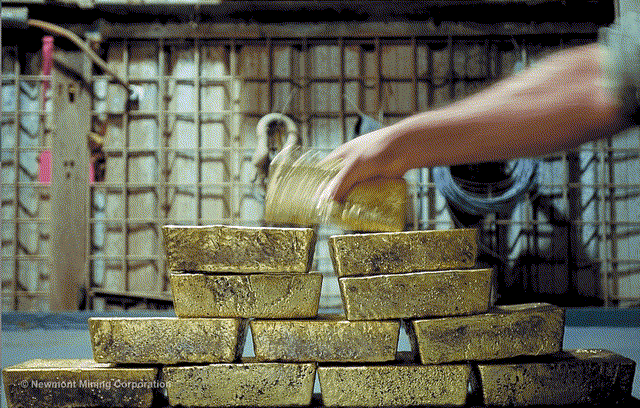 (Source: Company Presentation)
While Newmont had another tough quarter, it continues to be an exceptional miner, checking all the boxes for reserve life, improving margins, technological advancements, a responsible ESG focus, and visibility into long-term production. As it stands, Newmont's total GEO production should grow nearly 7% in the next four years, up from ~7.8 million ounces to ~8.3 million ounces at much lower costs ($870/oz vs. $970/oz). This makes Newmont a staple for investors looking for an investment in the gold sector, with the company having hidden exposure to silver and copper through Penasquito and Boddington. Given the company's excellent track record, industry-leading dividend yield, and what should be a much better year ahead once COVID-19 headwinds subside, I would view any pullbacks below $57.50 as low-risk buying opportunities.
This article was written by
"A bull market is when you check your stocks every day to see how much they went up. A bear market is when you don't bother to look anymore."- John Hammerslough - Disclosure: I am not a financial advisor. All articles are my opinion - they are not suggestions to buy or sell any securities. Perform your own due diligence and consult a financial professional before trading or investing.
Analyst's Disclosure: I/we have a beneficial long position in the shares of GLD, NEM, SLV either through stock ownership, options, or other derivatives. I wrote this article myself, and it expresses my own opinions. I am not receiving compensation for it (other than from Seeking Alpha). I have no business relationship with any company whose stock is mentioned in this article.

Disclaimer: Taylor Dart is not a Registered Investment Advisor or Financial Planner. This writing is for informational purposes only. It does not constitute an offer to sell, a solicitation to buy, or a recommendation regarding any securities transaction. The information contained in this writing should not be construed as financial or investment advice on any subject matter. Taylor Dart expressly disclaims all liability in respect to actions taken based on any or all of the information on this writing.
Seeking Alpha's Disclosure: Past performance is no guarantee of future results. No recommendation or advice is being given as to whether any investment is suitable for a particular investor. Any views or opinions expressed above may not reflect those of Seeking Alpha as a whole. Seeking Alpha is not a licensed securities dealer, broker or US investment adviser or investment bank. Our analysts are third party authors that include both professional investors and individual investors who may not be licensed or certified by any institute or regulatory body.