Hyliion Is Powered By RNG Momentum
Summary
Hyliion's Hypertruck ERX is a practical solution that will be available soon.
The infrastructure of CNG/RNG is continuing to expand as logistics companies need to address their carbon footprints.
If RNG can become the dominant "clean fuel" for the trucking industry, there will be a barrier to entry for electric trucks.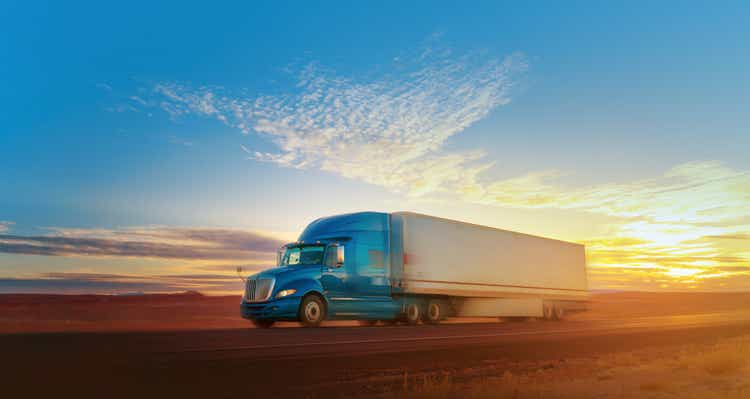 Hyliion (NYSE:HYLN) is a company I've written about before and one that I've been very bullish on. The stock has lost nearly half its value since my last recommendation. This was quite the sting on my portfolio but not one that was unexpected. Investing in the electric vehicle space was always going to be a volatile endeavor and nothing in the last eight months has changed the bullish case for the company.
In fact, there was little news coming out of the company and Thomas Healy for the last 8 months. I suppose shorter-term investors may have sold off to switch to the next momentum stock. Thomas Healy certainly isn't an Elon Musk when it comes to hyping up the prospects of Hyliion. However, there have been a few developments that strengthen the bullish case for Hyliion.
Just a brief background on the company, Hyliion is developing electrified powertrain solutions for Class 8 trucks. The company has a different solution from competitors like Tesla (TSLA) or Nikola (NKLA). Rather than developing a full-electric truck, Hyliion uses natural gas (specifically renewable natural gas or RNG) to power the generators for its trucks.
As I've argued in my previous article, Hyliion has a solution for trucking that is both practical and feasible in the immediate future. These attributes are vital for the trucking and logistics industry. In contrast to consumer vehicles, truckers put function and practicality over form. Put in another way, if the wheels aren't turning then truckers aren't earning.

Renewable Natural Gas is beginning to gain recognition
One of the competitive advantages of Hyliion is its usage of RNG which already has existing infrastructure. Compare this to an electric truck solution which would need to build out electric charging stations. Electric trucks would need their own charging infrastructure separate from those of normal passenger vehicles. Electric trucks are simply much larger and have higher power requirements. Electric Island just opened in April the first publicly accessible fast-charging station for electric semis. Looking at this news from a "glass-half-empty" perspective it will be a while before we see any meaningful charging infrastructure for electric trucks.
Hyliion estimates that it will cost roughly $7 billion for electric trucks to build out a comparable infrastructure. However, that estimate ignores the ongoing growth in natural gas infrastructure. The number of natural gas stations in the US is increasing as CNG and RNG gain more recognition as a fuel source. As of 2020, there were roughly 1000 CNG fueling stations in the US. According to Technavio the natural gas refueling stations' market size could grow by 8.07 thousand units in 2020-2024. These CNG stations can be gradually phased out once more RNG becomes available.
The importance of RNG is being realized by major players in the logistics industry. Amazon (AMZN) recently inked a major supply deal with Clean Energy (CLNE). Amazon is targeting to be carbon neutral by 2040. As part of the deal, Clean Energy will provide at least $500 million worth of RNG and continue expanding the number of available fueling stations.
Clean Energy is an important company to watch for Hyliion investors as it is the leading provider of RNG for the US. The wide-scale availability of RNG is a massive win for Hyliion. Using RNG as opposed to just natural gas results in net negative emissions. This means that the reduction in carbon footprint from using RNG is much higher than a pure electric solution. Depending on the feedstock, using RNG as a fuel source can reduce carbon emissions by 70% to 500%.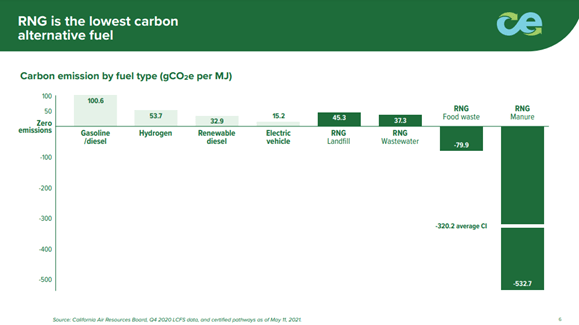 Clean Energy Investor Presentation
Widespread availability of RNG is a Moat for Hyliion
If RNG can become the dominant "clean fuel" for the trucking industry there will be a barrier to entry for electric trucks. Why would investors put in the cost to build out a trucking-specific electric charging network when RNG has an even better carbon footprint? This will give Hyliion a massive advantage. The use of RNG in fleets has grown by more than 170% in the past five years and is up 25% from 2019 alone.
Due to aggressive regulations coming from states like California, companies are forced to make the shift in the near term and not wait for full electrification. For example, UPS (UPS) had announced in 2019 that it would spend $450 million to add 6,000 vehicles powered by CNG. There are many companies following suit, and looking at natural gas as a near-term solution to reduce their carbon footprint. It's easy to see these companies support Hyliion's product as the Hypertruck ERX is compatible with the vast majority of truck OEMs. Detmar Logistics recently reserved 300 Hyliion Hypertruck units giving me confidence in the company's product.
To be clear, there are currently trucks available in the market that can run on CNG. However, performance and power have always been the issue with these types of trucks. Performance issues are one of the reasons preventing the widespread adoption of CNG and RNG trucks. Hyliion delivers the best of both worlds as the Hypertruck ERX powertrain has performance comparable to that of diesel.
"The power in our system comes from the electric, not the natural gas," Hyliion CEO and co-founder Thomas Healy said. "Natural gas fuel isn't bad. The problem is more the vehicle architecture and the vehicle's performance."
Renewable Natural Gas Gains Momentum as Trucking Fuel
Earnings Analysis
Looking at the company's Q1 2021 earnings, Hyliion is continuing to execute its plan. A lot of the updates for the quarter were focused on laying the foundation for future growth. These updates are the formation of the Hypertruck Innovation Council and updates on the Hypertruck ERX. Demonstration units of the Hypertruck will be delivered to customers sometime in the second half of 2021. Full commercialization is planned for 2022. The company will also begin recognizing revenue from Hybrid trucks delivered in the second half of 2021. Hyliion is still pre-revenue.
Hyliion recorded an operating expense of $16.7 million in Q1 2021, much higher than the $3.4 million reported in Q1 2020. This is pretty understandable as the company is starting to commercialize its vehicles. I would expect these losses to accelerate in the future so it's good to know it has a pretty sizable short-term liquidity position. As of Q1 2021, the company has roughly $479.6 million in cash and other short-term investments. Hyliion has no long-term debt.
Looking at Hyliion's SPAC presentation, the company had targeted $2.09 billion in revenue by 2024. Assuming such revenue projections are overly aggressive, let's assume they hit half of their target. At $1 billion in revenue by 2024, Hyliion is trading at 1.68x 2024 sales. At this point, I consider the risk to Nikola to be much higher given all the controversy. Therefore so far the only direct competitor in Class 8 space is Tesla which is trading at a much higher P/S ratio of 15.6x.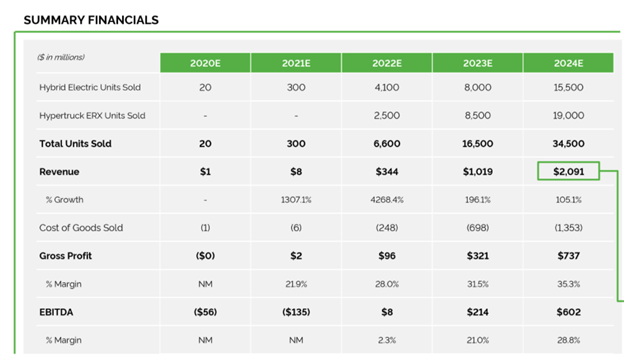 I still consider Hyliion a speculative bet but one that I continue to like especially at these price levels. Investors with higher risk tolerance may want to consider a position in the company.
This article was written by
Nine to 5 by day. Hobbyist stock trader by night. I got an MBA and a CFA ... so that should count for something. I only care about my own greedy interests and I love feeding trolls. Not your financial advisor. Information for entertainment purposes only. Diamond hands are forever.
Analyst's Disclosure: I/we have a beneficial long position in the shares of HYLN either through stock ownership, options, or other derivatives. I wrote this article myself, and it expresses my own opinions. I am not receiving compensation for it (other than from Seeking Alpha). I have no business relationship with any company whose stock is mentioned in this article.

Caveat emptor! (Buyer beware.) Please do your own proper due diligence on any stock directly or indirectly mentioned in this article. You probably should seek advice from a broker or financial adviser before making any investment decisions. I don't know you or your specific circumstances, therefore, your tolerance and suitability to take risk may differ. This article should be considered general information, and not relied on as a formal investment recommendation.
Seeking Alpha's Disclosure: Past performance is no guarantee of future results. No recommendation or advice is being given as to whether any investment is suitable for a particular investor. Any views or opinions expressed above may not reflect those of Seeking Alpha as a whole. Seeking Alpha is not a licensed securities dealer, broker or US investment adviser or investment bank. Our analysts are third party authors that include both professional investors and individual investors who may not be licensed or certified by any institute or regulatory body.