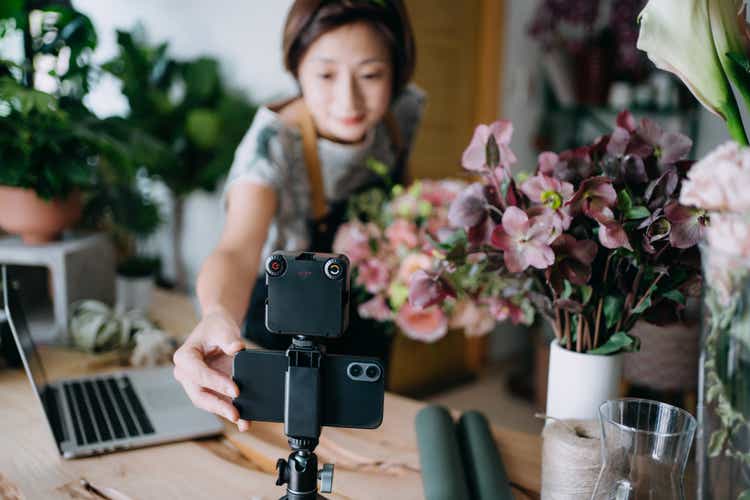 There has been a recent crackdown with several Chinese based online education plays with their stocks listed in the United States getting hit. One of these is TAL Education Group (NYSE:TAL), a leading K-12 after-school tutoring services provider, whose shares have undergone a vertiginous fall from $75 to less than $6 as from February of this year. This fall has been much more pronounced than the Invesco China Technology ETF (CQQQ) which includes Chinese tech stocks as part of holdings.
Therefore, the educational stock is suffering from more bashing than the tech sector.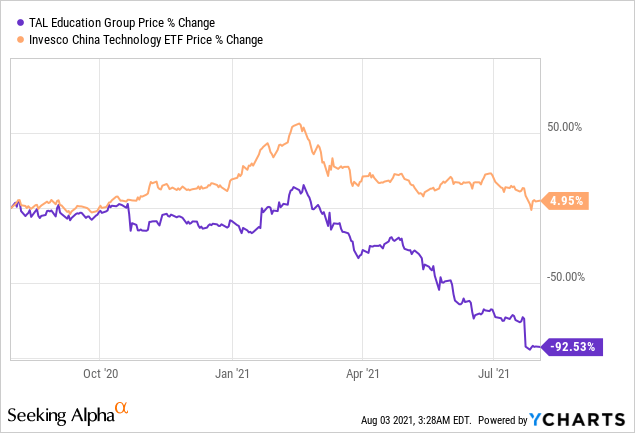 To exacerbate matters, in light of the recent regulatory developments in China, TAL, which stands for "Tomorrow Advancing Life", whose vision is to promote top learning opportunities for Chinese students through both high-quality teaching as well as application of leading edge technology, announced on Jul 30 that it will cancel the earning release for the first quarter of fiscal year 2022.
Now, this may seem like the drop which breaks the camel's back for those holding the stock. However, I think that the stock has potential and that it's not game over yet, but first, I make sense of it all by going through the turmoil that has embroiled Chinese companies lately.
The crackdown
Much of the media coverage around the crackdown has been linked to Beijing's war on Big Tech, but in reality, the actions taken by the Chinese authorities point to an attempt to remediate some of the tech-enabled ills that have exacerbated the nationwide educational system and even started to pose a risk to social inequality in China.
Looking at the society, the fear of social downgrading leads Chinese citizens to bet fully on the academic success of their child, and private schools have been quick to take advantage of the situation. Faced with the rapid expansion of after-school tuition, the Chinese authorities have embarked on a regulatory drive with measures piling up.
At first, there were some soft measures like a combined 36.5 million yuan fine being imposed on 15 private tutoring firms including Tencent (OTCPK:TCEHY)-backed Yuanfudao, Alibaba (BABA)-backed Zuoyebang and TAL, with the reasons ranging from false advertising to pricing frauds.
These online tutoring plays have taken advantage of the state having reduced the workload on Chinese students through a reduction in physical teaching hours in public schools, by launching advertising campaigns luring parents to enroll their kids for extracurricular coaching.
Now, online platforms are not the only ones targeted by this new wave of controls. In March, the market regulator sanctioned private schools and postponed their spring start, for various reasons including false advertising or disproportionate promotion.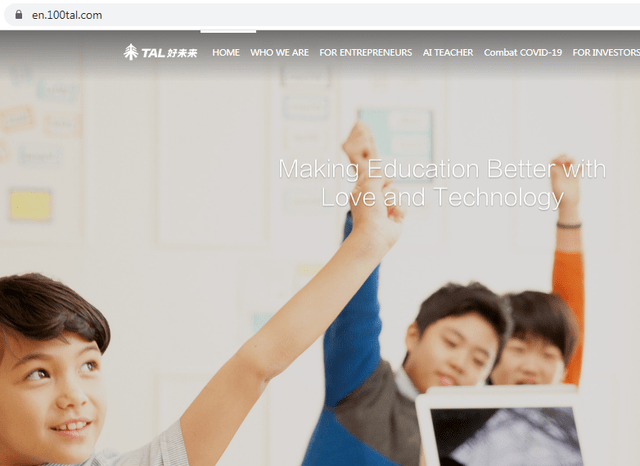 Source: TAL education
Criticism against private training has also been leveled by the press organ of the Central Commission for Discipline Inspection of the Communist Party of China, which views online platforms as seeking self-promotion at all costs, instead of focusing on the quality of their teaching. This creates anxiety and pushes parents to enroll their children.
Therefore, in its present form, extracurricular tutoring delivered by the likes of TAL seems unacceptable to the Chinese authorities, but there is also the technological aspect to consider.
The edtech dimension
Several of the targeted companies also have a portal backed by a whole ecosystem of educational technologies (edtech) in order to deliver online learning. Now, the wider tech sector has itself been under Beijing's scrutiny for some time, representing further risks for the likes of TAL, which in addition to providing tutoring services covering core academic subjects, also operates www.jzb.com, a leading online education platform in China.
Looking across the industry, in the same way as for many tech companies, TAL generates astronomical levels of revenues and double-digits annual growth. However, a look at the Selling General and Admin Expenses (SG&A) expenses, which also include marketing costs, indicates that TAL has been spending massively to generate sales or get customers to sign up to its services. In this respect, for the fiscal year ending in February 2020, the company had already passed the 50% mark in terms of "SG&A as a percentage of total revenues". The figures for FY-2021, at 62% point to further surge, signifying that TAL seems to indulge in "grabbing market share, at virtually any cost".

Source: Seeking Alpha
Exploring further, TAL's decision to cancel earnings release may be related to China's cyberspace regulator having proposed that any company with data on more than 1 million users must go through a cybersecurity review before listing abroad. This should not be a problem as long as customers' (students) data is kept within datacenters in China and personal information is not divulged publicly.
Furthermore, there was a previous announcement from the Chinese Communist Party's central committee about cracking down on illegal securities activities, which included deeper scrutiny on private equity and venture capital funds, as well as raising money overseas through equity offerings.
Going a step further, Chinese authorities will set guidance for the prices of off-campus training courses, thereby upholding the non-profit nature of after-school tuition. Here, I make a comparison with the U.S. where schools are mostly public or non-profit, with purely for-profit private schools being rare. Most for-profit plays cater for certain niche areas.
In the same way, TAL is likely to disinvest from the non-profit mandatory education businesses in the longer term and instead invest in non-academic tutoring such as computer programming, arts, music, and other subjects.
Valuations and key takeaways
With $5.94 billion of cash and equivalents at the end of February 2021 and long term debts of $2.3 billion, the company has the means to re-organize its activities in line with the aims of Chinese authorities. Also, employing about 70K people, just like rival New Oriental Education (EDU), it is unlikely that the Chinese government will not support the edtech sector in its diversification. It is also improbable that the authorities are prepared to stifle off China's $100 billion edtech industry in "sporadic sweeping changes".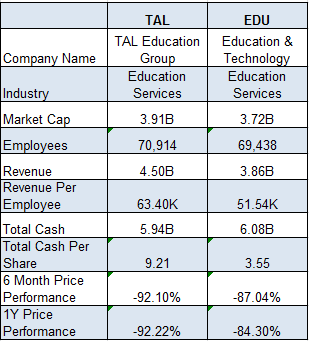 Source: Seeking Alpha
Looking deeper, the two companies are impacted differently as shown by the six-months and one-year price momentum, with TAL's performance being worse. The reason is TAL's revenues apparently being more exposed, by as much as 80% compared to 62% for Oriental.
However, exhibiting a better Revenue per Employee and equipped with relatively more cash, it should be able to expand competence-oriented programs, responding to the country's need to continually train its workforce for new economic challenges. For this purpose, the company's learning center network currently covers 110 cities.
Overseas expansion prospects also exist for the edtech industry just like bitcoin miners having migrated to foreign soils after the Chinese government cracking down on them. With COVID-led social distancing not appearing to subside in view of more infectious variants, China's giant AI-powered tutoring platforms, could prove useful in training millions of out-of-school students.
Consequently, TAL has the potential to make a comeback, but this will be gradual, albeit one which is more profitable and sustainable, when negating for high marketing expenses.
As for valuations, the stock currently trades at slightly less than $6, implying a trailing Price to Sales multiple of 0.79x, or 40% undervalued relative to the consumer discretionary sector. Given that there are no hints in the Chinese authorities' actions indicative of a relaxation, the share price could fall further, to the $5 level.
Finally, for those interested to buy the stock, it is preferable to wait for an update as to the way TAL adjusts its business model. One should not rely on governmental updates, as in communist China, support for the private sector is not widely advertised.