Gold: The 2021 Annual Target Of $2164 Has Been Activated
Summary
The bond market appears to have discounted all the talk about stimulus and the threat of inflation exploding.
The markets are saying that the consequences of printing the amounts of money that the government is printing is unsustainable.
Congress is looking at approving another $1 trillion bill for infrastructure and more is on the way.
The ten year has gone from 1.77% to about 1.16%. If it closes below the 1% yield, it will provide the fuel for a rally in gold and silver, and commodities in general, which could be explosive.
Looking for a portfolio of ideas like this one? Members of Mean Reversion Trading get exclusive access to our model portfolio. Learn More »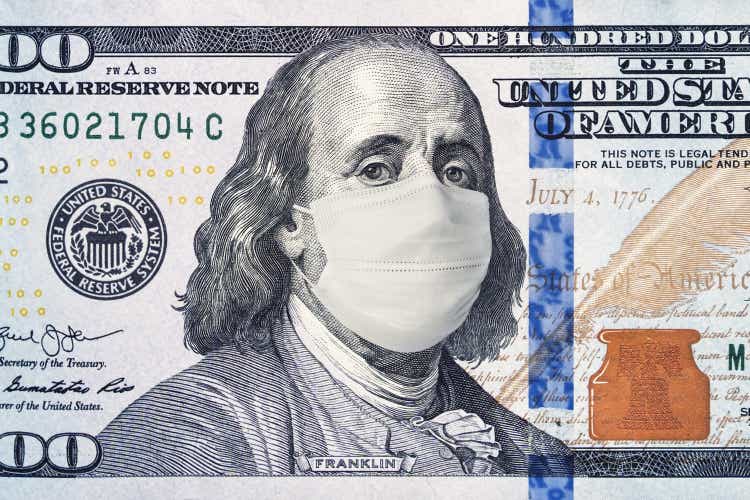 Fundamentals
From the end of May, we came down aggressively to $1761 on the comments made by Chair Powell at the May Fed meeting about possible tapering. The market appears to have discounted all the talk about stimulus and the threat of inflation exploding. The markets are saying that the consequences of printing the amounts of money that the government is printing are unsustainable. Congress is looking at approving another $1 trillion bill for infrastructure and more is on the way. This printing of money looks like it will continue. Based on the 10-year note, interest rates are not going up. The ten year has gone from 1.77 to about 1.16%. If it closes below the 1% yield, it will provide the fuel for a rally in gold and silver, and commodities in general, which could be explosive. There is a high probability that as we move into the next few months, we could see gold hit $2164, as predicted by our yearly gold report from last October.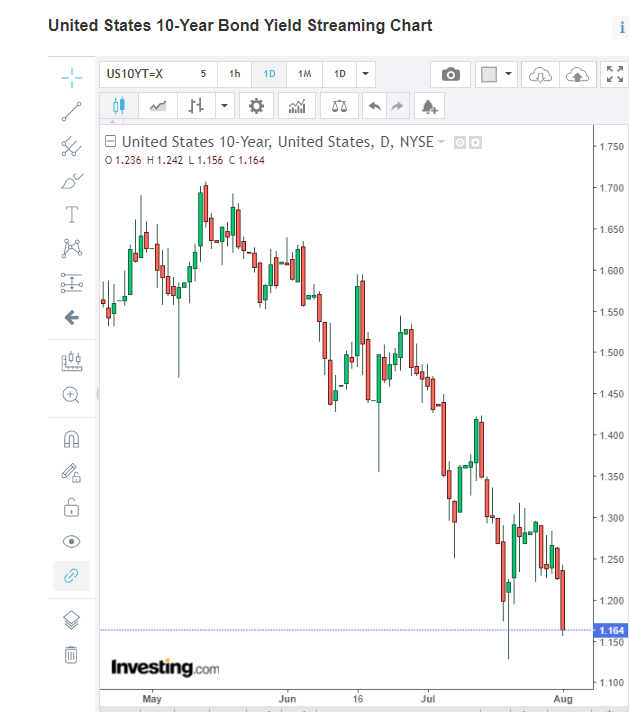 In October 2020, we published our gold annual targets based on our proprietary Variable Changing Price Momentum Indicator (VC PMI).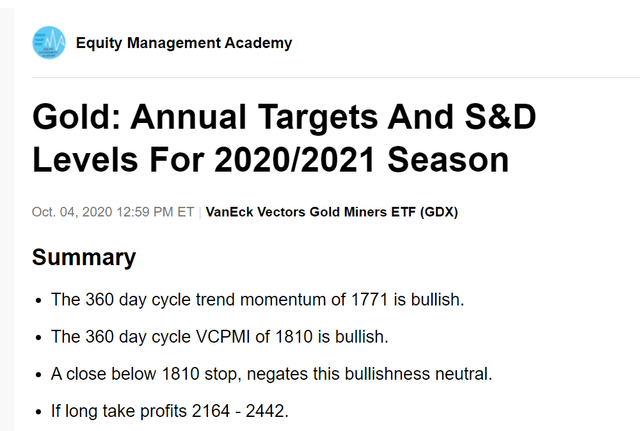 Courtesy: ema2trade.com
Back in October 2020, the 360-day price trend momentum was at $1771, which was bullish. The VC PMI for the 360-day cycle of $1810 was also bullish. A close below $1810 negates this bullishness to neutral. If long, take profits at $2164 to $2442. With the market closing at about $1888 at the time the report was published, it gave us a pretty good picture in terms of the different filters that the VC PMI uses. The first filter is the 360-day trend momentum. It is the annual average of $1771. This identifies the relationship with the 9-month cyclical moving average, which was at $1771. Since the close was above the average price, we came into this year of 2021 with a bullish trend momentum. Regardless of any fundamentals, this gave us a probability model of the extremes above and below the mean and the extreme levels of speculation.
The VC PMI is a mathematical probability model that identifies the extreme levels above and below the average price. Once we identify the average price as $1810, we can then extrapolate the extreme levels above and below that price. That shows us when the market reaches an extreme level, when it is most likely to then revert to the mean. It is never 100% certain, but it is highly probable.
Since we published the report at the end of September 2020, the direction and trading instructions have been pretty accurate. It has not quite completed the target of $2164, which is the target for the 360-day cycle. The Sell 1 level is $2164 and the VC PMI Sell 2 level is $2442. Below the mean, the VC PMI Buy 1 level is $1532 and the Buy 2 level is $1178. If the market trades above the mean, watch for the market hitting the sell levels to go short; if the market trades below the mean, then watch for the market hitting the buy levels to go long. The Buy 1 and Sell 1 levels have a 90% and the Buy 2 and Sell 2 levels have a 95% probability of the market reverting from those levels to the mean.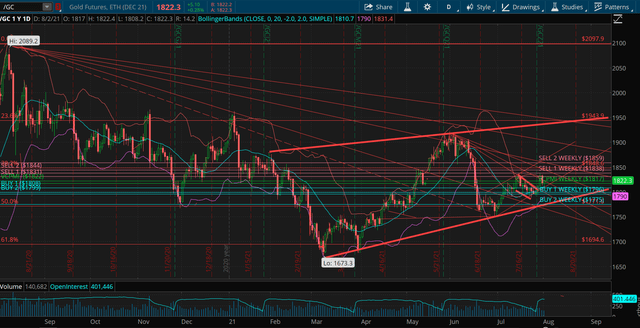 Courtesy: TD Ameritrade
The market has reverted from a 61.8% retracement to around $1673. This seems to be the first level or bottom of this current correction that has occurred since mid-May. A $1914 high was made and we have been in a corrective pattern ever since. We are trading close to $1810 and for those who feel that they might have missed the move, this could be a great opportunity to enter the gold market since that $1919 level. This has been a counter-trend correction. The market is in a fair value area of around $1810 with the annual target of $2164. We appear to be looking at a five-wave pattern developing. The low on March 8 to the high on May 24, of $1915 is the first leg. This also established an uptrend resistance level and an uptrend pattern.
To learn more about how the VC PMI works and receive weekly reports on the E-mini, gold and silver, check out our Marketplace service, Mean Reversion Trading.
This article was written by
Weekly AI gold, silver and E-Mini S&P reports with 90%-95% probabilities.
Unlock Your Trading Potential with the Equity Management Academy! Are you ready to take your trading skills to the next level? Look no further than the Equity Management Academy (EMA2trade.com). Our mission is simple: to empower traders of all levels with the knowledge and tools needed to achieve financial success. Led by renowned CEO Patrick MontesDeOca, with over 30 years of trading experience, we are dedicated to transforming your trading journey. At the heart of our Academy is the revolutionary Variable Changing Price Momentum Indicator (VC PMI), a fully automated proprietary trading program. This cutting-edge algorithm is designed to provide clear, precise entry and exit points across a wide range of markets. Say goodbye to guesswork and hello to data-driven decision-making! As a member of the Equity Management Academy, you'll have exclusive access to real-time trades placed by our expert analysts and traders. Witness their expertise in action as they leverage the power of the VC PMI to generate profitable recommendations. Our Chief Technical Analyst will guide you through advanced trading courses, delivering hours of instructional streaming videos. Gain the skills to identify trading opportunities, effectively manage risk, and grow your portfolio using automated trading intelligence. But that's not all! Institutional traders, hedgers, and experienced traders can supercharge their strategies with our VC PMI-based marketing reports. Receive comprehensive insights, including precise entry and exit points, to navigate various markets with confidence and precision. Our founder, Patrick MontesDeOca, is not only a trader and system developer but also an esteemed educator, author, and coach. His expertise shines through in the Seeking Alpha reports he authors, where he shares his analysis based on the VC PMI. Don't let your trading potential go untapped. Join the Equity Management Academy today and unlock a world of opportunities. Visit EMA2trade.com and embark on your path to financial success! Best regards, The Equity Management Academy Team
Analyst's Disclosure: I/we have a beneficial long position in the shares of GDX either through stock ownership, options, or other derivatives. I wrote this article myself, and it expresses my own opinions. I am not receiving compensation for it (other than from Seeking Alpha). I have no business relationship with any company whose stock is mentioned in this article.
Seeking Alpha's Disclosure: Past performance is no guarantee of future results. No recommendation or advice is being given as to whether any investment is suitable for a particular investor. Any views or opinions expressed above may not reflect those of Seeking Alpha as a whole. Seeking Alpha is not a licensed securities dealer, broker or US investment adviser or investment bank. Our analysts are third party authors that include both professional investors and individual investors who may not be licensed or certified by any institute or regulatory body.