Don't Expect A Quick Recovery For Telecom Argentina
Summary
The pandemic had, and still has, a significant negative impact on the business performance of Telecom Argentina. Shares are trading near decade lows.
The Argentinian economic situation was already bad before the pandemic, but things have gotten worse with rising unemployment and falling GDP.
Significant sovereign debt challenges remain for Argentina. Negotiations with the IMF about the sovereign debt, scheduled in Q1 2022, will be crucial.
The inflation adjusted top line will show a significant year-over-year decline again in the upcoming Q2 2021 earnings report. Things may stabilize somewhat after that, but growth will remain elusive.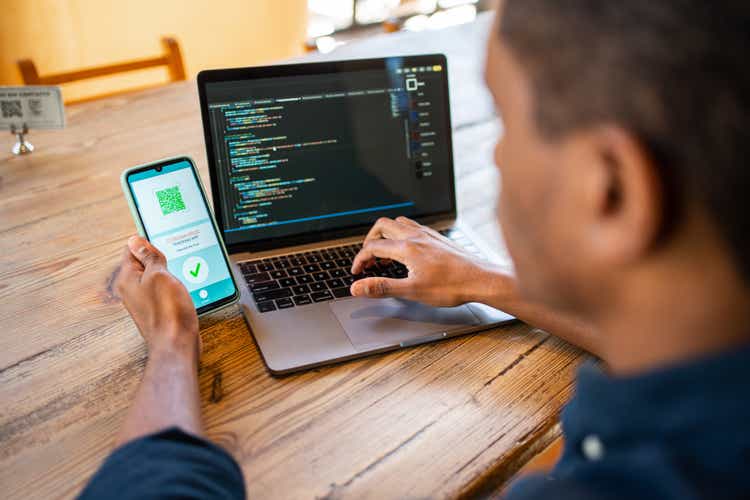 Argentinian Telecoms In Crisis
When writing an article about a South American telco operator, especially during the Corona crisis, it's almost mandatory to start with some remarks about the economic circumstances in the country where the business is conducted. Argentina already had challenges before COVID, such as the 30 - 50% annual inflation, but the business environment for a telco operator has become even more troublesome during the pandemic. An example of an added challenge is that the Argentinian government has, for a period, restricted price increases for key telco services. The idea is that it's crucial for the population to keep access to telco services. Inflationary price rises would therefore not be acceptable. People may be forced to work online from home more or they may need broadband at home after losing their job. It would be too much for them if the prices of the telco services would go up by too much, while, at the same time, income goes down or is lost. Telecom Argentina (NYSE:TEO) normally applies inflationary pricing principles, but this had to be partly stopped to comply with the temporary government policies. The Telecom Argentina business is thus heavily affected by the pandemic and investors will need to takes this into account. Last year, prices in Argentinian pesos rose just over 36%, while Telecom Argentina had to suspend price rises for a number of key services from May 2020 until the end of 2020. The company was only allowed modest price adjustments going into 2021. The below price graph of the Telecom Argentina shares shows, that investors have taken this into account. They reacted by selling shares. Recently, decade low share prices of below $4.50 were reached. One of few recent positives for Argentina, the winning of the Copa América soccer tournament in July 2021, has been good for television services, but it hasn't been enough to compensate for the negatives of the Telecom Argentina business and it hasn't prevented investors from selling shares.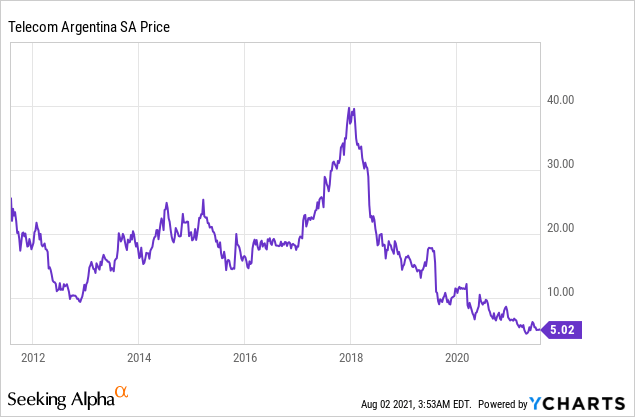 It could be that a bottom has been reached due to the extraordinary pandemic induced events of the last one-and-a-half years. A question that arises from the above graph is if Telecom Argentina is now set for a recovery. South American countries may not recover from the pandemic as fast as other parts of the world, but the worst should be behind for them as well. Will Telecom Argentina be a beneficiary of an economic rebound? Will the telco business recover to pre-pandemic levels or even beyond? If so, would the current share price not be an excellent entry point for a new position?
In order to assess the answer to these questions, this article has a look at the status of the pandemic in the country and the status of the Telecom Argentina business on a high level.
Status Of The Pandemic In Argentina At A Glance
At the time of writing, already over 30% of the population in Argentina has been fully vaccinated against COVID 19. Reported new cases are dropping, but, with ~13k per day, are still higher than during most of last year. Buenos Aires has been hardest hit in the country, both in absolute numbers and percentage-wise. The vaccinations are ongoing throughout the country. Going forward at the current speed, another 10% of the population can become fully vaccinated each month.
The pandemic came at a time when the country was already facing significant challenges. A new government was only in place for around 100 days at the start of the pandemic and this government had to address significant sovereign debt issues in 2020, while inflation remained over 40%, over 1 million Argentinians lost their employment and GDP decreased substantially, by anywhere between 6.5 and 10% according to some sources. The GDP is expected to recover by 6.5% in 2021 and grow by half of that rate in 2022.
The main creditor for Argentina is the International Monetary Fund. The IMF and Argentina cited progress in their $45 bln debt talks in July 2021, but clarity on a repayment program is only expected in the first half of 2022. Until at least that time, inflation is expected to remain high and the country will remain in crisis mode
One final remark about telecom services in the crisis, is that unemployment may have risen, but work from home and online has seen an uptake. An estimated 1.2 million Argentinians may have lost their employment as a result of the pandemic, but use of broadband and digital services has increased in many areas, such as online education and entertainment. One might expect that Telecom Argentina could see some growth as a result from this, but the numbers show that this has, unfortunately for the company, not been the case.
Status Of The Telecom Argentina Business
The most recent available earnings report covers Q1 2021. The Q2 2021 numbers are expected later this month, in August 2021.
Normally, in order to assess commercial effectiveness of a telco operator, the basic numbers to look at are subscriber numbers per service and Average Revenue Per User (ARPU). The number of subscribers times the average revenue that each subscriber brings in usually determines well over 80% of the total revenue of a telco. There's one special correction item in the case of Telecom Argentina, which is the inflation. Jointly, the subscriber and ARPU numbers largely determine the top-line trend for any operator. In the case of Telecom Argentina, the top-line needs to be viewed in conjunction with the inflation in the country.
In the case of Telecom Argentina, the key services are mobile, fixed-line broadband and cable TV in Argentina and mobile services under the Núcleo brand in Paraguay. The subscriber number trends since the beginning of 2019 are shown in the table below.
| | | | | | | | | | |
| --- | --- | --- | --- | --- | --- | --- | --- | --- | --- |
| x million subscribers | Q1 '19 | H1 '19 | 9M '19 | FY '19 | Q1 '20 | H2 '20 | 9M '20 | FY '20 | Q1 '21 |
| Mobile Argentina | 18.4 | 18.6 | 19.0 | 19.1 | 18.8 | 18.8 | 18.7 | 18.4 | 18.8 |
| Broadband access | 4.1 | 4.1 | 4.1 | 4.1 | 4.1 | 4.1 | 4.2 | 4.1 | 4.2 |
| Cable TV | 3.4 | 3.4 | 3.5 | 3.5 | 3.5 | 3.5 | 3.6 | 3.5 | 3.5 |
| | | | | | | | | | |
| Mobile Paraguay | 2.4 | 2.4 | 2.3 | 2.3 | 2.4 | 2.2 | 2.2 | 2.2 | 2.2 |
Source: author compilation based on quarterly reports
The table shows that subscriber numbers for the key services are largely stable with only some minor quarterly deviations up and down. The fact that subscriber numbers only remain stable and the prices couldn't be raised in-line with inflation means that overall service revenue had to be going down.
Let's have a closer look at how bad the impact on the revenue has been. Telecom Argentina had to keep the prices the same for most services from May until August 2020. The result was that ARPU for broadband access an cable TV declined by over 10% in real terms by the end of 2020 in comparison with 2019. The mobile services, as the only exception, showed only a minimal ARPU rise of 1% for the same period. Overall, the 2020 revenue for Telecom Argentina in real terms declined a massive 6.5% in comparison with 2019 and this revenue decline even accelerated after that, in Q1 2021. In that quarter, there was an ARPU decline for all services, without any exceptions, and the YoY overall revenue in real terms declined by 7.8%.
It can be expected that the upcoming Q2 2021 numbers will show similar declines of revenue in real terms as in Q1 2021. The government restrictions on price rises of telco services went into effect in May 2020, so a large effect of the policy will be seen in the Q2 2021 numbers. I'd expect Q2 2021 ARPUs for cable TV and broadband to decline by more than 10% in real terms year-on-year again and the overall revenue in real terms may well show a decline of around 8% YoY. There's no reason to suddenly expect subscriber growth, so the inflation translates directly to a decline in the top-line in real terms when inflationary pricing can't be applied.
Valuation And Prospect For Recovery
Besides the top-line challenge, there's no major additional concerns in the financial statements at the moment. Telecom Argentina seems to have a good handle on their debt. They pushed out maturities on some sizable US dollar denominated bonds by two to three years as stated in the Q3 2020 quarterly report. The debt-to-equity ratio is well below 1, which is very conservative for a telco.
The current market capitalization of Telecom Argentina has dropped to well below $2 billion and the EV/EBITDA has not been much more than 2x. The shares are approaching bargain prices, which is what one could expect under the current circumstances. I'd expect that a bottom is in sight now, though, because things will slowly improve as the country and Telecom Argentina emerge from the pandemic. The business will stabilize when inflationary pricing is fully adopted again. This could happen in the upcoming quarters.
The subscriber base is not growing. This means that a growth of service revenue in real terms is only possible if Telecom Argentina would increase prices by more than the inflation. If the growth doesn't come from additional subscribers, it has to come from rising prices in real terms. I'd certainly not expect that to happen before the end of 2022 and it may not be possible in 2023 either. It will be quite challenging for Telecom Argentina to raise prices in-line with inflation again, let alone to raise prices more than the inflation rate. This means that any recovery will be limited to stabilizing the top-line in real terms.
Conclusion And Investor Takeaway
Telecom Argentina shares are trading at decade low price levels. This may, for some companies, be a sign that it's set for a recovery. An investor may think that growth will follow a couple of quarters of declines, which can translate to higher valuations and share prices.
In the case of Telecom Argentina, growth in real terms will not come back soon. The high inflation environment in combination with the unwillingness of the government (and population) to accept price rises of telco services has led to large revenue declines in real terms in the last quarters. Telecom Argentina will have a challenge in just stabilizing the situation going forward. It may take a few years before any significant top-line growth in real terms can be reported. Chances of a recovery are also dependent on the country successfully negotiating with the IMF about the sovereign debt situation. Argentina needs to find a way out to improve the business environment in the country. Telecom Argentina is certainly no easy recovery play and I'd not recommend buying the shares with the intention to benefit from a quick recovery.
This article was written by
TMT sector professional. Over 20 years of experience working in the sector in Europe and outside Europe. Decade of investing experience to keep in close touch with companies and themes that are relevant for my work.Companies where I worked are among others: KPN, Chellomedia, Liberty Global, UPC Cablecom Switzerland, Get Sweden, Ooredoo Middle East, Cell C South Africa, Du Dubai, Axiata South East Asia, Celcom Malaysia, Vodafone.
Analyst's Disclosure: I/we have no stock, option or similar derivative position in any of the companies mentioned, and no plans to initiate any such positions within the next 72 hours. I wrote this article myself, and it expresses my own opinions. I am not receiving compensation for it (other than from Seeking Alpha). I have no business relationship with any company whose stock is mentioned in this article.
Seeking Alpha's Disclosure: Past performance is no guarantee of future results. No recommendation or advice is being given as to whether any investment is suitable for a particular investor. Any views or opinions expressed above may not reflect those of Seeking Alpha as a whole. Seeking Alpha is not a licensed securities dealer, broker or US investment adviser or investment bank. Our analysts are third party authors that include both professional investors and individual investors who may not be licensed or certified by any institute or regulatory body.