iRobot Faces Temporary Headwinds, But The Thesis Is On Track
Summary
iRobot reported their Q2 2021 earnings recently, on July 28, 2021.
Their profitability tanked during the most recent quarter due to tariffs, and they were constrained due to the semiconductor chip shortage that has affected many business recently.
However, these short-term headwinds do not pull iRobot off the main investment thesis, which is why iRobot is a Buy for long-term investors who will hold longer than three years.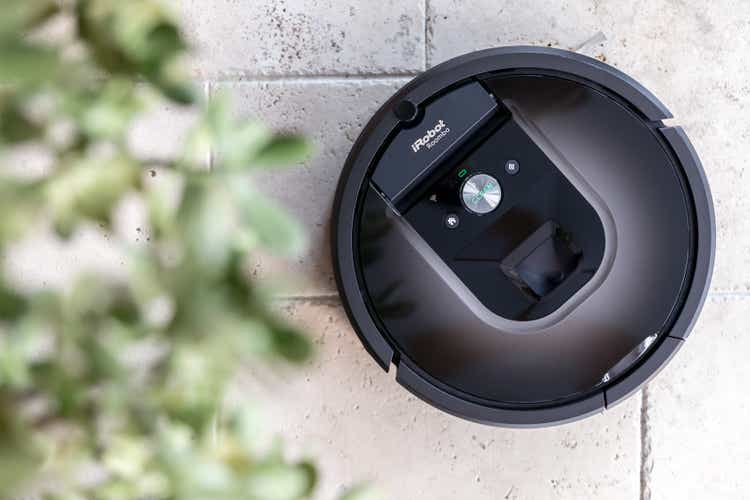 The Thesis for iRobot
iRobot's (NASDAQ:IRBT) recent quarter was a mixed bag for many investors. iRobot was one of the few pandemic plays that weren't hit hard by the reopening, yet iRobot faced many tough macroeconomic obstacles that will likely continue to affect them into the near-term future. However, long-term investors should not focus much on these headwinds, for they are only temporary. Aside from these short-term headwinds, iRobot executed well on what is critical: growth, product expansion, and their software. Because of their execution and success in the things that matter most, iRobot is still a very strong company that is deserving of long-term investors' money today, despite the strong headwinds they will face for the next six months.
Short-Term Headwinds Ahead
After reporting strong, 31% revenue growth Year-over-year, iRobot investors were slightly concerned over the temporary headwinds they cited about future growth for the next six months.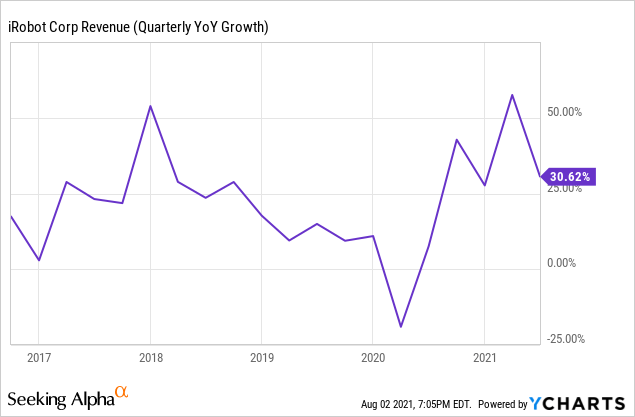 Thirty percent revenue growth is strong for iRobot, but during the pandemic, investors got used to seeing larger growth. Management also expected strong growth in the previous quarter, while gave investors high hopes. One of the reasons that investors were disheartened by 30% revenue growth was due to the supply constraints that iRobot suffered from in the recent quarter.
Supply Chain Shortages
Due to weakness in their supply chain, iRobot lost $17 million in orders that were not fulfilled due to COVID-related disruptions to shipping activities in southern China. Although this order volume would have only represented an additional 5% in revenue from this quarter, which reached $366 million, the shortages clearly resulted in iRobot failing to meet the demand for its product.
Management also noted that they experienced chip shortages, which partially resulted in the inability to fully meet the demand for their product. For the coming quarters, Angle said that while the continuation of this shortage remains uncertain, iRobot will be focusing on prioritizing the chips they have for the new products that they will be launching.
Tariffs
While growth was still strong, the profitability of iRobot's quarter was where they were hit badly.
The company's second-quarter 2021 GAAP operating loss was $3.0 million, compared with GAAP operating income of $70.3 million in the second quarter of 2020. Second-quarter 2021 non-GAAP operating income of $9.0 million compared with non-GAAP operating income of $40.5 million in the same period one year ago.

Source: Q2 Press Release
Earning per share was hit hard, resulting in $-.10, compared to $2.07 one year ago.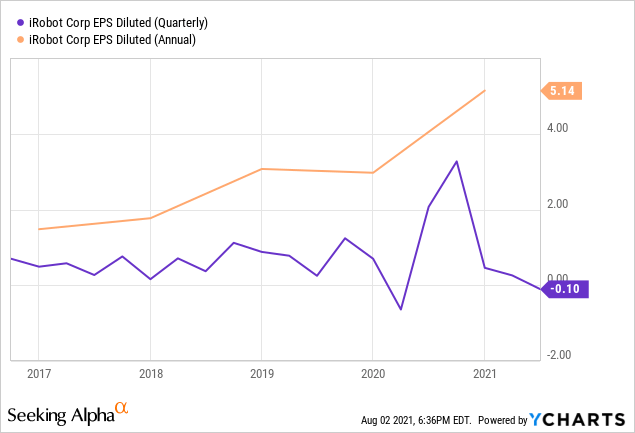 This profitability was largely hit by tariffs that were enacted right after the second quarter of 2020. The strong demand was able to grow Q3 2020 EPS, but iRobot was forced to pay nearly $12 million in tariffs this quarter. Combined with $7 million in tariff exclusions in Q2 2020, iRobot's profitability was affected by nearly $18 million by these tariffs.
This resulted in guidance being significantly lowered for FY 2021:
| | | | |
| --- | --- | --- | --- |
| Metric | GAAP Guidance From Q1 2021 | GAAP Guidance From Q2 2021 | Difference (from midpoint) |
| Revenue | $1.67 - $1.71 billion | $1.55 - $1.62 billion | ($10) million |
| Gross Profit | $642 - $672 million | $609 - $642 million | ($31) million |
| Operating Income | $69 - $79 million | $37 - $67 million | ($12) million |
| EPS | $1.85 - $2.10 | $1.02 - $1.89 | ($.52) |
Source: From Q2 and Q1 Press Releases
However, there is good news. iRobot management expects that these tariffs will be released by the end of the year. They will continue to affect Q3, but CEO Colin Angle believes that there will be significant financial betterment by the year's end.
While the tariffs and supply chain malfunctions remain a problem for the coming quarters, these problems will work themselves out within 6 months. These headwinds will remain headwinds for the next quarter, and it severely dampened the profitability of this quarter, but long-term investors in iRobot should not be too worried. Rather, long-term investors should focus on what went right in this quarter, and many things went right. When looking at some of these areas where iRobot's growth will likely come from, investors can see that the investment thesis in iRobot is still intact, and they are still running well.
What's Going Right With iRobot
When investors look at the results of the quarter with a new eye, investors can see that iRobot had a strong quarter, and they announced exciting news about the future of the business.
Competition Put Out By iRobot
iRobot continued to dominate the leaderboards when it came to robot vacuum sales. This is primarily due to the wide variety they offer, along with the innovative software and learning capabilities of the vacuum and mops.
When asked about the competition that has been flowing into the market on the earnings call, Angle had this to say:
So, I think people (competitors) are wondering what is – what can they do, how can they go and further differentiate their robots. And our competitors like to just add stuff. Our strategy is really around how do we make the experience of owning the robot one where you feel like you are more in control and you are able to get the robot to do what you wanted to do, when you wanted to do it and have it operate the way you wanted to do it intuitively and effectively, so you feel like the robot is your partner in cleaning your home. I would tell you, blindly adding stuff to the robot is going to have a negative impact in people's interest in the robots.

Source: Q2 Transcript
Clearly, while there are many competitors for iRobot, few are actually succeeding in taking market share from them. While they are trying to make differentiated products, they are doing so in an ineffective way, which is actually taking away from the quality of their product.
iRobot creates their products differently, and they are slow and meticulous to create and innovate products, which is something that their competitors are not doing. This perfectionist mentality is delivering strength over the long term and is thus locking out the competition and solidifying iRobot's spot as the market leader in this industry.
Competition is fierce, and if any of its competitors were to take the approach that iRobot does to try to perfect their robots, they could phase into popularity. However, iRobot has remained one of the strongest brands in this space, and thus created a strong brand reputation. It would be very difficult for a competitor to displace this strong reputation that iRobot has created for itself. If a competitor were to do so, however, this could pose a threat to iRobot's business. One way they are fighting off competition is through the strategic, consumer-focused integration of services and technology.
iRobot Select Service
iRobot's Select Membership is also growing fast, although still in the early stages of its life. The product, which allows for subscribers to receive accessories for their robot, while also getting access to damage protection, management support, and robot upgrades, has only recently opened to the public. Despite its freshness to the market, management noted that it has seen high satisfaction and it seems to be growing at a fast rate.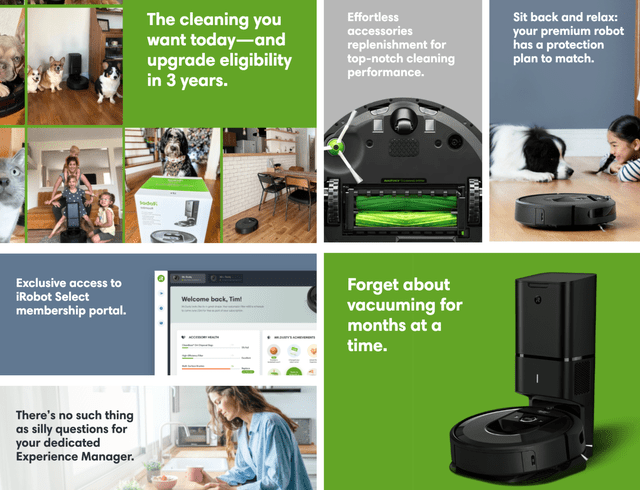 Source: iRobot Website
Even though it has not been broken out by itself in the financials, iRobot's Select Service is expected to scale quickly, and it could even become a material contributor in just 1 year.
While this product is immensely young, it has lots of potential. The recurring revenue is wonderful for iRobot, and the customization and benefits that are given to the consumer create a strong value proposition for iRobot users. Churn levels for the service are low and meeting expectations, and as this service scales, it would be reasonable to expect the churn to remain low as long as the customer satisfaction stays as high as it currently is.
Bringing iRobot users into this service only deepens the switching costs associated with iRobot, which is another benefit of this service. It will also differentiate the product, for the technology, robot, and service combined is something that few other competitors offer. This service has lots of room to grow, and it could be a strong growth runway for the business if execution is done well.
Product Launches
iRobot also announced plans to introduce two new Roomba robots during the next quarter. They also announced updates to their Home Intelligence platform.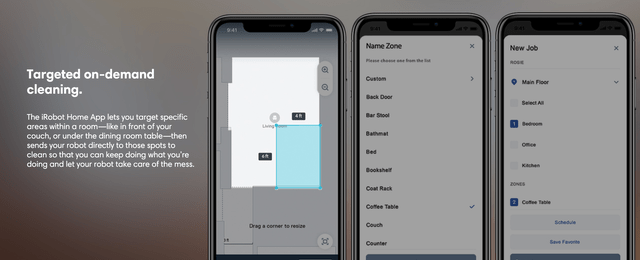 Source: iRobot Website
Their Home Intelligence and app experience for consumers is one that is relatively unmatched by competitors, and it allows for consumer customization and perfection. Growing and maximizing the utility from this app and the robot's knowledge of the consumer only creates a strong value proposition for consumers, thus strengthening the consumer loyalty.
As I previously mentioned, iRobot management is slow to add new products to the market, so two additional products will likely show new, innovative technology. Adding these new products will not only bring in new customers, but it will also strengthen iRobot's brand reputation as the best robot vacuum company.
If these robots were to flop, however, and have no significant changes, this could end up hurting their brand reputation, which would be bad. If this were to happen, I would get concerned. However, management usually errs on the side of caution when implementing new products, and they only release them when they are very confident, so I believe that these products will show strength in the coming quarters and years.
Key Takeaways
While the financials on the surface looked rough for iRobot, the key pinpoints are still on track for their business. They are keeping competition back by integrating unique technology and robotics into their products. Their product has truly become unique and differentiated, and they are continuing to do this by becoming more technology-centric. Implementing their Select Service and their Home Intelligence brings a value proposition that is strong for consumers, and this pushes back any form of real competition.
While there are tough temporary headwinds, iRobot will likely be able to come out stronger than ever, and these headwinds will only be temporary setbacks. Long-term investors should realize that this will impact the next quarter or two, but recognize that the thesis for iRobot is still on track, and they are executing quite well. Because of their strong implementation of technology and durable expansion of products, long-term investors should consider investing in iRobot, and investors who already have a position could increase their position at today's prices.
This article was written by
He is a college student who has found a deep thirst for learning and investing. Being very young, he has leaned toward very long-term investments and growth stocks, primarily in tech. He does, however, love consumer goods companies as well. Currently, he is studying International Business and Economics.
Analyst's Disclosure: I/we have a beneficial long position in the shares of IRBT either through stock ownership, options, or other derivatives. I wrote this article myself, and it expresses my own opinions. I am not receiving compensation for it (other than from Seeking Alpha). I have no business relationship with any company whose stock is mentioned in this article.
Seeking Alpha's Disclosure: Past performance is no guarantee of future results. No recommendation or advice is being given as to whether any investment is suitable for a particular investor. Any views or opinions expressed above may not reflect those of Seeking Alpha as a whole. Seeking Alpha is not a licensed securities dealer, broker or US investment adviser or investment bank. Our analysts are third party authors that include both professional investors and individual investors who may not be licensed or certified by any institute or regulatory body.