Summary
Boeing 737 MAX is on its way to China to support recertification effort.
Recertification of the Boeing 737 MAX in China will allow the company to boost production.
China also has interest in recertification of the MAX as part of a longer-term trajectory.
I do much more than just articles at The Aerospace Forum: Members get access to model portfolios, regular updates, a chat room, and more. Learn More »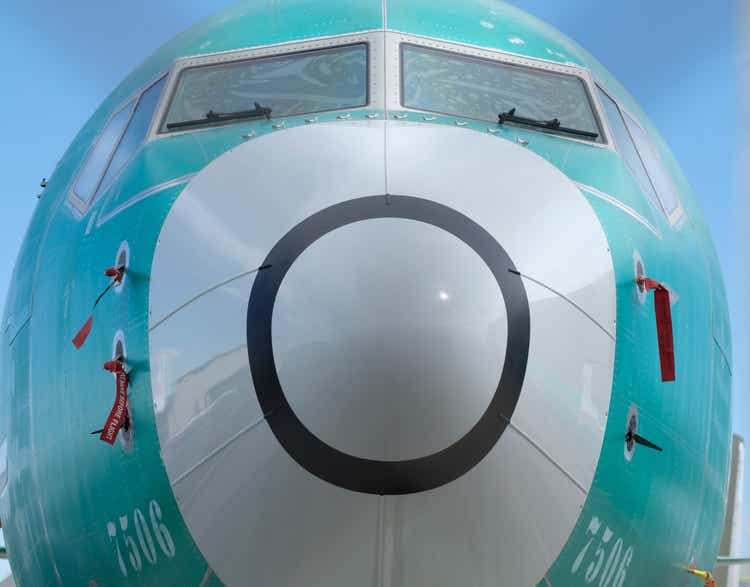 In a previous report, I had a look at the importance of access to the Chinese aircraft market for Boeing (NYSE:BA). What I concluded, and will be further supported in future analyses, is that for Boeing to return to previous production rates of 42 aircraft per month and beyond on the Boeing 737 program, access to the Chinese aircraft market is a prerequisite. So, from a demand perspective, there is no doubt that China is important to Boeing.
However, what remains significantly underexposed is the fact that a strong relation between Boeing and China is mutually beneficial. In this report, I explain why a strong relation is of importance for both, especially with the Boeing 737 in mind.
Chinese aspirations: Becoming a Boeing competitor
Somewhat counterintuitive a first argument for the importance of access to the Chinese aircraft market for Boeing are the Chinese aspirations. China is currently working on certifying its own C919 single aisle jet, and while this aircraft is not expected to compete with Boeing outside of China, it is the aspiration that China has an aircraft manufacturing country that makes a healthy relation with Boeing very important.
As said, it is counterintuitive since it would make sense to prohibit Boeing from accessing a market in which the C919 could flourish. However, China is leveraging its buying power in many ways and one such way is enriching its own aircraft manufacturing industry. When it comes to aircraft manufacturing, China has been making steps, but those steps are largely supported by attracting manufacturing work to the country, and to continue attracting work, China needs the Boeing-Airbus (OTCPK:EADSF) (OTCPK:EADSY) duopoly to work efficiently as well as strong demand from China.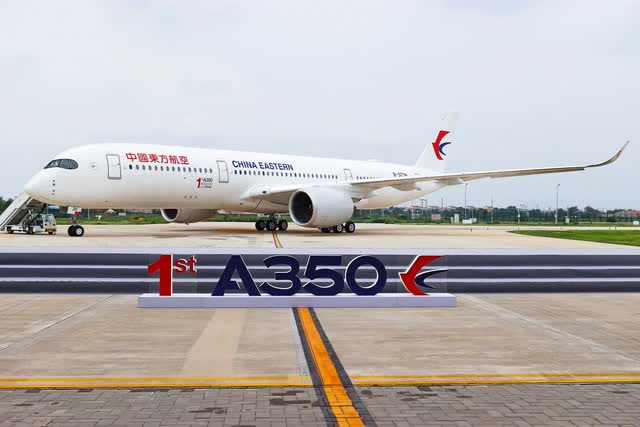 Source: Airbus
Examples of enriching the aircraft manufacturing industry in China are the Airbus assembly line for the Airbus A320 family aircraft as well as completion centers for the Airbus A330 and the Airbus A350. The completion and delivery center in China recently completed the first Airbus A350 delivery to China Eastern Airlines (CEA).
With several Airbus lines for assembly and completion in China, Boeing was forced to do something similar to get some of the sales from Chinese customers. Since aircraft procurement is a state-regulated activity, it was clear that Boeing had to increase presence in China. The US jet maker signed an agreement in late 2016 to open a Boeing 737 completion center in Zhoushan in a joint venture with COMAC, which happens to be the manufacturer of the C919. In 2018, the first Boeing 737 MAX was delivered from the center in China.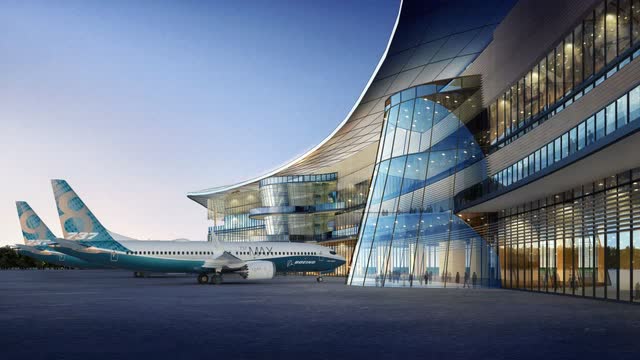 Source: Boeing Zhoushan Completion Center
The connection between the Boeing 737 completion center, the Chinese aspirations and the recertification of the Boeing 737 MAX is of importance here. At the time of writing, a Boeing 737 MAX has departed for China to support the recertification effort and that recertification, while it will not be immediate, is of importance for the Chinese aspirations to develop its own aircraft and one day become competitive with Boeing and Airbus. Without recertification of the Boeing 737 MAX and a depleted order book for the Boeing 737 Next Generation, the completion center in China is not worth much. More importantly, being idled, the completion center is not contributing towards the Chinese roadmap.
Having an operating completion center gives China another facility to mature its aircraft manufacturing industry. It is important to note that the completion center does not assemble the aircraft, but the final touches are performed at the completion center such as installing seats and painting aircraft. With the existing centers from Airbus in China, it is not the case that China is learning something it did not know before but with another center in operation it surely is adding capacity and a logistics framework that in the longer term will support production of Chinese aircraft. That is something that is inevitable.
Leverage against Airbus
So, China needs Boeing as well as Airbus to grow an industry in support of aircraft manufacturing, which is the longer-term objective. With that in mind, the importance of the Boeing 737 completion and delivery center is clear. However, what also plays a role is filling demand in a cost-efficient way. Demand for aircraft is significant and with 8,600 deliveries which is equivalent to Boeing's peak production for 10 years. By leveraging the duopoly, Chinese customers can save millions of dollars per aircraft as Boeing and Airbus will significantly discount the aircraft to win an order in the biggest aircraft market in the world. For that to happen, the duopoly needs to be alive and with the Boeing 737 MAX still grounded in China that is barely the case and that means that China does not have a strong position for negotiations with Airbus either and so while Airbus is eager to sell while Boeing cannot, the European jet maker does know it has a stronger position than it had before. China will need aircraft and that demand cannot be filled by a single jet maker, so to buy enough aircraft at the right price, it is of importance that the Boeing 737 MAX gets recertified in China.
Boeing's aspiration
Boeing currently runs its production lines at a very low rate and is aiming to boost Boeing 737 production to a rate of 42 aircraft per month by late 2022. Before the Boeing 737 MAX crisis, the jet maker was looking to increase rates beyond 57 Boeing 737 aircraft per month and the completion center in China is supportive of rate increases beyond the level of 50 aircraft per month. So, while it seems that having a completion center is only beneficial to the future of the Chinese aircraft industry, there is no doubt that there also are advantages for Boeing as the completion center reduces the stress on the Renton assembly and completion activities, which subsequently allows for a higher production rate of the Boeing 737 MAX.
Obviously with Everett having lost a lot of work and very low anticipated production levels for aircraft currently under development, Renton production could also be boosted by transferring completion work to Everett but that does not remove the connection between China and demand driven production rate hikes.
Conclusion
Generally, I tend to put Neutral ratings on my pieces. However, for this piece I have put a more upbeat rating as I am convinced that the Boeing 737 MAX will be recertified in China which will allow Boeing to increase delivery and production rates, which will be accretive to the company's results. In the longer term, there also is the prospect of higher production rate supported by the completion center for the Boeing 737 in China and growing demand from China. All of these are positives.
One could of course say that Boeing is actively supporting China's aspiration to compete with Boeing and Airbus one day and that is true, but by ignoring the sales potential in China completely Boeing will lose out more while the threat from China as a competitor does not become less. So, I remain positive on Boeing's prospects in China, the way it is adapting for a changing future and the role the Boeing 737 MAX and the current recertification effort has in that roadmap.
This article was written by
Dhierin-Perkash Bechai is an aerospace, defense and airline analyst.
Dhierin runs the investing group
The Aerospace Forum
, whose goal is to discover investment opportunities in the aerospace, defense and airline industry. With a background in aerospace engineering, he provides analysis of a complex industry with significant growth prospects, and offers context to developments as they occur, describing how they might affect investment theses. His investing ideas are driven by data informed analysis. The investing group also provides direct access to data analytics monitors.
Learn more
.
Analyst's Disclosure: I/we have a beneficial long position in the shares of BA, EADSF either through stock ownership, options, or other derivatives. I wrote this article myself, and it expresses my own opinions. I am not receiving compensation for it (other than from Seeking Alpha). I have no business relationship with any company whose stock is mentioned in this article.
Seeking Alpha's Disclosure: Past performance is no guarantee of future results. No recommendation or advice is being given as to whether any investment is suitable for a particular investor. Any views or opinions expressed above may not reflect those of Seeking Alpha as a whole. Seeking Alpha is not a licensed securities dealer, broker or US investment adviser or investment bank. Our analysts are third party authors that include both professional investors and individual investors who may not be licensed or certified by any institute or regulatory body.