Zymergen: How To Buy A Disaster
Summary
Shares in Biofacturing company Zymergen (ZY) collapsed in epic fashion after a catastrophic setback in its commercialization plans.
The stock is now significantly de-risked and worthy of speculation.
I am considering a bet on the company's cash position, new management, and promising technology.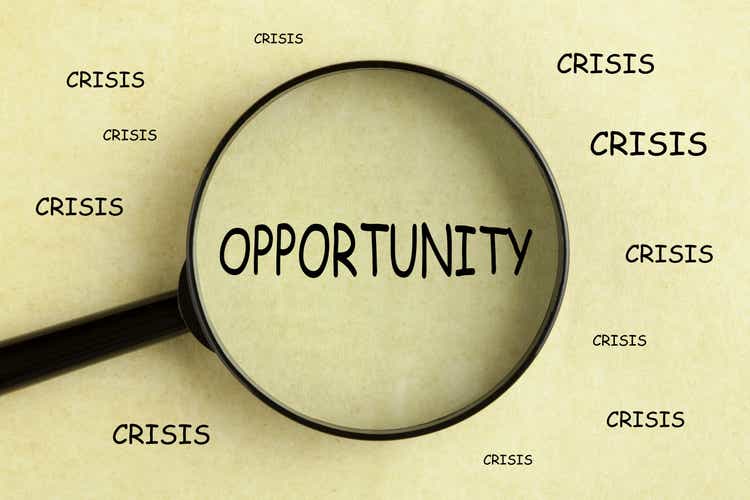 Biofacturing company Zymergen (ZY) collapsed in epic fashion less than 4 months after its IPO after the company. An abrupt admission catalyzed the disaster. Zymergen admitted in a business update that "issues with its commercial product pipeline…will impact the Company's delivery timeline and revenue projections. Accordingly, the Company no longer expects product revenue in 2021, and expects product revenue to be immaterial in 2022." With this statement, Zymergen effectively became a research and development company (or at least further confirmed itself as one). I analyze the investment for this "biowreck" with this perspective.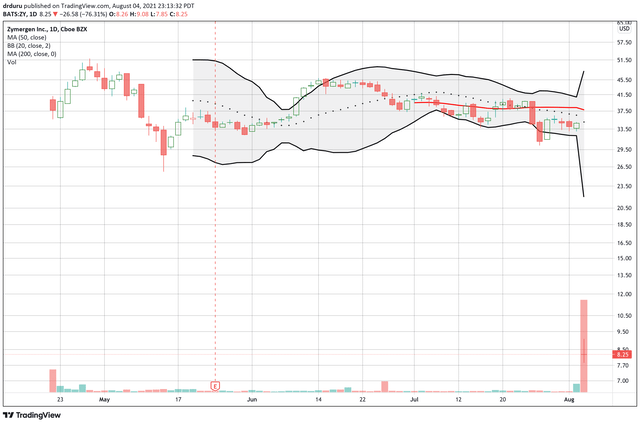 Goldman Sachs (GS) and JP Morgan (JPM) remain hopeful each with revised $12 price targets. HSBC Securities is a wait and see with a price target of $8. BofA flipped to bearish with a $7 price target. (Analyst price targets from Briefing.com). So apparently the analyst community does not believe the story ends here. Some analysts even see substantial upside from the current pits of pricing. The lingering hopes come from Zymergen's insistence that there is nothing wrong with its key Hyaline technology. Instead, issues reside with customer readiness and the sales pipeline qualification. Moreover, Zymergen "will conduct a full re-examination of Zymergen's target markets." The company is hitting the reset button. Such resets, or even pivots, are common with nascent companies. Unfortunately for Zymergen, this disaster happened in the spotlight of being a publicly traded company.
Bet On Management
Given the scale of this disaster, the company understandably pushed out former CEO Josh Hoffman. In Hoffman's place comes experienced executive Jay Flatley formerly of Illumina (ILMN). Flatley was CEO of the human health company from 1999 to 2016. From 2016 to 2020, he was Executive Chair and finally served as Chairman of the Board from 2020 to 2021. Flatley knows the feeling of a collapse in shares and the exhilaration of an outstanding recovery. He is truly seasoned. Check out ILMN's performance as a public company over 21 years.
Betting on young companies is a bet on the team charged to steward the strategy, sharpen the execution, and inspire the brilliance in the employees behind the products and technology. As a ZY board member, Flatley did not help Hoffman avoid this disaster, but I suspect that as interim CEO he will be capable of steering the company through this mess. One of the steps to recovery will come from selecting a permanent CEO.
Bet on the Cash
As of June 30th, ZY sat on $588M in cash. The company expects to record GAAP total cost and operating expenses of approximately $100M to $105M in the coming quarter. Compare this to the $87.1M in operating expenses in Q1 and the $65.6M spent in Q1 2020. Assuming the company goes into cash preservation mode, perhaps ZY has enough cash on hand to make it through the end of 2022.
Research and development companies have to return to capital markets for cash until they establish revenue streams. ZY will do well to wait until it builds more trust and confidence in the investment community. Perhaps the conditions brighten for a fresh cash raise in the Spring of 2022. The stock could be somewhere close to or beyond the price targets of the most optimist analysts by then.
Bet on the Technology
Zymergen earned just $3.7M in its first quarter as a public company. Yet and still, the stock market was willing to grant this company a $3.8B market cap. Even now, the company has an $828M market cap. There must be (okay, better be) some serious technology under the hood!
Indeed, the field of biofacturing is full of promise. Biofacturing uses genetically engineered microbes to create products across an array of industries. Fermentation bioreactors produce the molecular building blocks of advanced materials. Zymergen's Hyaline creates transparent polyimide films for electronic devices. According to the company, the foldable film delivers "mechanical strength, optical clarity, and temperature resistance." Accordingly, Hyaline enables "full screen display touch sensors in foldable and rollable devices." The company lists product opportunities in electronics, consumer care, agriculture, and even the reduction of plastics.
Thanks to the disaster in ZY, buying into the possibilities of the future got a lot cheaper. In a sense, the market delivered a significant de-risking into ZY's price.
How to Trade Zymergen
Analyst price targets are like guide rails. Clearly, the analysts did not anticipate the current disaster, so I cannot expect them to really know what upside potential remains. Still, I consider ZY's current single-digit price something akin to a better pricing of what was, and still is, a high-risk investment.
For my trading and investing, I like to wait until the buyers show up. I call this kind of back-up "celebrating with the buyers." Accordingly, for starters, I want to see ZY print a higher close before nibbling on the shares. ZY hit an intraday high of $9.08 in the wake of this disaster. I want to see interest return to the stock with a close above that price.
To the downside, I have a looser, event-driven rule for buying this de-risked stock even deeper in the basement. If the selling continues from here, then I am looking for the next positive catalyst that provides some kind of confirmation that the company is going to survive long enough to get a chance to fully commercialize its product. For example, an existing partner like Sumitomo or FMC could step in with a reassuring investment or fresh confirmation of the soundness of Zymergen's prospects. Conversely, a customer or partner setback could easily steepen the disaster. The downside path would be a wait and see process.
My experience investing in another research and development company Soliton (SOLY), an inventor of novel technology for tattoo and cellulite removal, taught me good lessons in patience and interpreting setbacks and price collapses as potential opportunity. AbbVie acquired Soliton right as the company was making plans to start its commercialization ramp. As a result, going forward, I will be keen to get info on the rebuild of Zymergen's commercialization plans and strategy.
Be careful out there!
This article was written by
Dr. Duru has blogged about financial markets since the year 2000. A veteran of the dot-com bubble and bust, the financial crisis, and the coronavirus pandemic, he fully appreciates the value in trading and investing around the extremes of market behavior. In this spirit, his blog "One-Twenty Two" (https://drduru.com/onetwentytwo/) delivers a different narrative for students and fans of financial markets. Dr. Duru challenges conventional market wisdoms and offers unique perspectives. The blog posts cover stocks, options, currencies, Bitcoin, and more, while leveraging the tools of both technical and fundamental analysis for short-term and long-term trading and investing. Some of these ideas and analyses are also featured here on Seeking Alpha.Dr. Duru received a B.S. in Mechanical Engineering (and an honors degree in Values, Technology, Science and Society - now simply STS) from Stanford University. For graduate studies, Dr. Duru went on to earn a Ph.D. in Engineering-Economic Systems (now Management, Science, and Society). Dr. Duru's work experiences include:*Independent consulting in operations research and decision analysis*Management consulting in product development and technology strategy*Price optimization software for computer manufacturers and internet advertising (including a shared patent for methodology)*Business Intelligence and Data Analytics, including some Data Science and Data EngineeringConsulting practice: https://ahan-analytics.drduru.com/
Analyst's Disclosure: I/we have no stock, option or similar derivative position in any of the companies mentioned, but may initiate a beneficial Long position through a purchase of the stock, or the purchase of call options or similar derivatives in ZY over the next 72 hours. I wrote this article myself, and it expresses my own opinions. I am not receiving compensation for it (other than from Seeking Alpha). I have no business relationship with any company whose stock is mentioned in this article.
Seeking Alpha's Disclosure: Past performance is no guarantee of future results. No recommendation or advice is being given as to whether any investment is suitable for a particular investor. Any views or opinions expressed above may not reflect those of Seeking Alpha as a whole. Seeking Alpha is not a licensed securities dealer, broker or US investment adviser or investment bank. Our analysts are third party authors that include both professional investors and individual investors who may not be licensed or certified by any institute or regulatory body.