Avadel Pharmaceuticals, The Jazz-Killer
Summary
Avadel's once-nightly FT218 improves considerably over Xyrem's twice-nightly dosing.
Jazz's recent lawsuit seems spurious, given how they lost to Amneal before.
October PDUFA and current low prices make AVDL a compelling buy.
Looking for more investing ideas like this one? Get them exclusively at The Total Pharma Tracker. Learn More »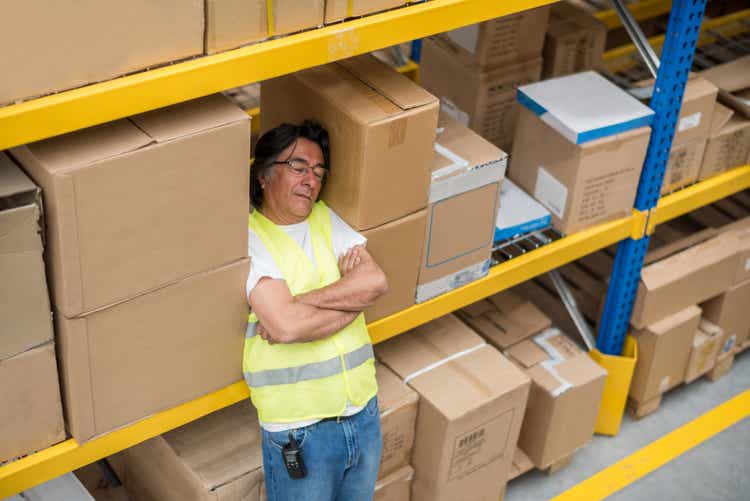 Narcolepsy is a terrible disorder. Patients have drowsiness throughout the day, sudden bouts of sleep, and hallucinations due to lack of sleep. Its exact cause is not understood, but genetic factors are suspected. Worse, in less knowledgeable populations, narcolepsy could be construed as excessive laziness. In every respect, it is a terrible disease that can ruin one's life.
For the last nearly two decades, the only available therapy was Xyrem, a formulation of sodium oxybate developed by Jazz Pharmaceuticals (JAZZ). Xyrem had three major problems; one, it had high sodium content, two, it needed to be taken twice nightly, meaning a narcoleptic, sleep-deprived patient would have to wake up in the middle of the night to take the pill, and three, following from two, was that the second dose created an unnaturally high peak serum concentration or Cmax, which could potentially create all sorts of safety issues in patients.
A once-nightly dose could have addressed the second and the third problems. For a number of years, Jazz tried to develop a once-nightly dosing formulation of Xyrem, but they did not succeed. So they went ahead and developed Xywav, a low sodium formulation, which took care of the first problem.
The problem with that, though, is that the sodium content is not really much of a problem. High sodium is a cause of cardiovascular risks. Research, however, has failed to show any major trend of CV risks in Xyrem users. Research has actually shown that while Xyrem is very beneficial to those that can take it, nearly 50% of patients are non-compliant because who wants to wake up in the middle of the night to take a pill?
Along came Avadel (NASDAQ:AVDL) with its patented micropump technology, and developed FT218, a once nightly formulation of sodium oxybate. Patients using FT218 need no longer wake up at 2 in the morning, drowsy, sleep-deprived, prone to keeling over and hurting themselves, prone to drug abuse. FT218 can be taken once at night, right before sleep, and narcoleptic patients can have a peaceful 8 hours of much-needed sleep.
Big revolutions are made in simple steps, and for the nearly one hundred thousand narcoleptic patients in the US, and more elsewhere, this is a major revolution in medicine.
A lot has happened since I last covered Avadel in December. Most importantly, they now have a PDUFA date on October 15th. Despite that, though, the price has stayed consistently below $8, the same price we saw in December. Is there going to be a spike before approval? Can we expect the FDA to make things smooth for FT218? How good is FT218's competitive profile? These are some of the questions I want to discuss today.
One reason for the still-depressed price may be that Avadel is a one-trick pony show. FT218 is its only drug, and if, somehow, they fail to get approval, they have no fallback option. Against that, let me just present a slide from their Corporate Presentation: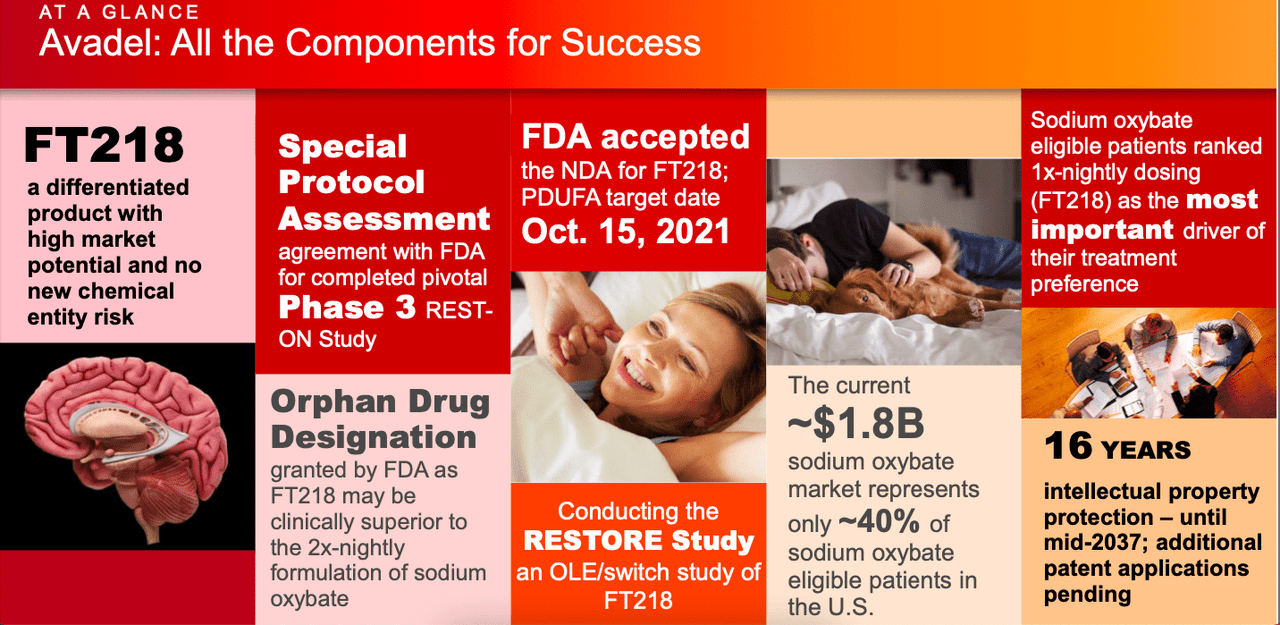 This single slide tells you, in a nutshell, why, despite being a single drug pipeline, Avadel has executed things nicely. So I am not really worried about the one-trick thing because as I understand it, their micropump technology itself could be a platform-in-a-patent sort of thing. It can be used to produce controlled dosing formulations of various other drugs. Moreover, the market potential for FT218 alone is substantial, and its approval thesis is very logical, as well.
A second reason could be Axsome's (AXSM) AXS-12, whose active pharmaceutical ingredient is a non-controlled substance, unlike with FT218 and Xyrem. So is Harmony's Wakix, which was also approved, and probably led to cancellation of AXS-12's breakthrough designation. Wakix is a once-daily formulation of pitolisant; it is important to understand that Wakix promotes wakefulness without helping patients sleep, while sodium oxybate promotes wakefulness by producing adequate amounts of sleep at night. There have been no observed PK interactions between the two molecules, so Wakix is not FT218's direct competition, but is rather complementary to it.
The other reason could be Jazz, which is a company known to not play fair sometimes - note how they consistently increased the price of Xyrem over the years just because of their monopoly power; Jazz also allegedly ran a pay-for-delay scheme to delay launch of cheaper generics. They acquired Xyrem for a mere $122mn in 2005 from Orphan Medical, in what has proven to be one of the most lucrative biopharma acquisitions ever, because today Xyrem makes nearly $2bn in annual revenue. Investors expected Jazz to file a lawsuit against Avadel, and they did so on May 13, alleging FT218 infringes on 5 of their patents. Interestingly, though, Jazz itself lost a lawsuit filed against it by generic drugmaker Amneal, where the US Court of Appeals for the Federal Circuit sided with Amneal's claim that the Jazz patents described obvious ideas. Although Jazz still claimed to have retained rights to the rest of its patent estate, the introduction of generics to the market makes moot the infringement allegations of Jazz against Avadel; which is a much better formulation any day.
That is my reading of the lawsuit, however judges have their own way of doing things, and that is probably what investors worry about.
Now, the judge assigned to the Jazz suit is Judge Maryellen Noreika, who seems to be a very competent patent lawyer with a background in Biology and experience dealing with biopharma suits. Before she became a judge, she worked at Morris, Nichols, Arsht & Tunnell LLP and managed more than 500 cases.
Guess who is the legal counsel of Jazz Pharma?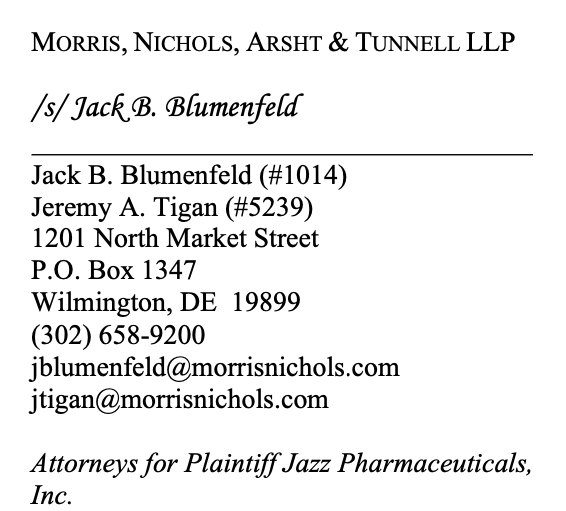 This creates all sorts of problems; if a judge is righteous, s/he will go to great lengths to stay neutral with a company represented by her old law firm. That could be good for Avadel. But there could be other possibilities, however unlikely. Since President Biden is looking at this Trump-nominated judge as a potential nominee for a federal judgeship in the Federal Circuit, Judge Noreika has bipartisan respect, and you do not get that by being partisan. I think the honorable judge will be more than fair with Avadel; I think she will be extra careful to also appear to be fair - which is a good thing for Avadel.
The lawsuit accuses 5 infringements, of United States Patent Nos. 8,731,963 (the "'963 patent"), 10,758,488 (the "'488 patent"), 10,813,885 (the "'885 patent"), 10,959,956 (the "'956 patent"), and 10,966,931 (the "'931 patent") owned by Jazz Pharmaceuticals. I am going to have to do a separate article to try to figure out - if I can - whether the suit has any merit. But off the top of my head, if generics are approved (and enter the market by 2023), I don't see much merit in a patent infringement suit like this, especially given Avadel's obvious improvement over Xyrem. Key Xyrem composition of matter patents expired in 2019, anyway, and key methods of delivery patents are going to expire by 2023. FT218 has a patent protection till 2037, and as an orphan drug designee, it will get a 7-year exclusivity on approval.
Coming to my second question to myself - how smooth is the regulatory process going to be - recall that the REST-ON trial had an SPA, or Special Protocol Assessment, meaning the FDA pre-approved the trial design and the endpoints, and if FT218 met those - which it did - the FDA agreed to approve the drug. In my recent recall, the FDA has once failed to do this - in the case of Acadia (ACAD). But that's a long - and different - story; there have been a few other cases where the FDA issued a CRL despite an SPA (vide Cosmo), but in general, this doesn't happen. Given the obvious utility of FT218 over Xyrem, lack of safety issues, a clean and successful study, I expect the FDA to honor the SPA.
Money matters
AVDL has a market cap of just $471mn and a cash reserve of $206mn. Funds and institutions have a moderate exposure to the stock, with top holders being:

This could be more because of its foreign origin than anything else. However, I am happy to see that insiders are enthusiastically buying: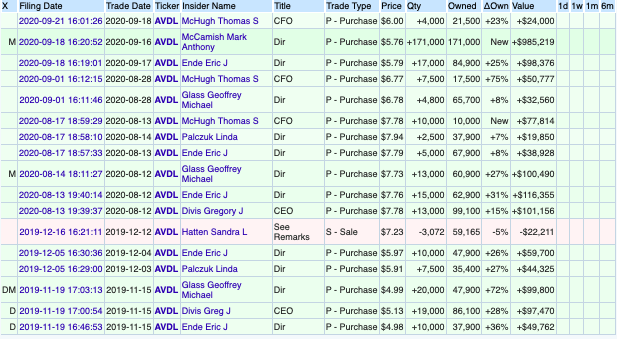 Bottom line
Every biopharma comes with known and unknown risks. Known risks are very few for Avadel; it agreed to an SPA and then performed according to the agreed upon design. It makes obvious improvements to the SoC. It targets a multi-billion market largely untapped even by the current standard of care because of compliance issues. Avadel has enough cash to last it until next year, at least. It has a PDUFA on October 15 and is still trading at very low prices. These are known facts, and based upon these, I would consider AVDL a strong buy opportunity.
About the TPT service
Thanks for reading. At the Total Pharma Tracker, we offer the following:-


Our Android app and website features a set of tools for DIY investors, including a work-in-progress software where you can enter any ticker and get extensive curated research material. 
For investors requiring hands-on support, our in-house experts go through our tools and find the best investible stocks, complete with buy/sell strategies and alerts.
Sign up now for our free trial, request access to our tools, and find out, at no cost to you, what we can do for you. 
This article was written by
Cautious, low key, disciplined investing in biopharma stocks
Avisol Capital Partners runs the Total Pharma Tracker Seeking Alpha Marketplace service. This is managed by Dr Asok Dutta, BVScAH and Dr Udaya Kumar Maiya, MD Oncologist. The service offers end-to-end research on both investing and trading ideas everyday, and includes a 150-stock watchlist and two 40-stock model portfolios that are continuously tracked.

Dr Dutta is a retired veterinary surgeon. He has over 40 years experience in the industry. Dr Maiya is a well-known oncologist who has 30 years in the medical field, including as Medical Director of various healthcare institutions. Both doctors are also avid private investors. They are assisted by a number of finance professionals in developing this service.

If you want to check out our service, go here - https://seekingalpha.com/author/avisol-capital-partners/research

Disclaimer - we are not investment advisors.

Analyst's Disclosure: I/we have a beneficial long position in the shares of AVDL either through stock ownership, options, or other derivatives. I wrote this article myself, and it expresses my own opinions. I am not receiving compensation for it (other than from Seeking Alpha). I have no business relationship with any company whose stock is mentioned in this article.
Seeking Alpha's Disclosure: Past performance is no guarantee of future results. No recommendation or advice is being given as to whether any investment is suitable for a particular investor. Any views or opinions expressed above may not reflect those of Seeking Alpha as a whole. Seeking Alpha is not a licensed securities dealer, broker or US investment adviser or investment bank. Our analysts are third party authors that include both professional investors and individual investors who may not be licensed or certified by any institute or regulatory body.