Price Target: What It Is & How It's Set
Updated: Jun. 21, 2022
Written By:
Kent Thune
Reviewed By:
A analyst price target is an analyst's estimated future price for a particular investment security. To arrive at a target price for a stock, the analyst may consider many factors, which are typically based on the outlook and projected earnings for that company.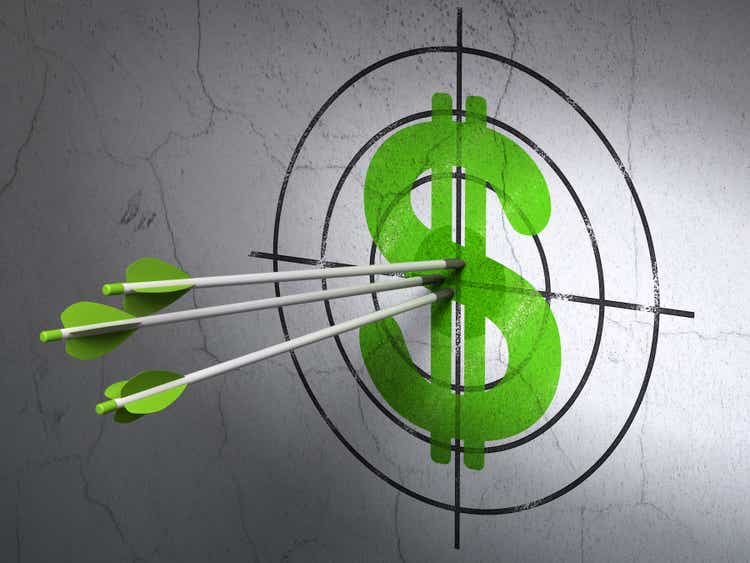 What Is the Consensus Price Target?
The consensus price target is the average of analysts' individual price targets. This is the price target that investors will most often see quoted in the financial press.
How To Interpret a Stock Price Target
Investors and traders typically interpret a stock price target as a forecast for a future price for the respective stock. For example, if an analyst sets a target price that is higher than the current price, an investor may infer that the analyst expects the stock price to rise in the future. If the price target is lower, the analyst expects the stock price to fall.
Put simply, a price target can be interpreted as an indication of how professional analysts collectively view fair value of a given stock. Price targets alone don't imply whether a stock is a Strong Buy, Buy, Hold, Sell, or Strong Sell, nor do they serve as an investment recommendation for any given investor. In some ways, a target price for a stock is similar to a weather forecast, in that it represents the expert opinion about the future, supported by currently available information. However, conditions impacting the data can change frequently, which means that forecasts may not turn out to be accurate.
It's also important to keep in mind that price targets tend to change, which means that price targets also tend to be moving targets.
Important: A price target does not represent a recommendation to buy, hold, or sell a stock; it's simply an estimate, based upon currently available information, about analysts' projected stock price at a certain time in the future, such as 12 months.
How Price Targets are Calculated
Different analysts may derive their price targets through different methods. One of the simplest price target formulas to understand is the use of a Price-to-Earnings (or P/E) multiple. The analyst will project Earnings Per Share (EPS) and then multiply that number by a P/E multiple. The result of this calculation will be a price target. For example, if an analyst uses an EPS estimate of $2.50 and a P/E multiple of 20x, they would reach a price target of $50.
Price Target = Earnings Per Share (EPS) x P/E Multiple
As noted already, price targets can be derived through various different methods. Sometimes analysts reveal what calculation method they used to reach their price target, while others may not.
Understanding EPS Estimates
Just like price targets themselves, analysts can use various methods for projecting a company's EPS. Many analysts will typically first look at where earnings have been historically, and then assess the company's growth prospects. Other key considerations in developing EPS estimates can include forecasted changes in gross margin, operating expenses, interest expenses, tax rates and many other factors.
Seeking Alpha readers can source EPS Estimates, as well as Revenue Estimates, from the "Earnings Estimates" page (as shown below) for any given stock.

Tip: The consensus EPS estimate for a stock is the average forecast of all registered analysts that have earnings estimates for a given stock. If a company's reported EPS comes in lower than the consensus, the company is said to have "missed estimates." If the EPS comes in ahead of estimates, it's usually called a "beat".
Pros & Cons of Using Price Targets
As is the case with many tools used to analyze investments, price targets can be useful but they also have their drawbacks. For this reason, it's wise for investors and traders to know the pros and cons of using price targets.
Pros of Price Targets
Data-driven: Analyst price targets are usually data driven, based on carefully constructed forecasts and valuation multiples.
Convenient: Many financial media sites publish analyst ratings and price targets for stocks, especially stocks that are widely traded.
Strategic: Knowing a stock's price target can help an investor analyze the risk/reward profile of investing in that company, which can help them make a more informed decision before transacting.
Cons of Price Targets
Inconsistent: Price targets can change frequently and they are often not reliable in predicting a stock's price movement over time.
Insufficient in Isolation: Price targets alone are not sufficient to drive an investor's decision to buy, sell, or hold a particular stock. Other considerations should be made by an investor in assessment of whether a particular stock could be a good holding within their portfolio.
Recent Price Bias: Price targets are often lagging indicators of stock price movements, as opposed to leading indicators of where they will go. For example, analysts could have price targets mostly around the $100 level, but if the stock rises to $400, those price targets will often follow the stock higher. Observers speculate that professional analysts are reluctant to hold price targets that look out of touch with reality.
FAQs
Traders may use price targets to help in the decision process of buying stocks or in determination of a holding period. Some traders may use price targets as guidance for setting a stop-loss order level, which is a specific trading price that triggers an order to sell an investment.

The primary risk of using price targets is their inconsistency. Markets and economic conditions change frequently and the randomness of the stock market makes price movement difficult to predict.

Price targets and analyst ratings can be found on many financial news websites. Stock analysts may also publish their price targets for specific companies in research reports.
This article was written by
Kent Thune, CFP®, is a fiduciary investment advisor specializing in tactical asset allocation and portfolio management with a focus on ETFs and sector investing. Mr. Thune has 25 years of wealth management experience and has navigated clients through four bear markets and some of the most challenging economic environments in history. As a writer, Kent's articles have been seen on multiple investing and finance websites, including Seeking Alpha, Kiplinger, MarketWatch, The Motley Fool, Yahoo Finance, and The Balance. Mr. Thune's registered investment advisory firm is headquartered in Hilton Head Island, SC where he serves clients all around the United States. When not writing or advising clients, Kent spends time with his wife and two sons, plays guitar, or works on his philosophy book that he plans to publish in 2024.
Analyst's Disclosure: I/we have no stock, option or similar derivative position in any of the companies mentioned, and no plans to initiate any such positions within the next 72 hours. I wrote this article myself, and it expresses my own opinions. I am not receiving compensation for it. I have no business relationship with any company whose stock is mentioned in this article.
Seeking Alpha's Disclosure: Past performance is no guarantee of future results. No recommendation or advice is being given as to whether any investment is suitable for a particular investor. Any views or opinions expressed above may not reflect those of Seeking Alpha as a whole. Seeking Alpha is not a licensed securities dealer, broker or US investment adviser or investment bank. Our analysts are third party authors that include both professional investors and individual investors who may not be licensed or certified by any institute or regulatory body.