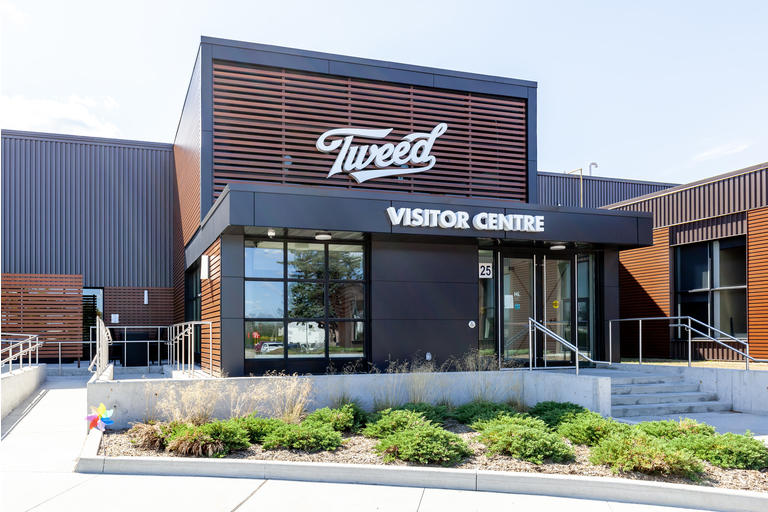 While Canopy Growth (NASDAQ:CGC) offers an enormous opportunity to play the global cannabis market, the Canadian LP has shown no ability to manage this vast potential. The cannabis company continues to produce industry low gross margins likely due to the lack of focus on any particular market or category. My investment thesis remains very Bearish on the stock despite Canopy Growth now trading below $20.
Improving Trend
Canopy Growth got FY22 off to a better start with the adjusted EBITDA loss cut to the lowest level since Canada approved recreational cannabis back in 2018. The company showed some financial discipline in the midst of a plan to cut up to C$200 million in annual costs, but Canopy Growth faces a tough road to EBITDA profits with revenue growth stalling.
The Canadian cannabis market was tough in the June quarter due to lockdowns. For FQ1, Canopy Growth reported revenues of C$136.2 million, up 23% from the C$110.4 million reported last year. For this quarter, the medical cannabis struggles held down some impressive growth in Canadian recreational cannabis and growth in consumer products such as BioSteel.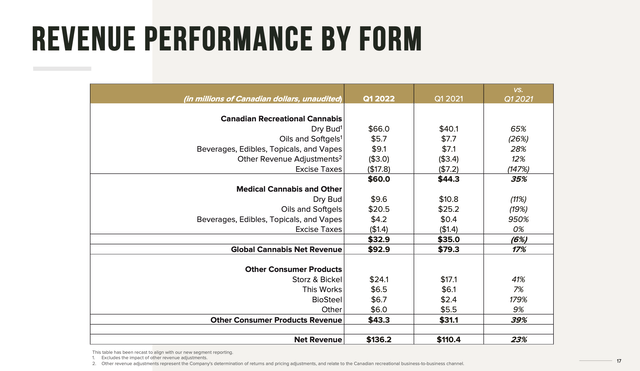 Source: Canopy Growth FQ1'22 presentation
Unfortunately though, the company saw revenues dip from the C$148.4 million reported in the March quarter. In total, Canopy Growth hasn't made a lot of progress over the last 3 years despite adding additional revenue streams for Cannabis 2.0 products, This Works for CBD, BioSteel and others.
Where this really shows up is the margin profile of the large Canadian cannabis company. Canopy Growth only produced adjusted gross margins of 21% in the quarter while a lot of the top cannabis producers around the world have already topped 40% gross margins.
The company still managed to lose C$64 million on an adjusted EBITDA basis in the quarter. The loss was a big improvement from a trend of losses topping C$90 million and a C$29 million narrower loss than last FQ1. Though, the losses were still massive and the free cash flow outflow was an insane C$186 million.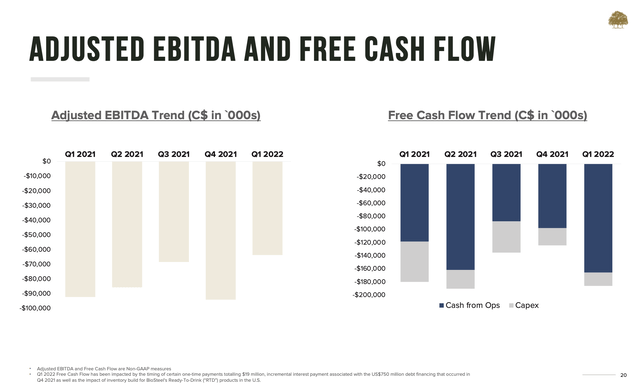 Source: Canopy Growth FQ1'22 presentation
My thesis for a long time is that Canopy Growth continues to try to be the cannabis leader everywhere while struggling in every market. The end result is this elongated period of substantial underperformance versus more focused U.S. cannabis peers.
The company mentions a prime driver of the weak gross margin performance was start-up costs in the U.S. market to build inventory and activate new production capacity. Remember, Canopy Growth only has access to the U.S. CBD market where a highly competitive market exists and the lack of FDA regulations has held bacc growth. One has to question this constant rolling into new markets without dominating existing markets and throwing off cash flows to fund further expansion.
Canopy Growth ended the June quarter with an inventory balance of C$412 million, up C$44 million from the March quarter. The company continues to over produce and fail to match inventory with actual sales. Based on this recent quarterly sales and costs, Canopy Growth has nearly enough inventory to cover a full year of sales.
Don't Pay Up
The market has wanted to pay up for Canopy Growth for years now. The stock has a market value of $7.5 billion with analyst revenue targets of just $622 million for FY22 before the weak FQ1 numbers.
Canopy Growth doesn't even have the strong balance sheet anymore after a free cash outflow of C$600 million in the last year. The company does have a cash balance of C$2.05 billion, but the Canadian cannabis company now has long-term debt of C$1.55 billion. The company only has a net cash balance of C$0.5 billion after years of wasting cash on unused inventory and facilities costing C$1.1 billion without the associated revenues to warrant such vast spending.
Even assuming Canopy Growth executes on growth plans where revenues top $850 million in FY23, the stock is still expensive compared to U.S. peers. At an EV/S multiple of 8x, the Canadian stock trades above the 5x multiples of Curaleaf (OTCPK:CURLF) and Green Thumb Industries (OTCQX:GTBIF) whom both have a trend of producing consistent growth and adjusted EBITDA profits.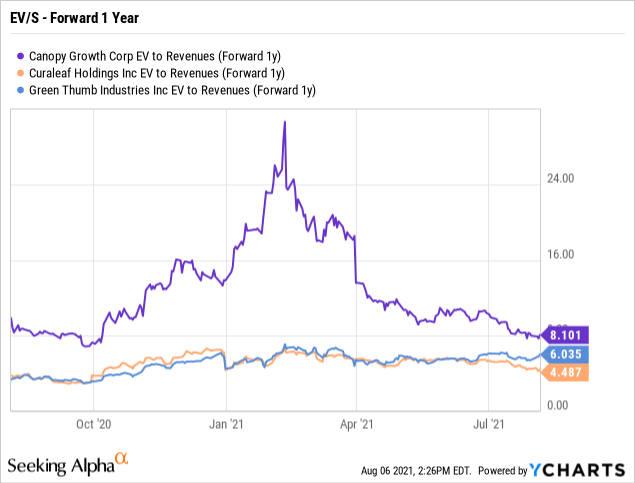 Until Canopy Growth trades at a discount to U.S. cannabis peers due to execution risks and ongoing losses, the stock should have no appeal to investors. The stock hasn't traded below $20 other than a period following COVID-19 fears, but the valuation just isn't appealing with cheaper options elsewhere in the cannabis market.
Takeaway
The key investor takeaway is that Canopy Growth made some progress on cutting losses, but the company still burned nearly C$200 million in cash during FQ1 and revenues declined sequentially. The stock is far too expensive here and the company no longer has a massive net cash hoard to bet big on the future.