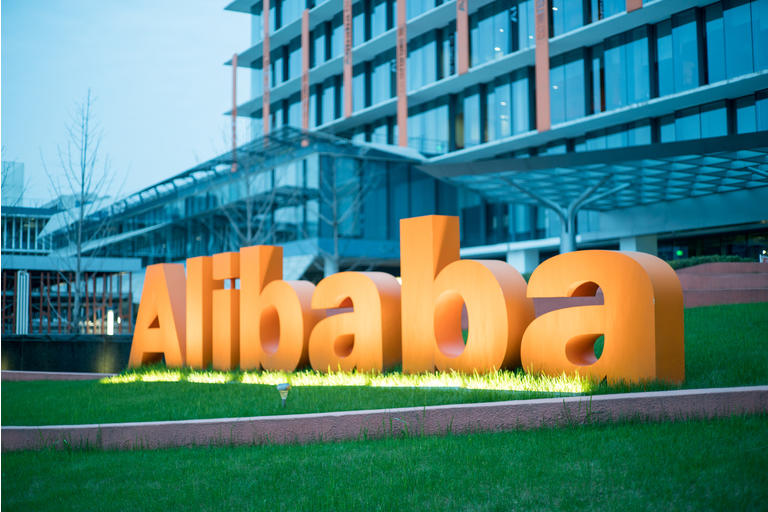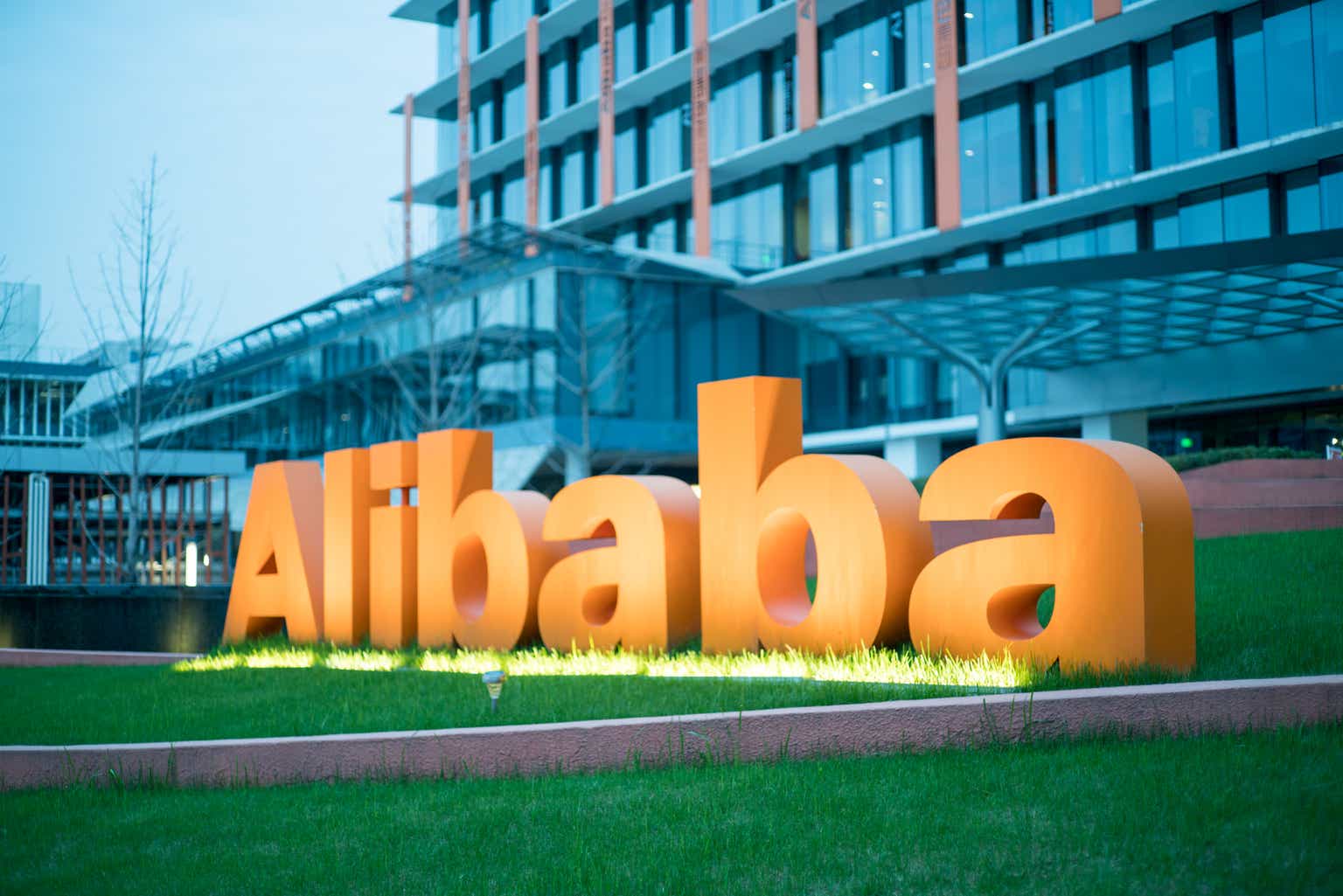 Alibaba (NYSE:BABA) released its second quarter earnings recently and they were pretty mixed. EPS came in higher than analyst estimates but revenue missed estimates and growth slowed. One bright spot in the earnings report was the cloud computing segment. It grew at 29%, making it the third-fastest growing of BABA's four main business segments.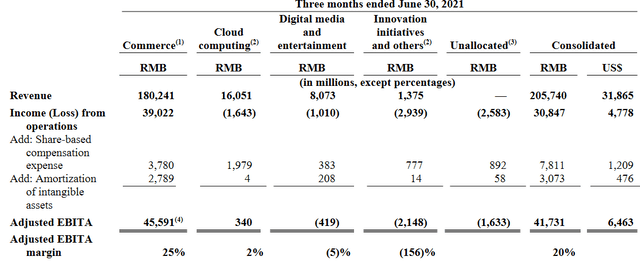 Source: Alibaba
Noteworthy about Alibaba's Cloud Computing segment was its improving margins. In the second quarter of 2020, cloud computing showed a -9% adjusted EBITDA margin. In the second quarter of this year, it had a 2% adjusted EBITDA margin. So, excluding interest, taxes and amortization, BABA's cloud computing segment was profitable in the second quarter.
That's significant because the lack of profitability of BABA's non-core businesses has always been a major component of the bearish thesis on the stock. Until this most recent quarter, none of BABA's major business segments apart from core commerce were profitable. The company itself has mostly been profitable on a full-year basis, but its powerhouse eCommerce business has been subsidizing its other three main business units. So, BABA's initiatives in cloud computing, media and innovation have been dragging down the company's profitability.
Until now. With cloud computing swinging to profitability in adjusted EBITDA terms, and with 29% sales growth, it's only a matter of time until it starts making a positive contribution to net income, cash from operations, and other key profit metrics. In this article, I will develop a bullish thesis on Alibaba, arguing that its success in cloud computing is a positive sign that the company will evolve its non-core business segments to the point where they are profitable. That development would be bullish for the business as a whole, as it would improve margins by creating new profit centers and freeing up more cash from the core commerce business.
Competitive Landscape
In order to evaluate BABA's growth potential, we have to look at its competitive position in the industry it operates in. Normally this would involve looking at competing eCommerce companies like JD.com (OTCPK:JDCMF), but because this is a catalyst-specific article focused on cloud computing, it makes more sense to look at BABA's competitors in that specific space. The biggest ones include:
Amazon (AMZN). Another eCommerce giant with a cloud business.
Microsoft (MSFT). Tech giant that runs the popular Azure cloud service.
All of these companies vary greatly in what they offer, but they offer few key services in common:
Web hosting. All of the companies mentioned above offer web hosting in some form. Alibaba's is among the cheapest with hosting from $5.90 a month and domain names from $3.90 per year. The AWS and Google Cloud services are more expensive - though Google Cloud does allow you to get started for free, until you eat up a $300 credit.
Cloud servers. Related to web hosting are cloud servers. Technically web hosting is a type of cloud server, but this is referring to back-end servers for apps that needn't necessarily be on the web. For example, mobile apps that require a back-end database. BABA's pricing for this starts at $1.65 per month - again giving it the edge in pricing.
App marketplaces. Most of the major cloud computing companies offer app marketplaces where you can buy apps that are hosted on their servers. The number of apps on Alibaba Cloud is less than with AWS or Google Cloud. AWS advertised 4200 apps in 2018; Alibaba lists just 475 today.
In general, Alibaba has the edge on its cloud competitors in pricing but lags somewhat on services. That's understandable since Alibaba Cloud hasn't been around as long as the competitors mentioned in this article. As BABA's cloud computing segment grows and develops, it will add more services and gain on its competitors. If it can keep its price advantage, then it will gain market share. With that in mind, let's look at Alibaba's cloud business in detail.
The Details on Alibaba's Cloud Business
Alibaba offers a full suite of cloud computing services. In addition to the services mentioned in the previous section it also offers:
Compliance consulting services that help businesses navigate China's laws and regulations.
Cyber security and data security tools (e.g. DDOS protection).
Secure data migration (i.e. uploading data from a physical on-site server to Alibaba's cloud).
A 'Blockchain-as-a-Service' (BaaS) platform that allows organizations to quickly deploy blockchain for product tracing.
A live video platform with up to a terabyte of free traffic.
Broadly, Alibaba Cloud's core service offerings are similar to those offered by the other cloud computing giants. Where it differs is in the geographic focus. A main selling point of Alibaba's Cloud services is their ability to help vendors reach the Chinese market. Strong emphasis is put on Chinese servers, compliance and security concerns. For example, the company touts its ability to help companies comply with China's new MLPS 2.0 regulations. This focus on helping companies thrive in China is relatively unique among cloud service providers and provides an "edge" that the larger players don't have.
Cloud Businesses Drive Growth
As we've seen, Alibaba's Cloud Computing segment is a high growth business with a unique market segment. That in itself is promising. But without proof that the cloud computing industry is strong on the whole, it doesn't mean much. To really gauge the promise of BABA's cloud computing segment, we need to look at how these segments are contributing to other large tech companies.
First, let's look at projected and historical trends in the cloud computing industry as a whole. Generally speaking, they're quite good. According to research and markets, Cloud Computing is slated to grow at 17.5% CAGR to 2025. It grew at 13.7% in 2020 despite the pandemic-caused recession at the time.
So, Cloud Computing is a dynamic industry that has historically grown rapidly and is expected to keep doing so in the future. This is borne out in the results of companies that have launched cloud computing divisions. Cloud computing has been a major driver of earnings for large tech companies--particularly Amazon and Microsoft--and looks like it will soon be delivering positive profits for Alibaba.
Below is a snapshot of Amazon's second quarter earnings by segment. As you can see, AWS contributed $4.19 billion in operating income and $14.8 billion in revenue to Amazon. Operating income rose 24% and revenue grew by 37%. The revenue growth rate exceeded that of Amazon as a whole.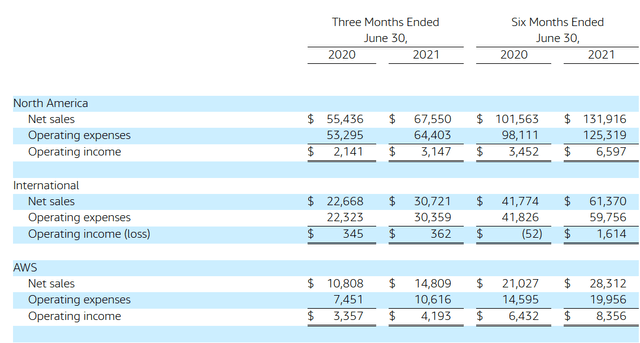 Source: Amazon
Now let's look at Microsoft. In an earnings press release titled "Microsoft Cloud Strength Fuels Fourth Quarter Results," the company released strong metrics, particularly in the Azure cloud division. The dominance of Cloud in MSFT's earnings was even more pronounced than in the case of Amazon, as it posted the highest revenue growth out of all of MSFT's business units:

Source: Microsoft
In the earnings press release, Microsoft also noted that its cloud segment had a 70% gross margin, so it's profitable as well.
Google's cloud services were not profitable in the second quarter, but the loss as a percentage of revenue ((about 12%)) was low. So broadly we're seeing the U.S. tech giants doing well with their cloud computing segments. That bodes well for Alibaba, which is following a similar business model only with a China-focus that the U.S. tech firms can't match.
Alibaba's Recent Earnings
As I've argued throughout this article, Alibaba's Cloud Computing segment could power significant growth in the company's business in the future. To support that assertion, I will draw on the company's recent earnings--with a particular focus on Cloud Computing.
In the first quarter, BABA earned:
$31.8 billion in revenue, up 24%.
1.18 billion active users, up 3.9%.
$4.77 billion in operating income, down 11%.
Adjusted net income: $6.7 billion, up 10%.
Adjusted diluted EPS: $2.57, up 12%.
The higher net income was due to growth in companies that Alibaba invests in. These companies reported higher net income themselves, which helped BABA achieve higher adjusted earnings through the "share of profit in equity investments" method.
The contribution of Cloud Computing to bottom line earnings improved in the quarter. Revenue from the segment grew 29% to ¥16 billion, and the segment's adjusted EBITDA margin grew from -9% to 2%. Adjusted EBITDA was ¥340 million. If BABA grew its Cloud revenue at 29% for another year it would hit ¥20.7 billion in revenue in 2022, which would result in ¥4.9 billion in adjusted EBITDA from Cloud Computing if expenses were totally unchanged.
Risks and Challenges
As we've seen so far, Alibaba is a fast-growing business whose non-core operations--especially Cloud Computing--are inching toward profitability. It's an organic growth story that would likely continue unimpeded if politics were not a factor.
But alas, politics are a factor. And political risk is probably the single biggest challenge for Alibaba right now.
This year, the Chinese government launched a sweeping tech crackdown that included measures such as:
Fining BABA $2.8 billion.
Hitting BABA and several other companies with a smattering of $75,000 fines.
Banning private tutoring.
Stripping Tencent (OTCPK:TCEHY) of its exclusive music rights.
De-listing DiDi's (DIDI) apps in retaliation for its U.S. IPO.
Demanding increased regulatory oversight of companies like BABA.
It was a pretty sweeping and abrupt round of reforms. And at least some of the damage has been done: in the first quarter, BABA paid $1.4 billion of its $2.8 billion fine, resulting in weaker cash from operations than would have otherwise been the case. This move, and others like it, represent a risk that investors need to be aware of. It does not, in this author's opinion, justify the selloff observed in BABA stock this quarter--I am long the stock after all. But it's something to keep in mind.
The Bottom Line
The bottom line on Alibaba is this:
It's a large and fast-growing company with a bright future ahead of it. With the profitability corner starting to turn on Cloud Computing, we're beginning to enter an era where BABA no longer has to drain Core Commerce revenues to subsidize its other businesses. Already, we're seeing Alibaba Cloud producing positive adjusted EBITDA. As it grows, it will probably also start producing positive cash flows and operating income.