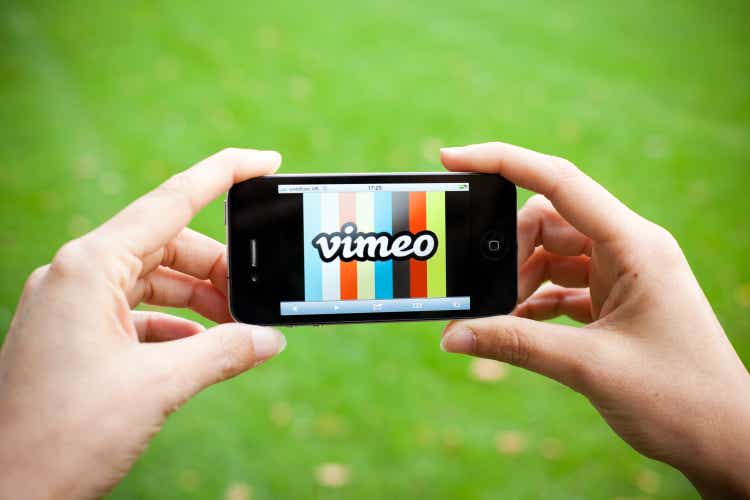 Vimeo, Inc. (NASDAQ:VMEO) is a recent spinoff from IAC/InterActiveCorp (IAC). Generally speaking, when investors hear about Vimeo, their minds instantly go to YouTube (GOOG). Both companies have video-sharing platforms for content creators. However, the way Vimeo makes money is not 100% comparable to YouTube. Despite being significantly smaller, Vimeo is seeing great momentum and monetizing in a different way than YouTube. Vimeo is a very solid company with business metrics that are trending in the right direction.
Industry Analysis
The way customers view media has changed significantly in the past decade. Cable continues to decline in popularity while online platforms such as YouTube, Netflix (NFLX), Vimeo, and Amazon Prime (AMZN) continue to become more popular.
Vimeo operates in the online video platforms market which is expected to grow at a CAGR of 16% from 2021-2026. Although YouTube is the giant in this industry, Vimeo does have an 18.81% market share.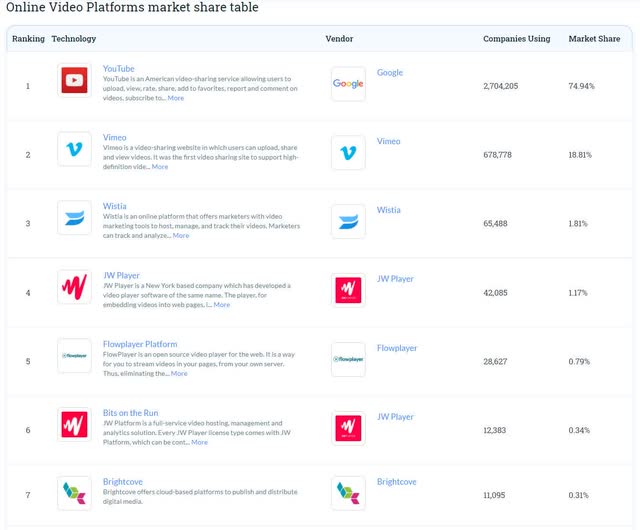 Source
As you can see, the other competitors have a negligible market share. Therefore, Vimeo essentially operates in a duopoly. It's never bad to be part of a duopoly even if you are the smaller player. It's important to note that the market share is based on the number of companies using each service, not by revenue.
This brings us to our next point. YouTube and Vimeo have different business models and therefore monetize very differently. YouTube has 2 billion users and uses the platform to generate advertising revenue. On the other hand, Vimeo makes money from subscriptions for its video tools. Here lies the difference. Vimeo targets content creators by providing tools to make high-quality videos.
Vimeo allows content creators to distribute videos across Facebook, Pinterest, Twitter, LinkedIn, Shopify, and even YouTube instantly with native videos instead of links. It also provides more control over privacy features. This is important for large companies that need to share videos internally and don't want outsiders to see them. There are many other features Vimeo offers, but the point is that it's a great tool that's efficient, powerful, and most importantly, very easy to use.
There is also a difference in Vimeo's audience. Although it's not as big as YouTube, it still has 230 million users. That's no small feat and many businesses would love to have that kind of user base.
Videos on Vimeo are considered to be more prestigious than those on YouTube. Thus, although the audience is smaller, it is considered to be more sophisticated. On YouTube, you will often find die-hard haters or trolls coming together to create an unpleasant atmosphere for content creators in the comments sections. Alternatively, comments on Vimeo are more constructive, mature, and insightful. As a result, Vimeo's audience is more likely to have deeper and high-quality engagements with videos.
Growth Catalysts
The first and obvious growth catalyst is the growth of the industry. As already mentioned, the industry is expected to grow at 16% CAGR over the next 5 years. As a duopoly with an 18.81% market share, Vimeo is well-positioned to benefit from the overall growth trend.
In addition, the company's differentiated strategy of focusing on tools for creating high-quality videos allows it to also indirectly benefit from YouTube's success. As already mentioned, videos made on Vimeo can be instantly published across various platforms including YouTube. Thus, some content creators who want an easy tool for making great videos efficiently will turn to Vimeo even if they end up publishing on YouTube.
Furthermore, the company has been placing an increasing focus on innovation.

As you can see from the picture above, the number of new features being added has increased. In addition, we can see some strategic acquisitions in there which also added to the company's capabilities. It is likely that Vimeo will continue making strategic acquisitions going forward.
Lastly, the company is seeing margin expansion and expects to continue doing so.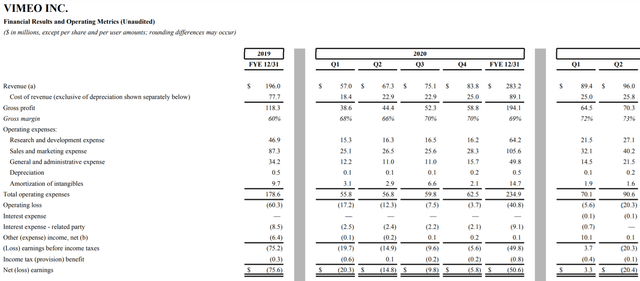 Taking a look at the picture above, we can see gross margins have been rising over the past 6 quarters. This demonstrates that the company has operating leverage while allowing the company to reinvest a larger portion of its revenue into growth. Although the company is currently running at a loss on GAAP earnings, it's important to remember that it is free cash flow positive which is much more important than paper profits.

This means Vimeo can fund its growth without the need for outside capital if it wanted to. It's also important to remember that the company chooses to be unprofitable because it wants to focus on growth.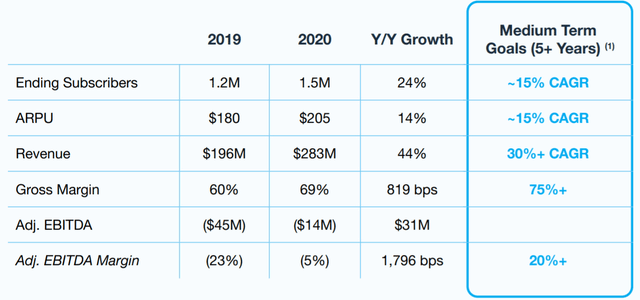 As you can see, management expects revenue growth to exceed 30% CAGR in the next 5+ years while also increasing its profitability.
Valuation
To value Vimeo, we will use management's expectations.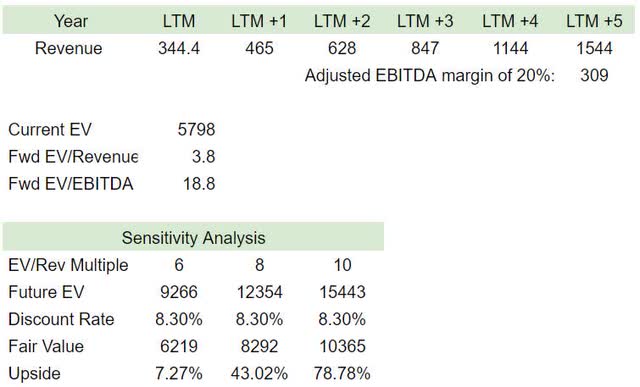 Source: Author
We assumed a revenue CAGR of 35% because the estimates from management exclude the impact from acquisitions. Since we believe acquisitions will be likely, 35% seems more appropriate.
In essence, if using a discount rate of 8.3%, the company is undervalued if the EV/revenue multiple in the future is greater than 6x. Considering that Vimeo and Alphabet currently trade at approximately 17x and 8x EV/revenue, respectively, then it would seem reasonable to assume it can trade higher than 6x.
Risks
The first risk we see is the possibility of a bad acquisition. Acquisitions could be a risk if management overestimates potential synergies or overpays. Few things destroy shareholder value faster than a poorly executed acquisition. Nonetheless, there is little reason to believe that this will be a major issue as the company has a solid track record of acquiring companies.
In addition, the second risk we see - along with anyone reading this article - is the threat of YouTube. YouTube has more resources than Vimeo and could cause it some trouble. However, this is really no reason to avoid Vimeo. Think about some great companies that have seen great business and stock performance of the past few years who weren't the industry leaders.
Shopify is a great example. Many people forget that Shopify is actually a minnow compared to WordPress when it comes to market share. That didn't stop it from growing very fast though. Vimeo is at least more dominant in its market with an 18.81% share compared to Shopify's 4% market share. Therefore, you shouldn't write off Vimeo just because YouTube exists.
Final Thoughts
Vimeo is a solid company with metrics that are trending in the right direction. Although it is often compared to YouTube, we believe that it shouldn't be because the business models are different as well as the audiences. Although the stock price might see volatility in the near term, we believe this presents an opportunity to take a small starter position and adjust the size as things play out.