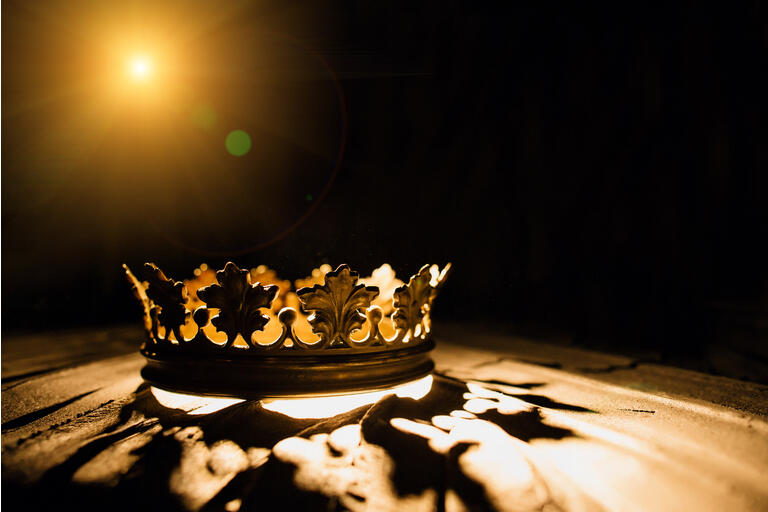 Written by Nick Ackerman
3M (NYSE:MMM) is a household name that gets a lot of recognition for its "dividend king" status. Those companies have increased dividends for at least 50 years every single year. In fact, MMM has increased dividends for 63 consecutive years - on top of the fact that they "... paid dividends to its shareholders without interruption for more than 100 years..." Not a bad record that they can proudly display on their investor relations website.
This is one of those stocks that is so simple. People are familiar with a lot of their products but there are plenty that everyday people don't see either. They are quite diverse. A company in the industrial space as an "industrial conglomerate" has them operating through several segments. They classify them as "safety and industrial, transportation and electronics, health care, and consumer."
Of course, the consumer segment contains the products that you probably have at your desk right now. Post-it note anyone? How about all the specialized industrial safety products they provide though? Fewer people are going to be familiar with those products but that is actually their largest segment by net sales. They provide both disposable and heavy-duty respirators that are perhaps becoming a bit more popular. Thanks, Covid!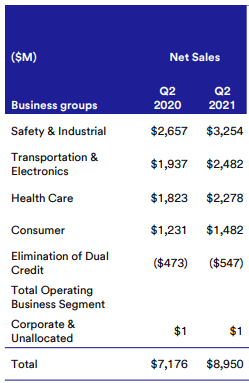 (Source - Q2 Presentation)
Earnings Review - A Big Beat With The Latest Report
The latest Q2 earnings they posted have beat expectations on both EPS and revenue. Revenue growing 24.7% year-over-year - though in large part due to a snap-back from last year's route. In fact, I'd even highlight how revenue and EPS had been struggling for the last couple of years. So more broadly I see the latest quarter as a comeback from a period of more stagnant growth overall.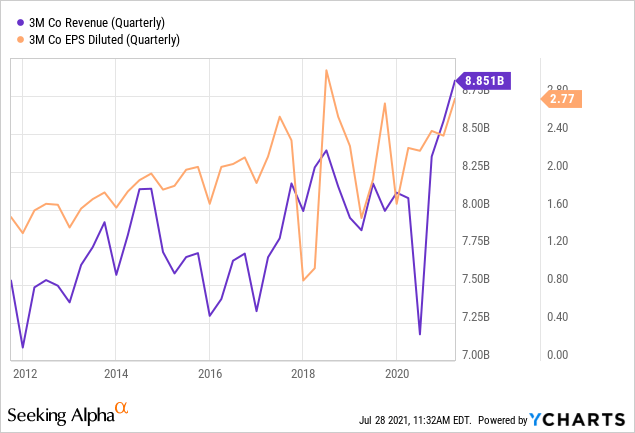 That can also coincide with the share price that had been trending downward. Since the lows in 2020, we have had a healthy upward trajectory but not necessarily pushing PE up. Instead, the PE ratio was heading down as well as growth just wasn't there.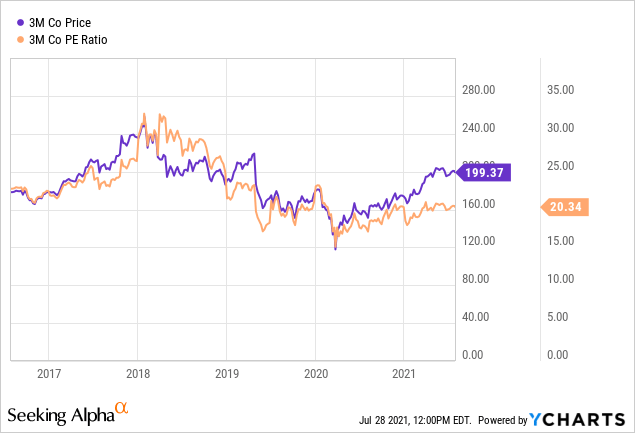 That being said, the other side of this is free cash flow. FCF has been a bit more stable through the 2015/2016 years and that really helps stabilize the company. Throughout 2016 the company was being hampered by its energy sector exposure. This caused slipping earnings and revenue potential. Through 2019 they were also struggling so for a cyclical company to be hit by a pandemic certainly didn't help to head into 2020. In 2019 and through 2020, they were going through restructuring and changes were being implemented.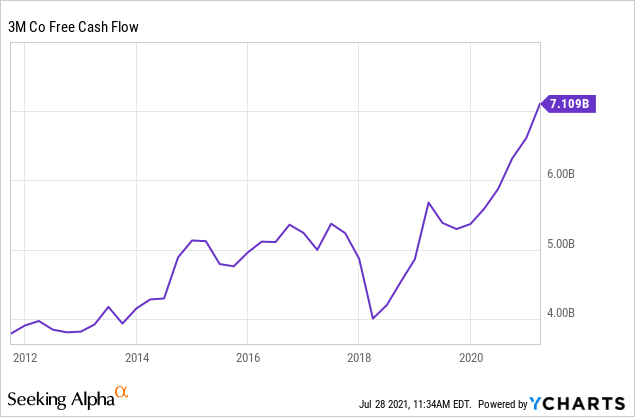 In fact, the restructuring is still on track through this year.
A strong year-on-year organic volume growth, along with ongoing productivity, restructuring efforts and other items, added 4.1 percentage points to operating margins and $0.89 to earnings per share year-on-year.
Though it is costing them a bit to restructure. The company should come out the other side a stronger company and I believe we are seeing the fruits of those labors. The $40 million is down considerably from the $137 million in Q4 2020.
And finally, during the second quarter, we incurred a pretax restructuring charge of approximately $40 million as part of the program we announced in Q4 of last year.
For the latest Q2 business performance we can see healthy organic growth in every category. Though again we are going against a weak Q2 in 2020. That being said, impressive nonetheless as the economy still isn't completely back to normal. Meaning MMM can have more to gain as their restructuring efforts and economic growth continues to kick in.
I would also note that across their four segments of business, we have relatively similar operating margins. As we touched on above though, we know that "Safety & Industrial" is the largest contributor to net sales of the company.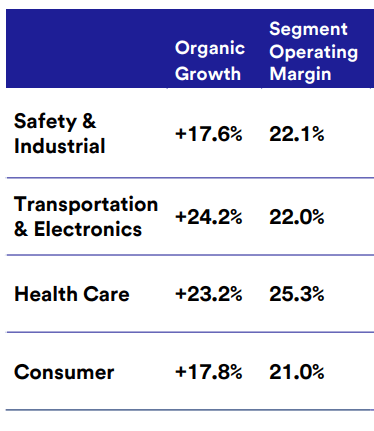 (Source - Q2 Presentation)
These margins are also up quite significantly YoY from Q2 2020. At that time, we saw significant pressure on margins in transportation & electronics and health care divisions. That put additional pressure on the stock last year when revenue was already being impacted from lockdowns.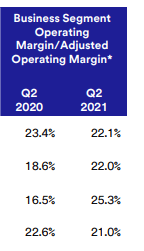 (Source - Q2 Presentation)
Forward Guidance and Valuation
What really stood out is that not only did MMM beat their estimates but they have also increased guidance too. Though they also have to grapple with semiconductor chip supply constraints too. A bit like another company whose shares I own and also cited this as a problem. The problem being more relevant for them as they are Intel (INTC) and they are the ones making those chips - or lack thereof chips due to supply constraints.
In today's environment, anyone that makes any kind of electronics at all will be impacted by chip shortages.
Though they increased EPS guidance to $9.70 to $10.10 compared to $9.20 to $9.70 previously - they stated that inflation persists. Inflation will continue to be a headwind against their EPS too. The guidance raise was even after they have increased their full-year expectations of inflation impact on EPS as well.
Raw materials and logistics inflation persists; now expect full-year 2021 headwind of $0.65-$0.80 per share vs. $0.30- $0.50, prior; $0.40-$0.55 per share in the second half
Helping to propel these earnings higher are stock buybacks. Stock buybacks of course being the other popular method of returning cash to shareholders. Though it does indirectly. By buying back shares it reduces the number of outstanding shares. Thus, fewer shares to spread out earnings amongst a smaller number means EPS goes up.
For the latest quarter, they bought back $503 million in shares and $734 million YTD. Despite that, we can see share count actually increase over the last year. The repurchases had also slowed down quite considerably since 2016. Again reflecting the weakness of that period.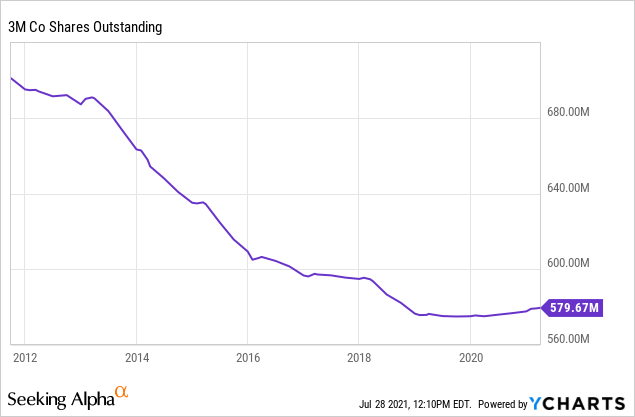 I would also like to point out that MMM isn't necessarily overvalued either in the current environment. We saw above that their PE ratio had been declining along with their share price. Then the share price recovering quite a bit throughout 2020 while the PE ratio has actually not trended up sharply. Instead, moving in a bit of a sideways manner. The latest price puts the PE ratio right near its average for the last decade.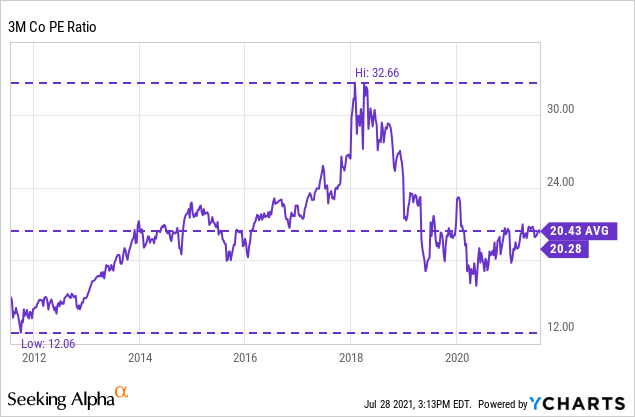 Even more, as they continue to bounce back and grow earnings. The valuation heads even lower. Though we also have the risks of another lockdown. That could impact MMM along with all the other cyclical names. So I believe that is the primary risk for the stock at this time.
This is especially the case with the delta variant becoming more widespread and evidenced by a reversal in some CDC guidelines. In particular, that vaccinated people didn't have to wear a mask indoors has now been reversed to all individuals being suggested to wear face coverings. That doesn't bode well for the fall and winter when people are back to being indoors more often.
That being said, if they can capitalize on the EPS that analysts are predicting and we don't return to lockdowns we are looking great. In fact, if they hit analysts' targets of $10.64 in 2022 we see a forward PE ratio of 18.67. Which, all else being equal could push MMM closer to a $216 share price if we are looking at the same PE valuation as today. If growth is expected to return again and they guide higher than anticipated - we could look at even better growth.

(Source - Seeking Alpha)
~8.76% share growth might not be enticing to most growth investors, but it certainly is appealing to a lot of income investors. Speaking of dividends...
Dividend Expectations - Healthier Growth Returning, Leaves More Flexibility For Dividend Growth
With the company back on track for growth, I suspect that the dividend can continue to grow a bit faster than it had been. Over the last decade, dividends had been growing aggressively. Interestingly enough - even through the 2016 to 2019 years growth had been quite healthy.
It was 2019 and 2020 that saw a slowdown in increases. The dividend increase this year coming in at just 1%. Probably not what a lot of people wanted to see but a prudent move, in my opinion.

(Source - Seeking Alpha)
MMM management is focused on the dividend as well. It is great to see that they know their shareholders. They prioritize R&D and CapEx ahead of dividends. Dividends are their second priority, however. For me, this is exactly what I want to see. With a company prioritizing growth means there will be a dividend in the future that can continue to grow.
During the Q&A section of the earnings, they were presented with a question about their capital allocation. It also touched on why shares increased despite the restarting of share buybacks.
... our first priority is always investing organically between R&D and CapEx because we think that's the biggest return for our money. The second is dividend. You've seen we have increased dividend. It's 63rd year in a row that dividend is up. It matters to our shareholders. That's our second priority. Our third priority is M&A, and we will normally do M&A in the area where we believe that the target that we're going to acquire can benefit from being a part of 3M.
The current annualized dividend rate comes to $5.92. Against the midpoint of their anticipated EPS guidance range that works out to a payout ratio of around 60%.
That is up significantly from what it was at the beginning of the decade but down from more recent years. Of course, this isn't necessarily great as we know the 2016-2020 period had various factors negatively impacting EPS. Whereas, FCF to continue funding the dividend was a bit more stable. Though this chart below really highlights why they backed off on the increases the last couple of years.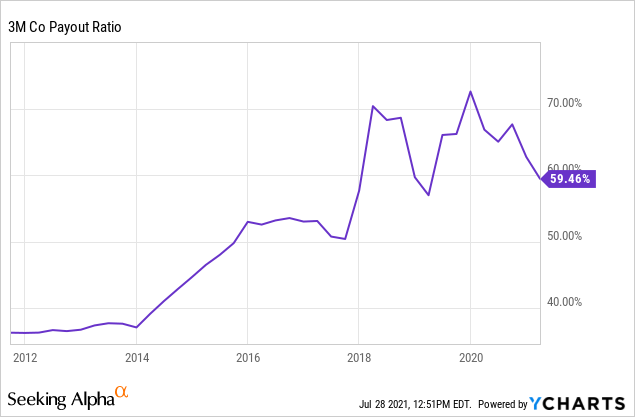 The 10-year CAGR highlights this more aggressive growth. Putting dividend growth at MMM above their peers. While the 3 and 5-year CAGR figures put it below the sector median. Noting that a sector can be quite broad so is harder to get a really great comparison within the sector. Some other stocks include General Electric (GE), Honeywell (HON) and Caterpillar (CAT) - just a small sample of how diverse the companies can be.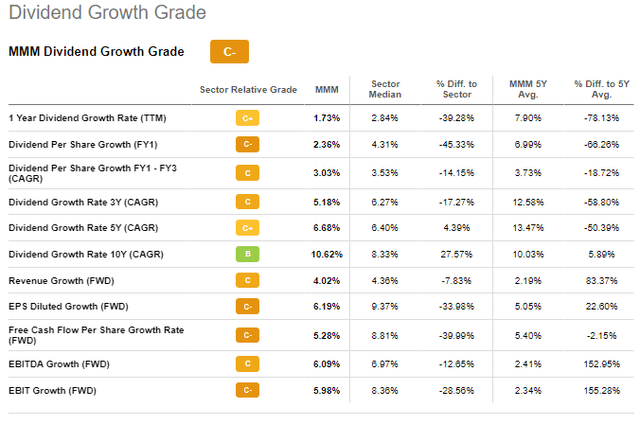 (Source - Seeking Alpha)
Going back to analysts' expectations of $10.64 in earnings again - a 60% payout ratio would equal $6.38 annualized or around a 7.8% dividend increase for next year. That puts it similar to the anticipated EPS YoY growth. Historically they raise right at the beginning of the year with their Q1 dividend.
That would be well above what they have done over the last 3 years but below the 10 year annualized returns. It puts it in line with the 5-year CAGR. Though that is just an estimate given the current numbers. We will know more as the next quarters progress on what to expect.
Realistically, I suspect smaller growth than in line with EPS. The reason being is I suspect they don't want to be paying out 60% of earnings in a dividend. They certainly generate the cash to back it up, but it remains well above where it had been and above its sector peers significantly. Therefore, I would anticipate more than the $0.01 quarterly increase we have been given but maybe still not as high as some would hope. Of course, if they blow earnings away that would open up more room for increases too.
Conclusion
MMM is a dividend king that isn't going anywhere. The latest signs are all pointing to a healthy snap back from last year's lows - and even the weakness in growth we've been seeing since around 2016 overall. For me, it looks like MMM is back in action. Ready to once again continue growing and, in turn, increasing shareholders' wealth. That can come through larger dividend increases and share appreciation. I suspect that dividend growth will pick up again next year - though not to the former level that we saw pre-2019 yet.