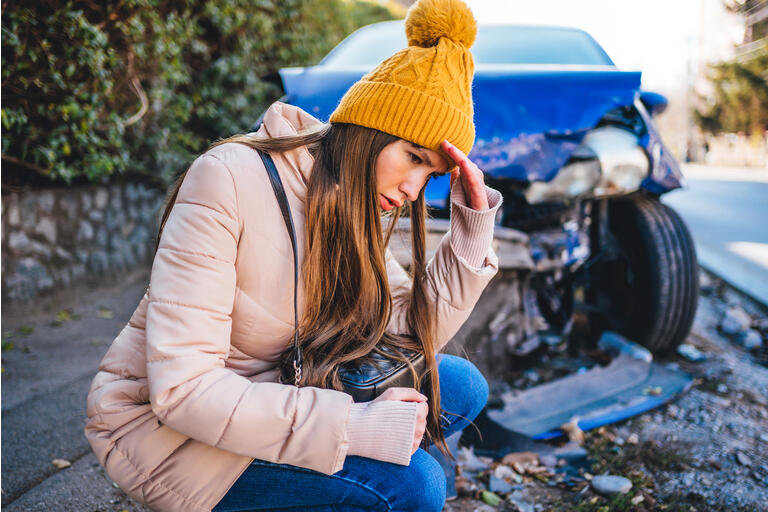 Introduction: Why is Root Stock Dropping
Root, Inc. (NASDAQ:ROOT) reported Q2 2021 results overnight on Wednesday (August 11). ROOT shares briefly rose 22% in aftermarket trading to above $8.50, but then fell to a flat-ish level (down 1.1%) at the time of writing.
We downgraded our rating on Root from Buy to Neutral in May after a 33% loss. At Wednesday's closing price of $6.87, shares have lost another 24%:
Q2 2021 results represented a major disappointment, with both a significant cut in growth expectations and higher-than-expected losses. Root's business model now looks much more uncertain, and its valuation remains outside our investment parameters. We remain Neutral on Root.
The earnings call scheduled on Thursday morning may provide new details, but we do not expect these to merit a change in our view.
Growth Expectations Cut Significantly
The most eye-catching item in Q2 2021 results was the significant cut in growth expectations, both for 2021 and for 2022, including:
2021 Direct Earned Premiums growth now to be around 10% (was 16%)
2022 top-line measures (revenues and premiums) now expected to decline
Direct Contribution of "modest loss" near-term (was $25-35m 2021 profit)
2021 EBIT to be a loss exceeding $555m (was a loss of $505-555m)
The actual forward guidance was somewhat opaque. Previously, at Q1 2021 results, the 2021 outlook was given in clear numerical ranges:
At Q2 2021 results, this was replaced with a long imprecise passage that only gave rough year-on-year growth rates for Q3 and Q4 but not the full year:
Applying our own assumptions to what management meant by "low to mid-single digits", etc., we arrived at our own estimates for 2021 Direct Earned Premiums and Direct Written Premiums below. These imply reductions of 5% and 18%, respectively, vs. the midpoints of the previous guidance:
Root 2021 Implied Outlook (Our Estimates)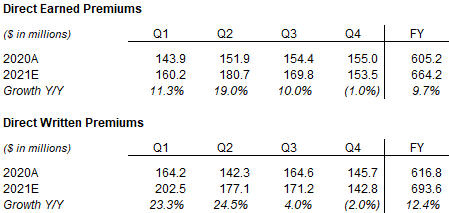 Source: Librarian Capital estimates.
We believe both the reduction in growth expectations and the ambiguity they now contain represent significant negatives for investors.
Modest Growth But Much Higher Losses in Q2
In actual Q2 2021 results, Root reported a modest growth in size but a large decline in profitability compared to Q1. In Auto insurance, the number of policies grew 3.7% sequentially and Premiums in Force grew 5.1%; however, the Direct Accident Period Loss Ratio worsened by 11.3 ppt to 88.3% (these are group ratios but the Renters portion is immaterial):
The sequential growth in the number of policies in Q2 represented a deceleration from Q1; the number already shrank throughout 2020:
Root Number of Policies & Premiums In Force (Since 2019)

Source: Root company filings.
The Direct Accident Period Loss Ratio in Q2 2021 was not just 11 ppt higher than Q1; it was also 22 ppt higher than the prior-year quarter:
Root Direct Accident Period Loss Ratio by Quarter (Since 2019)

Source: Root results release (Q2 2021).
If we were to focus on the Renewal Direct Accident Period Loss Ratio, which excludes drivers new to Root, the Loss Ratio was 23 ppt worse year-on-year. Note also that the Loss Ratio was worse than the mostly pre-COVID Q1 2020.
Similarly, if we were to focus on Renewal drivers in "seasoned" states where Root has operated for longer, the Loss Ratio has worsened sharply:
Root Direct Accident Period Loss Ratio - Seasoned States Only (Since 2020)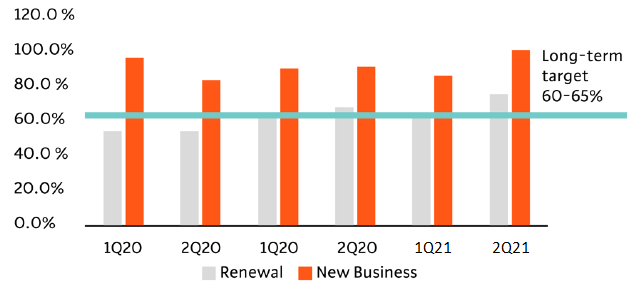 Source: Root results release (Q2 2021).
Root blamed the much-worse Loss Ratio on both higher severity (due to rising repair cost) and higher frequency (more miles driven as many states re-opened from COVID-19), and described it as an industry-wide phenomenon:
"This quarter, our accident period loss ratio increased 22 points to 88% compared with Q2 2020 ... the year-over-year increase was primarily driven by 16 points of severity and 11 points of frequency as inflationary pressures increased costs for repairs and used vehicles and miles driven rose to above pre-pandemic levels, partially offset by rate increases that earned in during the period. The speed of loss cost trend acceleration has surprised the entire industry"

Root results release (Q2 2021)
Metromile (MILE), another Insurtech company, also reported a significant (9.1 ppt) sequential deterioration in its Loss Ratio in its Q2 results. In Metromile's case, management believed the frequency of claims per mile had stayed the same, but the number of miles had gone up for the average driver, and they attributed the higher severity to the accidents themselves being more severe.
Regardless of the actual cause for the worsening of the Loss Ratio, it is now clear that Root's underwriting performance in the last few quarters owed far more to COVID-related benefits than Root has estimated. (Root attributed only 6 ppt of its Loss Ratio improvement in 2020 to pandemic-related factors.)
Operating Loss Rose 83% from Q1
Root had an Operating Loss of $172m in Q2, 83% ($78m) higher than in Q1. Revenues were $21m higher sequentially, but Loss & Loss Adjustment Expenses were $50m higher, and Sales & Marketing was $43m higher:
Root Profit & Loss (Q2 & Q1 2021 vs. Prior Year)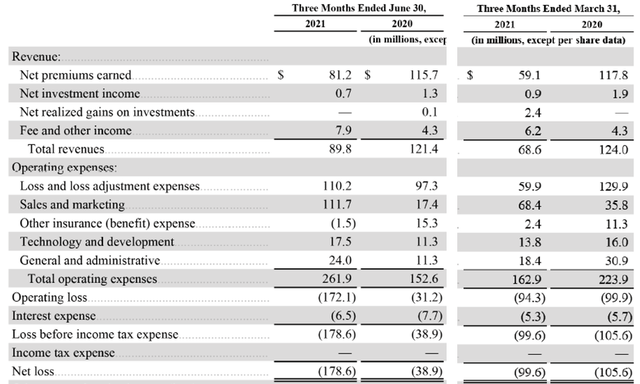 Source: Root results releases.
Root stated it had "experienced challenges" in "the cost of certain performance marketing channels" in Q2. We know from our work covering the likes of Facebook (FB) and Alphabet (GOOG) that digital ad pricing had risen by a strong double-digit percent year-on-year in Q2. This appears to have negatively affected Root in a material way; we expect prices to stay high.
In its new outlook (described above), Root stated it now expects "Direct Contribution to be in a modest loss position in the near-term", and that it will "prioritize building out new channels at lower spend" and have top-line declines in 2022, which also suggests the problems will take time to resolve.
New Carvana Partnership and Investment
As part of Q2 2021 results, Root announced an expansion of its relationship with Carvana (CVNA) into an exclusive partnership where Root will help Carvana "offer personalized, bindable quotes integrated into the car buying experience". "Product development and integration will begin immediately", according to the Carvana press release.
Carvana will invest $126m of new capital into Root, in return for a convertible security convertible at $9.00 per share as well as warrants linked to the performance of the partnership. The convertible itself is worth 14m shares or approx. 5% of Root's equity on a fully diluted basis.
The initial 22% rise in Root's share price in aftermarket trading was likely related to the Carvana announcement; Carvana is a popular stock among many retail investors and has nearly doubled in the past 12 months.
We await more details on this partnership. While more distribution channels represent generally good news, much would depend on the terms and costs associated. In particular, given Root's model is to focus on "good" drivers that it identifies through driving data collected on its app, any requirements for Root to offer insurance cover upfront, at pre-agreed prices, and/or indiscriminately to all drivers at Carvana may be negative for its underwriting.
Two Key Executive Departures
Since our last update in May, there have been two key executive departures.
Chief Technology Officer Dan Manges and Chief People Officer Annette Reavis were both replaced by new external hires in June. Dan Manges was one of the two co-founders of Root in 2015. Annette Reavis was recruited in March 2020 after 10 years at Facebook.
These departures, both taking place less than a year after Root's IPO in October 2020, may suggest further issues at the company.
Valuation Still at 2.4x Premiums
At $6.87, Root has a market capitalization of $1.71bn, or 2.4x its Q2 2021 Premiums In Force of $727m. This compares with its closest peer Metromile shares trading at 6.2x Premiums In Force ($113m).
(We have not included the Carvana convertible as Root is currently trading below the $9 convertible price; nor have we adjusted out the net cash at either Root or Metromile, since these are needed for future operations.)
Root had a negative cashflow of $140m in H1 2021. Including the pending investment from Carvana, it has $1.10bn of cash, which should be sufficient to fund its operations at least well into 2022.
Root's valuation is outside our valuation parameters and, with the increased uncertainty in its business model, the valuation offers no margin of safety.
Is Root Stock A Good Buy?
Root's Q2 results were a major disappointment, with both a significant cut in growth expectations and higher-than-expected losses.
Management now expects lower growth and a higher loss in 2021, further near-term losses in Direct Contribution, and topline declines in 2022.
Actual Q2 results showed modest sequential growth but much higher losses, due to both a worse Loss Ratio and higher marketing spend.
2020 performance now seems to owe more to COVID, two key executives left in June, and Root's business model looks more unproven.
At $6.87, Root is trading at 2.4x premiums, outside our valuation parameters and offering little margin of safety.
We reiterate our Neutral rating on Root Inc. stock.
Note: A track record of my past recommendations can be found here.