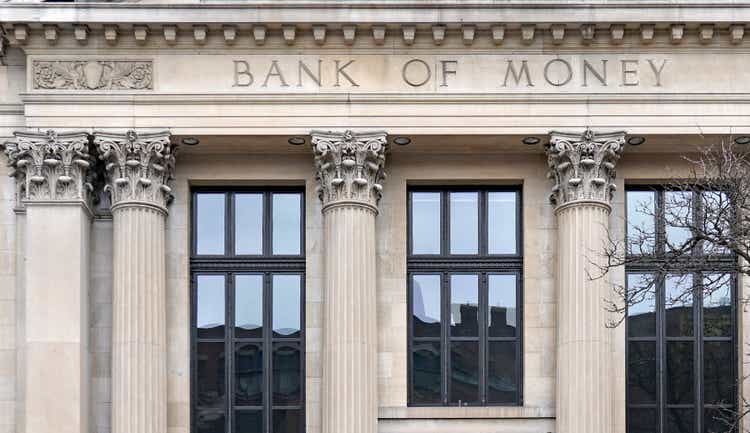 CLOs = "Virtual Banks"
There has been a lot of interest in funds that invest in collateralized loan obligations ("CLOs") lately, as the corporate credit market has come back strongly in the past year and concern about possible future inflation makes interest in floating rate debt particularly attractive. Floating-rate corporate loans, besides being relatively good credit risks because they are secured and at the top of the capital structure, also have virtually no duration risk and stand to benefit if inflation pushes interest rates higher at some point in the future.
CLOs that hold these loans are essentially "virtual banks," leveraged pools of senior secured loans to large corporations, broadly syndicated by JPMorgan (JPM), Citibank (C), Bank of America (BAC) and similar large banks to smaller banks, pension funds, mutual funds and other institutional investors. CLOs make up the largest cohort of corporate loan buyers. The underlying loans (which are publicly rated as to default and loss/recovery expectations) and the CLOs themselves are highly transparent, which makes it easier for analysts and portfolio managers to understand, evaluate and model them.
That's why funds that invest in CLOs are ideal vehicles for using credit investments to achieve "equity returns without equity," which is one of the goals of Income Factory and other high-income-oriented investors who prefer to earn their "equity returns" through high cash distributions that they can then use to create their own growth through reinvesting and compounding.
CLO Funds for Retail investors

The main funds that invest in CLOs are Oxford Lane Capital (OXLC) and Eagle Point Credit (ECC), with OFS Credit Company (NASDAQ:OCCI) having arrived on the scene more recently. OCCI is smaller, but its larger apparent distribution yield attracts a certain amount of attention and I get a lot of questions about it. The other two funds, XAI Octagon Floating Rate & Alternative Income (XFLT) and Ares Dynamic Credit Allocation (ARDC) are more wide-ranging corporate credit funds, but each has a foothold in the CLO investing arena (about 30-40% of their assets), so I included them as well. OXLC, ECC and OCCI have about 80% or more in CLO equity (mostly) and debt.
[Note: I have not included Eagle Point Income (EIC) in this list, even though it too is a very impressive fund of which I hold a fairly substantial amount. A sibling of ECC, it holds only debt issued by CLOs, not the equity. CLO debt is a very solid asset class, with a great record of minimal, almost negligible, defaults, even through very volatile credit periods. Anyone looking for a sleep-well-at-night fund that pays 6.5% might consider EIC.]
In OCCI's case, I say "apparent distribution yield" because while the fund declares a quarterly distribution that currently represents a yield over 15%, it only pays out 20% of it in cash. Many closed-end funds offer an option to take your dividend in additional stock rather than in cash, but very few force you to do so. I own a small amount of OCCI, which I bought as a "toe in the water" investment because of my interest in and extensive writing about CLOs.
Personally I don't see much difference between paying a 15% yield and giving you 20% in cash and the other 80% in additional shares, and just paying a 3.75% yield and letting our existing shares grow in value internally by the remaining 11.25% (assuming the entire 15% yield is actually earned).
I'm sure there is a "feel good" aspect to calling your distribution a 15% payout even if it really is not. Anyone who buys OCCI for income and actually wants or needs the income can then sell the additional shares they receive each quarter, but they should realize they are diluting their stock ownership vis a vis other shareholders who don't sell their new shares.
That doesn't mean OCCI is not a good investment, but it should make us wary about directly comparing it to double-digit or near-double-digit payers like ECC, OXLC and XFLT, or to a solid income fund like ARDC, whose distributions are in cold hard cash.
Sourcing Our Funds' Distributions
Let's look at the earnings and distribution numbers for our five funds in more detail: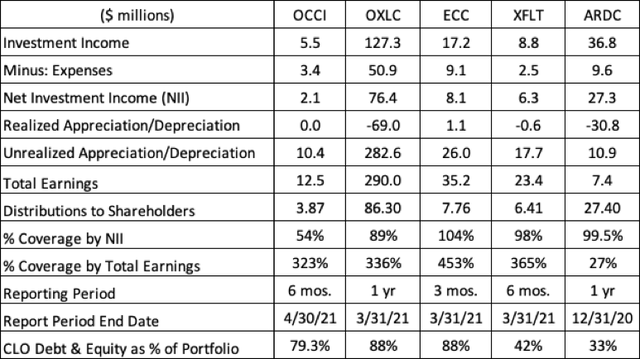 This shows us the sources of the earnings the funds use to pay their recent distributions. Funds earn their profits largely in one of two ways:
They collect interest and/or dividends on their investments, and
They make gains or losses on the changes in prices of their holdings
The "gains or losses" may be "realized" or "unrealized" gains or losses, depending on whether the fund actually sold the investment and realized the gain or loss, or not. Either way they are part of its reported profit or loss from an economic standpoint (i.e. they represent real increases or decreases in the fund's net worth) as well as from a GAAP or accounting standpoint.
However, from a tax standpoint, the gain or loss is not reported and taxed until the fund actually sells the asset and incurs the profit or loss. Closed-end funds' legal requirement to pay out most of their earnings is tied to their taxable earnings and does not include unrealized appreciation, even though that is part of their actual total return. This provides an incentive to many equity funds to let their winners run and not realize the gains, and to fund their distributions from other sources, like sales of funds that may be held at a loss. This confuses a lot of investors.
Net Investment Income and Distribution Coverage
Turning to our list of CLO funds, the interest collected by our funds (they don't hold stocks, so no dividends), minus the expenses related to running the fund, including the cost of any leverage, is called "net investment income" or "NII." That's the most dependable income a fund makes, since it continues to flow in regardless of whether the holdings generating it are rising or falling in price. So we look to the NII first to see whether it is covering the fund's distribution. Note that in every case except OCCI, the NII has come pretty close (i.e. around 90% or more) to covering the distribution during the last reported period.
But in OCCI's case the NII only covers 54% of the 15% distribution. Of course, since OCCI actually only pays out 20% of the stated distribution, the 54% coverage actually covers the cash payout part of it quite adequately. In fact, it covers it 271%. But if the fund were really paying out the entire distribution that it declares, then its recent NII would not come close to covering it.
Not covering a distribution entirely from a fund's NII is not that unusual. Many funds are designed around strategies that rely on, and expect to earn, substantial capital gains. Most equity funds (other than covered call funds or high dividend-yielding equity funds like utilities or infrastructure) expect to make the bulk of their earnings (and pay most of their distributions from) capital appreciation. Some of the best known, highly regarded equity funds, like Liberty All-Star Equity (USA), Liberty All-Star Growth (ASG), Clough Global Opportunities (GLO), or Gabelli Equity (GAB) pay generous distributions but have little NII coverage, funding all of their payouts out of capital gains.
CLO funds will sometimes make substantial capital gains, especially when credit markets are volatile and they can buy up healthy loans whose prices have been battered down to, say, 90 cents on the dollar and later collect at 100% when the borrower repays in full at maturity. So it is not unusual to see funds that own CLOs that are actively managed show substantial capital gains after periods of volatility like the year and a half we have just been through.
If we look at our CLO funds, all of them except ARDC show substantial capital gains in addition to their NII, which when added to it indicate considerable excess coverage for the current level of distribution. ARDC's does not, because its reporting period, the year ending 12/31/2020, undoubtedly had huge market drops in the early part of the year that dragged down the appreciation/depreciation portion of its earnings. Note however that its cash income - i.e. its NII - fully covered its distribution. I haven't seen ARDC's first half results yet, but I have no doubt that they will show market appreciation roaring back, offsetting most or all of ARDC's depreciation losses from 2020.
That just goes to demonstrate the point that gains/losses can be ephemeral, which is why - especially for non-equity funds that rely on fixed income flows - we tend to look closely at NII and expect it to cover the lion's share of our distributions unless there is something unique about a fund's strategy that makes us think it deserves special consideration.
Back to OCCI
With only 54% NII coverage of its theoretical distribution, and an actual payout that is only 20% of the theoretical distribution, it is hard not to ask if OCCI is trying to "punch above its weight" as they used to say, and appear more attractive to traditional income investors than it really is.
With the fund's short history, we don't know yet whether to expect capital gains on a regular basis to supplement its NII. Admittedly, OCCI has a good team of what looks like very experienced people managing it, and the CLO asset class is doing quite well, so there should be a certain amount of wind at the fund's back and there is no reason to think it will not do well going forward. But its record is still unproven, and I see nothing to suggest that it could actually support a 15% cash distribution if they actually had to pay it out in cash. So then you have to ask, why not pay a more modest but "real" distribution that it could actually afford to pay?
When we consider OCCI's cash payout as 3.75% and not the theoretical distribution of 15%, then we see that the actual coverage of the cash payout is 271%. That's a lot more impressive than the 54% coverage of the theoretical payout.
Unfortunately, even a 271% coverage ratio of a distribution yield that is only 3.75% may not be very attractive to many closed-end fund investors.
Especially if they are comparing the investment to ECC, which just increased its distribution yesterday by 20% to a yield over 10%, or to OXLC or XFLT, who are already paying above 10% or close to it, respectively. And they all pay in real money.
But an 8 or 9% distribution, which OCCI could actually cover or almost cover with the current NII, might be more credible, if the fund decided to declare a distribution that it could actually afford to pay.
I wish the fund well, partly because I own it, but also because I think getting more retail investors into the CLO and syndicated loan markets is very positive for both the markets and for the retail investors. I think funds like ARDC and XFLT have shown that you can pay reasonable, supportable distribution levels and still attract investors. So it will be interesting to see what happens with OCCI's distribution going forward. Maybe the fund will surprise us and actually start paying a larger portion of it in cash. In the meantime, I will maintain it as a small investment, but focus most of my CLO investing in ECC, OXLC, XFLT and ARDC.