REIT Rankings: Apartments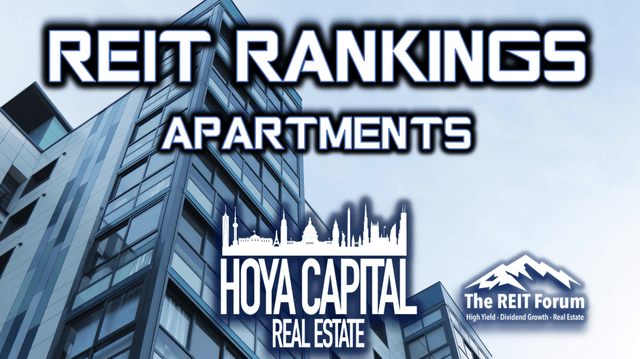 (Hoya Capital Real Estate, Co-Produced with Colorado WMF)
Apartment REIT Sector Overview
After lagging early in the pandemic, Apartment REITs have surged nearly 40% this year as rental operators across the country have been "passed the torch" of the flaming-hot housing market. Apartment rents are rising at the fastest rate on record as the pandemic-driven boom in household formations - including 1.6 million new renters - have clashed with record-low housing supply. Within the Hoya Capital Apartment REIT Index, we track the 15 largest apartment REITs, which account for nearly $150 billion in market value and own more than 500K housing units across the United States.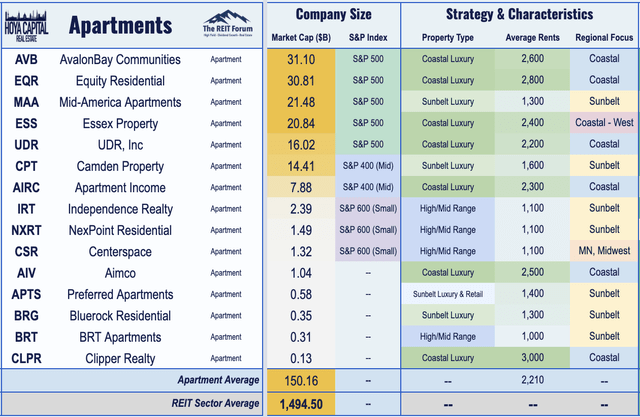 As discussed in our REIT Earnings Recap, renters should prepare for an unwelcome surprise with their next renewal offer as rents are soaring across essentially every region and property type across the country, particularly in the Sunbelt region. Led by Camden (CPT), Mid-America (MAA), and NexPoint Residential (NXRT), sunbelt apartment REITs recorded head-spinning average rent growth of nearly 20% on new leases in July and renewal rates in the high single digits. Coastal markets have caught fire as well - albeit from a lower base - with AvalonBay (AVB), Essex (ESS), and Equity Residential (EQR) seeing rental rates approaching or exceeding pre-pandemic levels for even the hardest-hit urban markets.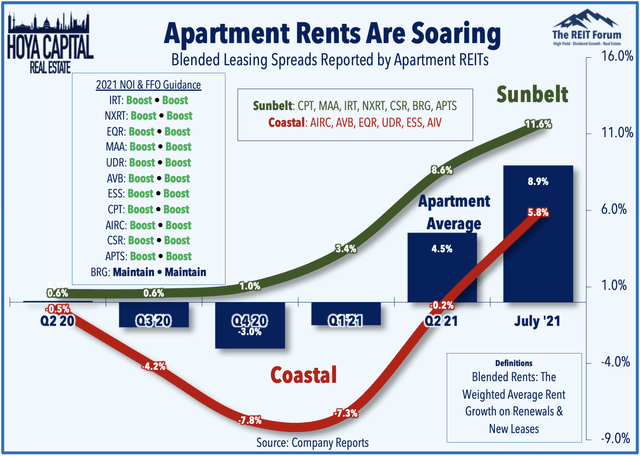 Perhaps the strongest quarter ever for apartment REITs, the eleven largest apartment REITs raised both their full-year Net Operating Income ("NOI") and Funds From Operations ("FFO") guidance. Led by Apartment Income (AIRC) and Centerspace (CSR), the magnitude of these guidance boosts - many of which came just a month after upward revisions during REITweek in June - was particularly stunning as apartment REITs raised their FFO outlook by an average of 400 basis points from their prior outlook and raised their NOI outlook by 350 bps. The delta between new lease growth and renewal growth suggests that many renewals are being offered below current market rents, indicating embedded future growth over the next several renewal cycles.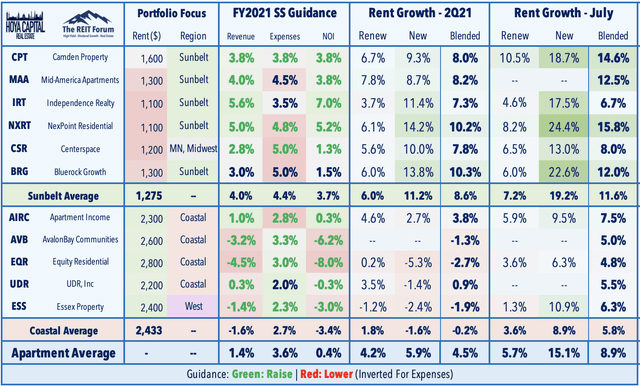 As we've discussed at length over the past decade, demographics suggested the 2020s were already poised to see historic levels of housing demand as the millennial generation - the largest cohort in American history - comes full-steam into a severely undersupplied U.S. housing market. What we could not foresee, however, was the added acceleration provided by the pandemic-driven "Work From Home era" which has begun to unleash millions of extra "deferred" formations among adult children, in particular. More than 3 million new U.S. households were formed in 2020 - the highest on record, and while the home ownership markets took the lion's share of the growth last year, 1.6 million new renter households were formed in the first-half of 2021.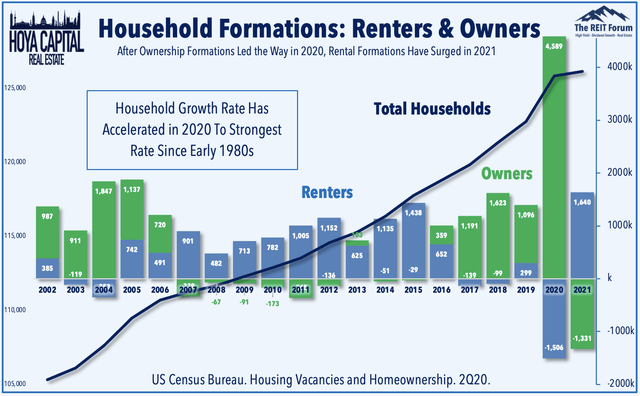 The major apartment research and data firms have confirmed similar trends of soaring rents as RealPage reported last week that rents jumped 2.2% in July alone, driving the rate of annual rent growth past the previous record set in the 2000 while apartment occupancy climbed to record-highs. RealPage noted that rents are rising more than 10% in 65 of the country's 150 largest metros, including 22 spots where year-over-year price increases are at 15% or more. Data from Zillow (Z) noted similar trends in their most recent data with the median U.S. apartment market seeing an acceleration in annual rent growth in June to 6.1% - the highest since 2016 - while rent growth in July appears likely to set fresh record-highs.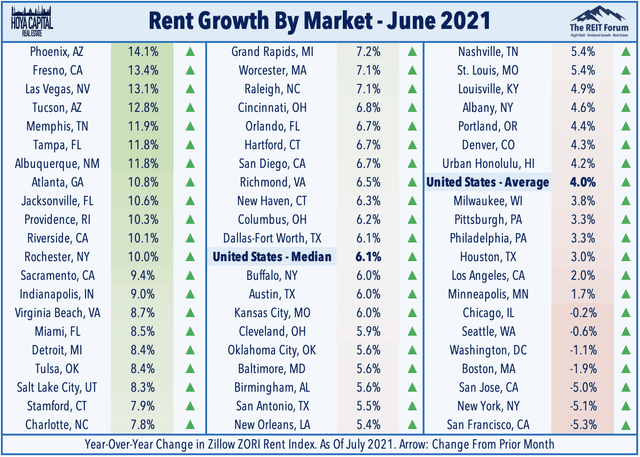 A fresh report last week from Apartment List, meanwhile, noted that rent growth in July was "staggering" with their measure of the median national rent rising by 11.4% since January. For context, in the pre-pandemic years from 2017 to 2019, rent growth from January to July averaged just 3.3 percent. The analysts noted that "the current boom in rents is playing out in virtually every major market across the country" with rents now above pre-pandemic levels in 87 of the 100 largest markets - and expects that as economic recovery continues to gain momentum, "we may see the release of pent up demand from renters who had been delaying moves due to the pandemic." 10 of the top 100 markets are seeing rent growth in excess of 23%.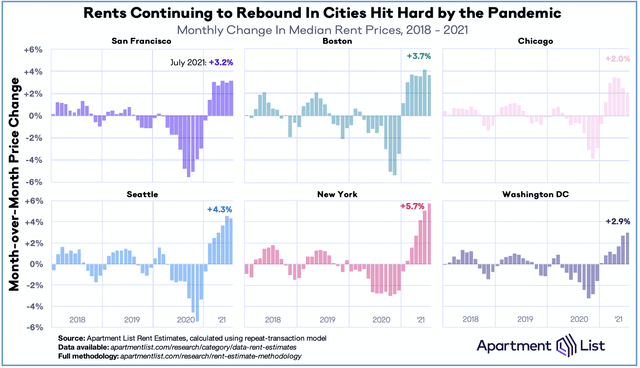 Deeper Dive into Apartment REIT Portfolios
As a sector apartment REITs collectively have fairly balanced geographical exposure across most of the major U.S. markets. Individual apartment REITs tend to focus on either coastal markets or sunbelt and secondary markets and own portfolios that typically include a blend of luxury high-rise, mid-rise, and garden-style apartment communities in dense-urban, semi-urban, and suburban markets. Coastal apartment REITs include Equity Residential, AvalonBay, Essex, Apartment Income, UDR (UDR), and AIMCO (AIV), while sunbelt-focused apartment REITs include Camden, Mid-America, Independence (IRT), Centerspace, NexPoint Residential, and Bluerock Residential (BRG).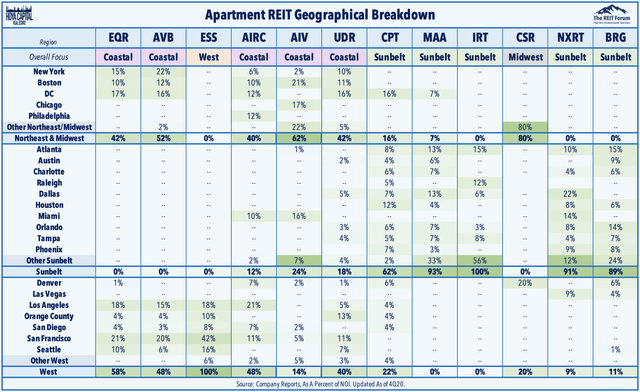 Perhaps even more important than their geographical distribution, the distribution of portfolios towards either urban or suburban has taken on added significance during the pandemic as suburban properties surrounding the hardest-hit "shutdown cities" have seen some of the strongest rates of rent growth both in the multifamily and single-family rental categories. For example, NYC suburbs Stamford and New Haven, Connecticut are seeing their strongest rates of rent growth since at least 2015 as flexible remote work options have lessened the burden of the longer suburban commutes.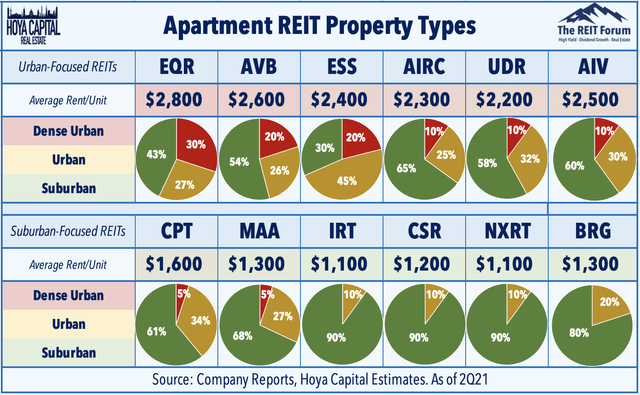 Apartment REIT Stock Performance
Apartment REITs have been among the most significant beneficiaries from broader post-vaccine economic reopening that began in late 2020, and have taken another leg higher in recent weeks on strong earnings results. Riding the reopening rotation, apartment REITs are higher by 39.0% so far in 2021, outperforming the 24.7% gain from the broad-based Vanguard Real Estate ETF (VNQ) and the 18.7% gain from the S&P 500 ETF (SPY).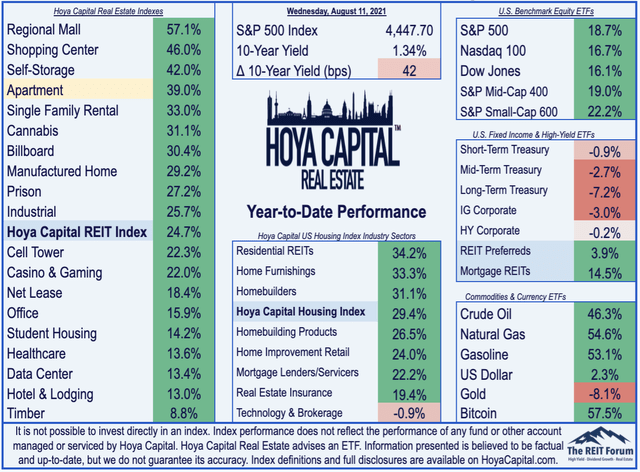 The strong start to this year comes after a rough 2020 as the market-cap-weighted Apartment REIT Index delivered total returns of -15.3%, which was among the worst in the REIT sector and an uncharacteristic year of underperformance for the sector. Despite the pull-back last year, however, apartment REITs have still been some of the strongest-performing REITs over the last decade alongside the other "essential" REIT sectors across the housing, technology, and logistics property sectors.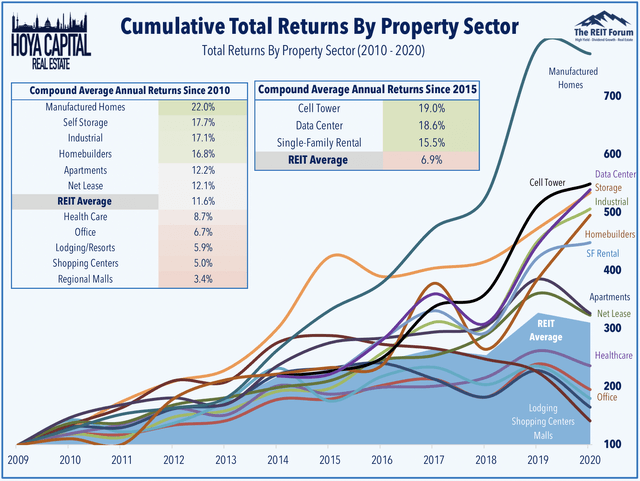 Coastal apartment REITs were lower by an average of -18% last year, while the Sunbelt apartment REITs were actually higher by roughly 2%, on average. After significant outperformance from the coastal REITs early in 2021, sunbelt apartment REITs have caught-up to their high-flying peers following a stellar Q2 earnings season. Since the start of 2015, the best-performing apartment REITs are four sunbelt-focused REITs: NexPoint Residential, Independence Realty, Mid-America, and Camden Properties while the two large coastal-focused REITs - Equity Residential, and AvalonBay - have been laggards.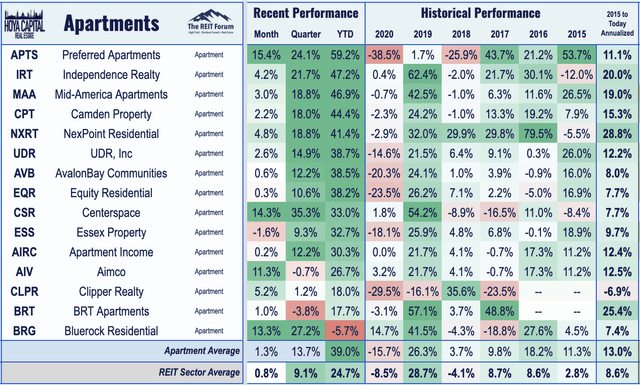 Deeper Dive: Apartment Industry Dynamics
As goes the U.S. housing industry, so goes the U.S. economy. The $4-5 trillion U.S. multifamily apartment market is highly fragmented, with these fifteen REITs owning roughly 500,000 of the estimated 25 million multifamily rental units across the US, which is only about 2% of the total rental apartment stock. Multifamily rental units comprise roughly 15% of all housing units in the United States, and these apartment REITs comprise roughly 15% of the Hoya Capital Housing Index, the housing industry benchmark that tracks the performance of the U.S. housing sector.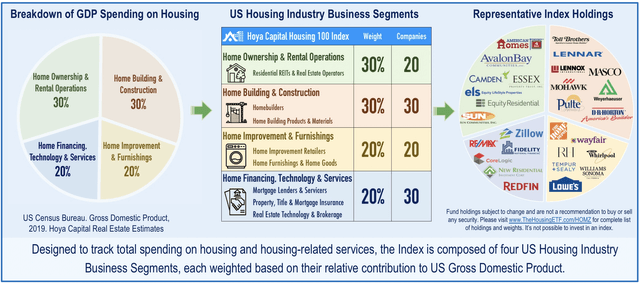 Taking a step back, from an investment perspective, apartment demand is driven primarily by demographics, employment growth, and wage growth. Apartment REITs have benefited from extremely favorable millennial-led demographic trends over the last decade, a trend that still has a few more years left to run, particularly in sunbelt cities that are attracting an increasingly larger share of 25-35-year-old "prime-age" renters. Importantly, residential real estate has proven to be one of the best inflation hedging assets over the last century not only in the U.S. but also across different regions.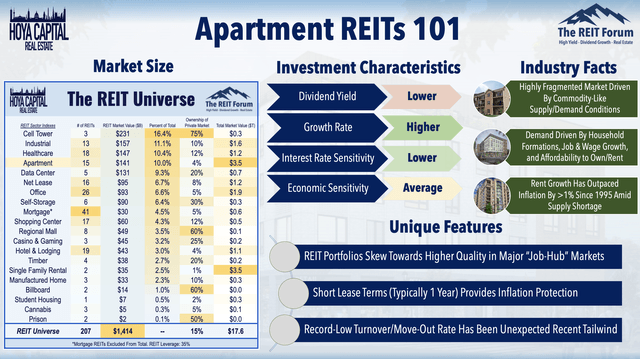 A common feature consistent across residential real estate sectors, apartment REITs are among the more operationally "efficient" real estate sectors, commanding a relatively low operating and overhead expense profile and requiring fairly modest ongoing capital expenditures compared to other sectors like retail, hotel, and office. With housing emerging as the ultimate "essential" service throughout the pandemic - and with home values accelerating to the fastest rate in a decade - we remain bullish on long-term fundamentals and expect the housing industry to remain a leader of the economic rebound.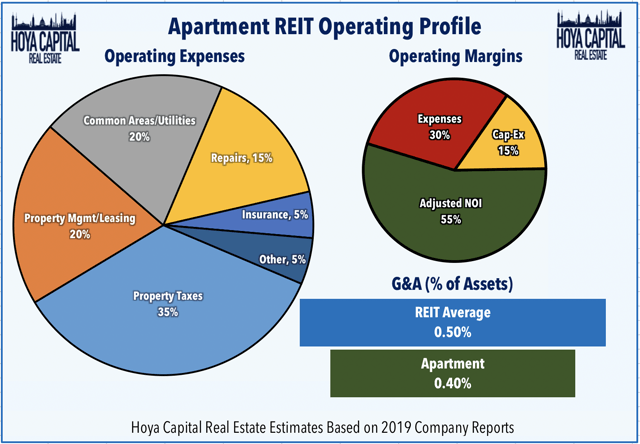 As we discuss often in our macroeconomic research, above-inflation rates of rent growth have been persistent over the last decade amid an intensifying housing shortage. New home construction has seen a slow, grinding recovery since plunging during the prior recession and by nearly every metric, the U.S. has been significantly under-building homes over the last decade. Freddie Mac estimates that the U.S. housing market is 3.8 million homes short of what's needed to meet the country's demand, representing a 52% rise in the nation's housing shortage compared with 2018. The record-low inventory levels of homes have resulted in rent growth and home price appreciation persistently above the rate of inflation throughout the past decade.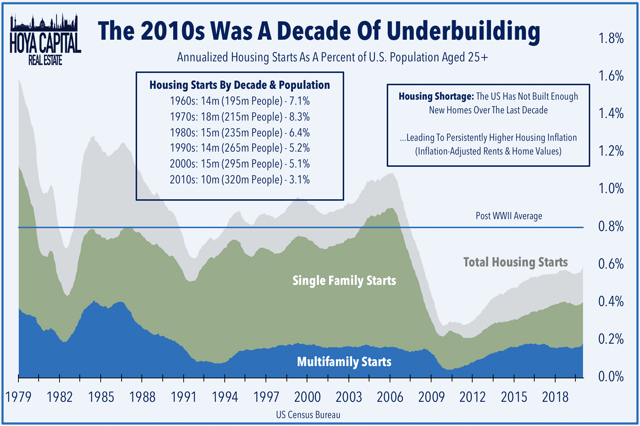 Apartment REIT Fundamentals: Deeper Dive
The "animal spirits" have come alive across the REIT universe, and apartment REITs are showing early signs of getting back into external growth mode which we expect could add several percentage points of FFO growth in the years ahead if REIT valuations remain healthy and elevated. While the official total from NAREIT is not yet released, we tallied at least $1.5 billion in acquisitions across the fifteen REITs - the most since late 2019. Underscoring the swelling appetite for external growth, AVB commented, "we have shifted to offense" and increased their investment activity guidance by nearly $1B.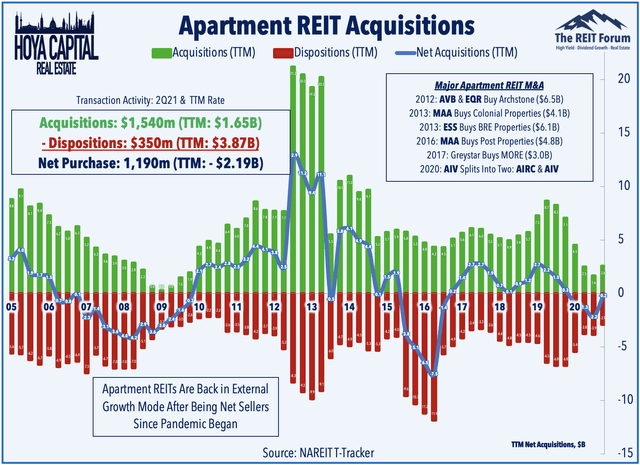 On the M&A front, Independence announced plans to merge with non-traded REIT Steadfast Apartments, forming a combined company that will own a portfolio of 131 apartment communities comprising approximately 38,000 units with a market capitalization of roughly $4 billion. IRT will be the surviving entity and IRT's stockholders are expected to own ~50% of the combined company's equity, funded with a 14M common equity stock sale. The transaction, which is expected to close during Q4, is expected to be immediately accretive to IRT's Core FFO per share.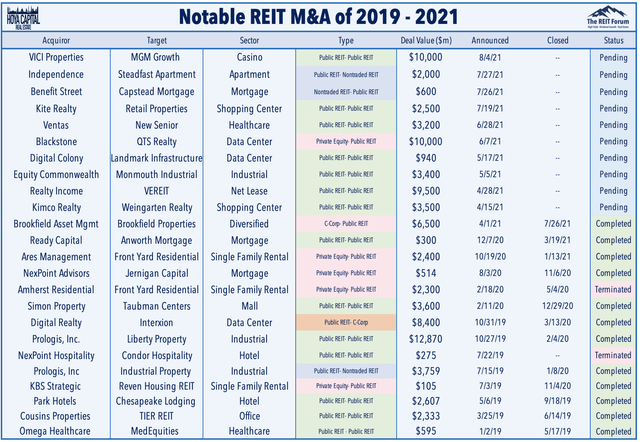 The larger apartment REITs are generally some of the most well-capitalized companies across the REIT sector - a critical attribute during the pandemic-related turbulence - but several of the small-cap apartment REITs do operate with elevated debt levels. The seven largest apartment REITs command investment-grade credit ratings from Standard & Poor's, led by A- ratings by AvalonBay, Equity Residential, and Camden. The larger REITs in the sector also tend to rank high on the corporate governance scale with shareholder-friendly governance structures. Small-cap NexPoint Residential is the lone externally-managed REIT in the sector but has nevertheless delivered sector-leading performance.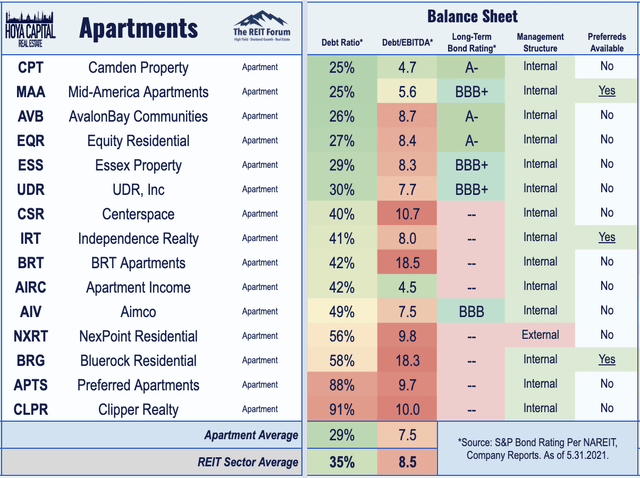 Apartment REIT Dividend Yields
Near-perfect rent collection throughout the pandemic allowed apartment REITs to not only avoid the wave of dividend cuts that swept through the REIT sector during the early stages of the pandemic but to also actually be among few REITs to raise their distributions last year. Eight of the fifteen apartment REITs raised their dividend in 2020, and we've seen five more raises again in the early stages of 2021. Including their smaller residential REIT peer sectors - single-family rentals and manufactured housing - housing REITs were responsible for more dividend increases in 2020 than any other property sector.

Apartment REITs pay an average dividend yield of 2.7%, which is slightly below the REIT market-cap-weighted sector average of 3.1%. Since the start of 2015, apartment REITs have delivered average annual dividend growth of 5%, which is above the REIT sector average of 4%. Apartment REITs pay out only around 70% of their available cash flow, giving these companies flexibility to take advantage of external growth opportunities or to increase distributions.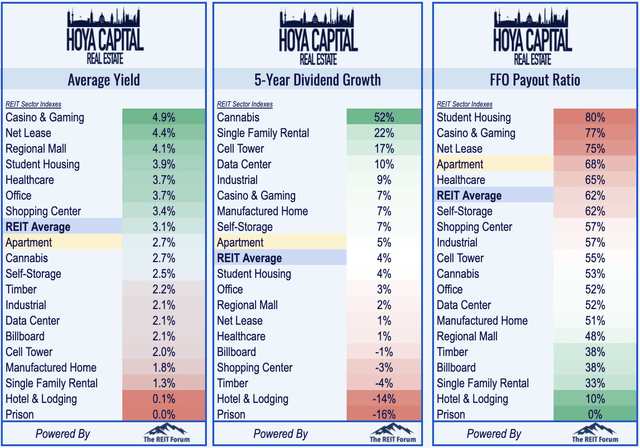 As noted above, eight of the fifteen apartment REITs raised their dividend in 2020, and we've seen five more raise again in 2021 - AIRC, UDR, ESS, NXRT, and MAA. Over the last five years, NXRT has delivered the strongest average annual dividend growth at 17.5% followed by ESS at 8.6%. The ten larger and lower-leverage REITs pay dividend yields ranging from 2.20% to 3.52%, while the four small-cap REITs pay yields ranging from 4.57% to 5.94%, but have delivered dividend growth rates that are generally below the apartment REIT average.

Apartment REIT Valuations
While no longer the "bargain" that they were at the start of this year, Apartment REITs are still reasonably valued across the metrics that we track. Trading within their typical FFO range during the post-recession period, apartment REITs trade at a Price-to-FFO ("Funds from Operations") multiple of roughly 25.3, which is a slight premium to the REIT sector average of 23.0x. When incorporating the historical and projected FFO and dividend growth rates, apartment REITs appear more attractively valued.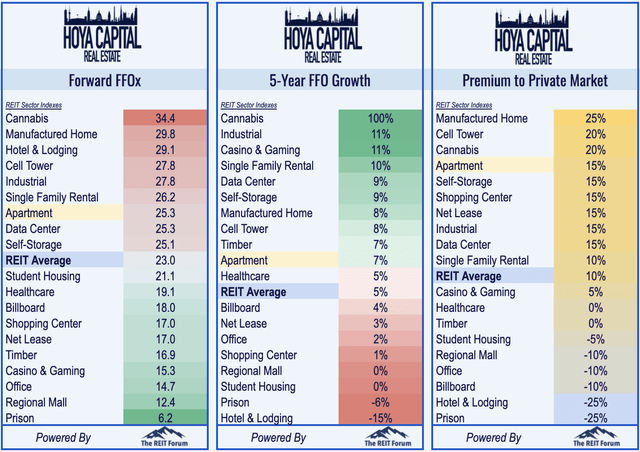 Takeaway: Plenty of Embedded Growth Ahead
Buy or Rent? Households have but two choices and rental markets were briefly a hideout amid the historic surge in home values over the past year. After lagging early in the pandemic, Apartment REITs have surged nearly 40% this year as rental operators across the country have been "passed the torch" of the flaming-hot housing market. Apartment rents are rising at the fastest rate on record as the pandemic-driven boom in household formations - including 1.6 million new renters - have clashed with record-low housing supply.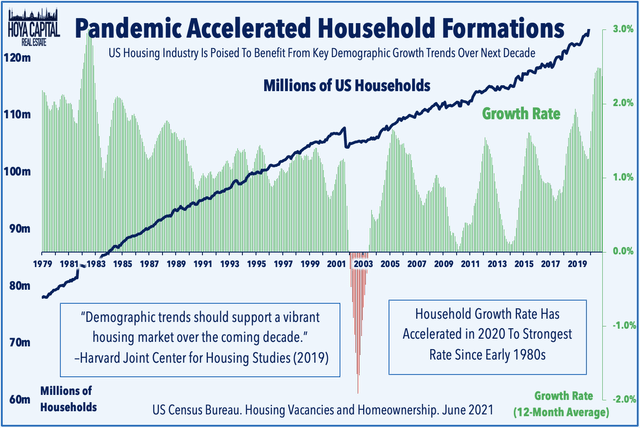 With the House Price-to-Rent ratio climbing to the highest level since 2009, rents still have a long ways to go before fully "catching up" with the ongoing strength on display across the broader housing industry. While there are few "bargains" left across any asset class, residential REITs appear to be at the genesis of a multi-year growth phase given the backdrop of persistently low housing supply and robust demand and have historically been some of the best inflation hedges across all asset classes.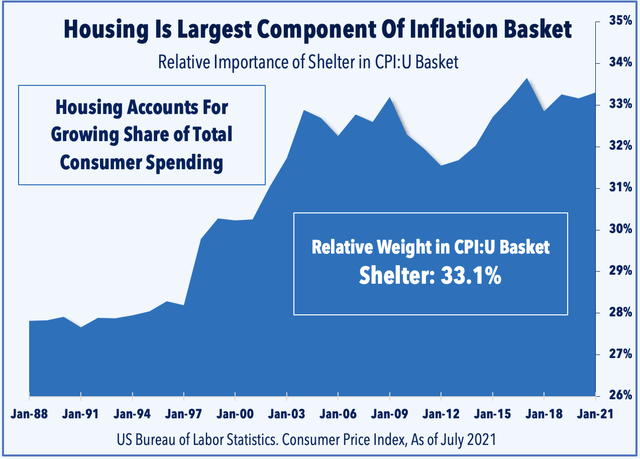 For an in-depth analysis of all real estate sectors, be sure to check out all of our quarterly reports: Apartments, Homebuilders, Manufactured Housing, Student Housing, Single-Family Rentals, Cell Towers, Casinos, Industrial, Data Center, Malls, Healthcare, Net Lease, Shopping Centers, Hotels, Billboards, Office, Storage, Timber, Prisons, Cannabis, High-Yield ETFs & CEFs, REIT Preferreds.
Disclosure: Hoya Capital Real Estate advises an Exchange-Traded Fund listed on the NYSE. In addition to any long positions listed below, Hoya Capital is long all components in the Hoya Capital Housing 100 Index. Index definitions and a complete list of holdings are available on our website.