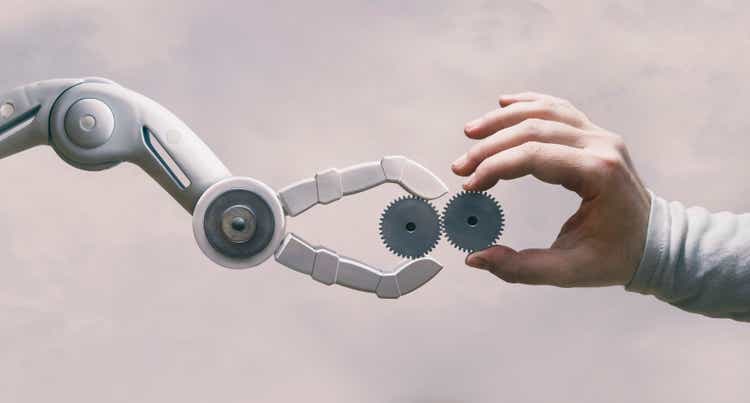 By Sam Korus
In the second part of a series on the impact of automation, we focus on lessons learned from the agricultural revolution. Please read the first piece in this link to learn more about the manufacturing revolution now underway: "What We Can Learn from the Automation of the Agriculture Industry".
During the last century, technology has transformed agriculture, boosting its profitability and offering a glimpse into the impending manufacturing revolution. Specifically, while automation might lower labor's share of the pie, it tends to boost not only operating margins, but also wage growth.
During the early 1990s, with only 20 industrial robots per 10,000 employees, automation began to impact US manufacturing. Since then, robot density has increased more than tenfold, as shown below, and yet its impact on agriculture suggests that the automation of manufacturing still is in early days.
Source: ARK Investment Management LLC based on data from International Federation of Robotics
Although six times higher than in all other industries, robot density in manufacturing still is much lower than that in the auto sector and at Amazon, 6x and 15x lower respectively, as shown below. Indeed, Amazon has yet to reach a plateau in its adoption of robotics.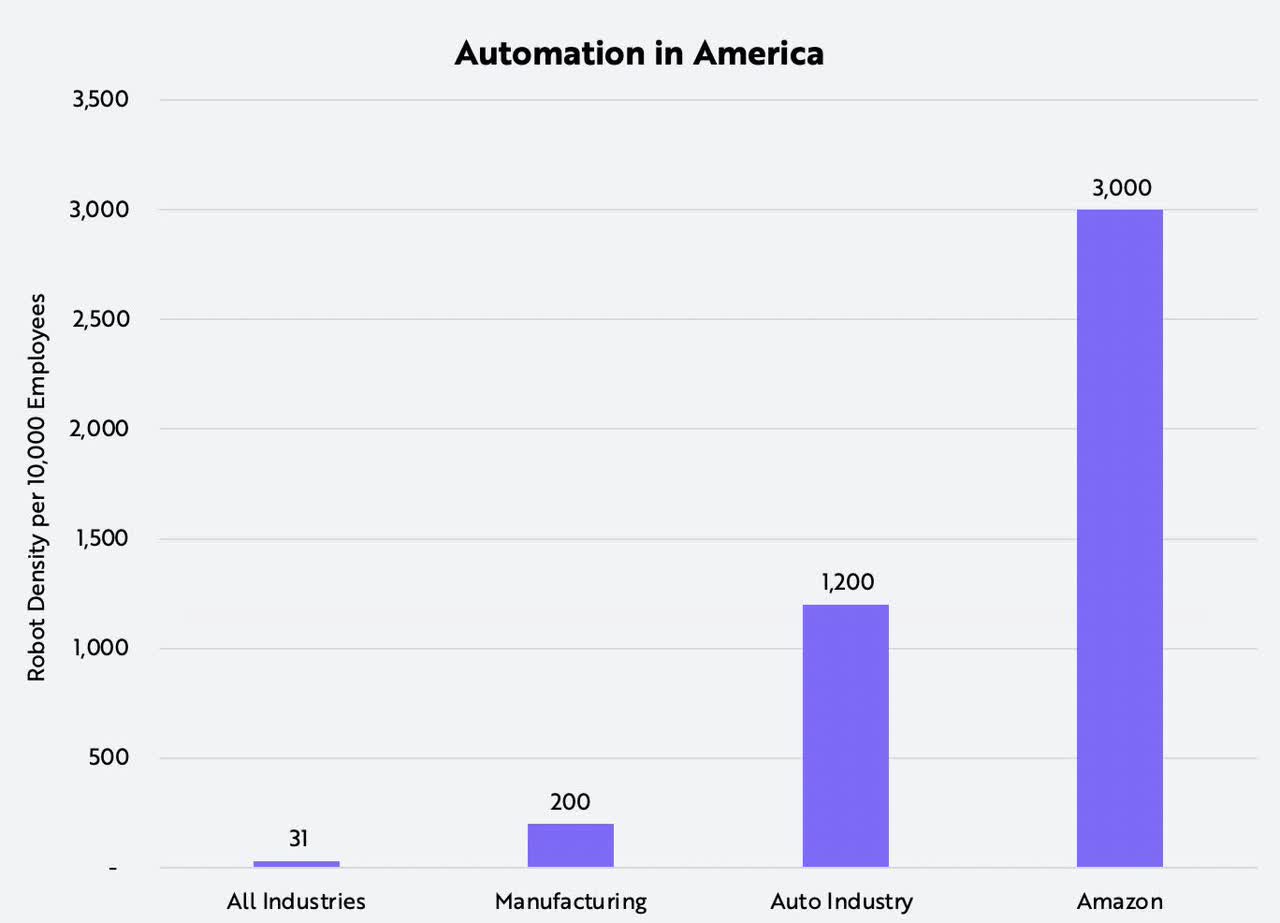 Even at early stages of automation, the correlation between robot density and employee wages as a percent of revenue, or labor share, is clear: as a company becomes more capital intensive, labor's share of revenue declines, as shown below, but automation increases productivity, potentially increasing both labor income and corporate profits, a win-win.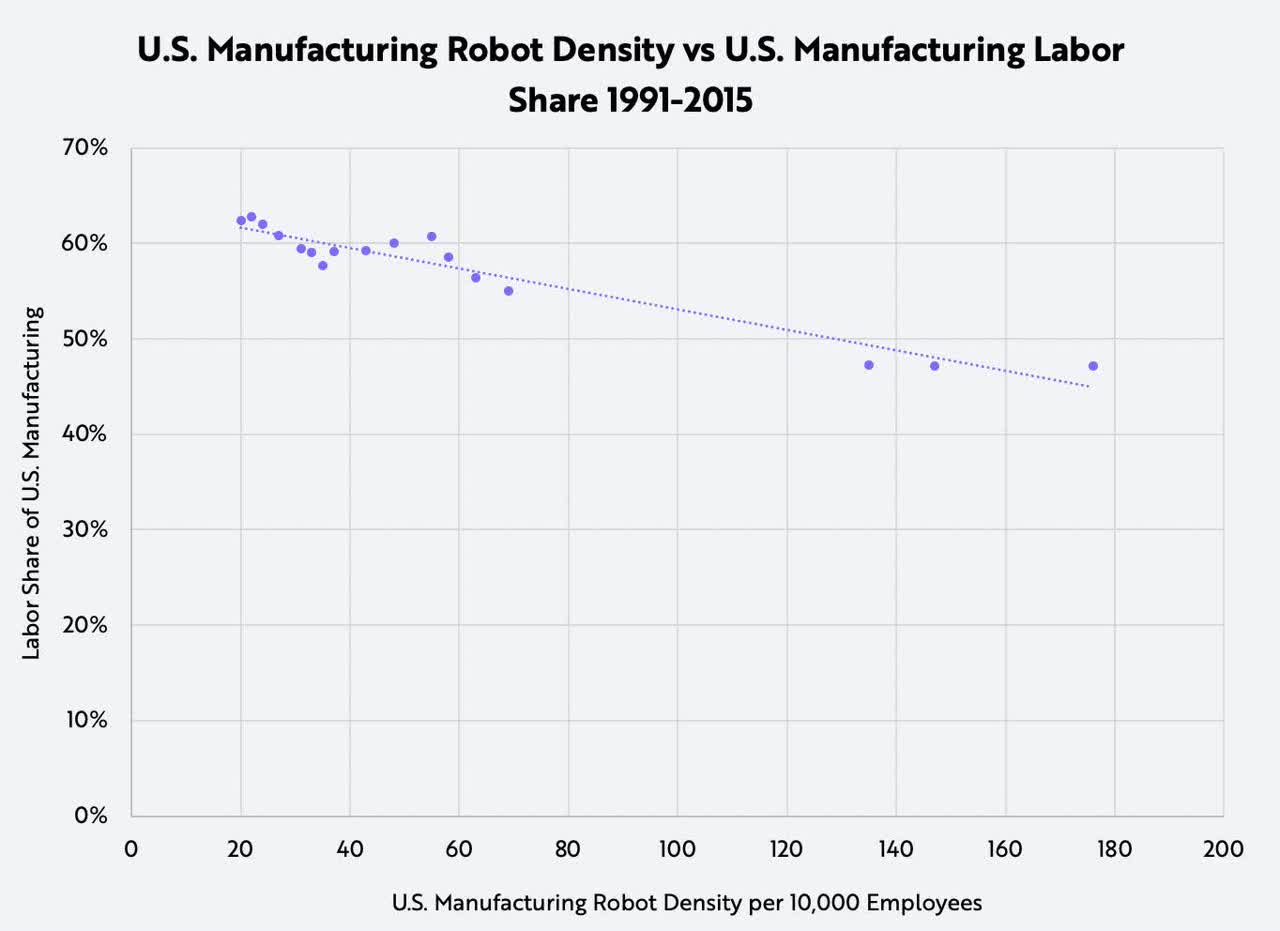 Source: ARK Investment Management LLC based on data from International Federation of Robotics, http://www.euklems.net
If capital spending does accelerate automation, companies focused on operational efficiency should be able to increase their returns on investment. In fact, from 1990-2018, the decline in labor as a percent of revenue in the S&P Industrial sector seems to have contributed to an increase in its operating margins, as shown below.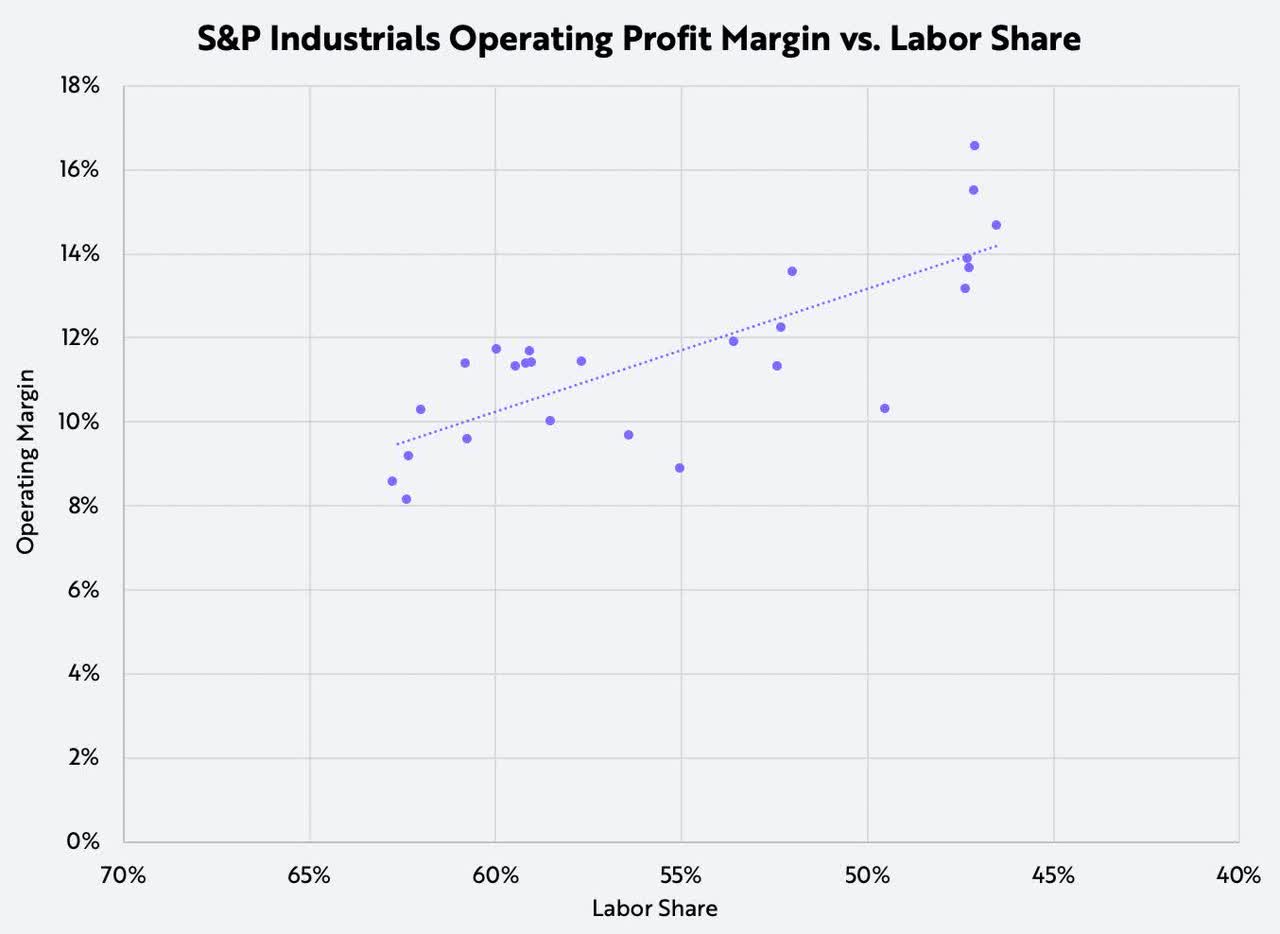 Source: ARK Investment Management LLC based on data from http://www.euklems.net, Bloomberg
Decoupling physical labor from output has been a hallmark of technological innovation. Were it not for horses and tractors, a large percent of the US population still would be working on farms. Instead, the history of agriculture suggests that automation will push labor's share of manufacturing revenue down to unprecedented levels while productivity boosts the income of those still on the ranch.
Stay tuned for the third piece in this series which will focus on the impact of productivity on the economy as a whole.
Disclosure: ARK's statements are not an endorsement of any company or a recommendation to buy, sell or hold any security. For a list of all purchases and sales made by ARK for client accounts during the past year that could be considered by the SEC as recommendations, click here. It should not be assumed that recommendations made in the future will be profitable or will equal the performance of the securities in this list. For full disclosures, click here.
Disclaimer: ©2021, ARK Investment Management LLC ("ARK" ® "ARK Invest"). All content is original and has been researched and produced by ARK unless otherwise stated. No part of ARK's original content may be reproduced in any form, or referred to in any other publication, without the express written permission of ARK. The content is for informational and educational purposes only and should not be construed as investment advice or an offer or solicitation in respect to any products or services for any persons who are prohibited from receiving such information under the laws applicable to their place of citizenship, domicile or residence.
Certain of the statements contained on this website may be statements of future expectations and other forward-looking statements that are based on ARK's current views and assumptions, and involve known and unknown risks and uncertainties that could cause actual results, performance or events to differ materially from those expressed or implied in such statements. All content is subject to change without notice. All statements made regarding companies or securities or other financial information on this site or any sites relating to ARK are strictly beliefs and points of view held by ARK or the third party making such statement and are not endorsements by ARK of any company or security or recommendations by ARK to buy, sell or hold any security. The content presented does not constitute investment advice, should not be used as the basis for any investment decision, and does not purport to provide any legal, tax or accounting advice. Please remember that there are inherent risks involved with investing in the markets, and your investments may be worth more or less than your initial investment upon redemption. There is no guarantee that ARK's objectives will be achieved. Further, there is no assurance that any strategies, methods, sectors, or any investment programs herein were or will prove to be profitable, or that any investment recommendations or decisions we make in the future will be profitable for any investor or client. Professional money management is not suitable for all investors. For full disclosures, please go to our Terms & Conditions page.
The Adviser did not pay a fee to be considered for or granted the awards. The Adviser did not pay any fee to the grantor of the awards for the right to promote the Adviser's receipt of the awards nor was the Adviser required to be a member of an organization to be eligible for the awards. For full Award Disclosure please go to our Terms & Conditions page. Past performance is not indicative of future performance.
Editor's Note: The summary bullets for this article were chosen by Seeking Alpha editors.