401(k): What It Is & How It Works
A 401(k) plan is an employee-sponsored retirement plan. It can be a powerful tool for retirement savings, but to make the most of the account, it's important to understand the basics on how to maximize contributions and the rules for making withdrawals.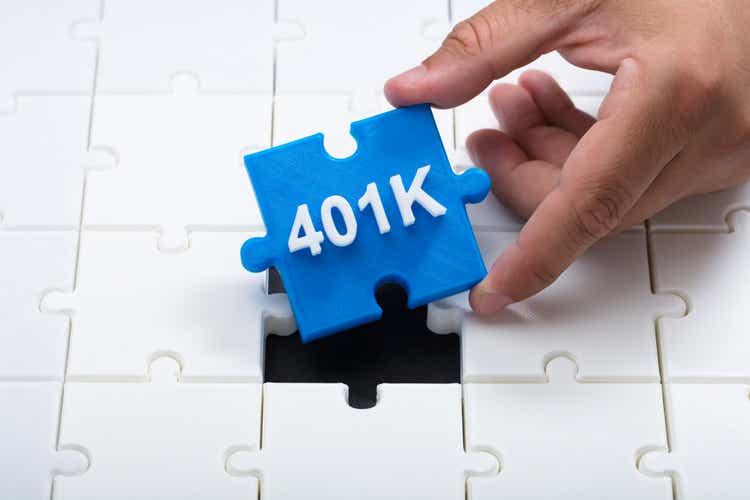 What Is a 401(k) and Why Is It Called a 401(k)?
A 401(k) is an employer-sponsored, defined-contribution, retirement savings plan. In translation, a 401(k) is a benefit, defined by payroll contributions, that employees can make toward their own retirement. The plan gets its name from Internal Revenue Code, section 401(k), which made it possible for employers to sponsor a retirement savings plan for employees.
How Does a 401(k) Work?
A 401(k) plan works much in the same way as other types of tax-advantaged retirement savings accounts. However, there are multiple features, benefits, and rules for 401(k) plans that differ from other retirement account types. For example, the contribution limits, withdrawal rules, and potential for employer matching contributions make 401(k) plans unique in the world of retirement savings.
A simplified explanation of how a 401(k) works is that employees who are offered the benefit can elect to make voluntary contributions toward their retirement. Employees can also choose how to invest their contributions by selecting among a set of given investment choices, which are usually mutual funds.
Features, Benefits, and Rules for 401(k)
Who can contribute to a 401(k): The only way to make new contributions to a 401(k) is to be actively employed with an employer who sponsors this retirement plan benefit for its employees.
Eligibility requirements: Not just anyone can contribute to a 401(k) plan. Contributions are usually limited to full-time employees who are age 18 or older. Many plans require a minimum of age 21 and a waiting period of up to 12 months before employees are eligible to enroll in the plan and make contributions.
Contributions and limits: Eligible employees may make voluntary contributions, called salary deferrals, which are usually a percentage of salary that is withheld and transferred into the employer's sponsored plan. The maximum 401(k) contribution for taxable year 2022 is $20,500, as set by the IRS. Employees who are at least 50 years old by the end of the year can make "catch up contributions" of up to an additional $6,500 per year as of 2022.
Traditional and Roth 401(k) contribution types: Many 401(k) plans allow participants to make traditional pre-tax contributions or "Roth" after-tax contributions, or a combination of both types if they are held in separate accounts, as long as the total amount does not exceed the annual maximum.
Investment choices: Most 401(k) plans offer at least 10-12, and up to 30, investment choices, which typically consist of a diverse selection of mutual funds. Many plans also offer target-date retirement funds.
Employer matching contributions: Employers may make matching contributions, which typically adhere to a formula, such as a maximum of 50% of employee deferrals, up to 6% of compensation, which would translate to a 3% match.
Making withdrawals from a 401(k): Withdrawals are generally not permitted until termination of employment or retirement. However, in-service withdrawals may be allowed for certain hardship reasons.
401(k) tax benefits: All 401(k) contributions grow tax-free. Traditional contributions to a 401(k) are made on a pre-tax basis, which means they reduce taxable income for the year of contribution. Withdrawals from traditional 401(k) contributions are taxable as income. Roth contributions may be eligible for tax-free withdrawals after age 59 1/2.
Important: While the IRS and the Department of Labor require all 401(k) plans to follow certain rules and requirements, not all plans work the same. For example, all 401(k) plans have the same maximum contribution limits and share the same tax and penalty rules for withdrawals. But some features and benefits, such as employer matching contributions and personal loans are not legally required to be offered in the plan.
How Much Can You Contribute to a 401(k)?
The annual maximum 401(k) contribution for 2022 is $20,500. For individuals age 50 or higher, an additional $6,500 "catch up" contribution is allowed, making the maximum 401(k) contribution for this age group $27,000. Keep in mind that the annual maximum amount does not include any employer matching contributions you may receive on top of that.
Are 401(k) Contributions Pre-Tax?
401(k) contributions are pre-tax but only if the 401(k) participant elects to make traditional contributions. If the participant chooses to make Roth contributions, they are made on an after-tax basis.
How Does a 401(k) Match Work?
Many employers make 401(k) matching contributions for employees. As the term suggests, you don't get a 401(k) match from your employer unless you make your own contributions first. The amount of the match is typically determined by a formula.
For example, a typical matching formula is 50 cents for every dollar you contribute, up to 6% of your compensation. This means that if you contribute at least 6% or more of your gross pay, your employer will match 50% of that amount, which would equal 3% of your gross pay.
What Does It Mean to be Vested in a 401(k)?
To be vested in a 401(k) means that you own the balance. In different words, the term vesting refers to ownership of the money in your 401(k). For example, you are always 100% owner, or 100% vested, in your own contributions but you may have to be employed for a certain number of years to be 100% vested in employer contributions, such as the match.
For example, if your employer's 401(k) vesting schedule for the match is 25% per year, and you terminate employment after two years, you have a legal right to take with you 50% of the employer matching contributions made during that time, plus 100% of your own contributions, plus any growth on those contributions.
When Can You Withdraw from a 401(k)?
The rules for withdrawing money from a 401(k) plan are relatively strict. While these rules may vary from plan to plan, 401(k) participants may generally make withdrawals for four primary reasons:
Death
Termination of employment
Retirement
At What Age Can You Withdraw from a 401(k)?
You can withdraw from a 401(k) plan without paying the IRS-mandated 10% "early withdrawal" penalty at age 59 1/2. Before that age, you can still make withdrawals under certain circumstances but the 10% penalty, plus any applicable taxes, must be paid.
Tip: 401(k) plans generally allow hardship withdrawals while you are still employed. The reasons allowed by the IRS for hardship distributions include certain medical expenses, purchase of a primary residence, tuition and related education expenses, and prevention of foreclosure on your home.
What Is the Penalty for Withdrawing from a 401(k) Early?
The IRS penalty for withdrawing early from a 401(k) is 10% of the amount of withdrawal. You may also owe any applicable taxes, in addition to the 10% penalty. You can withdraw from a 401(k) without paying a penalty once you reach age 59 1/2.
In addition to the 10% early withdrawal penalty, there is also a mandatory 20% withholding for federal taxes when you take a lump distribution from a 401(k) funded with traditional (pre-tax) contributions.
What Is a Traditional 401(k) vs. a Roth 401(k)?
Many 401(k) plans offer the option of making traditional contributions or Roth contributions. Both types of 401(k) contributions grow tax-free. The primary differences between a traditional 401(k) and a Roth 401(k) is in the way that contributions are made and how withdrawals are taxed.
How a Traditional 401(k) Works
Traditional 401(k) contributions: made on a pre-tax basis, which reduces taxable income for the 401(k) participant.
Traditional 401(k) withdrawals: taxed as ordinary income at the individual's top federal tax rate.
How a Roth 401(k) Works
Roth 401(k) contributions: made on an after-tax basis.
Roth 401(k) withdrawals: tax-free to the individual, if made after age 59 1/2.
What Happens to Your 401(k) If You Quit Your Job?
Once you terminate employment, no matter what the reason, your basic options are to withdraw the balance, transfer to another qualified retirement plan, such as an individual retirement account (IRA) or new 401(k), or leave the money in the 401(k), assuming certain qualifications are met.
Here are your basic choices on your 401(k) after you leave your job:
Cash out your 401(k): You may cash out the vested portion of your 401(k) balance and have the money sent to you. This is called a lump sum distribution. Keep in mind that taxes and a penalty may apply.
Rollover to another retirement account: 401(k) plans are transferable to an IRA, another 401(k), or other qualified retirement plan. A direct transfer is called a 401(k) rollover and is not taxable to the individual.
Leave the money in your 401(k): You have the right to keep your money in the 401(k). Generally, your employer may force you to take a distribution, as outlined by the IRS, if your balance is below $5,000. Some employers have lower minimum balance requirements.
Tip: Keep in mind that new contributions to a 401(k) can only be made through payroll. So, after you terminate employment, and you're no longer on the payroll, you won't be able to make new contributions. However, after you leave your job, your 401(k) can continue to grow over time and you'll still have the ability to monitor your account and make investment changes."
Pros and Cons of Having a 401(k) Account
401(k) plans can be an effective way to save for retirement. However, they're not ideal in every circumstance. As with any type of investment or savings vehicle, there are some advantages and disadvantages of 401(k) accounts that everyone should consider before enrolling.
Pros of Having a 401(k) Account
Simplicity: Once you sign up, you choose the contribution amount, select the investments, then contributions are automatically made through payroll on a periodic basis. Very little maintenance is required.
Transferrable: After you leave your employer, you can roll your 401(k) into an IRA or transfer it to your new employer's 401(k) plan, without any tax consequences.
Tax advantages: 401(k) accounts grow tax-free and traditional, pre-tax contributions reduce taxable income.
Dollar-cost averaging: 401(k) contributions are invested periodically, which helps to average the cost, and the market risk of investments, lower over time.
Compound interest: When you invest money in a 401(k), the interest, dividends, and capital gains stay in the account and "compounds" to grow the account faster over time than typical deposit accounts.
High maximum contribution: The maximum annual contribution for a 401(k) plan is $20,500 for 2022. By comparison, the maximum contribution for an IRA in 2022 is $6,000 per year.
Shelter from creditors: The Employee Retirement Income Security Act of 1974, or ERISA, protects 401(k) accounts from claims from creditors.
Possibility of employer contributions: If your employer matches contributions, it's like a bonus on top of your contributions and compounding interest.
Access to money for hardship: If you have a financial challenge, you may qualify for a hardship distribution. Some 401(k) plans offer loans.
Cons of Having a 401(k) Account
Limited investment selection: 401(k) participants can only choose from a pre-selected set of investment choices.
Lack of control over your account: Although your vested account balance belongs to you, 401(k) plans don't allow withdrawals at any time for any reason.
Potential for high fees: Some plans have administrative fees and investment costs that are higher than accounts, such as IRAs, that individuals can open and manage on their own.
Early withdrawal penalty: If you withdraw from your account before age 59 1/2, the IRS will charge a 10% penalty.
This article was written by
Kent Thune, CFP®, is a fiduciary investment advisor specializing in tactical asset allocation and portfolio management with a focus on ETFs and sector investing. Mr. Thune has 25 years of wealth management experience and has navigated clients through four bear markets and some of the most challenging economic environments in history. As a writer, Kent's articles have been seen on multiple investing and finance websites, including Seeking Alpha, Kiplinger, MarketWatch, The Motley Fool, Yahoo Finance, and The Balance. Mr. Thune's registered investment advisory firm is headquartered in Hilton Head Island, SC where he serves clients all around the United States. When not writing or advising clients, Kent spends time with his wife and two sons, plays guitar, or works on his philosophy book that he plans to publish in 2024.
Analyst's Disclosure: I/we have no stock, option or similar derivative position in any of the companies mentioned, and no plans to initiate any such positions within the next 72 hours. I wrote this article myself, and it expresses my own opinions. I am not receiving compensation for it. I have no business relationship with any company whose stock is mentioned in this article.
Seeking Alpha's Disclosure: Past performance is no guarantee of future results. No recommendation or advice is being given as to whether any investment is suitable for a particular investor. Any views or opinions expressed above may not reflect those of Seeking Alpha as a whole. Seeking Alpha is not a licensed securities dealer, broker or US investment adviser or investment bank. Our analysts are third party authors that include both professional investors and individual investors who may not be licensed or certified by any institute or regulatory body.