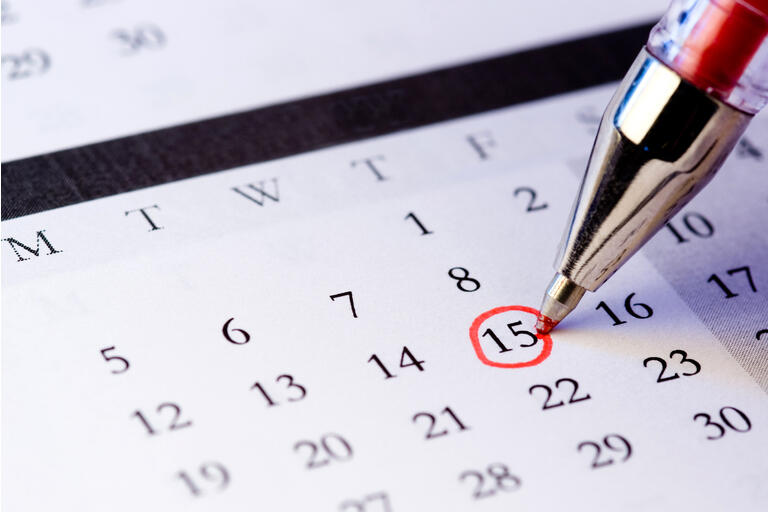 (This is an abbreviated example of our typical Weekly Commentary that goes out to subscribers of Yield Hunting every Sunday.)
Macro Picture
Stocks finished the week up nicely with the S&P 500 up nearly 1% and the Nasdaq up just over 1% for all new record highs. International stocks were up in line with domestic indices. The key headline this week was the increase in long-rates after the strong jobs report on Friday. We will watch this week if that trend continues.
The payroll report grew slightly ahead of expectations with 943K new jobs in July and the unemployment rate fell to 5.4% from 5.8%. This is the best report since the pandemic started. We also saw April and May gains revised higher. Labor participation and avg weekly hours and earnings grew more than forecast.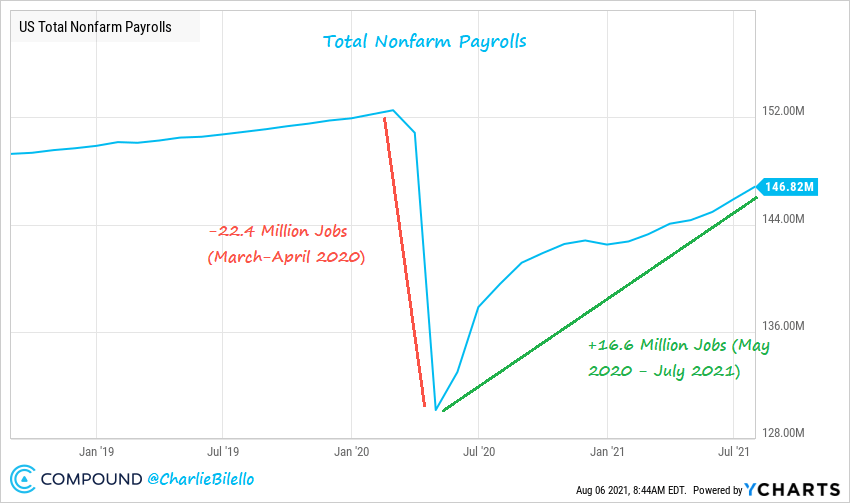 The rest of the economic data last week was also, on balance, positive. The ISM index was at 59.5 though expectations called for 60.2. ISM services was also strong.
In addition to the payroll report on Friday morning, some hawkish comments by Fed Vice Chair Clarida and Fed Governor Waller added to the upward pressure to rates.
NJ muni bonds were upgraded by S&P Global Ratings with the outlook moving to positive from stable, based partly on the state's surplus revenues and additional pension contributions.
The biggest worry lately in the markets (outside of Covid) has been valuations. But in the last 9 months, the market has actually become cheaper despite the rise simply because blended forward EPS of the S&P 500 companies has been rising so rapidly. In other words, the market is growing into its valuation.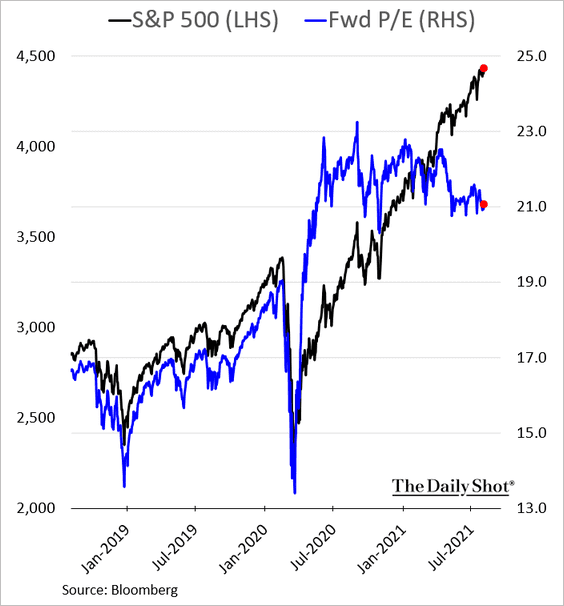 It remains to be seen whether this can continue to or not. And already, we are starting to see earnings expectations start to peak and even come down a bit. Those earnings will need to continue if we want the market to continue to move substantially higher from here. But I just don't see it right now. As such, markets should move higher much slower.
CEF Market Review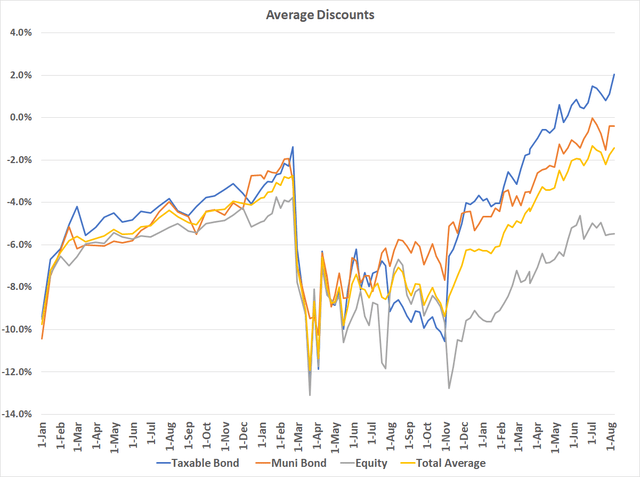 (Source: Alpha Gen Capital)
Taxable bond CEFs hit fresh valuation highs for the year with an average premium of +2.04% on our data and +1.84% on Rivernorth's website. That data puts today's valuation of the taxable space into the top 6% of all observations going back to 1996. Yes, top 6%.
Munis are still not back to where they were recently with an average discount of -0.31%. They peaked on July 3rd at a +0.02% premium. While that's just 33 bps from where we are, it is interesting that munis are lagging in this market with people still wanting higher quality.
NAVs on the week were higher in equity sectors like Asian-focused funds, finance, and EM equity. The worst performers were MLPs, government funds (treasuries and sovereign), and mortgage funds driven by agency MBS funds that are interest rate sensitive.
There remains no sector with a negative z-score (a relative valuation metric comparing current values to historical averages). The cheapest sectors according to z-score remain some equity sectors like EM equity, Latin American equity, and real estate.
In terms of expensive sectors, not much has changed here though high yield continues to move up the list and is now third. Limited duration funds are one of the most expensive, second only to global equity.

The PIMCO funds performed well last week with nearly all funds gaining premium. PCM Fund (PCM) was the best up 6.2% on premium followed by RCS (+6.1%), and PFL (+4.9%).
On the other side, MHD and some preferreds saw the most discount widening among our Core Fund universe (consisting of about 105 funds).
The worst performers on discount change were mostly equity funds (and mostly in a good way with the price falling or staying stable while NAV jumps higher. There were three fixed income funds on the list with Pioneer Muni High Adv (MAV) doing the worst after chopping their distribution again. CIF and CHW were the other two on the list.
Commentary
Lots of stuff happening this week. The biggest news was the passage of the merger between the three PIMCO funds with PCI and PKO merging into PDI. The resulting fund, we estimate, will have a $9.4B in total assets making it the largest CEF ever. The merger arbitration fair value is about 12.5% meaning we estimate that the new fund will trade at about 12.5% as of Friday's closes. Not much, if any, juice to trade.
For those that do not read the morning notes, we made comments on some muni funds, namely ENX and the two Pioneer funds, MAV and MHI. All three of these funds are in disarray at the moment. We advised selling ENX after the second cut was announced indicating some trouble (possible defaults) in their portfolio. MAV was recommended as a sell a couple of weeks ago mostly because of valuation but now the distribution is being cut AGAIN. They also must be having default issues.
What moves did I make this week? I added small to Angel Oak Financial ST Inc (DYFN) but my position is already large enough for the amount of liquidity. The other fund I purchased was Principal Real Estate Income (PGZ) as the discount widened out to -13.2%. That's it on taxables.
In munis, I swapped a portion of my Nuveen Muni High Income (NMZ) and the rest of my BNY Mellon Muni Bond Infra (DMB) for some Blackrock MuniHoldings (MHD) and Nuveen High Yield Muni Bond (NHMAX).
Discounts remain a concern given where the average fund is trading today. I continue to hunt for anomalies in the space and funds trading at a relative discount to their sector.
Blackrock Global Income 2022 (BGIO) paid its second large distribution in two months. Remember this fund liquidates at the end of the year. At a -1.2% discount, there's a small tailwind here that could be bought for some short-term, lower-risk, modest returns.
Western Asset Diversified Inc (WDI) declared their initial distribution which is about 6.9%. This is roughly where PDO launched earlier this year. This likely shows where risk assets in the taxable bond space are earning today.
Allspring Income Opp (EAD) (formerly Wells Fargo Incom Opp) has been on a tear lately and is now at a -1.4% discount. The yield is down to 7.75%. The NAV has been trending sideways. Right now, this one is a bit overvalued but I'm not selling as there's nowhere to go!