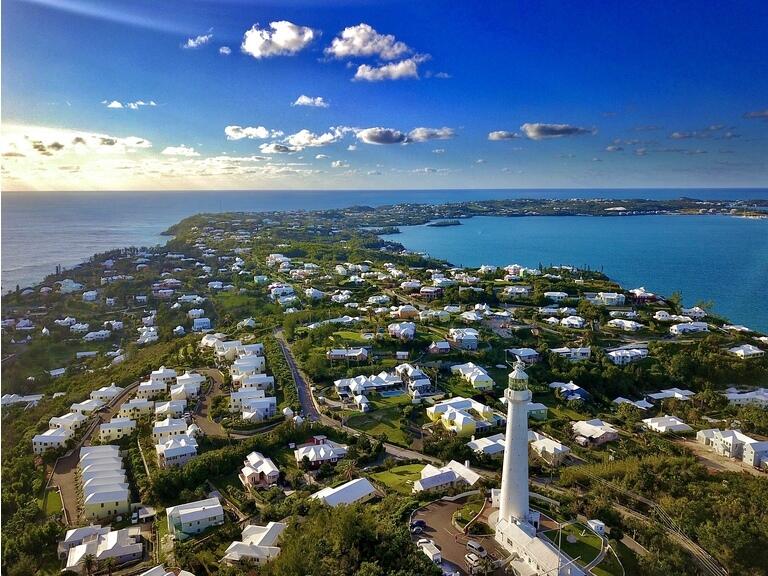 Thesis: A Solid But Rate-Sensitive Offshore Bank
The Bank of N.T. Butterfield & Son (NYSE:NTB) is the holding company of offshore banks including Butterfield bank. Based in Hamilton, Bermuda, Butterfield has a long history of operations in the Caribbean. It was founded in 1858 as the first bank to be headquartered in Bermuda and today harbors the ambition to be the leading global offshore bank and trust.
A majority of NTB's loans are floating rate, which has dragged on earnings as interest rates have fallen in recent years. For instance, in Q3 2018, NTB's average asset yield sat at 3.5%. In Q3 2019, that number had fallen to 2.98%. By Q2 2021, the bank's average asset yield had dropped all the way to 2.17%.
The main culprit for this declining asset yield, of course, are the bank's loans, which make up a little over a third of interest-bearing assets. Yields on loans slid from 5.54% in Q3 2018 to 5.22% in Q3 2019 to 4.28% in Q2 2021.
In short, NTB has a highly interest rate sensitive portfolio of assets.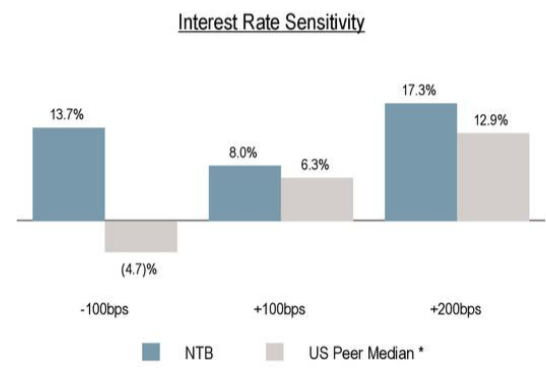 Source: NTB Q2 2021 Presentation
The above chart assumes that if rates fell another 100 basis points into negative territory, NTB would be able to charge a negative interest rate on deposits. I find that suspect. Thus, NTB's stock basically functions as a dividend-paying way to play rising interest rates.
For dividend investors looking for a way to gain upside to rising rates, NTB is a great option. If, on the other hand, rates stay low or go lower, other dividend stocks would likely perform better.
A Unique Bank
Butterfield is a highly regarded private bank, which basically means that it offers concierge services to its clients, who are mostly high net worth individuals. The bank's offshore nature goes hand-in-hand with its private banking operations.
As I explained in my first article on NTB published in December 2019:
An "offshore bank" is one that is not regulated by any particular government charter but rather holds an international license. Since these banks skirt many of the onerous regulations placed on banks chartered with governments, they are able to offer their clients greater privacy and cross-border mobility of funds. They can also provide stability in the case of political or economic turmoil in clients' countries of residence. And, of course, this privacy often allows clients to shelter undeclared income (i.e., act as a tax haven).
Just to be perfectly clear, NTB is not a party to tax evasion schemes, nor does it facilitate them for its clients. The bank abides by all laws applicable in the territories in which it does business. As I wrote in that first article,
Despite the reputation of offshore banks as being dens of crime, money laundering, and tax evasion, these banks cannot legally shield clients from taxes and must still abide by international law. The reputable ones (of which Butterfield is one) establish policies intended to prevent offering services to unscrupulous individuals and businesses, and they set aside funds to settle disputes with governments that launch claims against their clients.
Butterfield owns offshore banking operations all across the world, from the Cayman Islands to the Channel Islands (Guernsey) to Switzerland and Singapore.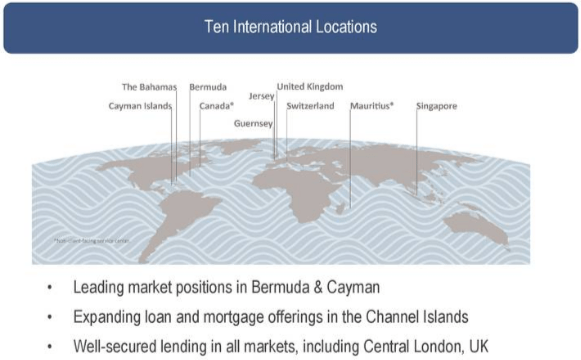 Source: NTB Q2 2021 Presentation
NTB's revenue is split between roughly 60% interest income and 40% non-interest income. Trust services (managing trust funds) made up a little over a quarter of non-interest income, banking services made up about a quarter, foreign exchange revenue made up a little over one-fifth, and the remainder was split between asset management and various other fees.
While interest income (before provision for credit losses) fell 5.6% year-over-year in the second quarter, non-interest income partially offset this by rising 17% YoY.
In what follows, let's discuss the pros and cons of NTB as an investment, starting first with the cons.
The Bad
NTB had a net interest margin ("NIM") of 2.01% in Q2, a little below the average NIM for all US banks in that quarter of 2.29%.

Source: Bank Reg Data
NTB's NIM fell by 8 basis points quarter-over-quarter due to early mortgage backed security repayments and the subsequent reinvestment into lower yielding assets, mainly loans in the Channel Islands and the UK. The bank's NIM has fluctuated significantly in recent years. Here's the pattern since 2016:
2016: 2.45%
2017: 2.73%
2018: 3.25%
2019: 2.86%
2020: 2.42%
In 2019, the NIM slid primarily because NTB acquired a European bank with lower average asset yields. In 2020, they slid further because interest rates fell around the world, allowing homeowners and businesses to refinance at lower rates.
This is my basic problem with all banks right now. Interest rates are very low, and the yields on both securities and loans are compressing. Moreover, rates on deposits are already ultra-low — practically zero. So banks can't expand their NIMs by lowering deposit costs. Some banks have done it, but for competitive reasons it's very difficult to pull off for an extended period. They are trapped, hoping for interest rates to rise so that their NIMs can expand.
Moreover, NTB's cost efficiency is a little below average. Remember that a lower efficiency ratio is better, because it implies that expenses as a portion of revenue is lower. A higher efficiency ratio means that expenses make up a larger portion of revenue.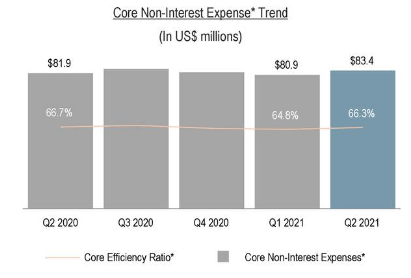 Source: NTB Q2 2021 Presentation
This chart paints a slightly better picture of NTB's expenses than reality, as there is an additional $1.4 million in "non-core expenses" that are not included in the above efficiency ratio. Even for the more favorable measurement of efficiency, though, NTB comes in below the average for al US banks: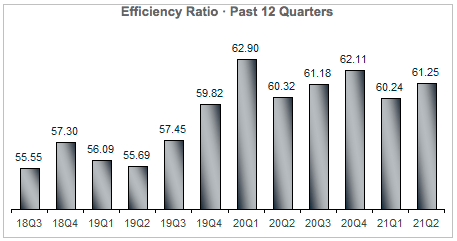 Source: Bank Reg Data
NTB's efficiency ratio is likely to remain the mid-60% range for a while as COVID-era expenses phase out slowly while rates remain low.
The Good
The good news is that NTB has been a very well run bank in recent years, leading to strong growth in net income from 2016 to 2019. Most of that gain occurred during a rising rate environment, even though NTB's total assets declined slightly from 2016 through 2018.

Source: NTB 2020 Annual Report
Since the end of 2020, total assets have risen further by 6.8% to $15.7 billion.
To quote Chairman and CEO Michael Collins from the letter to shareholders in the 2020 annual report,
In a year with market interest rates near zero, Butterfield recorded net income of $147.2 million, or $2.90 per share. Core net income was $154.5 million or $3.04 per share, which equates to a core return on average tangible common equity of 17.3%. We paid a sustainable quarterly cash dividend of $0.44 per common share and completed our 3.5 million share repurchase program with the majority of the repurchase activity during the second and third quarters of 2020, when valuations were very attractive.
The drop in net income in 2020 was due almost entirely to lower interest rates and loan yields, as NTB's non-accrual ratio barely budged up from 2019's 1% to 2020's 1.4%. Non-performing assets edged up from 0.4% to 0.6%.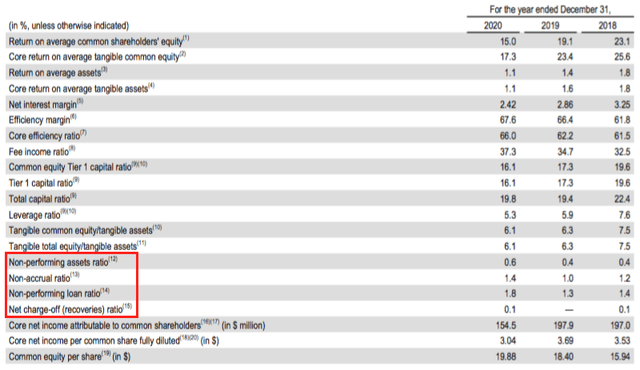 Source: NTB 2020 Annual Report
In Q2 2021, the net charge-off ratio sat at an ultra-low 0.04%. Moreover, since 2020, non-accrual loans have continued to decline, with the non-accrual ratio finishing Q2 at 1.3%.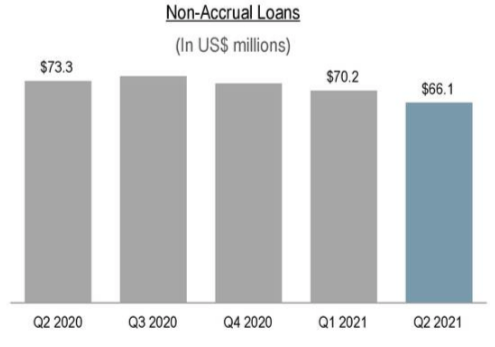 Source: NTB Q2 2021 Presentation
This, to my mind, illustrates the remarkable resilience and conservatism of NTB's loan book and securities portfolio.
What does the loan book and securities portfolio look like? For the securities, it's entirely high-quality but low-yielding investments. The loan book, meanwhile, is mostly backed by real estate.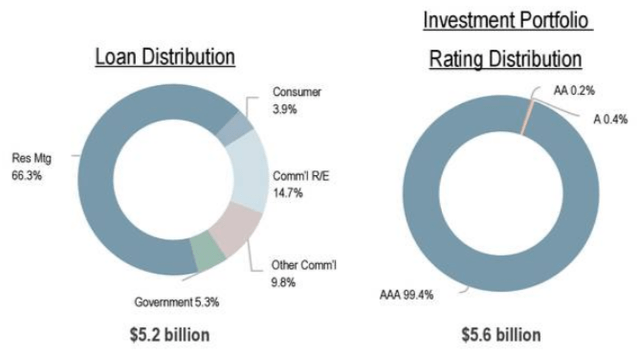 Source: NTB Q2 2021 Presentation
Two-thirds of loans are residential mortgages for properties in Cayman, Bermuda, and the UK. What's more, these loans are fully recourse, which means that in the case of default, the bank can claim any assets necessary in order to satisfy the owed balance.
On the commercial side of the loan book, half of loans are for commercial real estate, with another 26% for commercial and industrial businesses.

Source: NTB Q2 2021 Presentation
Another thing to like about NTB is the bank's above-average return on equity. Coming out of the pandemic, NTB's core return on average tangible common equity is steadily rising back to its pre-pandemic level in the low to mid-20% range.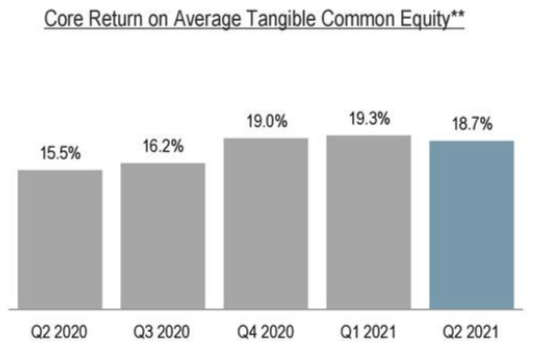 Source: NTB Q2 2021 Presentation
This is well above the average return on equity for all US banks.

Source: Bank Reg Data
Alright, alright, I know this is comparing apples (core return on tangible common equity) and oranges (simple return on equity). But even looking at NTB's simple return on equity, we find that it's higher than the average, often much higher.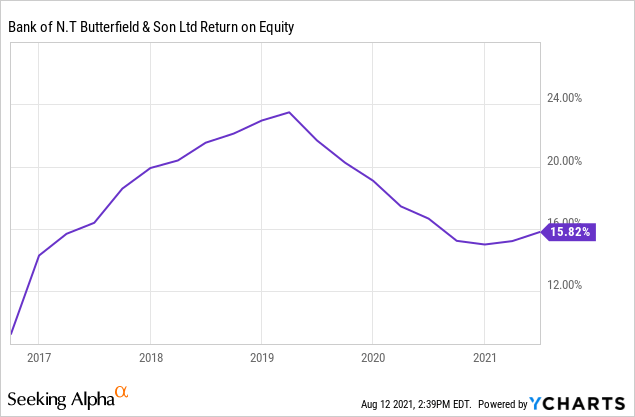 To be more specific, NTB's return on average common equity in Q2 was 16.7%. However you measure it, though, NTB's ROAE is higher than the average for US banks.
Another positive about NTB is the bank's growth opportunities.
First, recall that NTB eliminated a sizable number of shares last year through stock buybacks. Including shares issued to executives, NTB saw its share count drop by 3 million - around 5.7% of its total market cap.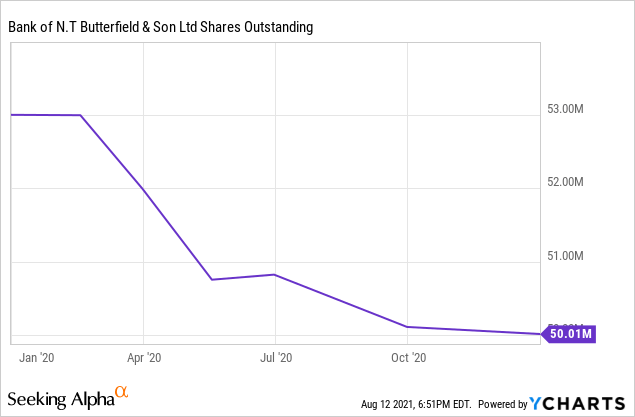 Management has made clear that they are open to using the company's substantial retained cash flow to continue their buyback program.
Second, NTB has growth opportunities through mergers & acquisitions. CEO Michael Collins stated on the Q2 conference call:
We continue to evaluate potential acquisition targets in private trust, wealth management and banking. As we have stated previously, from the point of initial discussions, these deals can take 9 months to a year before they are announced. I cannot offer a specific time line at the moment but can say that M&A growth remains a priority for us, and we are committed to pursuing deals that meet our strategic and financial goals.
With a large cash pile and a strong (BBB+) balance sheet, NTB should be able to continue investing for growth for the foreseeable future.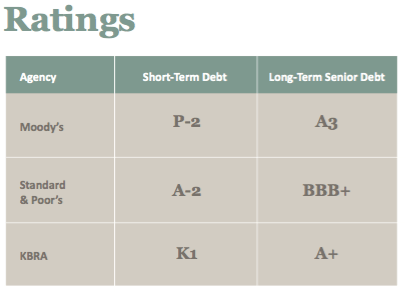 Source: NTB 2020 Annual Report
In Q2, core (adjusted) net income was $0.80 per share. That is down slightly from Q1's core net income of $0.83 per share but still represents 16.6% growth over Q2 2020's number.
Comparing that to the $0.44 quarterly dividend, we find a very modest payout ratio of 55% in the second quarter. Even amidst the difficult environment of 2020, NTB's payout ratio only reached 60.5% last year, illustrating the conservative nature of the company's dividend policy.
Unlike many big banks in the US, NTB did not need to cut its dividend last year. In fact, the quarterly dividend payout has been steady at $0.44 since 2019.
The target payout ratio is 50%. Given that the analyst consensus EPS for 2022 is $3.32, which would make the annualized payout of $1.76 around 53% of earnings, a dividend hike is unlikely for the foreseeable future.
The good news is that NTB's dividend yield sits at 5.1%, offering investors a healthy income stream while they wait for growth and capital appreciation.
Bottom Line
I am of two minds about NTB.
On the one hand, the bank is extremely cheap at roughly 10.5x earnings and offers a very attractive, well-covered dividend that yields 5.1%. I believe NTB will be able to keep buying back shares and investing for growth.
On the other hand, earnings growth would be severely challenged or slowed if we remain in a low interest rate environment, which I believe we will for an extended period.
Investors can make their own decisions on NTB, but I am holding off on buying back into the stock for now.