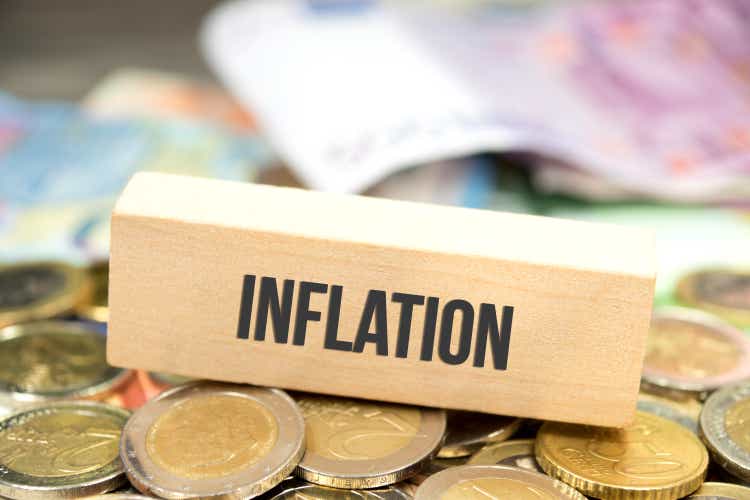 Real Estate Weekly Outlook
U.S. equity markets edged to fresh record highs this week, shrugging off the ongoing "fourth wave" of the COVID pandemic and another round of red-hot inflation data that has weighed on consumer sentiment. While investors - and the Fed - have so far been unfazed by the recent surge in consumer and producer prices, U.S. consumers suffered a "stunning loss" in confidence in early August. Calling into question the fate of the infrastructure package that passed the Senate this week, the public appetite for additional fiscal expansion continues to sour, mirroring a similar slump in Presidential approval ratings.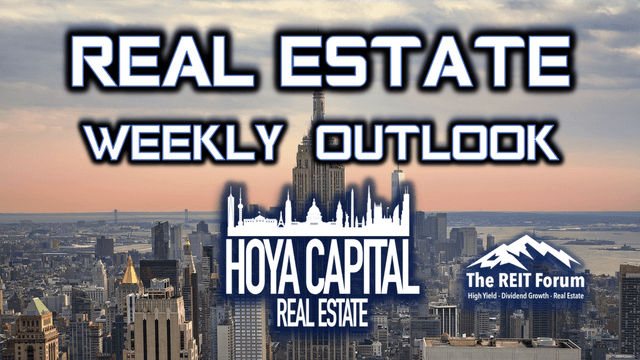 (Hoya Capital Real Estate, Co-Produced with Colorado WMF)
Finishing at fresh record highs on four straight days to close the week, the S&P 500 (SPY) advanced 0.8% on the week while the Mid-Cap 400 (MDY) gained 0.5% and the Small-Cap 600 (SLY) slipped 0.3%. Real estate equities delivered a mixed week as a historically strong second quarter earnings season concluded with the final dozen REITs reporting results. Still holding onto the reigns as the top-performing asset class this year, the Equity REIT Index (REIT) finished the week lower by 0.1% with 10 of 19 property sectors in negative territory while the Mortgage REIT Index (REM) gained 0.9%.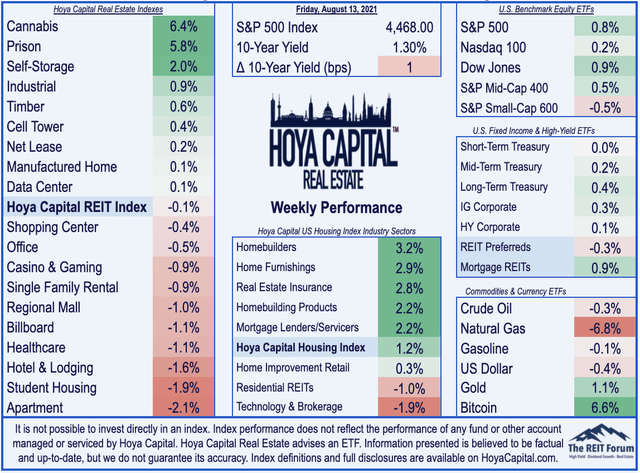 Stellar second quarter corporate earnings results - along with positive trends in the labor markets - have so far been just enough to offset concerns over cascading COVID restrictions and waning consumer confidence. This high-stakes "tug-of-war" briefly pulled the 10-Year Treasury Yield to a low of 1.15% last week and to a high as 1.38% this week before settling at 1.30%. This uncertainty was apparent in equity market patterns this week as well as the leaderboard included an unusual mix of economically-sensitive and defensive sectors. Homebuilders and the broader Hoya Capital Housing Indexwere also leaders on the week as the housing market has remained a source of resilience throughout both the pandemic and subsequent reopening.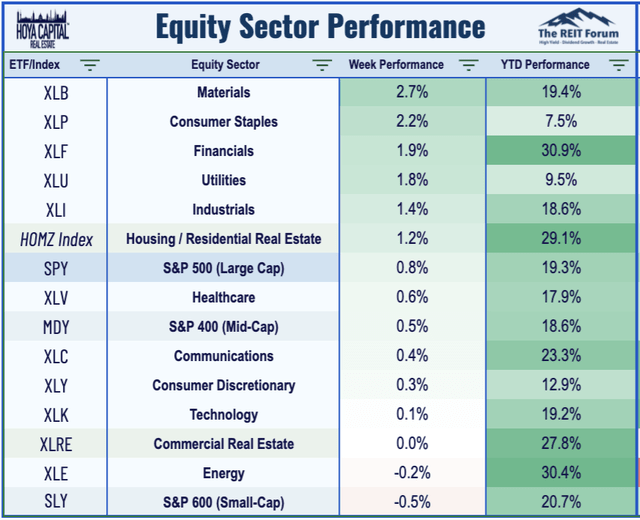 Real Estate Economic Data
Below, we recap the most important macroeconomic data points over this past week affecting the residential and commercial real estate marketplace.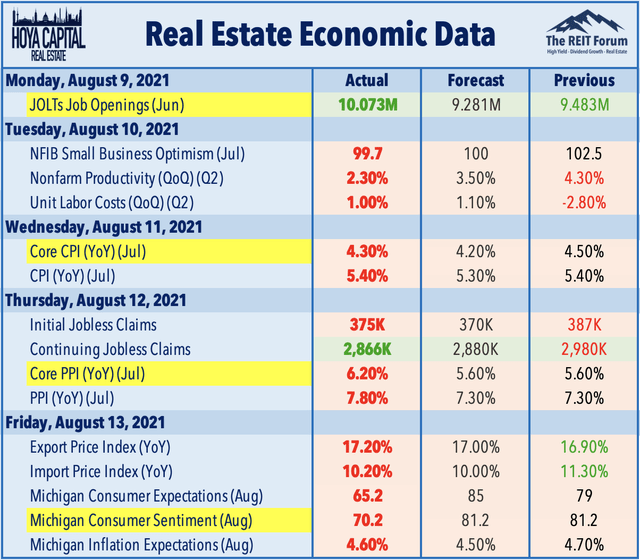 The BLS reported this week that both consumer and producer prices climbed at hotter-than-expected rates in July but showed some hints of moderation following three of the hottest months on record from April through June. The Producer Price Index surged 7.8% for the 12 months ending in June, the fastest increase since the agency began tracking the data. The Consumer Price Index, meanwhile, rose 5.3% from last year, matching the multi-decade highs set in the prior month. Core Consumer Prices - which excludes food and energy - rose 4.23% from last year, cooling a bit from the multi-decade highs set last month which was the largest annual increase since 1991.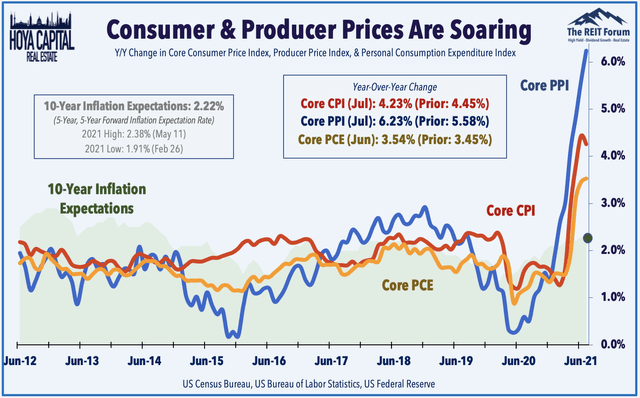 It's far too soon to declare victory over soaring inflation rates, however, as the effects of soaring rents and home values have just begin to filter into the data. The BLS reported that their measure of residential rents rose just 1.9% year-over-year in July - a significant outlier given that essentially all other data sources - including several dozen REITs - indicated that rents rose at historically-high rates in July averaging between 5-10% nationally. The BLS's methodology only collects shelter data every six months while most other components are sampled monthly, which we believe will result in delayed - but persistent upward pressure on consumer inflation metrics over the next year.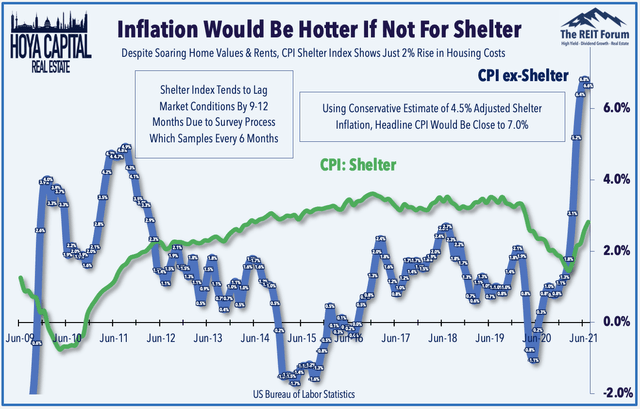 Ongoing concerns over inflation and escalating anxiety over the reaccelerating in COVID cases has weighed on consumer confidence in recent weeks, sending the University of Michigan's consumer sentiment index tumbling to 70.2 in its preliminary August reading, the lowest since 2011. Chief Economist Richard Curtin commented that the "stunning loss of confidence" in the first half of August spread across income, age, and education subgroups and observed across all regions. Notably, Presidential approval ratings of the Biden Administration have mirrored the slump in consumer confidence, dropping below 50% in the FiveThirtyEight average for the first time this week as new polls indicate that nearly 86% of Americans are "concerned about inflation" and 79% blame the current administration's economic policies.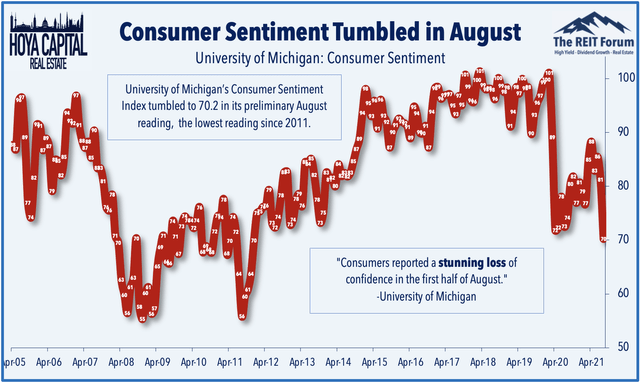 Equity REIT Week In Review
Single Family Rental: Speaking of soaring rents, Canada-listed Tricon Residential (TCNGF) - which owns roughly 25k single family rental homes in the southern U.S. - surged 8% this week after reporting record-high rent growth with new lease rates soaring 20.7% in July. Tricon noted that its renewal rate growth - which was around 5% in Q2 - would have been even higher if it had not be limiting rate increases on existing tenants, commenting, "if we weren't limiting growth on renewals, we could see a renewal increases in many markets close to 10%." Earlier in earnings season, American Homes (AMH) and Invitation Homes (INVH) both also reported double-digit rent growth on new leases in Q2 with signs of further acceleration into early Q3.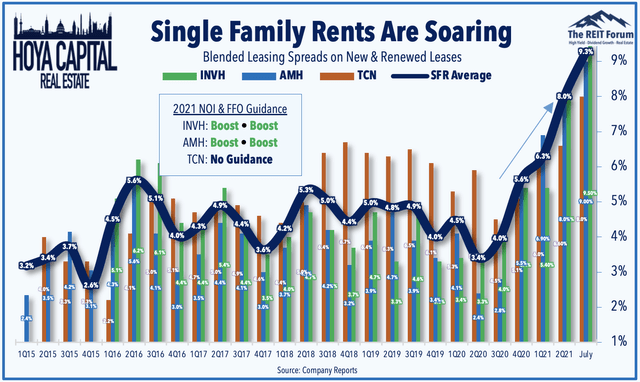 Apartment: Multifamily markets are seeing a nearly identical surge in rent growth as their single family peers as Preferred Apartment (APTS) was among the leaders this week after the diversified REIT reported strong Q2 performance and raised its full-year outlook on the strength of its Sunbelt multifamily portfolio. This week, we published Rents Are Soaring where we discussed how apartment rents are rising at the fastest rate on record as the pandemic-driven boom in household formations - including 1.6 million new renters - has clashed with the record-low housing supply. Apartment REITs reported that new lease rates soared 15% in July - the highest on record - as rents are now rising by double-digit rates across half of the major markets.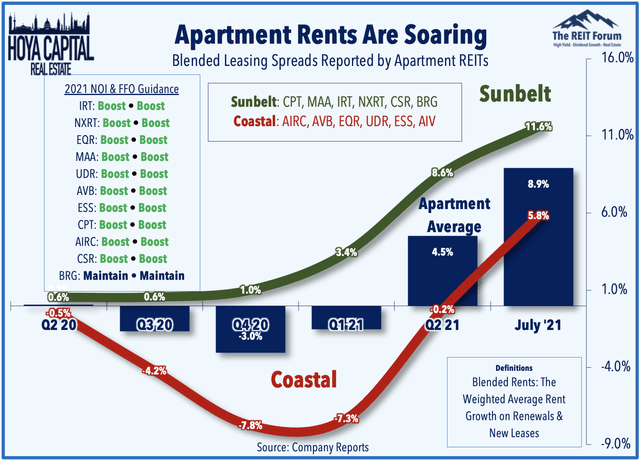 Mall: Washington Prime (WPG) rallied 24% on the week after reporting signs of stabilization in its troubled mall portfolio, noting that its occupancy rate improved 30 bps from last quarter while its same-store NOI jumped by 52.3%. WPG provided limited detail on the status of its Chapter 11 restructuring which it entered in early June - the third mall REIT that has entered bankruptcy over the past two years. Meanwhile, CBL & Associates Properties (OTCPK:CBLAQ) gained 10% this week after it announced that the United States Bankruptcy Court for the Southern District of Texas approved its reorganization plan. The plan calls for restructuring the company's balance sheet to provide for the elimination of more than $1.6B of debt.

Sticking in the mall sector, the Special Purpose Acquisition Vehicle ("SPAC") sponsored by Simon Property (SPG) is reportedly in talks to acquire security services provider Kastle Systems and take the firm public. Simon's SPAC raised $345 million in its IPO in February, with the goal of targeting a company "at the intersection of real estate and technology." Kastle Systems provides security solutions including access control, video surveillance, visitor management, identity management and other services to more than 2M people across 10,000+ locations globally, according a press release in May. This would be the first deal from the pool of four REIT-sponsored SPACs which include entities launched by Alexandria Real Estate (ARE), Lamar Advertising (LAMR), and Sachem Capital (SACH).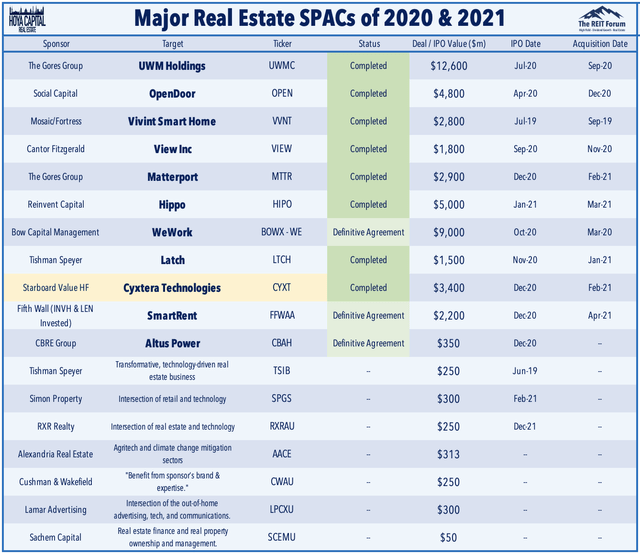 Data Center: On the topic of SPACs, this week we published Go Big or Go Home where we discussed recent M&A developments in the data center sector. Cyxtera (CYXT) completed its post-SPAC listing last month, while Switch (SWCH) now appears poised to convert to a REIT. As predicted early this year, we've seen a boom in data center M&A and IPO activity as Blackstone will take QTS Realty (QTS) private, but several new REIT players have recently emerged. Meanwhile, Colony Capital completed its "digital transformation" and rebranded as DigitalBridge (DBRG). On cue, DBRG announced this week that it will acquire a controlling stake in Vertical Bridge, which owns a portfolio of roughly 8k cell towers and a total of 300k communications sites.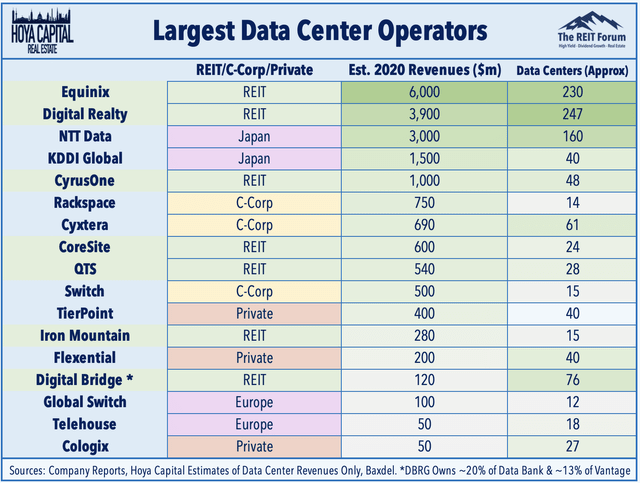 Net Lease: Speaking of M&A, shareholders of Realty Income (O) and VEREIT (VER) overwhelmingly approved all of the proposals necessary for closing the previously announced merger of VEREIT into Realty Income, expected to close during Q4 2021. Under the terms of the agreement, VEREIT shareholders will receive 0.705 shares of Realty Income stock for every share of VEREIT stock they own. Announced back in April, the deal is one of seven major REIT-to-REIT consolidations announced since the start of Q2 and we expect to see more to come in the months ahead as the "animal spirits" are alive and well across the REIT sector.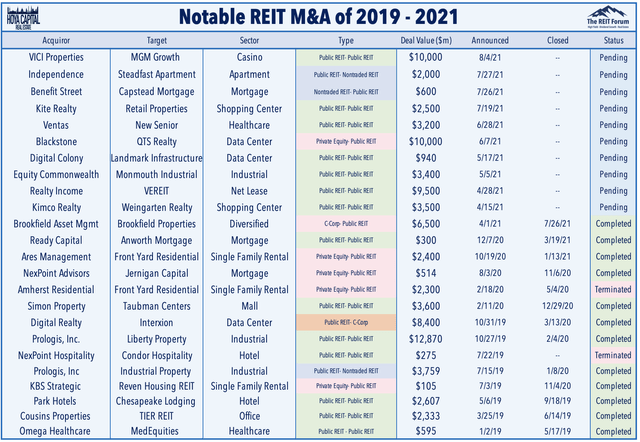 Cannabis: Last but not least, small-cap Power REIT (PW) soared 15% on the week after reporting Q2 earnings results, noting that its growth trajectory continued with its Core FFO rising 76% from last year. Through the first half of 2021 PW added 8 properties to its cannabis portfolio comprising a total of 317,000 square feet which should generate straight-line annualized rent of approximately $4.6 million. Last week, Innovative Industrial (IIPR) rallied after reporting another strong quarter, noting that its AFFO/share rose nearly 40% year-over-year. While still early in the evolution of the industry, we see emerging parallels with the casino industry where REITs have carved out a profitable and attractive niche with a sustainable competitive advantage.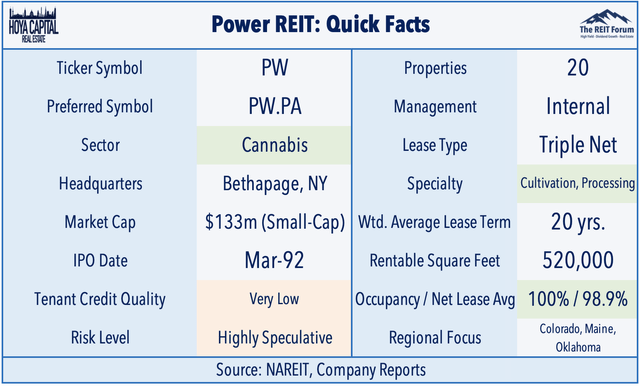 Last week, we published our Real Estate Earnings Recap. Earnings season provided critical information on the state of the real estate industry - a much-needed check-in amid fears of a potential "fourth wave" of the COVID pandemic. Residential REITs led the charge in Q2 while shopping center REITs also delivered an impressive rebound. In our State of the REIT sector report published next week, we'll analyze NAREIT's T-Tracker data published this week which showed that REIT FFO and dividends have now fully recovered the declines from early in the pandemic. Same-store NOI growth surged 5.73% from a year earlier, the best quarter of NOI growth on record.

Mortgage REIT Week in Review
Mortgage REITs delivered a mixed week as earnings season wrapped up with residential mREITs gaining 0.5% while commercial mREITs slipped 0.5%. BrightSpire Capital (BRSP) - formerly Colony Credit - was under pressure this week after launching a secondary common stock offering of 8.25M shares. Granite Point Mortgage (GPMT) slipped 5% after reporting mixed earnings results, noting that its Book Value Per Share ("BVPS") was flat in Q2. Agency mREITs were outperformers on the week including AGNC Investment (AGNC), which held its monthly dividend steady at $0.12/share and noted that its tangible Book Value Per Share ("BVPS") was flat from the end of Q2.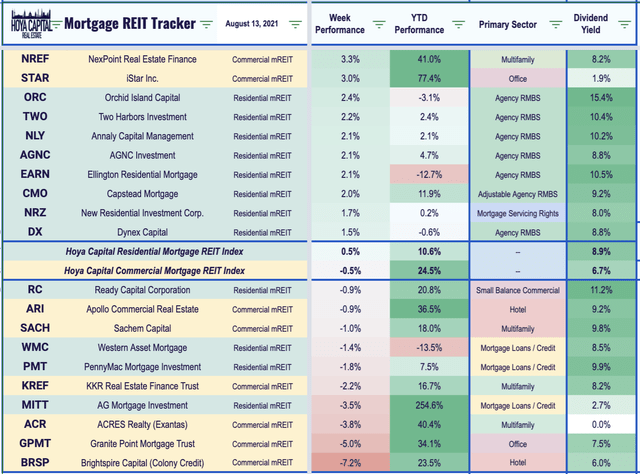 REIT Preferreds & Capital Raising
The InfraCap REIT Preferred ETF (PFFR) declined 0.3% this week and is now higher by 4.6% so far this year. This week, Public Storage (PSA) priced 5 million shares of a new 3.95% Series Q Preferred Stock, raising $125 million and expects to use the net proceeds for to fund the potential redemption of its 4.900% Series E Preferred (PSA.PE) which is redeemable starting October 14, 2021. Elsewhere, Sunstone Hotels (SHO) completed its previously announced redemption of its 6.45% Series F Preferred (SHO.PF).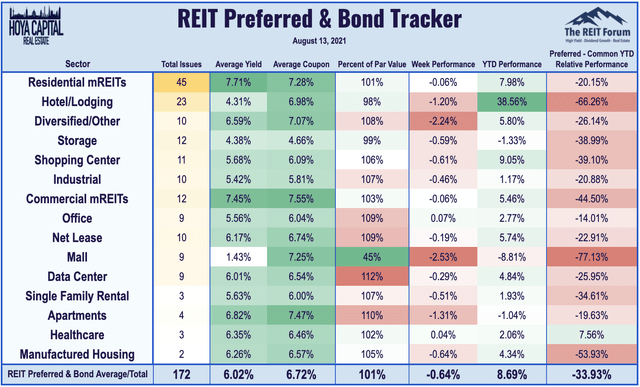 Over in the bond market, healthcare REIT Ventas (VTR) priced $500M of 2.500% senior notes due 2031 and Office Properties (OPI) priced $350 million of 2.40% senior notes due 2027 to redeem its 4.15% senior notes due 2022. We also saw several equity raises as well with net lease REIT W.P. Carey (WPC) pricing 4.5M shares to fund future investments and office REIT Easterly Government (DEA) pricing 6.3M new common shares. Fresh data released by NAREIT this week showed that, in the most recent quarter, debt as a percent of enterprise value for the average REIT retreated back down below 28% by the end of Q2 after briefly climbing above 40% during the March sell-off.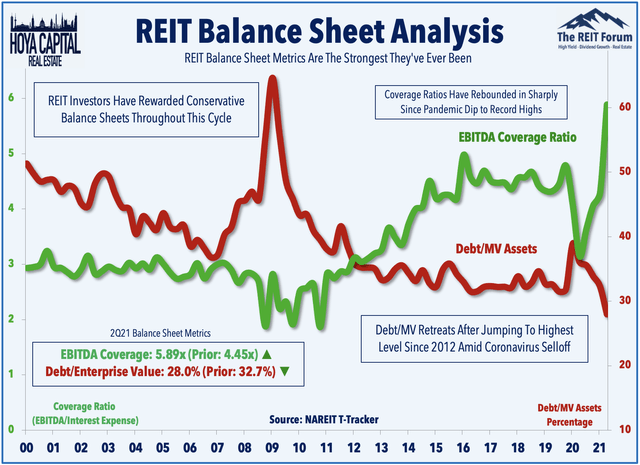 2021 Performance Check-Up
Through seven months and two weeks of 2021, Equity REITs are now higher by 25.7% this year while Mortgage REITs have gained 14.8%. This compares with the 19.3% advance on the S&P 500 and the 18.6% gain on the S&P Mid-Cap 400. Led by the residential and retail property sectors, all nineteen REIT sectors are now in positive territory for the year, while on the residential side, seven of the eight sectors in the Hoya Capital Housing Index are higher. At 1.30%, the 10-year Treasury yield has climbed 38 basis points since the start of the year and is 78 basis points above its all-time closing low of 0.52% last August, but 195 basis points below its 2018 peak of 3.25%.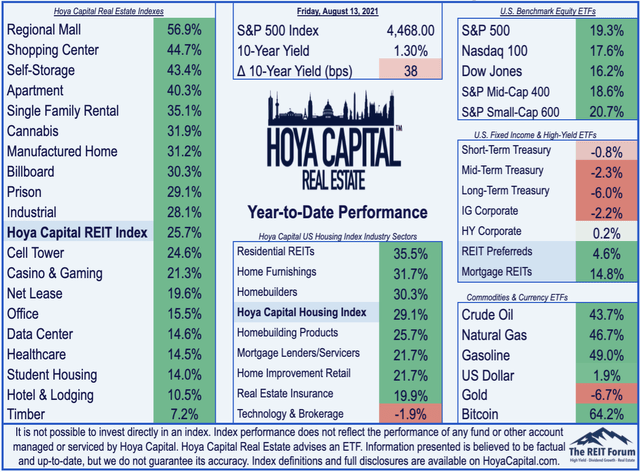 REITs are now the best-performing asset class this year, leapfrogging over the red-hot Commodities (DJP) complex, and significantly outpacing all three market class tiers of U.S. equities, as well as international stocks and bonds. Despite the rough 2020 in which REITs were the worst-performing asset class, REITs are still the fourth best-performing asset classes since the start of 2010, producing average annual total returns during this time of 12.3%. REITs only slightly lag Small-Cap, Mid-Cap, and Large-Cap equities over this time, producing far superior total returns to Bonds (AGG), TIPS (TIP), Commodities, Emerging Markets (EEM), and International (EFA) stocks.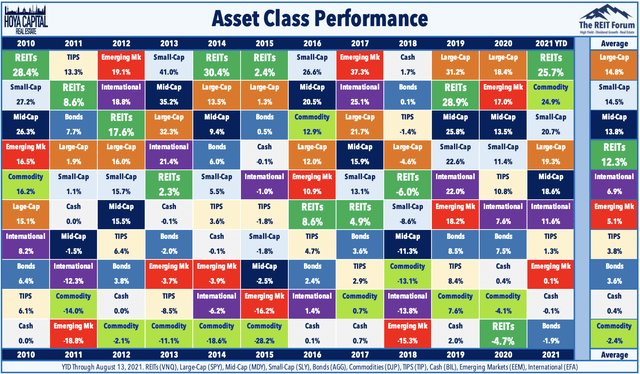 Economic Calendar In The Week Ahead
We have another jam-packed slate of economic and housing data in the week ahead, kicking off on Tuesday with the NAHB Housing Market Index for August and continuing on Wednesday when we'll see Housing Starts and Building Permits data, which is expected to show a mild reacceleration in home construction activity in July as supply chain constraints begin to slowly ease and construction materials prices cool from extreme highs. We'll also get a look at Retail Sales data for July on Tuesday, which is expected to show a continued cool down from the stimulus-fueled record-highs set in April.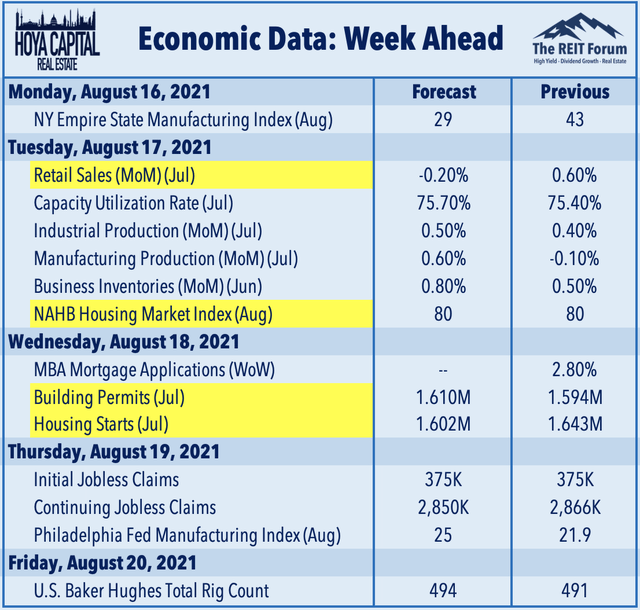 For an in-depth analysis of all real estate sectors, be sure to check out all of our quarterly reports: Apartments, Homebuilders, Manufactured Housing, Student Housing, Single-Family Rentals, Cell Towers, Casinos, Industrial, Data Center, Malls, Healthcare, Net Lease, Shopping Centers, Hotels, Billboards, Office, Storage, Timber, Prisons, Cannabis, High-Yield ETFs & CEFs, REIT Preferreds.
Disclosure: Hoya Capital Real Estate advises an Exchange-Traded Fund listed on the NYSE. In addition to any long positions listed below, Hoya Capital is long all components in the Hoya Capital Housing 100 Index. Index definitions and a complete list of holdings are available on our website.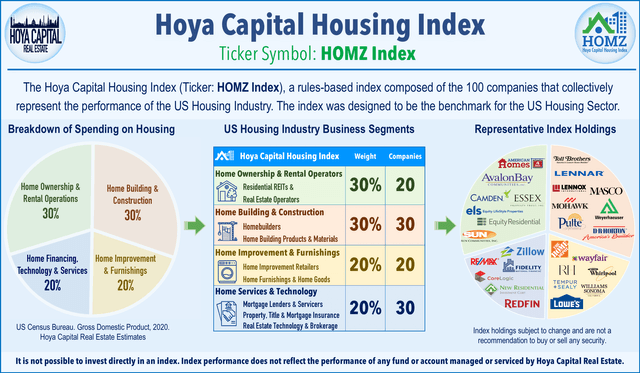 Editor's Note: This article covers one or more microcap stocks. Please be aware of the risks associated with these stocks.