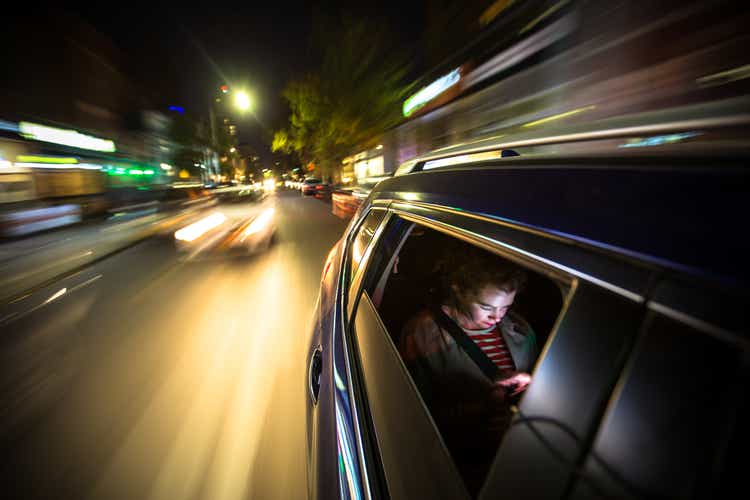 The Amazon Model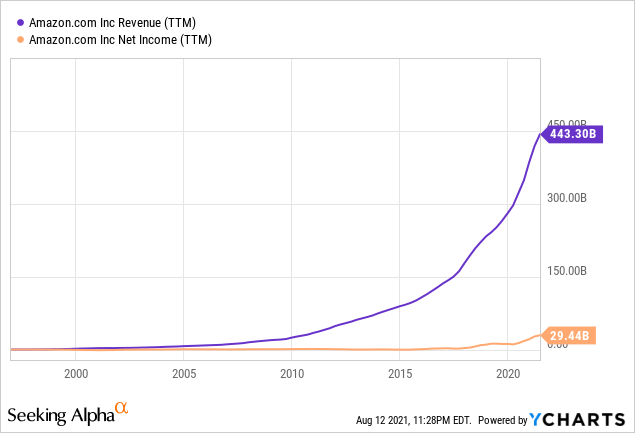 That chart is, essentially, the Amazon (AMZN) model:
Underprice goods or services to gain scale.
Value scale over profits.
Eventually the profits will come.
As you see with Amazon, small profits eventually did come, but that is still mostly coming from AWS, and now advertising has become a big line in Amazon's operating statement. But the retail operation is still running at lower margins than large brick-and-mortar competitors: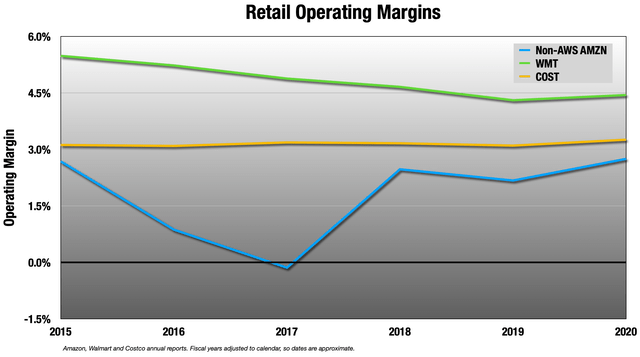 All these years later, and after a pandemic-fueled year of online shopping, Amazon's retail still has very low operating margins, even in the context of retail. Without AWS, Amazon would not be trading at over 57 years worth of earnings.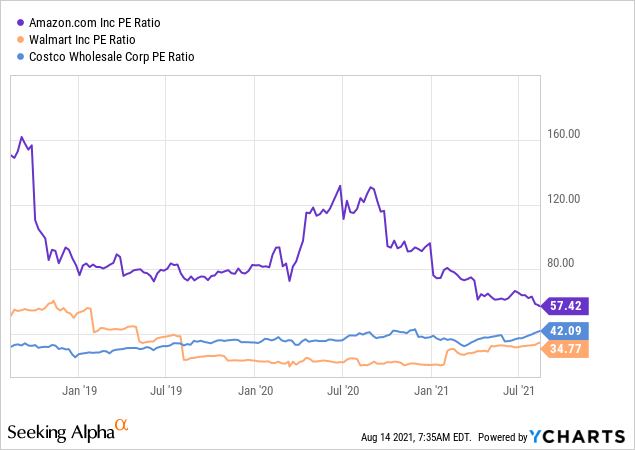 So the limit of the Amazon model is that, unless you create an actually profitable business along the way, like Amazon did with AWS and advertising, there is no end game here, just a race to the bottom, or killing demand by raising prices to match actual costs. That's where Uber (UBER) and Lyft (LYFT) are right now.
The Uber and Lyft Model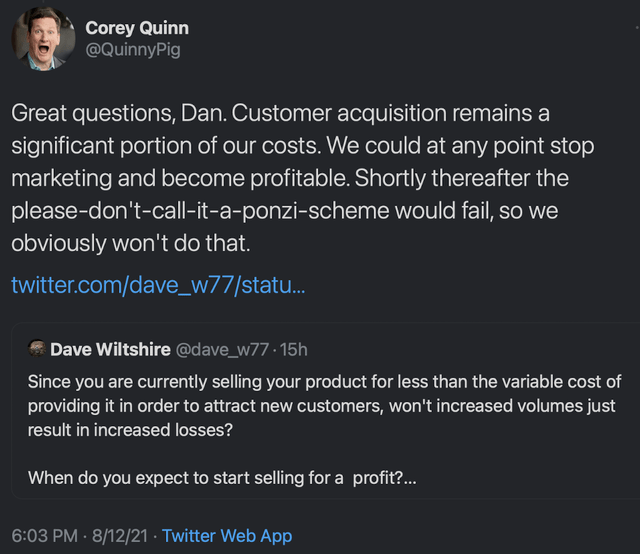 It's funny because it's true. Corey Quinn is a cloud billing consultant, and tech gadfly.
These are companies that do not make even Amazon's thin profit margin. Quite the opposite.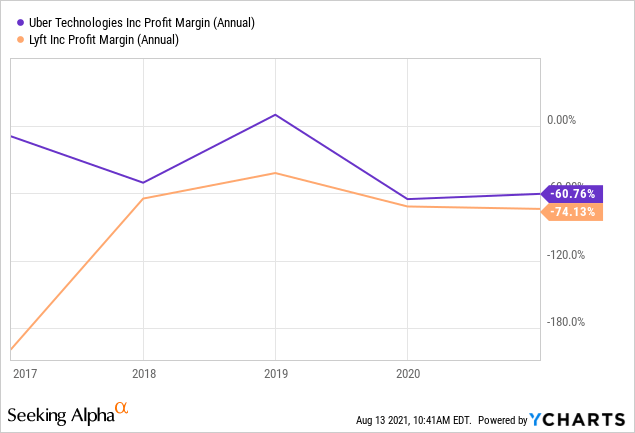 Uber had a positive net income in 2018 from $5 billion in their other income line from asset sales, and unrealized gains on assets. These are companies that do not make money, and can never make money, because they are operating a model that relies on underpricing, a service economy that pays low wages, and drivers' ignorance of how depreciation works.
Since 2016, Uber has -$13 billion cash loss from operations, even while putting over $6 billion of payroll into stock-based compensation at shareholders' expense, and at the same time raising $22 billion from investors. In the same 5-year period, Lyft has -$2.6 billion in operational cash losses even when putting almost $2.5 billion of payroll into stock-based compensation, while raising $5.8 billion from investors.
So now the rubber is hitting the road, with two holes blown in that model. In the first place, they are no longer competing with very low-paid service jobs for drivers: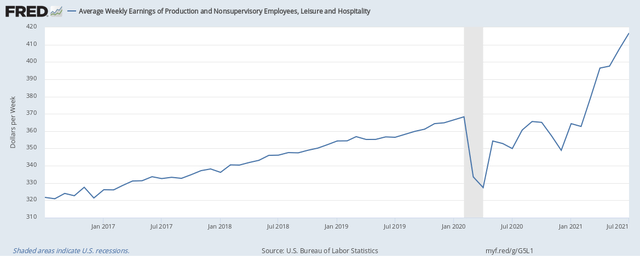 And demand for their main service cratered in the pandemic and is still less than half recovered.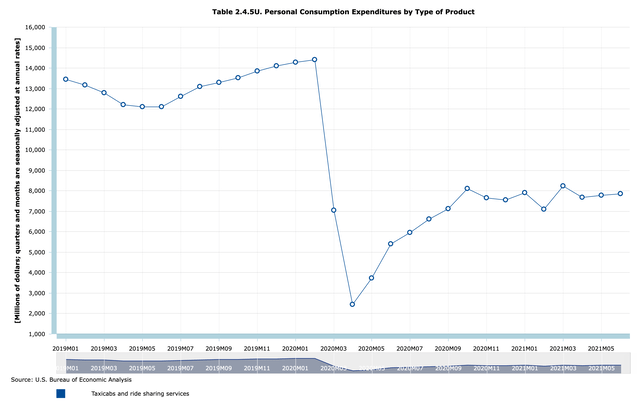 Delivery has to some extent cushioned the blow for Uber: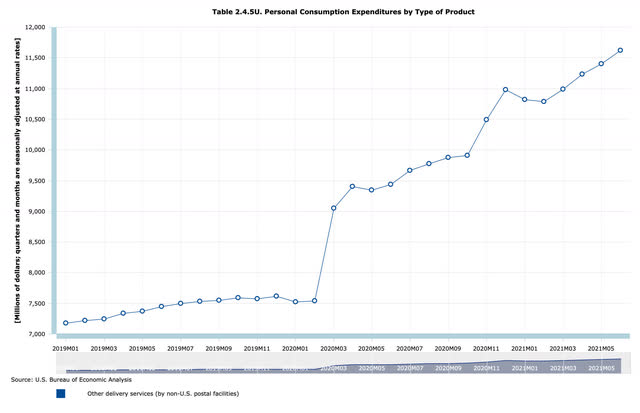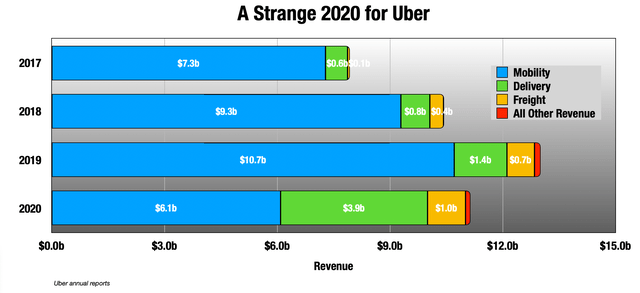 But both companies are being forced to raise prices to the point where they will no longer be price-competitive with local taxi companies during peak demand times. The last time I did an airport run in June, Uber and Lyft were both more expensive than the taxi I eventually took, and also much less convenient to get at LA International. Taxi companies run very low-expense, low investment operations to maintain profitability, even in the cities with regulatory supply limitations like New York. Neither of these companies run low-expense operations, even though they make their drivers responsible for maintenance and depreciation costs.
Uber's revenue is net of driver expenses; technically, drivers are paying them to use the platform. But they helpfully report "gross bookings," the total transacted on the platform. From this we can see their relative costs for drivers, the platform (cost-of-goods), and customer acquisition and retention (sales and marketing).

I left out 2020 since it was such an unusual year because of the pandemic. Uber's standard pay to drivers is 70% of bookings, but you see how driver incentives are pushing that number up year after year so that it was 80% of bookings in 2019. All told, 99 cents from every dollar spent on the platform went to drivers, platform or customer expenses.
Net of the big blue block of driver expenses, platform expenses (green) are pretty consistently around 59% of revenue, and about another third goes to customer acquisition and retention (yellow). In 2019, 95 cents of every dollar of revenue net of driver expenses went to platform or customer expenses. A lot of that sales and marketing expense are discounts, promotions and rebates where the full price goes into revenue, and the discount is charged to sales and marketing.
On top of that, Uber spends a lot on R&D, which their taxi competitors do not. In 2019, Uber spent about 37 cents from every dollar of revenue net of driver expenses on R&D. There is no room left for corporate expenses, and especially profits. Their R&D costs declined in 2020, and again since the unloading of their robotaxi unit. Someone has finally realized that technology is not going to solve their problems.
Moreover, many customers purchased a used vehicle during the pandemic: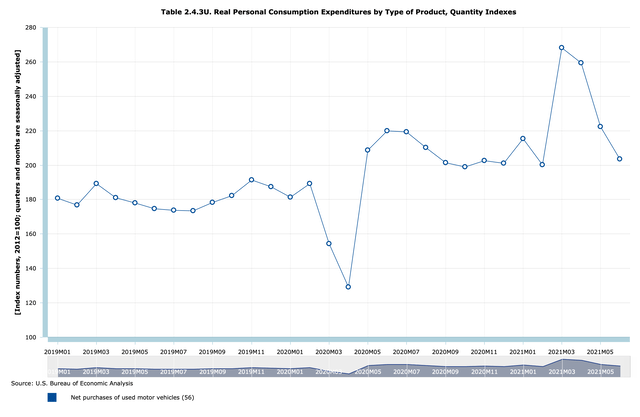 (Quantity indexes are comparable to unit sales)
Both Uber and Lyft also face a wide range of regulatory risks. Over a fifth of their bookings come from five metro areas, at least two of which have already begun regulating them.
We Were Warned
Uber's original prospectus was an eye-opener, because all the warning signs were contained within.
Included in Uber's total addressable market metric were the 4.4 trillion public transportation vehicle-miles travelled globally. First of all, it's preposterous to think that taxis could replace much lower-priced buses and subways, especially in emerging markets. Secondly, there is not nearly enough room on the roads for all those vehicles when you convert public transit vehicle-miles, with lots of passengers, to Uber-miles with one or two passengers. Indeed, even at the numbers of cars they had in 2010-2016, Uber and Lyft increased congestion, despite their rhetoric to the contrary.
In Uber's telling in their 2019 prospectus, they would solve these problems with AI and autonomous driving
We are investing in technology to power the next generation of transportation. ATG focuses on developing autonomous vehicle technologies, which we believe have the long-term potential to provide safer and more efficient rides and deliveries to consumers, as well as lower prices.

- Uber prospectus
How did that go?
After five years and an investment of around $2.5 billion, Uber's effort to build a self-driving car has produced this: a car that can't drive more than half a mile without encountering a problem. "The car doesn't drive well" and "struggles with simple routes and simple maneuvers," said a manager in the unit, in a 1,500-word email sent three weeks ago to Uber CEO Dara Khosrowshahi, warning of the issues.

- The Information, September 2020
In December, they effectively gave it away to a startup to take it off their hands. This was always a pipe dream. But we were warned:
We are making substantial investments in new offerings and technologies, and expect to increase such investments in the future. These new ventures are inherently risky, and we may never realize any expected benefits from them.

[W]e believe that autonomous vehicles will be an important part of our offerings over the long term, and in 2018, we incurred $457 million of research and development expenses for our ATG and Other Technology Programs initiatives...

We have invested, and we expect to continue to invest, substantial amounts in autonomous vehicle technologies... [W]e believe that autonomous vehicle technologies may have the ability to meaningfully impact the industries in which we compete. While we believe that autonomous vehicles present substantial opportunities, the development of such technology is expensive and time-consuming and may not be successful.

- Uber prospectus
Then there were more direct warnings that one of my clients described as "a guarantee they would never make money," at the time.
To remain competitive in certain markets, we have in the past lowered, and may continue to lower, fares or service fees, and we have in the past offered, and may continue to offer, significant Driver incentives and consumer discounts and promotions, which may adversely affect our financial performance.

- Uber prospectus
This gets right to what we were discussing in the last section – they are in an unalterable cycle of driver, platform and customer costs, and their fares did not reflect these costs until very recently.
But this section gets to the meat of it:
We have incurred significant losses since inception... We expect our operating expenses to increase significantly in the foreseeable future, and we may not achieve profitability...

We will need to generate and sustain increased revenue levels and decrease proportionate expenses in future periods to achieve profitability in many of our largest markets, including in the United States, and even if we do, we may not be able to maintain or increase profitability. We anticipate that we will continue to incur losses in the near term as a result of expected substantial increases in our operating expenses, as we continue to invest… These efforts may prove more expensive than we anticipate, and we may not succeed in increasing our revenue sufficiently to offset these expenses... Further, we charge a lower service fee to certain of our largest chain restaurant partners on our Uber Eats offering to grow the number of Uber Eats consumers, which may at times result in a negative take rate with respect to those transactions after considering amounts collected from consumers and paid to Drivers.

- Uber prospectus
That last bit is a negative gross margin for that set of restaurant deliveries. They are used to negative gross margins:

Uber prospectus
With "excess" driver incentives, Uber loses a dollar in revenue on a ten dollar ride. "We lose money on every sale, but make it up in volume." This was a joke David Letterman told for a decade. It was funny because it was absurd. It's still absurd, but now more common. That prospectus passage just quoted was an eye-opener at the time for its bluntness in telling investors that profits were unlikely any time soon, or ever, but now almost every tech prospectus contains some version of that kind of language.
Lessons and What Happens Next
The primary lesson from all this is that not every business can be disrupted by technology. The urban economic model that began with carriages in the 19th century persisted because it is a very hard business to make money on. There are very low barriers to entry, no platform is that sticky, and supply is only limited by the street surface. Cities adopted different systems, like New York's medallions, to limit supply, but regulate prices. The alternative was massive congestion, pollution (originally horse manure), and an unsustainable price model that would force companies to ignore depreciation to survive, just as many Uber and Lyft drivers currently do.
Taxi companies are low cost, low investment firms that don't see large benefits from economies of scale for a reason. Spending billions on customer acquisition and R&D can't change that fact.
The second lesson is that you should take what companies say in their Risk Factors section seriously. The language quoted remains almost unchanged in 2021. They still have negative revenue when you order from "certain of our largest chain restaurant partners."
But what happens next? I don't know, and Risk Factors is here to tell us why:
The mobility, delivery, and logistics industries are highly competitive, with well-established and low-cost alternatives that have been available for decades, low barriers to entry, low switching costs, and well-capitalized competitors in nearly every major geographic region.

- Uber Q2 2021 quarterly report
Sounds tough.
Let's go back to Amazon, who has an all-star in AWS that helps people forget they are a low-margin retail unit. AWS came from Jeff Bezos' unique management style. According to legend, in 2002, Bezos issued the now-famous API Mandate. Everything done by every team at Amazon had to be exposed to the rest of the company via simple application programming interfaces, or APIs, that other teams could use. Fewer meetings, more API calls. This was part of the mandate:
All service interfaces, without exception, must be designed from the ground up to be externalizable. That is to say, the team must plan and design to be able to expose the interface to developers in the outside world. No exceptions.
Those three sentences led directly to AWS. The backend developers had to open up their systems via simple services, and eventually these were robust enough that they could productize it. The two core services – cloud compute and storage – were there from the beginning because Amazon had already been using them internally for years.
But it is 2021, not 2002. Everyone is already using APIs and trying to get third parties to use it as a product, including Uber. There is nothing to innovate there. Uber spun a tale about their robotaxis flooding the streets, so cheap they replace even public transportation. This is literally impossible, even if we had working robotaxis tomorrow. That tale has fizzled. The combination of rising service wages and pandemic demand has brought things to a head.
I am writing mostly about Uber because they are sort of the poster child here, but I think this extends to a range of services, both real world ones like taxis and delivery, and digital ones. I recently wrote about monday.com (MNDY) in the very crowded web-based work management software area, who spend over a dollar just in sales and marketing for every dollar in revenue. Snowflake (SNOW) is another example
But closer to Uber, let's look at pure-play delivery DoorDash (DASH). As we already saw up top, the pandemic was a real boon to delivery for Uber and throughout the economy. DoorDash was a beneficiary: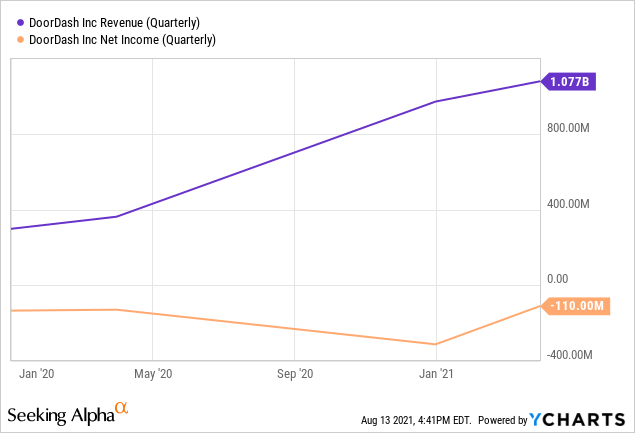 That chart does not include the -$99 million loss in Q2 2021 that they just reported. Under the best circumstances imaginable for the meal delivery business, they are still losing money. Why? Their Risk Factors echoes Uber's:
We have a history of net losses, we anticipate increasing expenses in the future, and we may not be able to maintain or increase profitability in the future…

The markets in which we operate are intensely competitive and characterized by shifting user preferences, fragmentation, and frequent introductions of new services and offerings. In particular, local food delivery logistics, the largest category of our business today, is fragmented and intensely competitive…

To attract and retain Dashers, we have, among other things, offered monetary incentives and perquisites... If we do not continue to provide Dashers with flexibility on our platform, compelling opportunities to earn income, and other incentive programs that are comparable or superior to those of our competitors, we may fail to attract new Dashers or retain existing Dashers or increase their use of our platform.

-DoorDash Q2 2021 quarterly report
DoorDash doesn't break out the meal cost in their gross bookings, which they call gross order value. But in the best of circumstances for meal delivery, DoorDash is still spending about 85 cents for every dollar of revenue net of driver and restaurant take on platform and customer acquisition expenses in 2020, and again in H1 2021. DoorDash has solved this problem temporarily by putting $235 million of their H1 2021 payroll into share-based compensation, but that can only go on so long.
The only way the model works is if everyone in the world is a DoorDash customer, restaurant or driver. This is the business Uber doubled down on by purchasing Postmates last year.