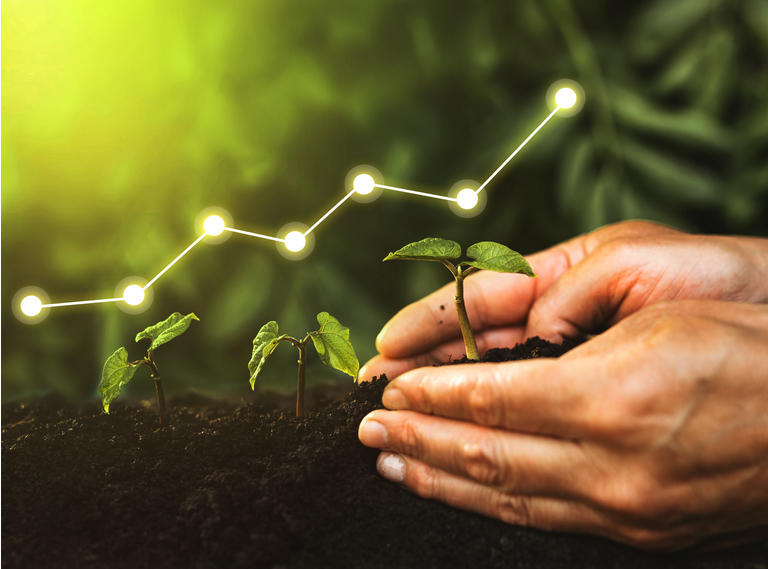 Written by Nick Ackerman, co-produced by Stanford Chemist
The Gabelli Equity Trust (NYSE:GAB) is a fairly straightforward closed-end fund. They invest in a portfolio of mostly large-cap equity investments. The main appeal here is the managed distribution plan that they have in place. They maintain a 10% distribution policy annually. To achieve this, they pay out a fairly stable quarterly rate and then top it off with a year-end special to get them to the 10% target.
Interestingly enough, this policy has seemed to drive the fund to trade at premiums regularly. That is where the other appeal is coming in at this time; we are seeing a better valuation at this time with the fund near NAV. This was primarily driven by a rights offering that they just completed. Also, the portfolio's performance going sideways for the most part probably hasn't helped either.
This offer was interesting for the fact that it had a set price for the subscription. It worked out to a huge discount for shareholders from the current share price. Even still, these investors made out like bandits - picking up shares at $5.50. Unfortunately, this also meant that it was a dilutive deal as shares were issued below NAV. To help mitigate some of this downside dilution, the offer was 10 for 1, meaning it was a relatively small offering overall.
With that offering now in the past, we can dive in to see if GAB is worth investing in. While I'd personally prefer the fund to trade at a discount before buying, it is admittedly tempting to add even here given the current environment.

(Source)
The fund's investment objective seems to be a little backward - at least the results so far have been backward. They mention that the primary objective is "long-term growth of capital, with income as a secondary objective." However, the fund hasn't appreciated since its long-ago inception in 1986. Instead, focusing on a managed distribution plan of a minimum payout of 10% annually. Which is an emphasis on their 'secondary' objective of income.
Liquidity is usually not an issue for most investors as the fund manages over $2.35 billion in total managed assets. Though a portion of this is leverage via their preferred offerings. Several are publicly traded preferred securities that any investor can invest in. They themselves might be appealing as CEF preferred are fairly safe.
However, utilizing preferred does present a bit of a downside for GAB common holders given current interest rates. They are paying 5 to 5.45% dividends to these preferred shareholders. At the same time, we know a lot of other funds that are utilizing borrowings at around 1% interest rates.
Below is an older Fact Sheet that doesn't represent the rights offering that was recently concluded. This is being presented to highlight the preferred. What will be interesting to watch is if they decide to ramp up another preferred offering to leverage up their new capital.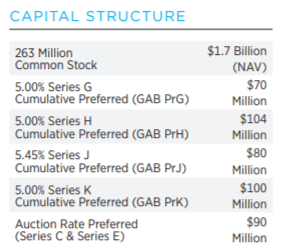 (Source - Fact Sheet)
Leverage can be a double-edged sword. During good times it can enhance the returns that it would otherwise provide. During bad times it can wipe out a lot of assets in a relatively short amount of time. With the preferred, this gives the fund flexibility to potentially not have to sell off assets during a crash. This is because they aren't having to "deal" with lender's terms and CEFs are generally allowed more leverage via preferred than borrowings.
To add to this, the fund's expense ratio is actually on the higher side as well. Coming in at 1.42%. Including the preferred dividends, increases this to an annual expense of 2.64%. The expenses on the preferred are forgivable - but the 1.29% in management fees is a bit unusual for this style of portfolio.

(Source - Annual Report)
Performance - Appealing Track Record
One thing that we know about large-cap U.S. equity securities is how well they've been performing over the last decade+. With GAB's uninspiring (not always a derogatory term) portfolio leaning heavily in this arena of the market - suffice it to say, the fund has produced some pretty great results. Enough to even compensate for the expensive leverage and management fees. Which at the end of the day seems more important anyway.

(Source - Fund Website)
If we use their Fact Sheet dated March 31st, 2021 we can see more historical information as well. Though the downside is we are looking at 4 months old date.

(Source - Fact Sheet)
The fund has been able to deliver excellent longer-term competitive results with the indexes presented. In the more recent history of 5 and 10 years, we see some slippage between these benchmarks. I believe this is primarily due to the success of tech when this fund is overweight financials and food & beverage stocks at the moment. That isn't a recent development either as previously exploring the fund we have seen the same overweight allocations.
Going over the last 30 years, this fund has traded at premium prices for a considerable portion of its life. Actually, the fund was incepted in 1986 and we don't have access that far back from any of the charting services.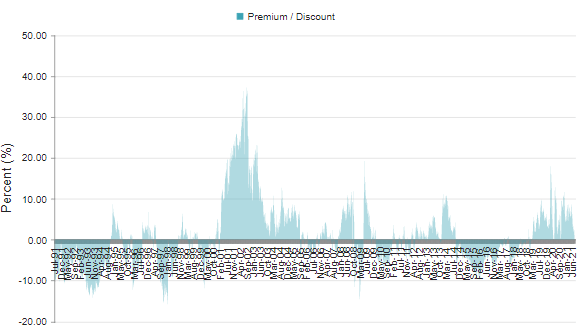 (Source - CEFConnect)
CEFs have shown to be mean reverting - meaning they typically trade within a regular range of premiums/discounts. For GAB it is a bit more volatile just roughly looking at the chart above. That being said, we can see that for most of the last 5 year period they have traded at premiums. In fact, the 5-year average premium comes to 1.5% and the 3-year average comes to 4.41%. Given the current premium of 1.64% means we could be being presented with an opportunity to pick up shares.
Distribution - 10% Minimum Target
As we've already touched on, the fund will pay a minimum of 10% annually. This has resulted in many years of paying a year-end distribution to top it off. They actually have several funds that operate in this same manner. Last year they paid well above their minimum and that resulted in no special for shareholders. However, the way this year is going so far, investors can look for a return of a special.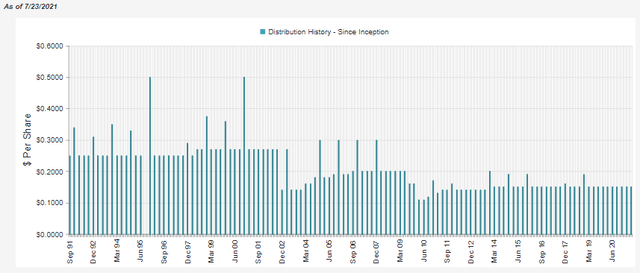 (Source - CEFConnect)
In terms of earnings for GAB to cover the distribution, it will all be derived from capital appreciation. There is no net investment income [NII] left over after the preferred shareholders are given their payments.
We explored this in our previous article and there have been no new reports. The only new change since that prior publication is that there are now more shareholders. Thus, a larger total amount of distributions will be paid out. We also noted that premiums also provided the fund with a boost as they were able to create new shares via the dividend reinvestment plan.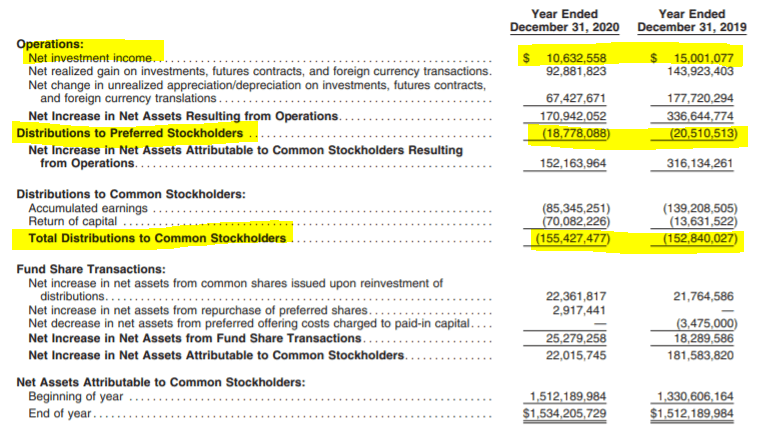 (Source - Annual Report)
One thing that a premium is good for, is the fact the fund can issue new shares in an accretive manner. As we can see above, they are taking advantage of this through a dividend reinvestment plan. It looks like both 2019 and 2020 were relatively close in raising around $22 million for the fund. However, it appears they aren't taking advantage of any at-the-market offering. That can be another good tool too.
Additionally, with no new Annual Report, that means no new tax information. So that also leaves us with just looking back at 2019 and 2020 figures. As the fund didn't realize enough gains, a portion of the distributions is classified as return of capital. This would be non-destructive ROC as the NAV still rose. Instead, it is like "borrowing" from the unrealized gain pool to pay investors now from what the underlying earned but didn't realize.

(Source - Annual Report)
Holdings - Attractive Holdings
Overall, GAB doesn't produce a lot of changes in its portfolio. They last reported a portfolio turnover rate of 12.6%. That leaves us with a fairly predictable top 10 group of stocks being held from quarter to quarter.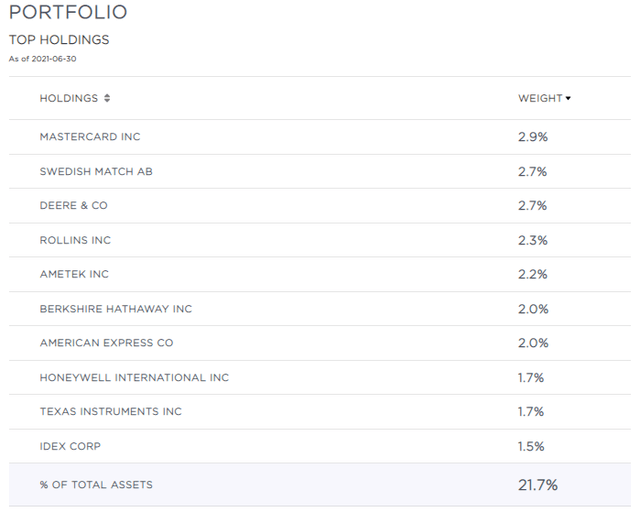 (Source - Fund Website)
In fact, since last quarter, the fund has largely had the same listings in its top holdings. In fact, there are no different positions from 3/31 to 6/31. Only some minor changes between holdings can usually be summed up as normal portfolio gyrations with stock price fluctuations. We can also see that the top ten have been reduced from 25.60% total assets to 21.7% of the fund's total assets.
That being said, we can give them a look. Rollins (ROL) was the largest holding at 5.10%. It now looks like it slipped to the number 4 spot. Mastercard (MA) now taking the top spot. As well as Swedish Match (OTCPK:SWMAF) - which trades OTC and can present additional risks - and Deere & Co (DE), rising past ROL.
What the chart above shows us is that SWMAF and MA did outperform ROL during the quarter. That can explain some of the portfolio shifts. However, it also seems as though it might have been a conscious effort to reduce the ROL position. It also would appear that they could have increased their DE position. As on its own, the allocation would have decreased due to the price sagging.
We wouldn't be given any visibility into this until they post their N-PORT near the end of August or their updated Semi-Annual Report at the beginning of September.
Conclusion
GAB's fame is that they have a 10% minimum distribution policy. The fund has had some strong performance over the last decade and even further back to its inception. However, a lot of that seems to deal with their allocation to large-cap names that have just been performing well too.
After the fund's rights offering, shares have now come down a bit closer to par. That is potentially presenting an opportunity to enter a position. Though at this time to invest in a fairly plain fund such as GAB, I'd really like to see some discount. The overall market is frothy and so adding even this bit of premium just adds to it. So I'd only consider it an initial entry and a smaller allocation. Allowing for plenty of room to add more during the next correction.